Apple Music quietly added one of Spotify's best features but made it better
Find your new favorite artist with Apple Music's new Discovery station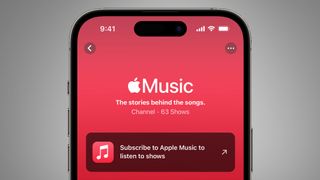 (Image credit: Apple)
It hasn't officially been announced yet, but Apple Music has a cool new feature that's designed to help you discover more music that you'll love. The new Discovery Station is live now, which means you can access it through your iPhone, iPad and in the web app on your Mac for most Apple Music subscribers.
The new personalized playlist is very similar to the Discovery Weekly feature in Spotify, making Apple even more competitive in the best music streaming service space. It sits next to 'Your name's' Station, but instead of playing music that's already in your library it plays music that it thinks you'll want to add to your library.
To access the Discovery Station playlist, go into the Apple Music app, select the Listen Now tab and then scroll down till you see the Stations for You section, which is where you'll find the new playlist tailored to your listening history.
What does the Discovery Station in Apple Music do?
The Discovery Station is an auto-generated playlist that analyzes your listening history to suggest new music. For me, that means moving from Lana Del Rey remixes I hadn't heard before to Maggie Rogers, Limp Bizkit – I'm blaming my eldest for that one – Self Esteem and Miley Cyrus before heading down a stadium rock direction.
It does appear to be picking up some songs that are in my library already, and I suspect that's because it considers special editions as separate albums. For example, it played me U2's The Miracle of Joey Ramone from Songs Of Innocence, but from a different version of the album U2 that Apple stuck on my iPod back in 2014. Ironically enough, I didn't like the song back then and I don't like it any more now.
It's still early days for the Discovery Station and I suspect like most algorithmic things it'll improve over time by remembering what you play on repeat or skip. At the moment, it appears to be assuming that everything in my library is equally good and equally desirable, and as I've had that library for decades now that really isn't the case.
There are bands and artists in there I haven't listened to in years because my musical tastes have moved on. And if, like me, you listen to quite a lot of genres of music, the jumps between songs can be a bit jarring, such as the aforementioned jump from sad girl bangers to nu-metal. But I think it's a good station to have on while you do something else, and it's already introduced me to a bunch of new favorites.
Sign up for Black Friday email alerts!
Get the hottest deals available in your inbox plus news, reviews, opinion, analysis and more from the TechRadar team.
Contributor
Writer, broadcaster, musician and kitchen gadget obsessive Carrie Marshall (Twitter) has been writing about tech since 1998, contributing sage advice and odd opinions to all kinds of magazines and websites as well as writing more than a dozen books. Her memoir, Carrie Kills A Man, is on sale now. She is the singer in Glaswegian rock band HAVR.