While the absolute best smartwatch for iPhone might be an Apple Watch, that doesn't mean it's the only great option. While Apple's own wearables obviously pair up nicely with iPhones, there are still plenty of other good options if you want a watch to track your fitness while sending you relevant notifications, amongst other useful features. 
Typically, smartwatches that run Google's Wear OS also work fairly well with iPhones although they do miss out a few features that you can only get when synced with an Android phone. They can look pretty stylish though. Just make sure to read our full reviews to be certain of the functionality you get here.
It's also possible for iPhones and Samsung's range of Tizen-powered watches to work together too along with Fitbits and hybrid wearables from the likes of Withings. Simply put, if you have an iPhone, you're spoilt for choice here.
Our list now contains the relatively recent Apple Watch SE, which comes in straight at number one as you'd expect, but there are plenty of other excellent options below too if the latest Apple Watch doesn't appeal.
What watch should you use with your iPhone?
Most smartwatches will track your basic health metrics such as steps and calories, while devices with built-in GPS make for perfect running, cycling and swimming companions. Many of the watches here also sync up so you'll receive notifications via your watch, saving you the need to dig out your phone as often.
We've fully worn, tested and evaluated all the watches in this list and ranked them based on software and which we think is best for most people. Bear in mind the watch at number one might not be best for you though depending on your needs, tastes and budget.
Best Apple Watch: what are the choices?
The Apple Watch SE is the newly affordable model of the Apple Watch and you really don't miss out on much by spending less. There's no always-on display which is a shame but other than that, it's mostly business as usual. 
Performance is speedy and far superior to the Apple Watch 4 and earlier. You still get extensive tracking features including heart rate monitoring, sleep tracking, and GPS, as well as the usual bevy of workout tools. It's mostly pretty accurate too although not quite on a par with dedicated fitness devices like the Garmin range. 
Still, as an attractive combination of good looks, good features, and a keen price, you can't go wrong with the Apple Watch SE.
Read the full Apple Watch SE review.
Image 1 of 3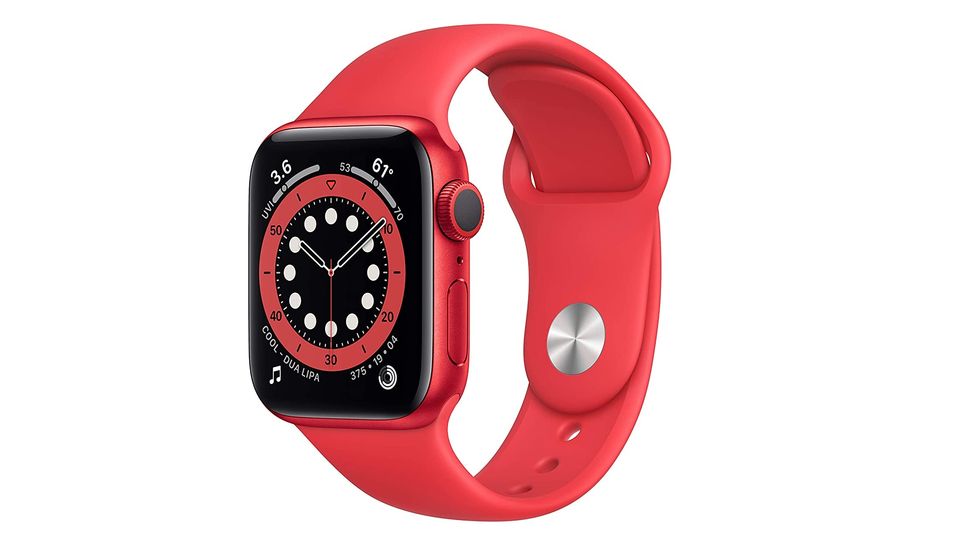 Image 2 of 3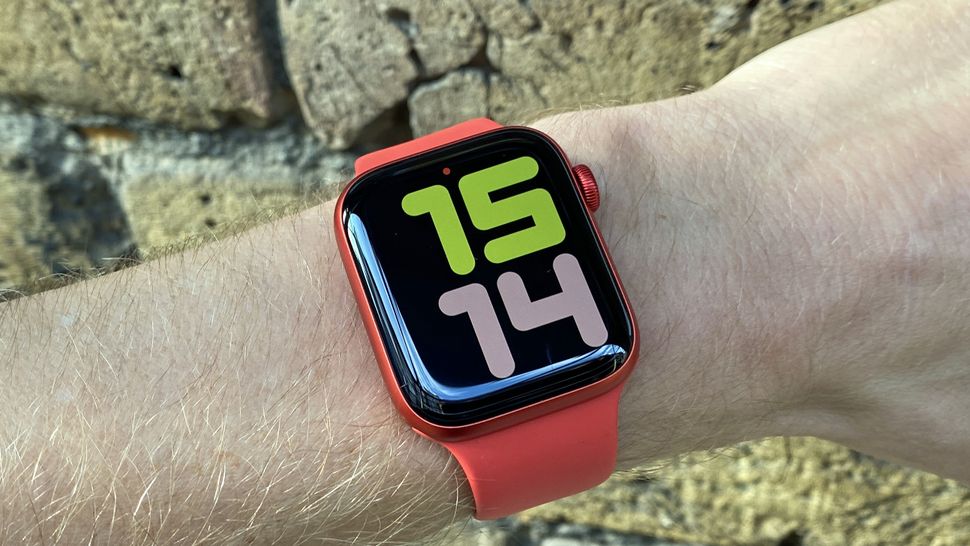 Image 3 of 3
The Apple Watch 6 – alongside the Apple Watch SE – is Apple's latest wearable, and while the SE is relatively affordable, the Apple Watch 6 is the company's top model, if you can stretch that far. 
While this isn't a huge upgrade on the Apple Watch 5, it does have some handy new features and improvements, such as blood oxygen monitoring, improved battery life and screen, and an upgraded chipset.
It's also available in some fetching new shades, and is the first Apple Watch to ship with sleep tracking – though this feature is now available on older models too.
It's not perhaps the most exciting upgrade then, but it is one of the best smartwatch for iPhone, and one of the best smartwatches period.
Read the full Apple Watch 6 review
Image 1 of 3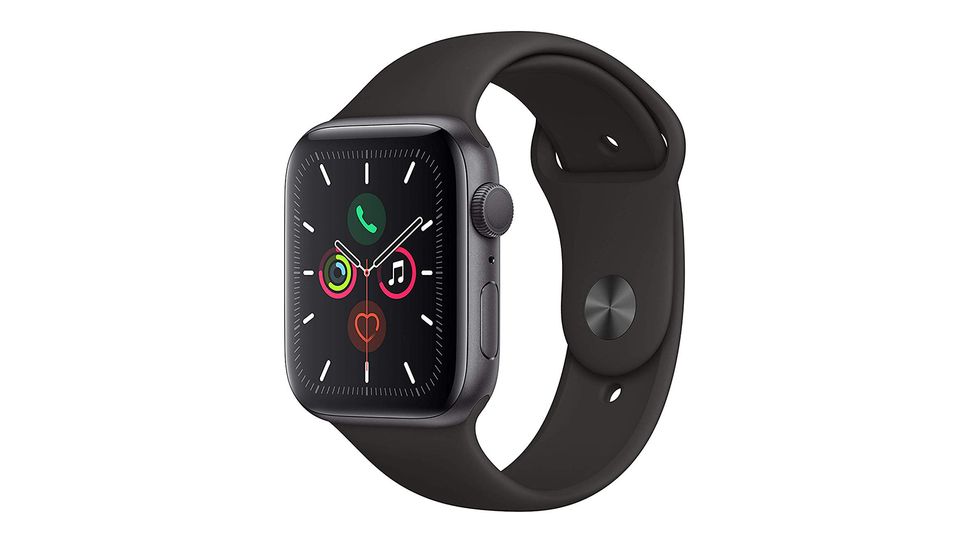 Image 2 of 3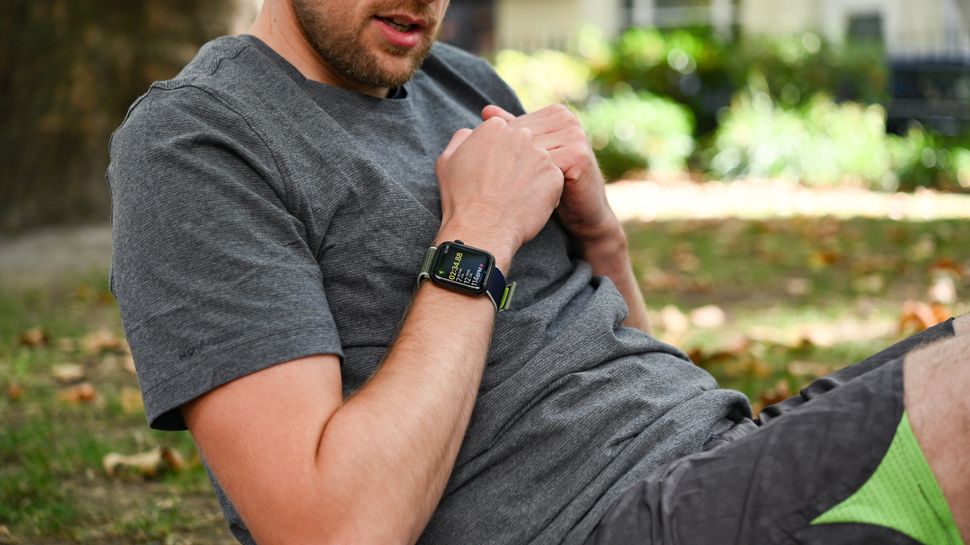 Image 3 of 3
The Apple Watch 5 is no longer the best Apple Watch, but it comes close. Though while it's now been superseded it's still not a cheap option.
The big upgrade here compared to previous models is an always-on display. This doesn't drain your battery life as much as you may expect as the watch will dim its screen to offer you notifications on your wrist at all times rather than you having to raise it and wake it up to see your stats.
And while it shipped with watchOS 6 it can now be updated to watchOS 7, so the software is brand new even if the hardware isn't anymore.
If you own an Apple Watch 4, there's not much reason to upgrade here but if you own an older Apple Watch or you're looking to get your first smartwatch this may be a solid option for you.
Read the full Apple Watch 5 review
Image 1 of 3
Image 2 of 3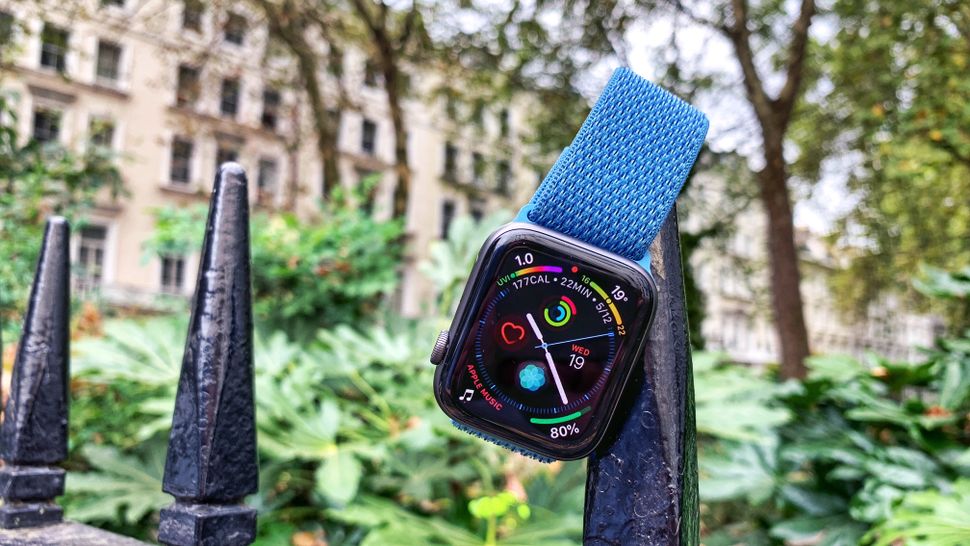 Image 3 of 3
The introduction of the Apple Watch 5 may have seen the Apple Watch 4 drop in terms of pure excitement, but it's now cheaper than ever and it's not all that dissimilar to the latest device.
This was the first smartwatch from the company to increase the display size to a 1.78-inch OLED. That looks great on your wrist, and the device comes in either 44mm or 40mm versions.
We particularly liked that the speaker is louder, plus the ECG monitor tech was a big upgrade at the time too. 
You won't get the benefits of an always-on display, but if you want to save a bit of money you may want to look at the Apple Watch 4 over the more recent additions to the range.
Read our full Apple Watch 4 review
Image 1 of 4
Image 2 of 4
Image 3 of 4
Image 4 of 4
The Apple Watch 3 was once the best smartwatch to use with an iPhone... but it's not the best anymore. Even though you can now buy the Apple Watch 4, 5 and 6, this is still a fantastic smartwatch.
The Series 3 has a bright, high-quality screen, built-in GPS, waterproofing, optical heart rate monitoring and well over a day of battery life, plus all the things that make the Apple Watch 2 great, like a stylish design, water resistance and enough fitness features to cater to most users.
It's a great all-rounder then, with style and substance, suited to both the office and the gym. There's even an LTE model – though at a higher price. And of course, being an Apple Watch, it works perfectly with iPhone. Plus, this benefits from still being sold direct from Apple at the time of writing, while the Apple Watch 4 and 5 aren't.
Read our full Apple Watch 3 review

Wear OS and Tizen watches
You're not just limited to the Apple Watch if you want a smartwatch for your iPhone. There are some great compatible options that run either Google's Wear OS or Samsung's Tizen software.
As you might expect, Tizen is only found on Samsung smartwatches but they are all excellent, offering attractive circular designs, top specs and good battery life.
Wear OS is used by several manufacturers including Fossil and TicWatch, two brands who tend to make the best of Google's platform.
Along with their Samsung counterparts they have GPS, heart rate sensors and just as many tracking features as most Apple Watches. Some of them also cost a lot less than the latest Apple wearable, meaning you can save some money and still get the features you want, all running in harmony with your iPhone. 
The latest Galaxy Watch is the best non-Apple smartwatch you can buy to pair with your iPhone. If you don't like the aesthetic of the Apple Watch and prefer a circular watch then this is the one to get.
The Galaxy Watch 3 comes in two sizes depending on your tastes and wrist size, with the smaller available in bronze or silver, and the larger in silver or black. Both are packed with fitness features like GPS, and top tier smartwatch functions.
You can also get a 4G model so you could still take calls and receive messages if you were out without your phone. 
But pairing any version of the Watch 3 with an iPhone means you'll lose out on some of the functionality that you'd get paired with an Android device. 
Read the full Samsung Galaxy Watch 3 review
Image 1 of 4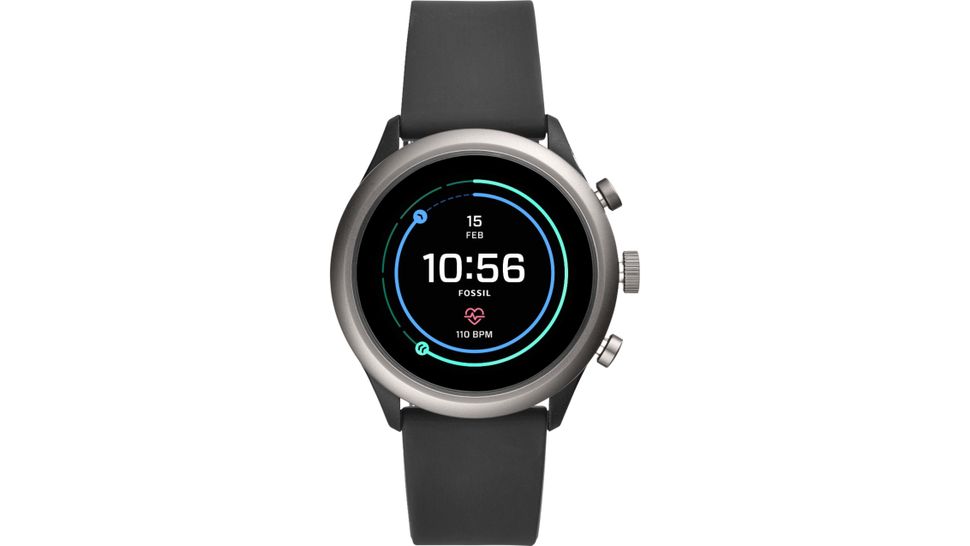 Image 2 of 4
Image 3 of 4
Image 4 of 4
Our favorite Wear OS watch right now is the Fossil Sport, which is cheaper than a lot of the watches you've read about above. 
It features the latest Qualcomm Snapdragon 3100 chipset that offers enough power to run any of the apps you'll find in Wear OS, and in our experience we found the whole interface to be notably smooth.
It'll last for around two days from a single charge, and the design here feels premium on the wrist when you consider how much it costs compared to other Wear OS watches.
There isn't much uniqueness to the Fossil Sport, but it's good at pretty much everything you'd expect a smartwatch to do and it'll work with your iPhone too.
Read the full Fossil Sport review
Image 1 of 3
Image 2 of 3
Image 3 of 3
The Samsung Galaxy Watch Active 2 is a fine Tizen smartwatch with great battery life and solid performance. 
Its circular display might attract you compared to the Apple Watch's squarish look, and the Active 2 has a clever digital bezel to navigate menus. Its fitness features are just as good as Apple's but you'll have to use the Samsung Health app for iOS instead of Apple Health.
It's waterproof and can track tons of different workouts including outdoor runs using GPS. There's even a 4G option. Just bear in mind that while it works with an iPhone, it won't be as smooth an experience as an Apple Watch. 
Read the Samsung Galaxy Watch Active 2 review 
Image 1 of 4
Image 2 of 4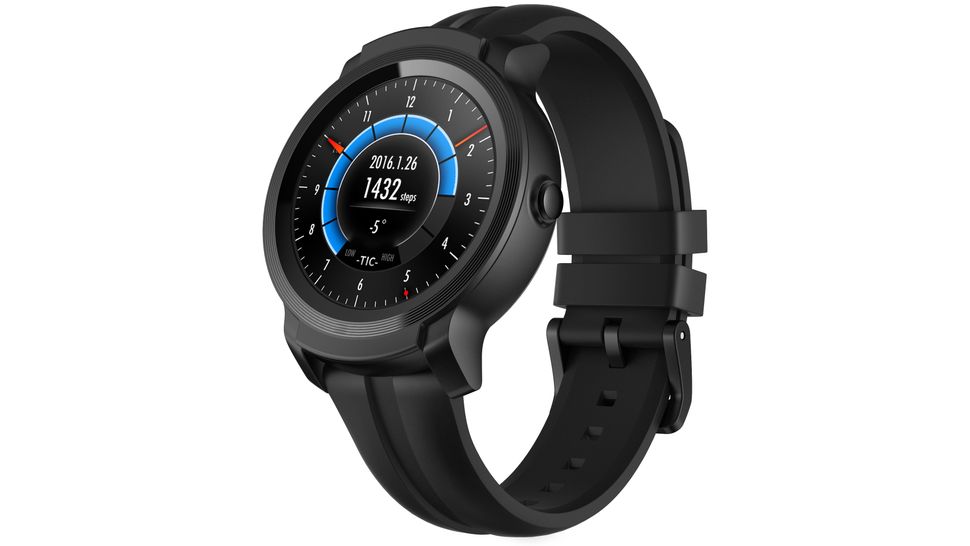 Image 3 of 4
Image 4 of 4
The TicWatch E2 is one of the more affordable devices on this list, and it's worth noting that this isn't the most premium looking device. That said, it's still a fantastic Wear OS watch.
It offers solid battery life as well as built-in GPS, an accurate heart rate sensor and sleep tracking as well.
The latest Wear OS software is running on the watch too, but you won't be able to get contactless payments as there's no NFC on this watch.
Read the full TicWatch E2 review
Image 1 of 5
Image 2 of 5
Image 3 of 5
Image 4 of 5
Image 5 of 5
Our favorite Wear OS watch is the TicWatch Pro, which you can use easily with your iPhone. TicWatch is a little known brand so far, but this watch comes with two different displays that helps it stand out from the rest of the crowd.
There's a transparent LCD display at the top with a full color OLED panel below it. That means you can get a full Wear OS watch experience with the TicWatch Pro, but when the battery dies off you can then still get some details like heart rate, date and time through the secondary display.
That's a great feature - but there's lots else to love here including GPS, NFC for Google Pay and the Snapdragon Wear 2100 chipset we've seen in almost all the Wear OS watches on this list.
The best part is the lower price than a lot of other top-end smartwatches, which makes this one of the best Wear OS choices to use alongside your iPhone.
Read the full TicWatch Pro review
Other alternatives
There are quite a few devices you can use with your iPhone including some running Fitbit OS and others that you may not even refer directly to as a smartwatch. Read on about them all below:
Image 1 of 5
Image 2 of 5
Image 3 of 5
Image 4 of 5
Image 5 of 5
A third attempt at the smartwatch from Fitbit has seen the brand create one of its best devices in years. The Fitbit Versa 2 is slimmer and smaller on your wrist than an Apple Watch and offers a lot of great fitness features including swim tracking as well as HIIT coaching.
The Versa 2 is also cheaper than Fitbit's other watch called the Ionic (which you'll find coming up in this list) making it an attractive option for your wallet as well as your wrist.
Fitbit OS isn't as fully fledged as the Wear OS or Apple Watch devices above in this list as there are still a limited amount of apps available to you, but if you want to have a watch as a fashion piece and focus on the fitness elements you'll enjoy the Versa 2.
It allows you to listen to music on the move, plus you have Fitbit Pay so you can do contactless payments if your bank supports it. Our main gripe with the Versa 2 is the lack of GPS, but if you plan to exercise with your phone in your pocket or strapped to your arm it won't be an issue.
Read the full Fitbit Versa 2 review 
Image 1 of 5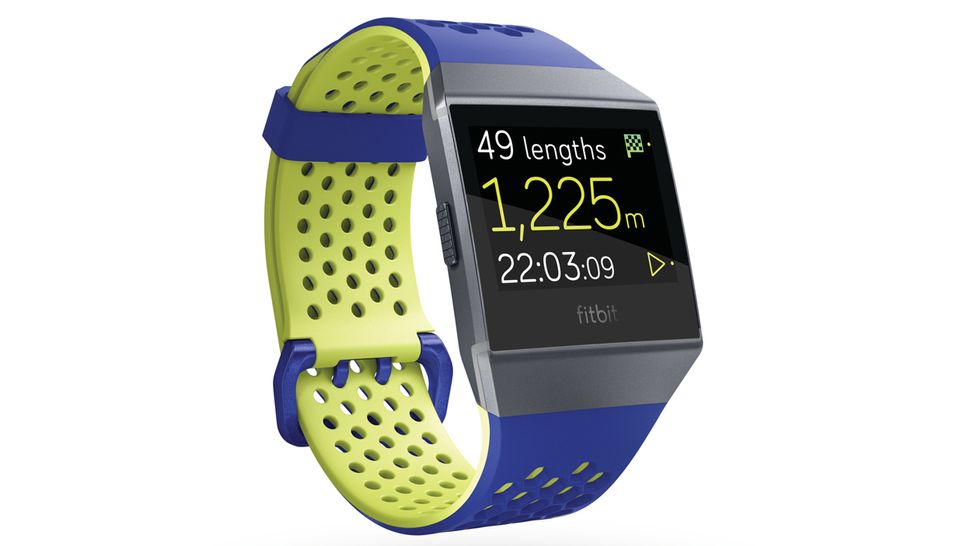 Image 2 of 5
Image 3 of 5
Image 4 of 5
Image 5 of 5
Fitbit's answer to the Apple Watch's fitness threat piles all of its best fitness-tracking features into a highly functional smart timepiece. 
There's GPS, continued heart rate tracking, excellent multi-day battery life and the ability to track multiple activities. 
That being said, the Fitbit Ionic runs off the bespoke Fitbit OS so it doesn't offer the full fat smartwatch features of watchOS or Wear OS.
There's also a shortage of apps available right now, you can download around 300 songs and connect Bluetooth headphones for phone-free exercise. Also, the design's a bit controversial and very much has the look of a first-gen smartphone.
Read the full Fitbit Ionic review
Image 1 of 2
Image 2 of 2
If you're seeking a powerful fitness companion rather than a wearable extension of your smartphone, they don't come much better than the Garmin Forerunner 735XT. 
The multi-sport GPS watch, designed with triathletes in mind, features an optical heart rate sensor and reams of deep data insights into your performance. 
Runners, for example, will glean metrics like ground contact time, balance, stride length, vertical ratio and much more. There's a VO2 max estimator, race predictor and recovery adviser too.
Read the full Garmin Forerunner 735XT review
This hybrid watch used to be called the Nokia Steel HR, but it has now been rebranded as the Withings Steel HR.
It features a built-in digital display that'll show your heart rate in real time, as well as step progress and limited smartphone notifications. It has the neat analogue dial showing process towards a daily movement goal and can automatically track activities like running and swimming. 
There's no GPS so you can't expect hyper-accurate distance tracking, but the Steel HR is still a fantastic, stylish watch with great battery life that you can wear around the clock.
Read the full Withings Steel HR review

Looking for a smart running watch?
You should also check out our extensive range of devices to help you run - in our cunningly named best running watches round up - as many of these offer incredibly battery life as well as smart notifications from your wrist.
For instance, the Garmin Forerunner 935 will last almost 10 days on a single charge while running every day, allow you to take or reject calls and control your music - plus it's one of the most gifted exercise companions we've seen.
So if you're thinking of getting fitter - check out the burgeoning world of running devices to help you out.