Apple has announced the brand new look iPhone X and that means accessory manufacturers have begun revealing cases for the phone.
We've seen multiple cases for the new top-end iPhone already, so we've put together the guide below so you can see some of the best we've seen so far.
TechRadar has yet to use any of these cases in real life though and we've just put this collection together so you can see the different looks, features and designs of the cases on offer.
We can't recommend these particularly for sturdiness or protection until we've seen them in the flesh, which will hopefully be soon. We'll be adding more cases to this list as time goes by and as we see more options appear on the market, too.
1. Olixar Ultra-Thin iPhone X gel case
Colors: Transparent | Material: Silicon
Cheap
See-through design
Won't protect drops
Likely won't have premium feel
This is one of the cheapest iPhone X cases on the market right now and it should protect your phone from the odd scratch.
We don't think it'll be able to do much to protect your device if you drop it though and the gel material probably feel as comfortable on your palms as the glass that's on the back of the iPhone X.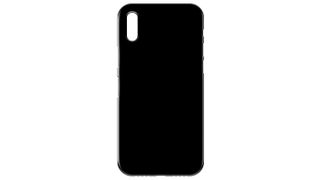 2. Desmay Slight iPhone X case
Colors: Black, Grey, Clear, Jet Black | Material: Silicon
Thin design
Allows for wireless charging
Limited color options
Desmay claims to be selling one of the thinnest iPhone X cases at 0.35mm, but that's quite difficult to tell right now considering not many accessory manufacturers have revealed new iPhone cases yet.
But at 0.35mm you'll still be able to use wireless charging and the company claims this case will give you "maximum protection" so hopefully this will protect your phone well.
3. Totallee thin iPhone X case
Colors: Frosted white, jet white, matte black, grey, navy blue, Jet Black, red, green | Material: Polypropylene
Thin design
Colors others don't offer
Uncertain camera protection
This one may be one of the best looking cases we've seen for the iPhone X so far and the super thin designs mean the case shouldn't make your phone much bulgier in your pocket.
It's uncertain how protective that vertical camera cut-out will be, but here you'll get the choice of a variety of colors including a bold blue and green. Those aren't colors you can buy the new iPhone X in.
4. Olixar ArmourDillo iPhone X protective case
How to protect your iPhone X
Colors: Black | Material: Polycarbonate
Great protection
Cheap
Not attractive
Limited colors
This is perhaps the most protective case we've seen for the iPhone X so far. It looks to have a sturdy design that will ensure if you drop your phone it won't break, and if the phone does come with a bezel-less display that could make it all the more fragile, so a case like this could be desirable.
That said, this isn't the most attractive case as you will lose the premium glass-backed design we've been excited about on the iPhone X.
5. Moshi StealthCover for iPhone X
Colors: Grey or pink | Material: Metal
Clasp to hold screen protector
Looks great
Design won't be for everyone
Uncertain if it allows for wireless charging
This case is slim once again, but it's made of metal and has a magnetic clasp on the side to ensure your phone screen won't easily get scratched up. It also has a military-grade drop protection certificate so you can be certain this case will protect your iPhone X the time you inevitably drop it.
6. Tech21 Evo Tactical
Another protective choice
Colors: Black | Material: Plastic
Protective design
Allows for wireless charging
No screen protection
Unlike the choice above, the Tech21 Evo Tactical won't protect the screen of your iPhone X, but you can always buy a screen protector to ensure you don't scratch up that 5.8-inch bezel-less display. The design of this case should help protect it from drops though but it's currently uncertain if you'll be able to wirelessly charge your phone while it's in this case.
7. Snakehive Vintage leather iPhone X case
Colors: Green, yellow, navy, brown, black, purple | Material: Leather
Premium leather
Lots of color options
Not clear if you can wirelessly charge phone
Snakehive's premium leather iPhone X case comes in a variety of colors and uses matching stitching, which is different depending on what shade you opt for. The listing for the Snakehive premium leather case does suggest it'll provide access for a 3.5mm headphone port, which the iPhone X famously doesn't have so we're uncertain if there will be a few unnecessary gaps in the bodywork of the case. That said, it looks great plus you'll have three card slots and there's an even larger compartment so you can use your new iPhone X case as a wallet too.
8. Greenwich Horo leather folio case
An expensive but premium choice
Colors: Blue/black, brown/gold | Material: Leather
Premium look
Slim design
Very expensive
How about one of the most premium leather iPhone X cases on the market? The Greenwich Horo leather folio case looks phenomenal, but is a very expensive choice. If you want to protect your phone and keep the high-end look of the iPhone X, this looks like it will be one of the best options money can buy.
9. Nodus shell iPhone X case
A way to protect the rear
Colors: Brown, black, teal, grey | Material: Leather
Unique design
Slim look
May need to buy screen protector
This leather case won't take away from the bold look of the iPhone X almost bezel-less screen as it just sits around the back and edges of the phone. The Nodus Collection Shell case gives easy access to the lightning port as well as the silent switch on the side, while raised leather parts will allow you to change the volume easily.
10. Gear4 iPhone X Battersea case
Colors: Black or blue | Material: Polycarbonate
Soft touch effect
Good impact protection
Limited front protection
The Gear4 Battersea iPhone X case comes with the company's D30 impact protection, which should allow you to drop the phone without having to worry about it smashing. There won't be any protection for when your phone's screen while it's in your pocket - you may want to buy a screen protector - but it comes with an attractive and comfortable soft touch finish on the rear and edges.