Mercedes-Benz joins the electric trucking revolution with launch of eActros 600
Tesla's Semi faces stiff competition from Mercedes' 44-ton electric truck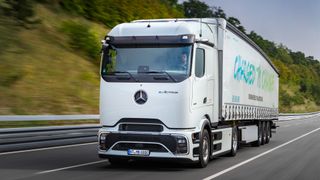 (Image credit: Mercedes-Benz)
Mercedes-Benz launched the series production version of its eActros 600 battery-electric long-haul truck last week, signifying its intent to assist in phasing out diesel counterparts in the coming years.
Joining the likes of Tesla, which has been hogging column inches thanks to the fact it has been beating rivals from Nikola, BYD and Volvo during real world range testing data, the Mercedes eActros 600 is said to have an official range of 500km - or around 310 miles, before it requires charging.
This is thanks to the inclusion of three lithium iron phosphate cell technology (LFP) battery packs, each with a 207kWh output. With a gross combination weight of up to 44 tons, the 800-volt electric axle and two electric motors (both with a peak output of 600kW) can happily haul the massive heavy goods vehicle for more than 1,000km in a single day.
This is made possible with intermediate charging during the legally prescribed driver breaks, even without the introduction of megawatt-charging. Once the infrastructure is in place for this, Mercedes-Benz says its eActros 600 can be charged from 20% to 80% in about 30 minutes.
While this is all movement in commercial EVs, for consumers the developments and improvements in range and charging infrastructure an filter down into standard electric cars, all paving the way for greater adoption of EVs over, say, hybrids.
With many years of trucking experience, Mercedes-Benz is serious about the uptake of its electric truck, pointing out that the eActros 600 achieves CO2 savings of around 40% compared to a comparable diesel Actros and, with fully renewable energies, of more than 80% over the entire product life cycle of ten years from raw material extraction.
On top of this, it has designed the eActros 600 to meet the same requirements surrounding the durability of the vehicle and components as a comparable conventional heavy-duty long-haul Actros. This means its LFP battery technology is slated to be able to cover 1.2 million kilometres in ten years of operation.
Even after this point, the German marque believes the battery state of health should still be over 80 per cent.
What's more, the eActros 600 is packed with the brand's latest safety systems, including six installed sensors - four short range radars and one long-range radar - as well as a multifunction camera in the windshield. This suite pairs with numerous active emergency brake assist technologies, as well as the ability to support semi-automated driving.
Power take-off points have also been implemented, so the eActros 600 will happily power things like tipping, sliding floor or silo semitrailers, as well as refrigeration units, allowing it to haul pretty much anything its diesel counterpart can.
The race for range
As we previously mentioned, Tesla has been grabbing headlines thanks to its Semi Truck managing to cover over 1,000 miles in a single day during recent testing by the North American Council for Freight Efficiency (NACFE).
It "beat" competition from Volvo, Freightliner and the Nikola Tre BEV, but it was unclear whether all brands were running the same routes and hauling the same average weight.
Mercedes says around 60% of long-distance journeys of Mercedes-Benz Trucks customers in Europe are shorter than 500km, which means charging infrastructure at the depot and at the loading and unloading points is sufficient in such cases.
Range is clearly not the be-all and end-all when it comes to freight logistics, with the onus on affordability and profitability for most fleet owners arguably more important. The ability to scale up to meet customer demand is also a major issue, with industry analysts suggesting Tesla is yet to scale Semi production.
With regards to the Mercedes-Benz eActros 600, a fleet of around fifty prototype vehicles is currently being built, some of which are also to be put into practical testing with first customers in a next step. The start of series production is planned for the end of 2024.
You might also like
Get daily insight, inspiration and deals in your inbox
Get the hottest deals available in your inbox plus news, reviews, opinion, analysis and more from the TechRadar team.