Can't get Netflix's Wham! out your head? Go backstage with these 8 top pop star docs
There's plenty more pop where Wham! came from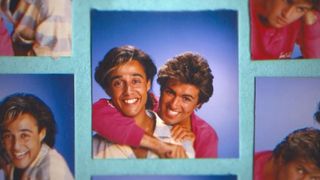 (Image credit: Netflix)
Some of the most entertaining shows you can stream right now are pop documentaries, and there's plenty to choose from at the moment with Wham! debuting on Netflix on July 5.
If you've had a good old sob along to George Michael and Andrew Ridgeley's pop duo documentary on the world's best streaming service, which is a must-watch, then allow us to recommend eight more music docs that rock.
Lewis Capaldi: How I'm Feeling Now
This warts-and-all feature is even more poignant after Lewis Capaldi's Glastonbury appearance, where the lovable and self-effacing Scottish singer couldn't finish a song so the crowd did it for him. When I watched Ed Sheeran and Lewis Capaldi's docs on Netflix and Disney Plus, I thought Capaldi's documentary had more appeal as it's a show you can love even if you don't love the music. He is a brilliant pop star and a naturally likeable guy, which is evident throughout his documentary.
Available to stream worldwide on Netflix.
Ed Sheeran: The Sum Of It All
If you're a fan of Ed Sheeran, this must feel like Christmas. Four hours of often uncomfortably intimate access to Sheeran's life as he prepares to make a new album, while dealing with some seriously big stuff. It's beautifully shot and features some fun cameos from artists including Stormzy.
Available to stream worldwide on Disney Plus.
After The Screaming Stops
This may be one of the funniest, most toe-curling, embarrassing music documentaries ever made. It follows the brothers Matt and Luke Goss, known to 80s kids as two-thirds of the pop group Bros. These days Luke is better known for his acting career, but back in the day the brothers were responsible for your correspondent sticking Grolsch bottle tops on her trainers to show her love of bright shiny pop music. This documentary focuses on the brothers' 30th anniversary reunion and made me laugh so much I scared the dog.
Available to stream on Prime Video in the US and Netflix in the UK.
The Beatles: Get Back
From the ridiculous to the sublime, this wonderful Beatles documentary, helmed by Lord of the Rings director and mega-fan Peter Jackson, takes you backstage for the recording of the Let It Be album. It's very, very long – the three episodes run for eight hours in total – but if you're a Beatles fan you'll love how close to the band you get for that time. The songs are pretty good too.
Available to stream on Disney Plus worldwide.
Moonage Daydream
Written, directed, produced and edited by Brett Morgen with the full approval of the late megastar's estate, Moonage Daydream is what The Guardian called "a mind-blowing labour of love" dedicated to the late David Bowie. It only runs for two-and-a-bit hours, which means it can't possibly do justice to every facet of Bowie's musical career, but Morgen has a really good go and the resulting doc does what every good music doc should do: it makes you fall in love with the music all over again.
Available to stream on Max in the US, Netflix in the UK and Australia.
Beastie Boys Story
When it first streamed, we said that the Beastie Boys Story is the first great reason to subscribe to Apple TV Plus. And it's still brilliant. The documentary is a two-hour cut of footage shot at Brooklyn's Kings Theatre across multiple nights, where remaining Beastie Boys Michael 'Mike D' Diamond and Adam 'Ad-Rock' Horovitz held an 'Audience With' style talk. Despite the Apple keynote-style staging, it's an absolute riot and the love in the room is palpable.
Available to stream worldwide on Apple TV Plus.
Billie Eilish: The World's A Little Blurry
If you weren't already a Billie Eilish fan before watching this one-off behind the scenes documentary, you will be after the first song kicks in. The performances here are absolutely stunning, and the documentary feels more revealing than the usual officially-approved music doc. Eilish comes across a bit lost and very stressed as her star goes into orbit, and the whole thing is a fascinating look at the very particular strains of being a pop star in the streaming era.
Available to stream worldwide on Apple TV Plus.
Fight The Power: How Hip-Hop Changed The World
Drop everything to watch this. Narrated by Chuck D, with an absolutely stunning soundtrack and featuring a galaxy of stars from every era of hip-hop, this is an exciting and often anger-inducing history of how hip-hop became what Chuck memorably called "the Black CNN". It's particularly good at passing the mic to the incredible women who often get left out of hip-hop docs, and the whole series is an absolute joy to listen to from the very first beat.
Available to stream on Sky or BBC iPlayer in the UK and SBS On Demand in Australia.
Get daily insight, inspiration and deals in your inbox
Get the hottest deals available in your inbox plus news, reviews, opinion, analysis and more from the TechRadar team.
Contributor
Writer, broadcaster, musician and kitchen gadget obsessive Carrie Marshall (Twitter) has been writing about tech since 1998, contributing sage advice and odd opinions to all kinds of magazines and websites as well as writing more than a dozen books. Her memoir, Carrie Kills A Man, is on sale now. She is the singer in Glaswegian rock band HAVR.