Lenovo has enjoyed a generally positive public image of its 2-in-1 laptops for years, namely since debuting the watchband hinge design on its Yoga 900 series of laptops. However, Lenovo knows not to sit on its laurels, hence a rather radically redesigned model for 2018.
Debuted during the IFA 2018 tech show in Berlin, Germany, this is the Lenovo Yoga C930. It's got a new 'C' ahead of its numbering, standing for 'convertible', but that's the smallest change here.
Read more: Jumper X1 Convertible 2-in-1 laptop
Not only has Lenovo dropped the watchband entirely in favor of a clever new speaker hinge, the firm has tucked a stylus into the laptop base as well introduced a new webcam privacy shutter. This is Lenovo's flagship positioning itself as a tastemaker once again, and it stands the chance to be just that when it launches later this year.
Price and availability
Lenovo is pricing the Yoga C930 at $1,399 (about £1,000, AU$1,900) to start when it launches in the US this October. That price gets you an 8th-generation Intel Core i5 processor paired with 8GB of DDR4 memory and a 256GB PCIe SSD behind a 13.9-inch, Full HD (1,920 x 1,080) IPS touchscreen.
While Lenovo hasn't disclosed upgrade pricing at the time of writing, you will be able to configure the C930 with an Intel Core i7 chip as well as up to 16GB of memory and 2TB of SSD space. There will also be a UHD (3,840 x 2,160) display option available with HDR capability.
All C930 models will come with the included stylus inside the laptop's base as well as a fingerprint reader for biometric login via Windows Hello.
This price puts the Yoga C930 in a unique position among its rival 2-in-1 laptops, with competitors such as the Dell XPS 13 2-in-1 and HP Spectre x360 starting for hundreds less – albeit with somewhat smaller screens. The C930 is clearly gunning for an ultra-premium position.
Image 1 of 16
Image 2 of 16
Image 3 of 16
Image 4 of 16
Image 5 of 16
Image 6 of 16
Image 7 of 16
Image 8 of 16
Image 9 of 16
Image 10 of 16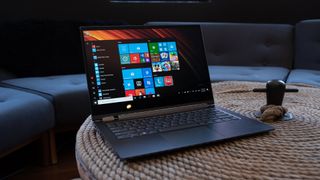 Image 11 of 16
Image 12 of 16
Image 13 of 16
Image 14 of 16
Image 15 of 16
Image 16 of 16
Design and display
The Lenovo Yoga C930 marks the start of a new direction for the laptop brand that has all but become eponymous with 2-in-1 laptop functions. This time, Lenovo has entirely dropped its watchband hinge design, replacing it with a unique sound bar feature that now doubles as the hinge with a supporting hinge just to its left, emblazoned with the Lenovo logo.
This change has huge implications for the laptop's 2-in-1 functions, bringing uniform Dolby Atmos audio performance to the laptop whether it's being used in a traditional laptop orientation, as a tablet or as a display on a stand.
The laptop also looks a bit more approachable and less metallic than its predecessor, in fact looking even more like the more mainstream Yoga 700 series if it weren't for the inclusion of this sound bar feature. Generally speaking, the laptop may still be aluminum but it appears more flat in silhouette and in color than last year's model, in both of its 'Mica' and 'Iron Grey' color options.
Another heartily welcome change to Lenovo's flagship Yoga is that the included stylus now tucks directly into the base of the laptop, rather than via a USB port attachment. The stylus isn't as substantial in build as the Lenovo Active Pen, but it draws well with 4,096 pressure sensitivity levels.
The backlit Yoga C930 keyboard is the same that you've come to expect on Lenovo laptops, delivering deep travel and forceful feedback in spite of the 3.04-pound (1.38kg) laptop's thickness of 0.57 inches (14.5mm). Likewise, the touchpad appears to be reliably accurate.
Lenovo appears to have largely left the display on this laptop unchanged, still offering up strong color reproduction and wide viewing angles as well as speedy response to touch input. The bezels around the display are as thin as ever, too.
However, Lenovo has changed something around the display panel: the integrated webcam now comes with a privacy shutter. Because of this, the webcam no longer allows for facial biometric login, hence the new fingerprint reader in the laptop's base.
Performance
Naturally, we can't comment at depth regarding the Yoga C930's performance before giving it the full TechRadar review treatment, but we have an idea of what to expect from the hardware listed.
It would be fine to expect performance numbers similar to that found in the Dell XPS 13 or HP Spectre 13 knowing what the Yoga C930 has inside it. Notice that we didn't use other 2-in-1 laptops as a point of comparison, because most competing laptops in that category use lower-power Intel processors with fanless designs.
While the Yoga C930 isn't the only 2-in-1 that uses a fully-powered mobile Intel processor, it's a relatively unique selling point for this laptop. Plus, Lenovo promises up to 14.5 hours and up to 9 hours of battery life from the FHD and UHD models, respectively.
Those are strong battery life figures for an Intel laptop of this power. Better yet, two Thunderbolt 3 ports can expand that power profile immensely, while a USB 3.1 port maintains support for legacy accessories.
Early verdict
The Lenovo Yoga C930 marks a significant change for the winning 2-in-1 laptop that helped spark a revolution, with a key identifying design feature being tossed in favor of a legitimate improvement.
It's this and other changes, like the included stylus upgrades, that not only put the Yoga C930 ahead of its competition but also show Lenovo's dedication to its flagship laptop. Lenovo looks serious about maintaining its image in the laptop world, which could explain the relatively steep price for even a leading 2-in-1 laptop.
At any rate, color us excited to give the Lenovo Yoga C930 a full review to see whether it earns a spot amongst the pantheon of excellent 2-in-1 laptops.