Trust Trezo Comfort Wireless: Two-minute review
The Trust Trezo Comfort Wireless Keyboard and Mouse delivers on its promise: comfortable, silent working. Its low retail price is overshadowed by the premium feel and easily places the keyboard and mouse set above similar bundles in terms of value for money and comfort. However, if you're coming to the Trezo from a more expensive mechanical keyboard, prepare for a bit of a shock. Regardless, it definitely deserves a spot on everyone's best business keyboard list, and will certainly be making an appearance in ours.
Among the best keyboards right now, the board is slim and trim and, all things considered, rather flat. Not in a negative way, but think of this thing as a smooth, long book. The keycaps are flat and well spaced out, and as this is a full-sized keyboard the body of it is longer than say a 60% keyboard. Though, when we pulled this bad boy out of the box we were rather surprised by how compact it felt even as a full-sized keyboard. It doesn't swallow up desk space and comes with a built-in wrist rest, which is always handy.
As the keyboard and mouse combo are both wireless, setup was very straightforward. The little USB dongle can be found inside the mouse, and once plugged in your equipment is immediately ready to use. Just slot the dongle into your computer and turn the keyboard on, and you're good to go.
The typing experience you get out of the Trust Trezo keyboard is comfortable, reliable and most of all incredibly quiet. I had a lot of fun trying my hardest to make this keyboard click and clack away as loudly as I possibly could, but barring literally smashing down on the keys and risking damage, I couldn't get it to break its silence.
Personally, I like my keyboards to clatter and drum with me as I'm typing, so there was definitely an adjustment period to be had with the quiet action of this keyboard. Many people like myself find that keyboard chatter to be comforting and a good source of motivational white noise, and if you are one of those people this keyboard is not for you. If you are sharing a workspace like an office or need silence to focus, however, this could be your new productivity buddy.
I will say, as weird as it was to type in near silence I'm writing this review with an impressive amount of focus so... Maybe there's something there. The keyboard the mouse comes with is also designed not to make a peep, and again aside from bashing the buttons down with a hammer, I couldn't get any significant clicking from it.
The mouse felt a little small in my smaller-than-average hands, so be warned if you have larger hands – you might have to ditch the bundled mouse and go with a different one, but don't fret, there's plenty of great mice out there to choose from.
The mouse itself feels pretty quick when in use, both on a mouse mat or across the desk. You can change the DPI on it very easily and it runs on batteries, like the keyboard. You get two AA batteries and three AAA batteries out of the box which is pretty handy. So keep in mind this is not a rechargeable set-up, but a battery-operated one.
The Trezo trust keyboard is a professional keyboard in every way, from its simplistic visual design, emphasis on silence and integrated wrist rest. This is far from a gaming keyboard, it doesn't have extensive or reactive RGB lighting, but it's simple and sleek and we definitely appreciate that. It's spill resistant (I can confirm that…) and promises 48 months of battery life for the keyboard and 12 months for the mouse.
Overall, the Trust Trezo Comfort Wireless Keyboard and Mouse is a professional looking keyboard and mouse set that offers excellent value for money, but little in the way of bells and whistles. If you want a quiet, no-nonsense, keyboard with a wrist rest and mouse thrown in, then this is an excellent choice for the money.
Trust Trezo Wireless Keyboard: Price & availability
How much does it cost? £34.99 (around $42, AU$65)
When is it available? Available now
Where can you get it? UK and Europe
The Trust Trezo Comfort Wireless Keyboard and Mouse price cements it as a budget keyboard and mouse combo. You'll be paying a temptingly-low price for the seamless connectivity and quiet clicking, though with a low asking point you are giving up on some things. The wrist rest is a hard plastic rather than padded, and you're going to miss the tactile feel that comes with mechanical keyboards. However, if you're just after a standard keyboard with a mouse thrown in as well, this set offers excellent bang for your buck (ironic, as it's not currently available in either the US or Australia).
In terms of value for money and quality, I think this keyboard and mouse set is well worth the price. You're getting a whole lot of silence, a full-sized keyboard, a wireless mouse and a wrist rest for just over £30.
Trust Trezo Keyboard: Specs
Swipe to scroll horizontally
| | |
| --- | --- |
| Layout: | Full |
| Switch: | Membrane |
| Programmable keys: | Yes |
| Dimensions: | 182 mm x 436 mm x 44 mm |
| RGB or backlighting: | None |
Should you buy the Trust Trezo Comfort Wireless Keyboard and Mouse?
Swipe to scroll horizontally
| | | |
| --- | --- | --- |
| Value | Great value for money with this keyboard, you get a full keyboard with silent keys and a wireless mouse for a reasonable asking price | 4.5 / 5 |
| Design | Simple and sleek design that offers a thin and lightweight keyboard and wrist rest. | 4 / 5 |
| Performance | Very responsive and lives up to silent promise, ideal keyboard for professionals. | 4 / 5 |
| Average rating | Row 3 - Cell 1 | 4 / 5 |
Buy it if...
You want a full-sized wireless keyboard and mouse on a budget
The Trust Trezo keyboard and mouse are perfect for the professional looking for a cheap work-from-home setup. If you want something easy to use with wireless connectivity, this is for you.
You need to focus
There are no false promises here: this setup is quiet. If you're not a fan of the loud clicks that come from mechanical keyboards, this is your best bet.
Don't buy it if...
You're a fan of the click-clack
Lovers of the productive keyboard humdrum beware - this keyboard makes virtually no sound and if that is something that's important to you, look elsewhere.
You're planning to game with this set
It's always super convenient when you work on a keyboard you can game with, as you don't need to switch anything out and can go straight from work to play, but if that is your plan then avoid this keyboard.
Trust Trezo Comfort Wireless: Also consider
Swipe to scroll horizontally
| | Trust Trezo Wireless Keyboard | Das Keyboard 6 Professional | Das Keyboard MacTigr |
| --- | --- | --- | --- |
| Price: | £34 | $199 / £169 / AU$329 | $219 / about £180 / AU$320 |
| Layout: | Full | Full | Full |
| Switch: | Membrane | Cherry MX Blue/Brown Mechanical | Cherry MX Red Mechanical |
| Programmable keys: | Yes | No | No |
| Dimensions: | 182 mm x 436 mm x 44 mm | 445 x 135 x 29 mm | 43.58 x 12.7 x 2.69 cm |
| RGB or backlighting: | No | No | White |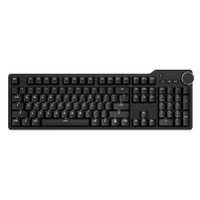 Das Keyboard 6 Professional
The Das Keyboard 6 Professional is a premium key deck that's an absolute joy to type on and has a gorgeous design. It's a typist's keyboard through and through.
Read our full Das Keyboard 6 Professional review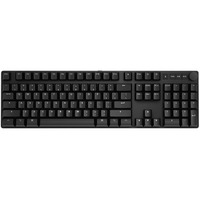 Das Keyboard MacTigr
There aren't a lot of premium keyboards out there for Macs, but if you're looking for something to replace that awful "magic" keyboard, than the MacTigr is for you. Packaged in a full metal body with premium Double Shot PBT key caps, you'll be amazed at how much Mac users have been missing once you try this keyboard. It's a bit more expensive than the 6 Professional, but for the quality you're getting it's worth it.
Read the full Das Keyboard MacTigr review
How I tested the Trust Trezo Comfort Wireless
Used keyboard for a week, testing typing experience and comfort
Tested it for work
Writing multiple long-form articles
I tested the Trust Trezo Comfort Wireless Keyboard and Mouse for a week and took note of how the typing experience felt across long typing sessions, the ease of set up, and how helpful the wrist rest actually is.
I used it to write long-form articles, writing emails and other work-related stuff.
Having reviewed a few keyboards across different makes (gaming, productivity, fun little experiments) and always keeping the consumer experience in mind I have insight into what is really important when it comes to product reviews: you!
We pride ourselves on our independence and our rigorous review-testing process, offering up long-term attention to the products we review and making sure our reviews are updated and maintained - regardless of when a device was released, if you can still buy it, it's on our radar.
First reviewed March 2023