Status aims to make a statement here, both sonically and stylistically – and the good news is there's much to like on both counts. Bluetooth 5.2 (albeit devoid of aptX and higher-res codecs), comfort, competitive battery and ANC aided by six mics to create a wall of near-silence help to achieve that. The sound is bold – what it lacks in nuance and dynamic sensitivity it all-but atones for in spaciousness, verve and scope for EQ tweaks. However, noise cancellation can't be tailored, and the lack of auto-off, spatial audio special-sauce, and hearing or fit tests all count against these Status buds.
Pros
+

Impressive ANC

+

Competitive battery life

+

A treat for style and comfort
Cons
-

Sound quality is bold rather than nuanced

-

Light on extra features
Why you can trust TechRadar We spend hours testing every product or service we review, so you can be sure you're buying the best. Find out more about how we test.
Status Between 3ANC: Two-minute review
How to differentiate yourself in a sea of Apple AirPods impersonators? Create a bold, angular, wide-stemmed design in "bone", with easy on-ear volume that could never be mistaken for an Apple product – that's how. Then, pack the earpieces with three drivers per earbud (dual-balanced armature drivers; one 10mm dynamic driver) and add six mics in total, dotted around the striking design, to boast a whopping 38dB of active noise cancellation.
It's a compelling proposition. That last claim alone makes these some of the best noise-cancelling earbuds on the market. If all you want to know is whether that noise-nixing assertion holds water, we don't mind spilling the tea early: it does. You can only choose "on" or "off" mind, but when the ANC toggle is switched to on, the rest of the world all but melts away – yes, it's that good. Also, they're surprisingly comfortable and the sound quality is more than acceptable; big, expansive and zealous, although lacking an extra ounce of dynamic sensitivity.
This New York outfit says it never compromises on the drivers within its products – and it shows. Battery life is also highly competitive, at eight hours with ANC switched on (the same as that offered by the new Sony WF-1000XM5) and 30 hours in the case (which betters the 24-hour total in Sony's latest progeny). Plus, it's nice to see wireless charging and an IPX5 water-resistance rating on the spec-sheet, too.

The thing is, gazing at this same spec sheet (and the companion app), you can't help but notice a few omissions. There are no fit or hearing tests; no branded, spatial audio side-sauce such as 360 Reality Audio, THX, Dolby or Dirac; no sound zones; no auto-off and no voice-enhancing sidetone or "Hear My Voice" tech during calls.
Neither do you get LDAC, aptX Low Latency or, in fact, support for any of the higher-resolution Bluetooth codecs, which is a shame. However, you do get multi-point connectivity to two devices, which works well.
All of this leaves us with a strange proposition. These are some of the best wireless headphones in certain aspects: specifically, active noise cancellation, in a unique design that's also comfortable and includes easy on-ear volume tweaks. In addition, sonically, the eight-band EQ customisation tab is one of the most responsive and useful I've ever tried.
Build quality and security are spot on; I actually had compliments about them while out and about, which is a first. Also, even the shiny lower part of the stems refuses to collect fingerprints. The thing is, that excellent ANC isn't adaptable beyond "on" or "off", and neither is the Ambient profile – which certainly works, but does add a little warmth to your music.
The wireless connection to our various devices never faltered, and when watching movies, we experienced very little lag, which makes these Status earbuds a perfectly viable and solid proposition. But Status has billed these flagship earbuds as "supreme triple-driver acoustics, now with ALL the bells & whistles" – but compared to the class-leaders at this level, a few extra accoutrements are missing.
Whether or not you care when the ANC is this good is up to you, though…
Status Between 3ANC review: Price & release date
Released on April 12, 2023
$249 (approx. £249 / AU$399)
The Status Between 3ANC earbuds arrived in April 2023 with a premium price tag of $249. This is a fair price hike over the April 2021 Status Between Pro they succeed, which launched at $169 / £120 (around AU$235).
At the time of writing, we're still waiting to hear when the Status Between 3ANC will be released in the UK and Australia.
The keen-eyed will note that Sony's flagship WF-1000XM5 launched just after, priced just a little higher, at $299.99 / £259 / AU$499 – but there isn't a lot in it, and both parties know it. Status is trying to play with the big boys, over that there can be no mistake.
At this level, other rivals include the excellent Technics EAH-AZ80 (which boast triple-device connectivity and some of the best call quality we've ever experienced) and, of course, the five-star Bose QuietComfort Earbuds II, still sitting pretty as some of the best earbuds for active noise cancellation we've had the pleasure of testing.
Status Between 3ANC review: Specs
Swipe to scroll horizontally
| | |
| --- | --- |
| Drivers | 10mm Dynamic driver and dual BA drivers |
| Active noise cancellation | Yes |
| Battery life | 8hr earbuds, 30hrs total in the case |
| Weight | 13.6g per earbud |
| Connectivity | Bluetooth 5.2, USB-C, AAC, SBC |
| Frequency range | 5Hz - 25kHz |
| Waterproofing | IPX5 |
| Other features | Six mics in total (three per earbud) |
Status Between 3ANC review: Features
Solid, efficient; does-what-it-says-it-will ANC
Good call quality
No auto-off or scope for on-ear control tweaks
It might be more prudent to list what you're not getting here. There's no support for higher-resolution codecs or special spatial audio sauce (Sony's Tidal upscaler, 360 Reality Audio – aka 24 object-based channels arranged in a 360-degree soundstage, is off the menu, for example), and so your Spotify tracks will be just that – as good as 320kbps can sound.
Also, you'll find the Status app perfectly acceptable and clean, but devoid of tutorial, fit-test, auto-off, in-call vocal enhancements, or scope to alter the on-ear touch controls. In fact, said app is essentially just three pages: a homepage, Headphones page and a firmware update screen. The homepage provides a nice picture of your product along with battery status. There are two toggles for ANC or Ambient Sound Mode – and despite our eagerness to tell you how good the noise cancellation is when deployed, on or off is your lot in terms of tailoring.
Under this, you'll see a Sound Mode tab. Click it and you're off two the second screen, to select between "Status Signature", "Status Audiophile", "Original Between Pro" (for fans of the older-generation model, presumably) or a custom EQ setting of your choosing. Of the presets, the third option is the warmest – and, for some, may feel just a tiny bit fuzzy around the lower registers. Audiophile and Signature will suit different ears and are genuinely fun to experiment with, although it would be nice to see a visual representation of them on the eight-band tab you get when choosing your own.
The third screen is purely for firmware updates and will likely tell you you're all set. Hardly extensive and exhaustive, is it?
Luckily, what the Status Between 3ANC do, they do very well indeed. There's a small physical button on the top of each earbud that switches between Ambient or ANC modes (switching both off is only possible via the app; it's announced vocally, too); but a tap of either bud's main upper stem, above the driver housing, easily plays or pauses your music. Double-tapping skips back or forward, depending on which bud you tap, and my favourite feature is a press-hold of either bud, which ups or lowers the volume.
It may sound a simple feature, but the fact that volume tweaks are easy, reliable and don't require the mastering of four-tap morse code skills (Sony WF-1000XM5, I'm looking at you) to alter loudness is nothing short of joyous. I wish more brands would do this, over prioritising access to our voice assistants. I can't be alone in wanting to alter the volume of my favorite tracks without consulting my phone far more often than I ever want to ask Siri the price of cheese?
Again, though, the most recent Sony proposition offers a choice of 20 increments of Ambient Aware, on a slider, whereas here it's just "on" or "off". And that doesn't really shout "all whistles and bells" to us, splendid although that ANC is.
Status Between 3ANC review: Sound quality
Meaty, immersive listen
Bass can sound fuzzy on occasion – but can be tweaked in the EQ tab
Detail and dynamic build can be bettered by Technics and Sony
As mentioned above, there aren't any higher-resolution codecs onboard here. Nevertheless, there's plenty of bite and excitement from the get-go in an expansive and nicely layered presentation.
It's a meaty and enthusiastic performance when streaming Sean Paul's Gimme the Light, with various additional vocals arriving at each ear in a cohesive performance.
Switch to Aerosmith's Water Song / Janie's Got a Gun, and it's a similar story – up to a point. The 10-second "Water Song" intro (involving a glass harmonica, wind gong and bull-roarers) is accurate across the frequencies, but doesn't build from barely perceptible to quiet and pensive, as it can through more dynamically agile earbuds. These buds are energetic almost to a fault.
And there's a minor shortfall when it comes to the bass, which is a shade off excellent for depth through the leading edges of notes, which means it can come off a little lightweight or fuzzy (tubby would be an overstatement) without EQ adjustment.
When streaming Amaarae's Fancy, the virtual placement of audio through the intro is divine, toying around our chin and throat; but when the beat drops, it's just a shade off excellent for a regimented low-end, until we up the bass through a custom EQ profile. This really does help, but bass-fiends may well need more – and here, the Status buds may fall short.
In direct comparison, the Technics EAH-AZ80 are able to offer a little more clout and depth. For dynamic build (the rise and fall of each musical note) it's also a marginal win for Technics, although that's a more closely run race. That said, for me, the Status Between 3ANC earbuds are incredibly secure and easy to use – and possibly because I have such a great seal betwixt ear tip and ear canal here, the ANC offered by the Status edges it.
Status Between 3ANC review: Design
Striking earpieces – you may get compliments
On-ear volume control is a joy
Rock-solid connectivity
These earbuds fit me very well indeed – and they're striking. If you ever wanted to look like an extra on Jem and the Holograms, these are the buds for you. The smallest size of ear tips and silicone "fitwings" come pre-fitted, and they fit me perfectly; but there's a medium and a large set to choose from, too. Also, because the fitwing (which covers the lower portion of the driver housing and makes it more bulbous if your ear needs that) and the ear tip aren't physically attached, they can be switched around independently as necessary.
Note that these extras are a little tricky to fit, so it's best not to do it on your commute. However, once you get it right, I vouch for the security here.
It's odd that while Status' earbuds are so distinctive, angular and design-conscious, the case is functional and – let's face it– pretty commonplace. Status' squiggle branding doesn't feature on the buds at all (of which I'm grateful), but it does make an appearance atop this box. That said, the case doesn't collect any greasy thumb-prints, it shuts with a reassuring snap, stands up so you can easily charge up wirelessly or using the USB-C port, and it does feature a useful line of three LEDs to denote battery left within it. Does Sony's WF-1000XM5 case look more expensive? No. But the Technics EAH-AZ80 case does.
For me, the earbuds are a joy to wear and use. As mentioned above, but it bears repeating: while you'd have to master four quick taps to either up or lower the volume in Sony's newest flagship earbuds, here a simple hold-press does the job and without any registering tones invading your music. Although it's worth noting that there's no option to turn off the notifications that do feature (mostly where ANC and Ambient are concerned).
The physical buttons on the top edge of each earbud make switching between ANC profiles a certainty rather than guesswork, but more than all of this, the Bluetooth connectivity is rock-solid. Calls? Yes, good. There was a little wind-noise intrusion on a blustery day by the sea, but for the office they'll certainly suffice.
Status Between 3ANC review: Value
ANC is solid – but cannot be tailored
Design-conscious wearers will find value here
Rivals offer a more tailored experience
The simple truth here is that Technics' EAH-AZ80 earbuds, which can be yours for just a little more, will give you simultaneous connectivity to three devices, not two – and with a clean, comprehensive companion app to boot. Also, you'll get voice-isolating tech for calls, an extra mic per earbud, LDAC support, and the option to tailor both the ANC and Ambient levels and the on-ear controls to your heart's content.
Does the Bose QCE II edge it for active noise cancellation in direct comparison? Actually, for me, no – but other members of the team have stuck resolutely to Bose's option because, again, these buds offer a slider to tweak the amount of noise you'll hear, which you won't get with these Status earbuds
The fit is excellent and the sound quality is good – I loved the separation, stereo-imaging and verve – but the bass weight does need a bit of help, and dynamically they're a shade off excellent.
In the end, it comes down to your priorities. Are you prepared to forego fit tests, ANC tweaks, buds that know when you're talking and cut the music, and hearing tests to get solid, dependable noise cancellation in a striking build? Because toggle that ANC on and there's most definitely a fraction of a second where extraneous noise floats off into the ether, leaving you with your playlists. The answer, of course, is known only to each of us – and, luckily, we're all so very different.
Should I buy the Status Between 3ANC?
Swipe to scroll horizontally
| Section | Notes | Score |
| --- | --- | --- |
| Features | The app is a little lean, despite the talents of the ANC. | 3.5/5 |
| Sound quality | Exciting and meaty, if lacking a modicum of agility through the dynamic rise and fall. | 4/5 |
| Design | Comfortable, striking earpieces that fit securely and offer great battery life. | 5/5 |
| Value | The ANC is solid, but other brands offer a plethora of features at this level. | 3.5/5 |
Buy them if...
No-nonsense ANC is what you chiefly need
There are no sound zones, no sliders, no conversation recognition and no automatic "you're sitting" tabs. But toggle ANC on and there's most definitely a moment where the outside world melts away.
You celebrate a striking aesthetic
Look at these beauties! They're also available in black, but when you're out and about those fat metallic stems simply gleam.
You want an 8-band EQ tab
These Status earbuds will give you that to augment whichever frequencies you want – and it's one of the most sensitive and useful solutions we've used.
Don't buy them if...
You prioritize a tailored experience
I'd opt for the Bose QCE II (listed below) or the Sony WF-1000XM5 here. The Sony Headphones Connect app has every conceivable tweak under the sun as well as "badges" you can earn just by listening.
You want triple device connectivity
No dice here – but it's a feature of the similarly priced Technics EAH-AZ80.
You're all about that bass
Although the Status Between 3ANC are a good listen for layering and verve, the low-end is a shade off what we consider a truly high-end, tight and resounding experience.

Status Between 3ANC review: Also consider
Swipe to scroll horizontally
| | Status Between 3ANC | Sony WF-1000XM5 | Bose QuietComfort Earbuds II | Technics EAH-AZ80 |
| --- | --- | --- | --- | --- |
| Price | $249 (approx. £249 / AU$399) | $299.99 / £259 / AU$499 | $299 / £279 / AU$429 | $299; £259; AU$499 |
| Drivers | Dual BA and 1x 10mm dynamic | 8.4mm | 9.3mm | 10mm |
| Active noise cancellation | Yes | Yes | Yes | Yes |
| Quoted battery life | 8 hours (buds); 30hrs total with case | 8 hours (buds); 24hrs total with case | 6 hours (buds); 3 extra (charging case) | Up to 7 hours (earbuds); 25h (charging case) |
| Weight | 13.6g per earbud | 4.2g per earpiece | 6.2g per earpiece | 7g per earpiece |
| Connectivity | Bluetooth 5.2, AAC, SBC | Bluetooth 5.3, (LDAC, 360 Reality Audio) | Bluetooth 5.3, (SBC, AAC) | Bluetooth 5.3, (LDAC, LE Audio coming) |
| Frequency range | 5Hz - 25kHz | Not specified | Not speciifed | 20Hz - 40kHz |
| Waterproofing | Yes, IPX5 | Yes, IPX4 | Yes, IPX4 | Yes, IPX4 |
| Other features | 6 mics in total for ANC | Sony 360 Reality Audio | CustomTune audio | Multipoint to three devices, side tone for clear calls |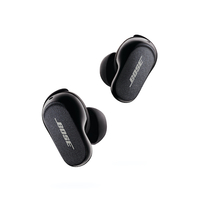 Bose QuietComfort Earbuds II
Not quite as comfortable (despite the name) as the Status earbuds (or the Sony WF-1000XM5 listed below) but the Bose are a fairly vigorous listen, and their facility with active noise cancellation is strong – and the key thing is, it can be tailored. This is the frequent flyer's way forward. Read our full Bose QuietComfort Earbuds II review.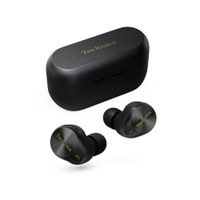 Technics EAH-AZ80
They look a little bigger on first glance but that concha design does work somehow – and they're a lot more discreet than the Status option. Also, you get multipoint to three devices, which is more helpful than it sounds, and for us, the sound just edges it over the Sony proposition listed below – as you can read about in our full Technics EAH-AZ80 review.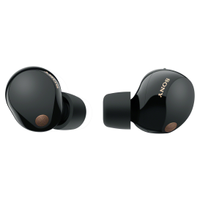 Sony WF-1000XM5
These earbuds offer practically every tweak, tailor, extra and alteration to their functionality that you could wish for. Want to rack up badges and accolades every time you go out with them? Sony's got you covered. Not the last word in noise cancellation, but the sound is oh-so Sony – and that means it's very good indeed. Check our Sony WF-1000XM5 review for the full scoop.
How I tested the Status Between 3ANC
Tested for two weeks, listened against the Bose QuietComfort Earbuds II, Sony WF-1000XM5, Technics EAH-AZ80
Used at work (in the office; walking through London; on a train), at home and in Weymouth, Dorset
Listened to Tidal, Apple Music, Qobuz and Spotify streams and downloads on an iPhone XR, Sony Xperia 1 IV and a MacBook Pro
As always when testing earbuds or headphones, one has to invest time and energy. After a thorough 24-hour run-in period, the Status Between 3ANC became my commute and office companions, as well as my musical providers on a trip to the UK coastal town of Weymouth, Dorset.
I wore them throughout the working day and on the busy (read: noisy) London overground train network. I also wore them in an aerial silks class to check what I like to call the "upside-down loss risk".
The Status Between 3ANC came to work on weekdays (walking brusquely to the station; boarding a train and the London Underground; at the office) and for a particularly blustery walk on the Weymouth Dorset promenade – a great way to test any wind-interference from mics during calls.
When testing the audio quality across the frequencies, I listened to various playlists (spanning everything from reggaeton to prog-rock) on Apple Music and Tidal, but also to podcasts and albums on Spotify – and YouTube tutorials (largely on harnessing the power of Chat GPT, if you were curious) from my MacBook Pro.
I've been testing audio products for five years now. As a dancer, aerialist and musical theater performer in another life, sound quality, fit and the user experience have always been a priority for me personally. I also know full well the benefits of powerful active noise cancellation when done well.
First reviewed: August 2023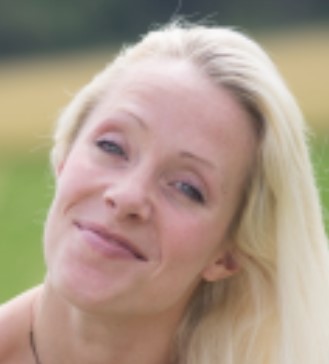 Senior Audio Staff Writer
Becky is a senior staff writer at TechRadar (which she has been assured refers to expertise rather than age) focusing on all things audio. Before joining the team, she spent three years at What Hi-Fi? testing and reviewing everything from wallet-friendly wireless earbuds to huge high-end sound systems. Prior to gaining her MA in Journalism in 2018, Becky freelanced as an arts critic alongside a 22-year career as a professional dancer and aerialist – any love of dance starts with a love of music. Becky has previously contributed to Stuff, FourFourTwo and The Stage. When not writing, she can still be found throwing shapes in a dance studio, these days with varying degrees of success.