Rem-Fit has a pretty decent selection of the more 'advanced' pillows, which don't always come at a lofty cost. The Rem-Fit Snow Pillow, as the example here, features Nordic Chill fabric that keeps you cool and dry as its main USP and is one that's frequently discounted to half-price. It's certainly the best pillow to have if you're a hot sleeper and on a budget.
During our testing we found that it is cool to tough (even through a pillow case) and it doesn't require plumping. The pillow cover is removable so it can also be laundered in the washing machine, but the memory foam filling is to be sponge-cleaned only.
If you're looking for a cool mattress to really boost your comfort level, take a look at our guide to this year's best mattresses for all budgets.
Rem-Fit Snow Pillow review in brief
The Rem-Fit Snow Pillow is a firm pillow which gently supports the head whilst keeping you feeling cool throughout the night. It's rare when we find a pillow that actually stays cool throughout the night and feels cool to-the-touch - even through a pillowcase - so for it to actually work for keeping a cool head during the night is pretty impressive.
Rem-Fit Snow Pillow at a glance
Type: Foam pillow
Best suited to: Back, side, and stomach sleepers
Dimensions: 40 x 65cm
Trial period: 100 nights
Warranty: 1 year
We've been using the pillow for a number of weeks as our main pillow. We found that because it stays plump throughout the night, there is no need to fluff-it up. The memory foam filling is heavy compared to other pillows that we have tested but this is what keeps its shape and provides support around the clocks when it is in use.
When the pillow arrived it was tightly rolled into a box. Once the plastic packaging was removed to release the pillow from its rolled-state, it took a few hours for it to fill out and acquire its standard pillow size. There was a slight smell to the pillow after unwrapping, similar to mattress off-gassing, although this didn't linger for too long and certainly within 24 hours the smell had dissipated.
Rem-Fit Snow Pillow review: price and deals
List price: £99
Frequently discounted
Only available in the UK
The Rem-Fit Snow Pillow is one of eight pillows sold by the brand. It's only available to be bought direct from the Rem-Fit website - which is UK-only - for a list price of £99.
We're also currently reviewing the Rem-Fit 500 Cool Gel Pillow. This is the brands best-seller. It's listed for the same price as the Rem-Fit Snow Pillow of £99. The biggest difference between these two pillows is the magic of the Nordic Chill fabric which is featured on the Snow pillow. Although the Cool Gel Pillow does prevent the head from overheating during the night, it doesn't have the same instant relief and the cover isn't half as thick.
The Snow Pillow and Cool Gel Pillow from Rem-Fit are the most expensive from the brands pillow range. They've also got the Hybrid Pocket Sprung Pillow for £79, Goose Feather & Down Pillow for £69 and Memory Foam Crumbed Pillow for £59.
Compared to other pillows that are available to buy, the Rem-Fit Snow Pillow is considered a luxury pillow (when it is not discounted). With the cost of living that is affecting so many households, the price tag of nearing one-hundred-pounds is pretty steep. However, when it is discounted to half price (£49.50) as it frequently is, it becomes a lot more affordable. It is also less expensive than the competitive Simba Hybrid Pillow which retails at £109 and isn't frequently discounted, but it does have astronaut-inspired temperature regulation which is a pretty cool claim to fame.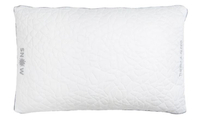 Rem-Fit Snow Pillow | £99 £49.50 at Rem-Fit

The Rem-Fit Snow Pillow effectively cools, even through a pillow case, and provides premium support for night-long comfort. It's perfect for side, back and front sleepers, with just the one Snow pillow being required for most sleep positions.
Rem-Fit Snow Pillow review: design and materials
Nordic chill fabric
Memory foam pillow
Removable pillowcase is machine washable, inner foam pillow is sponge-clean only
The Rem-Fit Snow Pillow is made up of two parts: the removable outer cover, and the memory foam inner. It measures 40 x 65cm which will snugly fit a pillowcase.
The outer cover is a pretty magic Nordic Chill fabric which gives the pillow its cooling properties. The properties of this fabric is 45% Ice yarn and 55% polyester. It also has some technology; Re-Ax technology, that wicks away sweat from the body as you sleep. It's being claimed by the brand that body heat is will dissipate up to 10-times faster than cotton.
To touch by hand it feels cool, even through a pillowcase, and it feels silky even though there is a slightly raised pattern across the cover.
The cover wraps around a memory foam pillow. This is made from Visco Elastic Memory Foam Crumb. It feels heavy compared to synthetic or down pillows, and is one that we would consider to be a firm pillow. Most sleepers would only need one of these pillows because it has a height of 37cm which could be more than enough for side, back or front sleepers.
The cover can be removed by a side zip for machine washing at 40°, and the memory foam filling can be sponge cleaned.
Just to note: owing to the silky-smooth outer cover of the Snow pillow, it does have a tendency to slip out of a pillowcase if it is not fastened in some way. We found that fastening the pillowcase with buttons or poppers, or layering with an additional pillowcase to have the opening of the case covered did the trick.
Rem-Fit Snow Pillow review: performance
Comfortably firm
Feels really cool
No need to plump
We slept on one Rem-Fit Snow Pillow for a couple of months, and used it as our main pillow. Our tests wanted to find out how this cooling pillow fared for set up, comfort, support, and temperature regulation. We also changed up our sleeping positions, alternating between side, stomach, and back positions to see if performance was consistent throughout. Here's how we got on...
Setup
5 out of 5 stars
The Rem-Fit Snow pillow arrived in a box. It was tightly rolled and vacuum-packed into a plastic cover, that slid inside the branded cardboard box.
As with the pillow, the box was fairly weighty to lift. After opening up the box, we removed the wrapped pillow and commenced to free the pillow from the wrapping. Half-way through cutting the plastic the pillow started to unravel and push away the remaining plastic.
It took no longer than 30 minutes for the pillow to regain its standard shape, although there was a slight smell (as expected) so we left it uncovered in the spare room for a night / 24 hours before using it.
Temperature regulation
5 out of 5 stars
The Rem-Fit Snow pillow was cool to touch, and it kept our head cool throughout the night. Every now and then we woke, for reasons unrelated to the pillow, and noticed that the pillow had lost some coolness where our head had been for a few hours so we flipped the pillow onto the other side for an instant cool shot.
We tried the pillow with and without a pillow case, and could feel the same cooling effects.
Firmness and support
5 out of 5 stars
The memory foam filling of the Rem-Fit Snow pillow is a firm pillow. It comfortably supports the head without too much sinking, and it regains its shape without you having to plump it after each use.
It's suitable for side, back and front sleepers and we found that we were more than happy with using just the one pillow, in all of these sleep positions.
As with all Rem-Fit pillows the Snow Pillow is designed to give the maximum support and comfort in any sleep position. They work with all types of mattress to provide support for the head, neck and shoulders and ensure that the correct spinal alignment is assumed.
Rem-Fit Snow Pillow review: user reviews
Since you can only buy the Rem-Fit Snow Pillow direct from the brand, the only customer reviews we can see are on TrustPilot to represent the entire brand. However, we managed to find a few that were relatable to the pillow in question.
A review left by a customer in November 2022 has found it to be incredibly firm and and not suitable for every sleep position. Another review left by a customer regarding the Snow pillow was in August 2022, and loved it but had an issue with the pillow staying inside a pillowcase. In the same month (August) a reviewer commented that the pillows feel cool but they found it closer to a 'wet' feeling, and the pillows are quiet heavy.
Overall, Rem-Fit have a TrustPilot score of 4.2 stars out of 5, which is pretty good considering that they have 1,581 reviews in total.
Should you buy the Rem-Fit Snow Pillow?
If you want a cooling, memory foam pillow which is 'firm' then we can highly recommend the Rem-Fit Snow Pillow. After spending a couple months using it as our main pillow, and only using one pillow when we were used to using two, we were really impressed by how well it supporting our head, neck and shoulders whilst not allowing us to get hot-headed.
Finding a pillow that is instantly this cool to the touch is simply fantastic. It kept cool for most of the night but, if we did wake, we found that we wanted a cool shot of the dreamy Nordic Chill so flipped the pillow over to the other side.
It is a heavy pillow, though, and it is lofty so it'll be a tight squeeze getting it into the pillow case. The silky removable cover may also have a tendency to slip out through the pillowcase if it's not fastened down too, but we found that if you have a pillow protector or two pillow cases onto the Snow pillow then this will prevent the pillow from sliding out of the case.
We really like that you can remove the cover for washing, and the foam filling will just need a sponge clean (if it ever needs one).
Its price of £99 when it's not discounted is pretty steep for a pillow, but given that it is often discounted to half price we think that it is well worth a try. Plus, it comes with a 100-night free trial so if you find that it is not the perfect pillow for you, you can request to have it sent back to the brand.
It's got so many things right and we feel that it genuinely could be the solution to a hot and restless sleepers night, which can start tomorrow (thanks to free next day delivery).