Performance
Benchmarks
MSI GE63 Raider 8RF (FHD, GTX1070) benchmark scores:
The key component in the new GE series performance comes from Intel's 8th Gen chips. The six core Intel i7-8750Q adds an additional two cores to the traditional four core array that has been the maximum on laptops over the last few years. This means that there is the potential for 50% performance boosts over last year's iterations, plus any individual core optimizations. If we throw the new GE63 8RF model against last year's GE73 7RF on Cinebench's single-core CPU test we noted a 9% boost in performance, while the multi-threaded performance showed a 49.7% increase. This is a substantial jump considering the multi-threaded Cinebench scores of MSI's 6th Gen GE72 6QD were 669, meaning last year's devices saw a boost of just 9%.
In general use tasks, this raw processing power translates to home PCMark8 Home (conventional) scores similar to other laptops running the i7-8750Q CPU including MSI's GS65 Stealth and the Gigabyte Aero 15. This powerful CPU is backed up by 16GB of RAM on each of the configurations, which is enough to match the work performance of any business focused laptop available.
MSI's GE63 and GE73 laptops can be configured with either a GTX 1060 or a GTX 1070 GPU and so the gaming capabilities will vary between the respective 8RE and 8RF models. We tested a GE63 8RF model with a GTX 1070 and noted that it beat out last year's similarly-specced GE73 7RF with scores between 10% and 25% greater across 3DMark benchmarks. The engineering model we tested got an average of 51.3 fps on Total War: Warhammer II's benchmark at Ultra 1080p settings and 61.37 using similar settings on Middle Earth: Shadow of War.
While the Middle Earth score is a little lower than we're expecting on the consumer model, these scores demonstrate the power of the GTX1070 GPU. If you're willing to dull the graphics a little or play slightly older or less demanding games, then you'll easily be able to push those frame rates above 60fps to make the most of the 120Hz screen.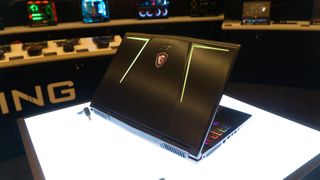 Battery life
Few gaming laptops house enough battery to get you through a working day and the 8th Gen GE63 and GE73 series are no different. Scoring just 1 hour and 48 minutes in the PCMark 8 Battery Life benchmark and 3 minutes less in our movie playback battery life test (with the processor curbed to 95% performance), MSI has clearly jettisoned the Lithium-ion batteries on the GE63 Raider 8RF.
This is pretty common practice on price conscious gaming devices, but you definitely won't want to leave home without the power brick, a caveat that may lose it some fans.
Early verdict
Without clear retail prices it's hard to accurately judge the value of the full range of devices, but the few we have details for seem to have dropped by several hundred dollars since last year. Regardless, the MSI GE63 FHD units are reasonably priced for the components you get, as long as you factor in the premium you'll pay for scoring the latest laptop model so soon after launch. If we add to this the considerable jump in CPU performance then there's a couple of compelling things on offer.
The broad footprint, 5.5 pound (2.5Kg) weight and severe lack of battery life mean you won't want to carry this unit around often. The keyboard and trackpad also aren't ideal for work purposes, but add a mouse to the equation and it's perfectly adequate for gaming. For anyone into RGB customization then the MSI/SteelSeries partnership is market-leading, allowing you to sync color schemes to your favorite games and pull HUD information off the screen and display it through novel keyboard lighting arrangements.

The GE63 and GE73 laptops package good components into a reasonably priced gaming laptop that'll appeal to a broad market. The premium you'll pay for a new device this close to launch does counteract the value proposition slightly, but from a CPU perspective, this generation is the perfect time to snag a futureproof gaming laptop.