Of course, the main driver behind the purchase of a gaming laptop is how it performs when the going gets rough. The H-series Intel Core i7 processor, paired with that Nvidia Max-Q GTX 1070, make quick work of everything we throw at the GS65 Stealth.
Benchmarks
Here is how the MSI GS65 Stealth fared in our suite of benchmark tests:
3DMark Sky Diver: 29,435; Fire Strike: 12,233; Time Spy: 4,619
Cinebench CPU: 845; Graphics: 105 fps
Geekbench 4 Single-Core: 4,969; Multi-Core: 17,898
PCMark 8 Home: 3,913
PCMark 8 Battery Life: 3 hours and 36 minutes
Battery Life (TechRadar movie test): 4 hours and 38 minutes
Middle Earth: Shadow of War: 119 fps; (1080p, Low): 68 fps (1080p, Ultra)
Total War: Warhammer II: 116 fps; (1080p, Low); 56 fps (1080p, Ultra)
As you can see by our benchmark results, the GS65 Stealth absolutely tore through every intense test we could throw at it, putting up general performance numbers that either crush, or maintain parity with, its closest rivals. Clearly, this is a rig that's equally ready to churn out massive spreadsheets or render video files as it is to deliver your next epic game session.
The same has been the case when it comes to gaming, with the GTX 1070 pushing the laptop through the aforementioned benchmark games and the latest games, like Warhammer: Vermintide 2, like a hot knife through butter. However, this is the only area in which we expect the Asus laptop mentioned here to outperform the MSI machine on account of the former's GTX 1080 graphics chip.
By all rights for what this laptop costs, you should expect to simply glide through the latest games at all but the absolute highest settings of detail and polish. With it quickly refreshing display with supreme coloration, this gaming laptop is ideal for all types of games, from twitch shooters to vibrant, story-driven adventures.
That said, watch out for how hot this laptop can get on your lap while under load. While MSI's latest Cooler Boost Trinity system – with three, 0.2mm fans each with 47 blades and five heat pipes – keeps all of the heat away from our fingers while playing, we definitely cannot say the same for the bottom of the base. We guess the heat has to go somewhere, right?
Battery life
Unless this is your first time looking for a gaming laptop, you should know that almost none of these devices bring decent battery life to the table. That said, these thin and light models have turned the corner on that assumption, but there's still room to grow.
For instance, while MSI promises up to eight hours on a charge from this laptop, our tests don't come very close to that figure. However, the times we've recorded are far better than, say, 90% of gaming laptops out there, with almost four hours of juice in the PCMark 8 test and nearly 5 hours in our own battery rundown test. That's not too bad for a gaming laptop – and one this thin.
Meanwhile, the Asus laptop doesn't even come close to either number in the same tests – though, the Gigabyte machine far outclasses them both by a few hours.
Still, you can, at the very least, expect to survive for a few hours away from an outlet with this laptop, and see it survive on flights between several major cities in the US, Europe and Australia.
Software and features
MSI has admittedly packed the GS65 Stealth with lots of pre-loaded software, but it artfully avoids 'bloatware' status by providing functionality that's actually useful. (Well, except for the antivirus.)
Particularly, MSI's Dragon Center 2.0 brings with it lots of system diagnostic and performance improvement tools, like component load levels and the ability to free up memory space. Plus, with supported games, you can use MSI's new Gaming Mode to automatically tune up system components to perform best within said game.
Finally, this software can boost your voice output in games at the software level to improve output when chatting, so that you no longer have to shout to compensate for poor mic gain.
As for connectivity, the Killer Network radio and software within the laptop accounts for up to 50% more stable connections and lower ping rates when gaming. However, the difference is tough to witness or measure between our home and office Wi-Fi connections.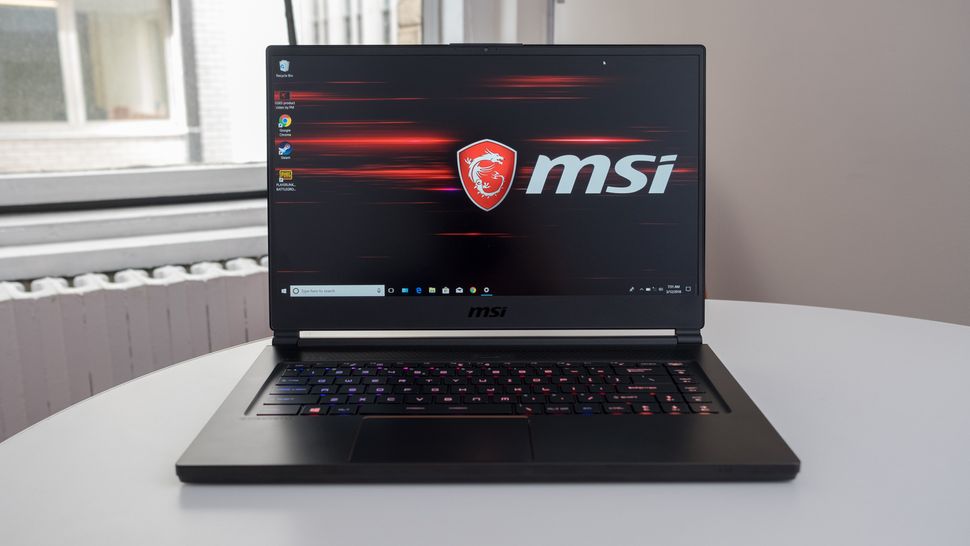 Final verdict
The MSI GS65 Stealth is officially the most impressive Nvidia Max-Q gaming laptop that we've tested to date. The laptop meets or outclasses its most performant rivals and arguably trounces them all in terms of design and style.
That said, we wish for a few more niceties given the price, like Nvidia G-Sync and better native audio, and the laptop tends to get a little hotter than we'd like on our laps while under load.
All told, for the price, the GS65 Stealth is one of the best gaming laptops you can buy today. While you'll have to make some compromises in audio, and there's no biometric login available yet, those are small conceits to make for a laptop you can confidently both take into work and into your next gaming session.
Need a better alternative?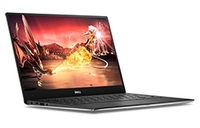 (opens in new tab)
15 best laptops available to buy today
TechRadar has reviewed hundreds of laptops so that we're able to offer you the authoritative buying advice you expect. Whatever you're looking for in a laptop, we've rounded up all the best options in our helpful buying guide so you can decide whether the MSI GS65 really is the best option for you.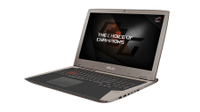 (opens in new tab)
10 best gaming laptops you can buy today
Whether you're after the best gaming laptop money can buy, a cheap option or something somewhere in the middle, we've reviewed all of the best options so you can choose your perfect product.