The Moto Z3 Play is the company's third take on its most affordable Moto Mod-ready smartphone. While light on game-changing revisions over last year's model, the Moto Z2 Play, Moto appears to have crafted a more capable mid-range phone this time around.
For instance, you'll now find a faster Snapdragon 636 chipset inside. There's also a dual rear lens camera on the Z3 Play, bringing along the ever-popular portrait mode. It's front camera has jumped up from 5MP to 8MP, so your selfies should come out a little more sharp.
The best changes in the Z3 Play are on the inside. Conversely, the few adjustments to its outer shell are mostly unwelcome. We don't take issue that the fingerprint sensor has shifted places to occupy the side of the phone, but that it amounts to a thicker phone without a bigger battery seems like a missed opportunity – though Moto might consider this a new opportunity to perhaps interest you in one of its Moto Mods.
Also, Moto has removed the 3.5mm headphone jack from the phone, an indefensible move no matter how much else it gets right.
The Z3 Play still promises to be a good all-around phone that excels at multitasking and impressing your friends with its Moto Mods. But it seems like this year's Play has lost a bit too much of its playful charm. Keep it locked for our full review, which will launch soon.
Moto Z3 Play price and availability
Available now for pre-order (officially launching in July), Moto offers the Z3 Play unlocked with a 2,220mAH Moto Mod in the box for $499 from its website. This means you'll be walking around with 5,000mAh in the tank at a full charge.
You'll be able to pick up the unlocked version of the phone from Best Buy, Wal-Mart, Fry's, B&H Photo, and through Amazon's Prime Exclusive Phones program, which will presumably save Amazon Prime subscribers a bit of cash on the phone, though Moto isn't sharing exactly how much just yet.
On the carrier side of things, Moto has shared that the phone will be available at Sprint and US Cellular – likely available for through a data plan contract.
We've reached out to Moto in regards to global pricing and availability. It can be surmised that the Z3 Play will work on your carrier regardless of where you live, but it might not be worth the price if you have to resort to importing the phone. We'll keep you updated.
Image 1 of 4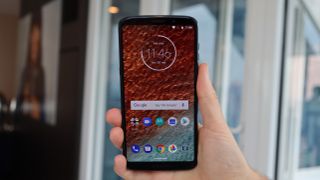 Image 2 of 4
Image 3 of 4
Image 4 of 4
Design
If you've seen the Moto G6, you've gotten the general idea of how the Z3 Play has changed since last year's model. In short, Motorola is amping up the premium quality of the design all around, opting for a strong aluminum build and shrinking the bezels hugging the screen to allow for more screen without changing the size of the phone.
Only so much has changed (and can change), as it needs to stay similar to phones of years past to fit all Moto Mod attachments. As such, it has the same width and height (156.6 x 76.5mm), though this year's Z Play phone is nearly a whole millimeter thicker than last years, boosting thickness from 5.9mm to 6.7mm.
The most apparent and welcomed shift in the design is the move from 16:9 to a 18:9, or 2:1, aspect ratio. This gives the Z3 Play a 6-inch display within the same chassis that could only fit a 5.5 inch screen just 12 months ago. The other notable change is that the power button is on the left hand side of the phone, while the new side-mounted fingerprint sensor and volume rocker occupy the right side. Historically, Moto allows users to power on and off the screen by holding their finger to the sensor, so the oddly-placed power button might not be too much to get hung up on for now.
There's been an omission on the Z3 Play: the headphone jack. While the previous two versions of the phone carried the 3.5mm jack along, this year's phone saw fit to cut it out, yet it doesn't have waterproofing, which is perhaps one of few features worth trading it for.
Performance
Despite this phone's flagship style, this phone has all of the makings of a mid-range performer. It's loaded with Qualcomm's Snapdragon 636 chipset and 4GB of RAM, both of which make this phone feel super speedy on first impressions.
We'll, of course, throw the latest demanding apps and games at it for the full review, but menu navigation and booting into the camera felt zippy. Even if there are few things to complain about for average users, the fact that just a bit more money can get you the OnePlus 6 or the Essential Phone leaves us concerned for the Z3 Play's value proposition.
The phone will come either in 32GB or 64GB configurations, depending on where you buy it, but each boasts the always-appreciated microSD expandability in case you run out of space
Image 1 of 2
Image 2 of 2
Camera and battery
Improvements to the camera and battery on the Z3 Play are a bit of a mixed bag, as one area has been upgraded, but the other has received no attention at all.
Starting with the camera, Moto has opted to put a dual rear-facing set of lenses on the back this time instead of one. The dual-lens array consists of a 12MP lens with an f/1.7 aperture, and a 5MP lens that's used strictly for sensing depth for its portrait mode. It doesn't have the telephoto or wide-angle lens capabilities of other recent phones.
The front-facing lens has also gotten a boost from 5MP to 8MP, complete with an impressive f/2.0 aperture.
Moto is one of many companies adopting Google Lens into its native camera software, so you'll find that baked into the software here at launch.
Moving to the battery, you'll find the same 3,000mAh battery here as was in last year's Z2 Play. It's not the worst capacity, but Moto has made fans angry since it reduced it down from the original's massive 3,510mAh size. You can still expect all-day battery life here, but the Z3 Play doesn't do anything extra with the smidge of thickness gained since last year.
Early verdict
Based on our hands-on time with the Moto Z3 Play, this one looks to have been made to attract new fans, not old ones looking to upgrade. Crafting a device that's more in line with what you might expect out of a flagship phone is something that Moto is clearly very good at, and it's great to see this phone launch at a sub-$500 price point.
Given the fierce mid-range competition, we'll see in the final review if the Z3 Play has what it takes to break through as one of this year's best. Its Moto Mods function is certain to make it a must-buy for those who want easy and relatively affordable access to some really cool features.