While the Performance Base's massive power gains do plenty toward justifying the improved Surface Book's astronomical price tag, they don't change the number: $2,399 (about £1,939, AU$3,305) to start. Alas, let's not look at this in a vacuum – how does its archnemesis, the MacBook Pro, stack up?
Well, to get close to this new Surface Book – spec for spec – with an Apple machine, you'd have to buy the new, "entry-level" for the same price: $2,399 (£2,349, AU$3,599). That said, this sizable sum will get you twice as much RAM from Apple and a comparable AMD Radeon Pro 450 with an equal 2GB of video memory.
You're getting a bigger display – though less pixel-rich at only a 2,880 x 1,800 resolution – and twice as much multitasking power from the new MacBook Pro for the same price. Of course, you're missing out on an entire tablet for the second half of the actual creating part. Oh, and that Microsoft's latest includes a full-size SD card reader where Apple's doesn't hugely works in its favor for some crowds.
All said, if you're just looking for a convertible Windows laptop or tablet and aren't much of a creator type – more of a consumer – there are plenty of options that don't cost over two grand. If it's a tablet you crave, then Microsoft's own offers much of the same touch experience for half as much cash. On the laptop side of the 2-in-1 equation, the and could serve you well for more than $1,000 less.
Ultimately, the newest Surface Book's value depends a lot on whether you sit in the niche that it's designed to serve. If you create digital art or design of any sort, especially with a stylus and digitizer at some point in the process, then this is a pretty remarkable deal over most combinations of mobile workstation and digital drawing surface, Apple's latest laptops included.
Benchmarks
Here's how the Surface Book with Performance Base performed in :
3DMark Cloud Gate: 8,537; Sky Diver: 10,951; Time Spy: 1,542; Fire Strike: 4,327
Cinebench CPU: 242 points; Graphics: 84 fps
GeekBench 3: 3,561 (single-core); 7,348 (multi-core)
PCMark 8 (Home Test): 2,487 points
PCMark 8 Battery Life: 4 hours and 47 minutes
Battery Life (techradar movie test): 9 hours and 16 minutes
The Division (1080p, Ultra): 24 fps; (1080p, Low): 59 fps
GTA V (1080p, Ultra): 19 fps; (1080p, Low): 98 fps
Performance
The number one reason you're buying the updated Surface Book in the first place does not disappoint in the slightest. With the quad-core processor and new, stronger graphics combined, the Surface Book with Performance Base blows its predecessor out of the water in nearly every regard, including battery life.
Take the 3DMark: Fire Strike result, for instance. That's a 131% gain from our test of last year's model, and about as strong as some of last year's . Not that the Surface Book with Performance Base is about this at all, but rest easy knowing this workhorse can double as an enviable Hearthstone machine while on lunch.
What the impressive gaming benchmarks are more telling of is the laptop's ability to render graphics for the purposes of digital animation and other creative work. The test results make it clear that the Performance Base version of the Surface Book is far better suited to meet the needs of creatives that also happen to be power users. (In the modern world of media, the two tend to intersect often.)
Now, surely this massive power boost comes at the cost of juice?
Battery life
Nope, quite the contrary, actually. The new Surface Book with Performance Base puts out some of the longest battery life numbers we've seen on a laptop this year – hybrid or otherwise.
On the arguably unforgiving PCMark 8 Battery Life test, the latest Surface Book model was estimated to last 4 hours and 47 minutes on a charge. That's a sizable 20% gain over our reading of last year's model, but still not an awesome number.
Running our own battery test, however, the new Surface Book lasted an insane 9 hours and 16 minutes playing a local, 1080p copy of Guardians of the Galaxy on loop at 50% brightness and volume. That, too, is an impressive 20% gain from the 7 hours and 39 minutes we recorded from last year's version.
(On its own, the Clipboard lasts for the usual 4 hours we recorded with last year's model.)
Stack that up against the storied 15-inch MacBook Pro, and you see the Surface Book with a 90-minute advantage. We'll repeat that: this pro Windows laptop can last longer than a MacBook Pro.
All of this improved power inside a frame that lasts far longer than before are tough upgrades to ignore, even if you bought in on the ground level in 2015. However, it's only a matter of months before we expect Microsoft to unveil a Surface Book 2, so as impressive and welcome as these improvements are, they're only as good as how badly you need them right now rather than a few months from now.
We liked
It's a marvel that Microsoft managed to improve both the power and longevity of its Surface Book without drastically, if even tangibly, changing the design. It's a testament to how far the firm has come as a hardware maker in a very short amount of time.
The performance increases are also demonstrably huge. With 130% stronger graphics in some places and 20% longer battery life all around, this is inarguably the best Surface Book yet. Not to mention that it's potentially better than the MacBook Pro in some of those key areas.
We disliked
Regardless of whether these vast improvements are worth it for someone that already owns the original Surface Book, Microsoft is asking those customers to pony up the original price and then some for said upgrades. That the firm isn't offering the Performance Base alone as an upgrade to existing customers feels like a slight, but we also get the desire to, well, make a profit.
We also wish that, while it's not the status quo, Microsoft would at least offer more storage and/or RAM at that starting price. We all know that most people within this price range would probably make good use of either, and being stuck with a small disk drive is a hard problem to fix years down the road.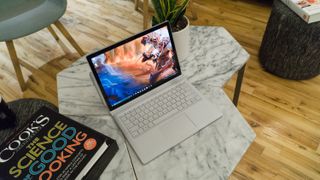 Final verdict
Microsoft has made one of the ultimate laptops for creative professionals ever in the Surface Book with Performance Base. Speedier and longer-lasting than ever, this version will better enable creators to work on more demanding projects.
The fact that a new Microsoft-made machine has outlasted a new Apple one in our testing is nothing short of a milestone. One of Microsoft's insurmountable hurdles in hardware has finally been overcome.
That said, the starting price is an awful lot for what's on offer, making us wish for a bit more storage or memory, as either decision is likely an irreversible one for most customers. Regardless, if you're a digital artist or other creative professional, you should give the Surface Book with Performance Base a long, hard look over those new MacBook Pros.