Lenovo's Mirage Solo is poised to send the mobile VR scene for a loop. First seen at CES 2018, it's the first Google Daydream standalone headset to hit store shelves, meaning you don't need a compatible smartphone to insert into it. All you need is the headset itself, which happens to be much more capable than what any phone can provide today.
In close collaboration with Google, the Mirage Solo features WorldSense, its six degrees-of-freedom technology that lets you move around in a virtual world as if you're really there.
Essentially, there's a flagship smartphone packed inside of the Mirage Solo. That, combined with inside-out positional tracking, not only makes Daydream apps and games that are available now even better, but it blasts away the gates that have previously kept mobile VR from being more interactive, like PC users currently enjoy with the HTC Vive.
Our hands-on time with the Mirage Solo was limited, but it was more than enough to be impressed with what Lenovo and Google have accomplished.
Design
The Mirage Solo is almost like the lovechild of the PSVR headset and the Google Daydream View, combining their sheer simplicity in design with impressive functionality that enhances the VR experience during marathon sessions.
Given that all of the hardware is stuffed into the headset itself, the comfort yielded here is remarkable, but expected since PSVR employs a similar solution of front-loading the weight of the Mirage Solo on the top of your forehead.
A twisting knob brings the headset around your skull, making it fully adjustable – friendly even to those who wear glasses.
Image 1 of 7
Image 2 of 7
Image 3 of 7
Image 4 of 7
Image 5 of 7
Image 6 of 7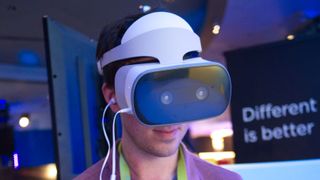 Image 7 of 7
On front of the headset, there are two cameras, which undoubtedly will be used to merge Google's AR and VR aspirations – possibly even something akin to Lenovo's Star Wars Jedi Challenges experience? Fingers crossed.
Moving around the device, one side plays host to a power button and a microSD slot that's handy for loading VR180 videos captured by the Lenovo Mirage Camera. Around to the other end, you have your volume controls and a 3.5mm headphone jack.
Of course, Lenovo has also included Google's Daydream remote, a necessary accessory for interaction within games and apps.
Performance
Loaded with the Snapdragon 835 processor, 4GB of RAM and Daydream OS, the Mirage Solo is ready to get down with the latest and greatest VR apps and games – even those that aren't out just yet.
During our limited demo, we tried the new Blade Runner: Revelations, an upcoming game that takes full advantage of WorldSense to let you investigate clues and interact with in-world elements by turning your head and walking around.
While this short demo didn't let us mess around fully with the environment, it's clear that the newfound freedom that WorldSense brings is immense for mobile VR. Not just that, the fact that it's running on its own operating system without worrying itself about phone calls and what not in the background means that more resources can be dedicated to whatever it is you're doing with Mirage Solo.
After the demo completed, we tapped the home button to return to the Daydream's main menu to see a familiar landing page that we're used to seeing in the Daydream View. Yep, it's the same experience, so there's zero learning curve if you already know your way around. Even if not, it's simple to get into.
The visual fidelity provided by the wide 110-degree field of view of its 2,560 x 1,440 LCD display was immediately noticeable. Because it's integrated into the device, pixels are almost indiscernible to the degree that we didn't find ourselves trying to readjust the headset to get a better look. The fact that the headset provides almost perfect isolation from light also plays into this gain in immersion.
We look forward to testing more games and apps, as well as its 4,000mAh integrated battery to see how long it can last under pressure.
Early verdict
The Mirage Solo is the first step in fully integrating Daydream into a headset. And even with just some brief impressions, it left an impact that, in so many ways, renders other mobile VR headsets obsolete – even Google's Daydream View. We didn't think we'd be saying this, but that's now the entry-level headset for Daydream.
Everything comes with a price, and the Mirage Solo is expected to come in under $400 (about £300, AU$500). A first look at the tag might shock you, but based on the powerful tech that's been implemented and acknowledging just how well it's been done, this seems like a sweet spot.