Battery life
Better battery life than the iPhone X
Lasts a whole day on a single charge
Battery life has long been a contentious point for iPhones, but the iPhone XS Max has a couple of things in its favor in this department.
First up is the new, more power-efficient A12 Bionic chip – which also lands in the iPhone XS and iPhone XR – which should be able to eke extra life from every mAh in the power pack.
Secondly, there's the power pack itself. It's said to be 3,174mAh, which is larger than the 2,691mAh one found inside the iPhone 8 Plus, and it makes it the biggest battery Apple has ever put inside a phone.
Apple says the iPhone XS Max battery offers an additional 90 minutes of power over the iPhone X. While it's unclear how Apple arrived at that particular figure, we can be sure about one thing: the iPhone XS Max can last a day on a single charge with moderate to high usage.
That's with us taking the phone off charge at around 7am, and then plugging it in just before midnight with just a few percent left in the tank and low power mode enabled.
Our usage generally consisted of a couple of hours of gaming, a couple of hours of music and podcast streaming, a mix of social media, email, web browsing, messaging and call activity, plus a few snaps here and there. We also had an Apple Watch 3 connected during the whole review period.
If you're going to push the handset with an intensive app such as PUBG, the battery is going to take more of a battering, but still won't be a major drain.
A couple of hours of hotspot usage on the iPhone XS Max however, ultimately ended up with it dying at around 7pm, so if you rely on your phone to provide an internet connection to your other devices you'll want to carry a charger with you.
This isn't a phone that will last you a day and a half to two days with moderate usage, but if you're less intensive then this is possible as on the lighter days we managed to head to bed with at least 30% of power remaining.
However, if you're a lighter user in general you may want to hold on for the iPhone XR, which still offers a big screen, but a lower price which may be more suited to your usage pattern.
The iPhone XS Max is there to stream video and play games, with a battery that should keep you going all day with these intensive activities.
Wireless charging is convenient if you have charging pads, but they need to be purchased separately, as does the fast-charging block that will enable you to juice up your iPhone in double-quick time – this was rumored to be coming in the box with the new iPhone XS pair, but didn't materialize.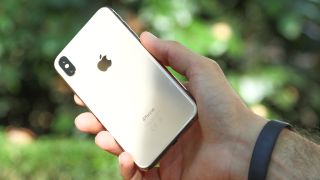 Camera
On the surface it appears that the iPhone XS Max has the same camera as the iPhone X but there is a lot more to it when you dig deeper, especially with low light photography.
The protruding module on the rear of the handset still houses two 12MP snappers in a vertical stack, separated by a Quad-LED True Tone flash.
As before one camera is telephoto and the other wide-angle, with the same f/1.8 and f/2.4 apertures, but there is a key difference.
The iPhone XS Max and XS both feature Smart HDR, an improved mode over the standard 'HDR' on the X, which improves shots with high contract, ensuring all areas of the photo are well lit and detailed.
The size of the pixels have also been increased in Apple's latest dual-camera setup, allowing the iPhone XS Max to pull in more light, which results in improved low-light performance.
With larger pixels and Smart HDR, the iPhone XS is capable of taking low-light pictures that are noticeably better than the iPhone X. While the iPhone XS is not as good as the Huawei P20 Pro, you can see a big jump from last year's iPhone.
Apple's camera app is easy to use, with settings kept to a minimum for an intuitive and straightforward shooting experience.
You can jump quickly between the two 'zoom' levels by tapping the '1x' icon on screen which takes you closer to your subject without negatively effecting quality.
Slide across to portrait mode and snap a picture and you'll find there's another new feature in store for you on the iPhone XS Max.
Once you've taken a portrait shot, head to the gallery and tap edit. You'll then be presented with a slider at the bottom of the image, allowing you to adjust the level of background blur.
This is something we've seen on multiple Android phones over the years, but it's the first time the feature has been implemented on iPhone, and it's a welcome addition.
Moving round to the front, and the 7MP camera has also been upgraded over the selfie snapper on the iPhone X.
It also benefits from the new Smart HDR mode, and gets the addition of portrait mode. While the rear cameras capture the depth in a shot for a natural blur effect, the front camera works out the bokeh effect digitally.
The results are very good, but it's not quite as adept at cutting out the subject. Messy, fluffy hair can fool it, and sometimes the blur effect can spill over slightly onto the edges of the foreground.
All-in-all, the dual-camera on the iPhone XS Max is a good improvement over the iPhone X, especially with night time photography.
Camera samples