Epomaker RT100: Two-minute review
I would like to preface this piece with a disclaimer: this article isn't about Pedro Pascal at all (yes, that Pedro, star of Narcos, The Mandalorian, The Last of Us, Game of Thrones, and every woman's fantasy). This is a review of a mechanical keyboard that's pretty special – perhaps not quite as special as Pedro but still slaps nonetheless.
The Epomaker RT100 arrives at a time when the best mechanical keyboards have gained quite a cult status and become one of the most coveted PC peripherals. Because of that, many companies have emerged from obscurity and new mechanical keyboards are getting released every day, making it harder and harder for a keeb to set itself apart.
Lucky for the RT100, Epomaker seems to have taken great pains to make it stand out from the crowd and forge it into one of the best keyboards out there. It comes, for example, with its own little mini display, aptly christened the Smart Mini TV, that you can personalize. And, that's where Pedro comes in – as beautiful and charismatic as ever in this tiny little screen right in front of me where I put him for all-day inspiration.
One tester of the keyboard called this mini display gimmicky, and maybe it is. Or maybe he just hasn't found a great use for it yet. Because I did, and I do not think it's gimmicky at all. Pedro might not know I'm alive, but his face on it brings me joy, and that's valid too.
But enough about that for now. It's not just the Smart Mini TV that makes the keyboard unique, after all; even before I figured out how to port that display in, let alone realized its full potential, I was already a fan. The moment my fingers touched those keycaps and started typing, I was a goner. I've tested more than my fair share of mech boards, and this one is unlike anything I've ever used. It's satisfying in that linear way that I like, but quieter… much, much quieter. And it pumped endorphins in the keyboard receptors in my brain like no other keyboard has done.
Great design elements in a compact form
At the heart of the Epomaker RT100 are the company's Sea Salt Silent switches and a gasket mount, and together they bring you the satisfying thock of linear keys with a much quieter sound. You can also get the board with Gateron Pro Yellow, Epomaker Flamingo, and Epomaker Budgerigar switches, each of which I'm sure delivers its own unique feel.
I quite like the quiet soft thock that my review unit offers, however, and it's also just the ticket for office use. With the RT100 looking like it is – a retro late 80s/early 90s mechanical keyboard, but cooler, it's made for it.
This is a 95% keyboard, making it almost full-sized, but incredibly, it's managed to keep a compact footprint, and I'm an absolute fan of that as well. This is an 1800 Compact, which is apparently a keyboard size that's as rare as an Asian unicorn, giving you only 97 keys while still boasting a numeric pad and arrow keys. I hate it when full-sized keebs take up most of my desk, and the RT100 seems to have found the perfect compromise here.
It's not at all a keyboard you'll want to lug around in your weekender bag or backpack, especially if you're traveling by plane, but it's not particularly heavy either. So if you want to take it on a road trip or train ride, I fully support you. It feels very sturdy, despite being plastic-made, so it should survive the journey. The PBT keycaps feel like they could take a beating, and the cable, though not braided or coiled, is thick and flexible, with both ends are encased in sturdy aluminum.
Just be sure to pull that mini display out and stow it away, lest you risk breaking it and losing the pleasure of Pedro's company.
He'll make all-nighters a breeze if you need to work long hours, but the RT100's opaque keycaps might not, especially if you've turned down the lights. The RGB lighting is vibrant and stunning, but because the keycap legends aren't translucent, you'll hardly see those printed legends. If you've got your typing game down, however, this shouldn't concern you.
Besides that Smart Mini TV, there are other mention-worthy touches here – the on/off switch that lets you switch from wireless or Bluetooth to wired, the Mac and Windows toggle, and the media knob, all of which are easily accessible on the top right corner of the keyboard. Other Fn shortcuts are also available and are something you should check when reading the manual. There's also a garage for the USB wireless receiver, which hides the USB-C port for the Smart Mini TV too.
Finally, the RT100 is hot-swappable and comes with class-A Kailh sockets that support 5-pin switches – as well as 3-pin ones, if you want to use those.
A performance as fine as Agent Peña
There are three connectivity options here: USB-C to USB-A wired, Bluetooth 5.0, and 2.4GHz wireless. You won't miss out on anything, whether you're connected wirelessly or via cable – that's especially true since there's no discernable wireless latency. Just keep in mind that the battery will drain faster if you've got both RGB lighting and the mini display on.
My only issue here is that the USB dongle is incredibly tough to pull out. I had to use a pair of switch pullers to take it out of my PC's USB port every single time.
The opposite is true about the Smart Mini TV, in a way. The tricky thing about this display is that it has a deep port, and you have to push it in until you hear a very audible click. Otherwise, you'll end up sitting there frustrated thinking that you got a defective unit.
Despite being compact, the Epomaker RT100's keys are decently-sized and spread out nicely so my fingers never felt crowded. More importantly, the Epomaker Sea Salt Silent switches, which actuate at 2mm and bottom out at 4mm, are fantastic, smooth, responsive, and solid.
The keys feel amazing to type on, delivering that squishy, soft thock that's still very satisfying and comfortable. If you're used to other switches or a harder bottom out, it might feel foreign at first, but give it a chance, I honestly think you'll love it just as much as I do. I've written long articles on this keyboard, and I have zero complaints.
The Epomaker Driver software adds plenty of customizations to the keyboard, which is nice. It's also very reliable and works like clockwork. The downside is that just like the keyboard design, it's got that 80s/90s sort of vibe, which honestly looks better on the keyboard, and is not very intuitive to use.
It will, however, let you remap most of the keys and the knob, change key sensitivity, play with the south-facing RGB lighting, program macros, and of course, edit what's displayed on the Smart Screen. And it gives you the RGB lighting to play with – some of the lighting effects on offer, like my favorites, the Flower Blooming and Inclined Rain, I've never seen elsewhere.
The one thing this software can do that no other – or at least not many – keyboard-supporting apps can do is personalize the mini display. The screen has been pre-programmed to display info like the time, date, battery level, connection mode, volume, current weather temperature, and CPU power consumption. But a sizable section of it is for you to personalize, which brings me back to Pedro.
Honestly, I've always thought of these mini screens as remnants of the old CRT display tech from the 90s, which meant that I was limited to cute anime images and my own sketches. But as I'm neither into anime nor a very talented artist, I threw on an image of the Skradinski Buk falls in Croatia and the new James Webb Space Telescope capture of the rings around Uranus to see how those would look.
It turns out that this little display that could is plenty sharp, detailed, and nuanced – and just the perfect medium to satiate my growing Pedro Pascal obsession. Why the heck not? As a colleague pointed out after editing one of my reviews, I'm bringing him into everything now, and I'm totally owning that.
Epomaker RT100: Price & availability
How much does it cost? $115.99 / £93.07 / AU$172.67
When is it available? Available now
Where can you get it? Available in the US, UK, and Australia
Like many excellent mechanical keyboards, the Epomaker RT100 isn't going to be a cheap buy. However, for all that it offers in terms of performance, design, and features, it's actually much cheaper than I expected. It will set you back a reasonable $115.99 / £93.07 / AU$172.67, which is much less than other mech boards I've tested.
The Lofree 1% Transparent, for example, is a hefty $219 / £181 (about AU$320) purchase. As is the Drop + The Lord of the Rings Elvish, which demands $199 (about £160.91 / AU$283.44) of your hard-earned money. Even the Wombat Pine Professional, which has a more somber look, is also a little pricier at $159.99 (about £130 / AU$240).
Luckily for UK and Australian keyboard enthusiasts, it's as readily available there as it is in the US.
Epomaker RT100: Specs
Swipe to scroll horizontally
| | |
| --- | --- |
| Layout: | 95% |
| Switch: | Epomaker Sea Salt Silent switches |
| Programmable keys: | Yes |
| Dimensions: | 397 x 147 x 30 mm |
| RGB or backlighting: | Yes, customizable |
Should you buy the Epomaker RT100?
Swipe to scroll horizontally
| | | |
| --- | --- | --- |
| Value | The Epomaker RT100 is reasonably priced for a keyboard of its caliber and with its feature set. | 5 / 5 |
| Design | It's gorgeous in that kind of cool retro circa-80s/90s way. And, it's got that fun mini display that I love. | 5 / 5 |
| Performance | Three connectivity options, satisfying and smooth keys, zero latency, and more make this one of the best mechanical keyboards I've tested. | 5 / 5 |
| Average rating | The Epomaker RT100 may be my new favorite mech board, and I'm recommending it to everyone. | 5 / 5 |
Buy it if...
You want a fun keyboard that also delivers in performance and comfort
The Epomaker RT100 may have all the frills, but it delivers where it matters as well. This is a great-performing keyboard that's satisfying and comfortable to type on.
You want a mech keyboard that won't set you back a whole lot
Compared to its rivals, the RT100 is actually pretty affordable. It's not a budget buy, but it's a great value, especially considering all the features.
Don't buy it if...
You want a mini keyboard
The RT100's 1800 Compact form factor is the perfect compromise to having all the keys you need without sacrificing portability. But if you want something more compact, one of our best mini keyboard picks might suit you better.
Epomaker RT100: Also consider
Swipe to scroll horizontally
| | Epomaker RT100 | Lofree 1% Transparent | Wombat Pine Professional |
| --- | --- | --- | --- |
| Price: | $115.99 / £93.07 / AU$172.67 | $219 / £181 (about AU$320) | $159.99 (about £130 / AU$240) |
| Layout: | 95% | 65% | Full |
| Switch: | Epomaker Sea Salt Silent switches | Pre-lubed Kailh Jellyfish switches | Red / Brown Cherry MX key switches |
| Programmable keys: | Yes | No | Yes |
| Dimensions: | 397 x 147 x 30 mm | 306 x 144 x 30.6 mm | 440 x 144 x 39 mm |
| RGB or backlighting: | Yes, customizable | 7 white LED backlit effects | No |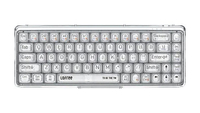 Lofree 1% Transparent
The Lofree 1% Transparent delivers great performance, a comfortable, satisfying experience, and that glorious thocky sound of an impressive pre-lubed linear switch.
Read our full Lofree 1% Transparent review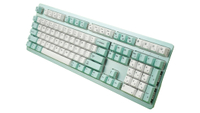 Wombat Pine Professional
The Wombat Pine Professional is the perfect combination of smooth and stable performance, satisfying typing experience, and a whole lot of shortcuts for productivity.
Read our full Wombat Pine Professional review
How I tested the Epomaker RT100
Spent a week testing it
Used it mostly for work
Tested its features, connectivity, and performance
I tested the Epomaker RT100 for a week, using it as my main keyboard for work, which meant composing emails and writing articles with it. This isn't really marketed as a gaming keyboard so I didn't bother testing it with games – although, based on my experience, most mechanical keyboards are decent with gaming anyway.
I made sure to test its special features and different connectivity options, as well as the Epomaker Driver to see how well it works with the keyboard and how easy it is to use and navigate.
As a keyboard enthusiast, I own a small collection of mechanical keyboards, many of them hot-swappable and I customize when I find the time. I've also been testing keyboards, from productivity ones to gaming options, for years now, even before I joined the TechRadar Editorial team.
First reviewed April 2023