Bang & Olufsen Beoplay EX: Two-Minute Review
The Bang & Olufsen Beoplay EX wireless earbuds presented plenty of promise when they were announced in April 2022. In true B&O style, they looked unlike any of the best wireless earbuds already available, exhibiting gorgeous Scandinavian design that would make them just as much a luxury accessory as a pair of earbuds. But with an equally luxurious $399 / £349 / AU$650 price tag, they had to offer substance as well as style to justify the investment.
And boy do they. If you're looking for some of the best-sounding wireless earbuds, then you can end your search here. The Bang & Olufsen Beoplay EX exceeded all my expectations in the sound department to the point where I had to question how good my own pair of Apple AirPods Pro 2 actually were. Serving up perfect levels of bass and treble in my opinion, the Beoplay EX offers one of the best musical experiences I've ever had the pleasure of listening to.
Key to Beoplay EX's success is the sheer amount of sound profile customization you can perform from within the companion app. Rather than just offer a range of presets – although these are there if you want – B&O serves you up with a touch-controlled on-screen dial that lets you fine tune the sound equalizer to set them up to your exact preferences. You can even save a multitude of sound profiles to seamlessly switch between depending on the genre of music you're listening to.
The engineers at Bang & Olufsen also upped the ante of the Beoplay EX's adaptive noise cancelation smarts, and it does indeed work exceptionally well. It may not be on the same level as the ANC found on the Bose QuietComfort Earbuds II, but this is hardly a criticism as the Bose buds are truly in a league of their own. The ANC here still performs well, and does an excellent job of cutting you off from the outside world.
It's not all glowing remarks in this review though and it should be said the Beoplay EX aren't without their foibles. I experienced occasional signal dropouts during my time using them, something I've not previously experienced with my AirPods Pro 2, nor something I would expect from a pair of wireless earbuds in this price bracket.
The companion app, while offering a wealth of customization options, is also not immune to fault. The setup process to connect the earbuds with the app wasn't as smooth as I expected, and it occasionally failed to recognize them on occasions when I opened it on future uses.
Battery life is also so often an important consideration for the discerning wireless earbud owner. Fortunately, the Beoplay EX claims a six-hour life with ANC turned on, which is extended to a total of 20 hours from the included charging case, putting them on par with the Bose QuietComfort Earbuds II. We were favorable in our assessment of the Bose pair, and it's a tick from us again here, but an extra hour or two would have been nice considering the money you're spending.
I wouldn't call these dealbreakers as, again, the sound quality alone does more than enough to make up for these shortcomings. But for such a sizable sum of money, I had expected a more complete package.
Bang & Olufsen Beoplay EX: Price and release date
Released on May 5, 2022
$399 / £349 / AU$650
Available to buy now in most markets
Bang & Olufsen's latest pair of wireless earbuds are available now for $399 / £349 / AU$650, making them around $100 / £100 more expensive than the excellent Bose QuietComfort Earbuds II in the US and UK, and some AU$200 more expensive in Australia. It's this high price that has cost them half a star in overall verdict.
The Beoplay EX initially launched on May 5, 2022 in just its Anthracite Oxygen color, before being joined by Gold Tone and Black Anthracite at later dates. In the US and Australia, these three colors have also now been joined by Lunar Red, which is the color my test sample arrived in.
How much you're willing to spend on a pair of wireless earbuds is something only you can answer, but there's no denying the Beoplay EX will be a stretch for many. And when you factor in the breadth of admirable competition from the likes of Bose, Sony and Apple – all of whom have produced class-leading pairs of earbuds that are never too far from price drops – the decision to dig deep to nab yourself a pair from B&O is one that will need to be carefully considered.
Bang & Olufsen Beoplay EX: Features & battery
Adaptive ANC is effective
Experienced occasional signal dropouts
Battery life could be better
Bang & Olufsen has made the Beoplay EX as simple to use as possible. Unlike pairs of wireless earbuds from Bose and Apple, there's no audio tests to conduct to determine the best fit for your ears, or to personalize the audio response based on your individual ear canals. Instead, just pop the buds into your ears, connect to Bluetooth and press play. Foolproof.
During playback, you can control your music using the earbuds, with the left and right playing host to different functions, depending on whether you're listening to music or making a phone call. To adjust the volume, for example, you need to touch and hold a finger on the right bud to increase it, or touch and hold the left to decrease it. Play/pause functions require just a single tap on the right unit, and you can cycle through the various levels of ANC with a single tap on the left earbud.
Key Specs
Colors: Anthracite Oxygen, Gold Tone, Black Anthracite, Lunar Red
Connectivity: Bluetooth 5.2
Codec support: SBC, AAC , aptX Adaptive
ANC: Yes; adaptive
Water resistance: IP57
Battery life: 6 hours (buds); 20 hours total (charging case)
Weight: 6g (per bud); 53g (charging case)
I found the Beoplay EX's glass touch surface controls to be incredibly responsive, although sometimes perhaps a little too sensitive. On more than one occasion I found myself accidentally touching the surface and pausing my music when readjusting the fit of the right bud. The Beoplay EX will also stop playing music when you take either or both of the units out of your ears, and resume when they're reinserted.
Inside each earbud you'll find a 9.2mm Neodymium speaker driver, the largest B&O has ever installed in a pair of wireless buds and which claim a frequency range of 20 - 20,000Hz. Connectivity comes via Bluetooth 5.2 (which has since been superseded by Bluetooth 5.3, although differences are minimal) and there's good support for various audio codecs, including SBC, AAC and aptX Adaptive. The latter is an interesting inclusion, as it's Qualcomm's Bluetooth codec that claims to combine the best of both aptX HD and aptX low-latency, i.e. one that can support music files up to 24-bit/48kHz with the promise of minimal to no interference.
But, you will only reap the benefits of this if your source music player supports aptX Adaptive. The bulk of my testing was carried out on either an iPhone 13 Pro or a MacBook Pro, neither of which support aptX. Apple has instead chosen to go down the route of AAC, and this could explain why I experienced occasional signal dropouts during my time with the Beoplay EX, because I wasn't able to stream using the low-latency aptX Adaptive codec.
I couldn't pinpoint any specific triggers that caused the dropouts, so can't be sure if it's a hardware or software issue, and I also only had the one pair to test so can't say for sure that this is a problem that plagues all pairs of Beoplay EX earbuds.
I was also able to listen to them using a Samsung Galaxy S22 Ultra as the source device too, a phone that does support aptX Adaptive. I didn't come across any signal dropouts, but I didn't listen to them for as long a duration as I had done using my iPhone. Because I hadn't noticed any triggers that cause the issue when paired with the iPhone, I wasn't able to easily replicate the same scenario on an Android device.
Still, the occasional dropouts weren't enough to dampen my listening experience, which was bolstered by some rather effective active noise cancelation (ANC). Bang & Olufsen gives you the option of switching between Adaptive ANC – whereby the six microphones (three in each bud) analyze the environment around you and adjust the level of noise cancelation accordingly to prevent you from being disturbed – or setting your own level on a scale of one to three.
I predominantly leaned towards choosing my own level, which I kept at the maximum of three. I accept there are use cases for wanting some ambient sound to come through, such as if you're cycling and need to be aware of the road conditions around you. There is a Transparency mode that facilitates this, although, to my ears at least, I couldn't quite hear much of a difference when switching between that and Noise Cancelation when sitting in the office. I also couldn't hear much of the conversations taking place around me in either mode, even when changing the level of effectiveness for each.
Conducting the same test using the Bose QuietComfort EarBuds II, however, did allow more sound to travel through when in their equivalent of Transparency mode. It's a close call, but Bose still manages to take the crown for noise cancelation here.
For my personal preferences, I prefer to stay in ANC mode. I only use public transport or my legs to get me places, so blocking out as much of the world around me to allow me to indulge in my playlists is something I value, and I can confidently report the Beoplay EX obliged with roaring success.
I wore the Beoplay EX on a quick weekend flight from Sydney to Byron Bay and continued to be impressed. I've previously used the Sony WH-1000XM4 and my AirPods Pro 2 on flights before, and of the three, the B&O pair – in my opinion – did the best job of isolating me from the trifecta of aeroplane annoyances: engines, screaming babies and your annoying seat neighbor. I could still hear the engines whirring away (thankfully) and I've personally yet to find a pair of headphones that can omit the constant hum completely.
You'll also find a feature within the companion app to reduce wind noise, which is pretty self-explanatory. However, whilst waiting for a bus in rather windy conditions, I toggled the feature on and off, but didn't notice any discernible difference. Perhaps it's better-suited to hurricane-like conditions?
Other features include Bluetooth multipoint connectivity – which the Bose QCE II miss out on – meaning you can connect the Beoplay EX to two devices simultaneously, saving you the hassle of disconnecting and reconnecting devices if you're switching between your phone and a tablet or laptop, for example.
As far as battery and charging go, it's fair to say the Beoplay EX aren't class-leading. Bang & Olufsen claims six hours from a single charge with ANC turned on and eight hours with it turned off. This increases to a total of 20 hours from the extra juice supplied by the (rather attractive) charging case. Said charging case is recharged via USB-C (B&O includes a USB-A to USB-C colour-matching cable in the box) or via Qi wireless charging (something not all other competitors can claim). A full charge via USB-C takes around 1 hour 45 minutes, or 2 hours 15 minutes via wireless.
Overall I had no issues with the battery life during my testing period. I used the Beoplay EX a lot, on the daily commute, at the gym and pretty much whenever I found myself out of the house. The headphones themselves were always fully charged, and I plugged the case in to charge whenever I was near a USB-C cable (you might be surprised how often this was). There's an LED light on the case which displays green, amber or red, to indicate approximately how much charge it has left (a lot, some or not much).
Features score: 4/5
Bang & Olufsen Beoplay EX: Design
Lightweight and comfortable, ergonomic design
Gorgeous Scandinavian style in a range of colors
No fit test feature
When the Beoplay EX was announced in April 2022, one of the main talking points was how good-looking they appeared in pictures. They're available in a range of colors, including Anthracite Oxygen, Gold Tone and Black Anthracite in the US, UK and Australia, but American and Australian audio fans also get the option of Lunar Red. I was offered the black, gold or red pair for my review unit, and I settled on the latter because it looks nice, different and it's unusual.
Those dashing good-looks on paper transferred perfectly into reality, and I really do think they're some of the best-looking wireless earbuds you can currently buy. Whereas other brands have gone for failsafe black or white colouring, B&O has – perhaps unsurprisingly given the aesthetics of its other products – treated its in-ears as just as much a piece of art as a pair of headphones.
The glass touch panel on each earbud gives off a delightful shine that cements their premium credentials, while the lightweight charging case with engraved Bang & Olufsen branding reassures you they're protecting something special inside.
But they're not the most discreet pair of wireless earbuds around, although I would hardly call them obtrusive. As with many other pairs on the market, they employ a stem design, which helps to bring the integrated microphones closer to your mouth.
They're relatively lightweight too, with each bud weighing in at six grams on the scales, and they also get an IP57 rating protecting them against dust and water.
B&O supplies you with four pairs of silicone ear tips in increasing sizes, as well as a pair of Comply foam ear tips which help to ensure you create as tight a seal within your canals as possible. I initially tried the Beoplay EX as they came out of the box, with the medium-sized pair of silicone tips attached. I found they didn't feel secure and the sound was pretty weak, so I switched them out for the largest pair and was astounded by the difference it made.
Not only did switching to the larger pair provide a more snug and comfortable fit, but they actually exposed how poor the fit of my AirPods Pro 2 was. I thought it was great, but being able to easily compare the difference, the AirPods felt loose in comparison.
I also tried out the Comply foam tips, but these too come in different sizes and unfortunately, the pair included were too small for my ears. I found them to feel more secure than my AirPods Pro 2, despite also using the largest pair of silicone ear tips on those. Indeed, the AirPods can be removed from my ears with barely any effort, but the Beoplay EX does require a little bit of extra force. Whilst I didn't test the fit for runs or cycles at the gym, I'd be confident of them staying in your ears no matter what you're doing – just as long as you have the tightest possible seal.
Unlike other pairs of wireless earbuds, such as those from Apple and Bose, there's no feature here to test the fit in your ears. Instead, you just have to rely on your perceptions to determine if you've created the best possible seal.
Design score: 5/5
Bang & Olufsen Beoplay EX: Audio performance
Enveloping sound without spatial audio-like algorithms
Incredible level of sound customization
Decent call quality
The best word I can think of to describe the audio performance of the Bang & Olufsen Beoplay EX is 'immersive'. I thought my AirPods Pro 2 did a fine job of delivering tunes to my ears, but B&O has turned the whole experience up to 11 for me.
You'll no doubt have read or heard that other pairs of wireless earbuds can either lack bass or have so much of it it drowns out vocals, but I found no such issues with the Beoplay EX. Every aspect of the soundstage is balanced tremendously well and with great depth. You can clearly identify different parts and instruments on a track. But rather than them all being left to fend for themselves, B&O brings them all together to form one utterly convincing cohesive package. It's quite remarkable.
I should make a note here that I was streaming music from Apple Music, which I believe offers superior sound quality to Spotify. The majority of my music is streamed in ALAC lossless quality.
I'm a man who enjoys his dance music, so a good amount of bass naturally excites me. I've previously been of the mindset that the more bass a pair of headphones can deliver, the better they are (much to the bewilderment of previous colleagues).
However, after listening to some of my favorite songs through the Beoplay EX, I now fully appreciate that a bass-in-your-face approach isn't necessarily the way to go. Take Dom Dolla's 2019 belter San Frandisco. The build up at the beginning shows off the Beoplay EX's dynamic capabilities and the first bass drop is expertly handled with great impact. Yes, they still shake my brain around at a questionable level, but the overall package is more cohesive compared to what I'm used to. I loved it.
What I also love is, despite the eartips being inserted a fair distance into my ears, whereby I would expect the audio to sound incredibly direct and in close proximity, it was quite a different experience. The sound delivered feels more open and spacious. There's no spatial audio computational technology here, but I don't think it's needed, as the soundfield created organically does a fine job of immersing (there's that word again) you in whatever you're listening to.
Some other favorite tracks of mine to test out include Rod Stewart's Do Ya Think I'm Sexy? and Madonna's Frozen. Through the Beoplay EX, Rod's salacious single bounces along with great energy and enthusiasm. You can clearly define the guitar riff in the background, those iconic synth notes hit wonderful heights and Rod's raspy vocals take centerstage. As for the latter, it's exquisite and probably the best I've heard it sound through a pair of in-ears. This track, for me, perfectly highlights the difference in quality between the Beoplay EX and my ol' faithful AirPods. There's a greater impact on each drum beat from B&O's effort and Madge's vocals are goosebump-inducingly beautiful.
It's a similar story when playing Rammstein's Los. Comparing the performance of the Beoplay EX side by side with the Bose QC Earbuds II, it became clear there was a greater sense of enthusiasm from the Danish pair of buds. I kept the volume level on my iPhone the same when connecting both pairs and the Beoplay EX delivered a performance that I found to be louder and far more enjoyable. This doesn't mean the Bose sounded bad in comparison, but I think B&O was simply showing where your extra money is being spent.
The beauty of the Beoplay EX is that you can fine-tune the sound profile to the nth degree. Bose offers some form of customization through its Music app, and Apple gives you a list of presets in the settings, but both pale in comparison to what's offered by B&O. Within the app you're presented with an EQ wheel, with four distinct directions for the sound: Bright, Energetic, Warm and Relaxed. You're free to move the indicator to anywhere within the wheel you wish, including to various points in between the four set points. The further out towards the edge, the more pronounced the EQ effect, and vice versa when keeping it closer to the centre.
For me, the sweet spot was between Bright and Energetic, but closer towards Energetic. According to the wheel, this indicated a helping of high treble with a sprinkle of high bass. You can save multiple sound profiles, so if you listen to a range of genres, you may want to set different profiles for each. You can save as many as you want, but you can only have five appear on the home screen of the app for quick access.
The real beauty of this in-depth level of personalization, for me, is that there's no 'right or wrong' setting. Everyone will have their own perspective as to what sounds good and what doesn't. I will happily concede that not everyone will be down to party with the level of bass I like to listen to. So, rather than just give you a few preset options – we've all cycled through the usual array of Dance, Rock, Pop and Jazz EQ settings on our audio players – you're instead allowed to decide what's best for you. For this, I think B&O deserves plenty of praise.
One area that can cause wireless earbuds some trouble is call quality. There's nothing worse than calling someone or leaving them a voice note, only for them to hear static or loud noises in the background. I regularly make international calls using WhatsApp and, whenever I've used my AirPods Pro 2, my dear mother has claimed I sound like I'm underwater. So I was keen to try out B&O's claims that I would sound "crystal clear," thanks to the three microphones in each earbud, combined with "intelligent beam-forming technology [that] distinguishes between [my] voice and other sounds."
Whilst on a call to mum and walking next to a busy main road, I switched between both my AirPods Pro 2 and the Beoplay EX and asked her if I sounded clearer on one pair over the other. Well B&O, you've won my mother over, as she said I was much clearer when talking on the Beoplay EX. It wasn't perfect mind you, and I wouldn't say I came through "crystal clear," as there was still some interference from cars in the background, but it wasn't enough to drown out my voice and was a noticeable improvement over the AirPods.
As with audio, you have a few options to influence how you sound on a phone call within the companion app. I switched between these modes too – Own Voice, Neutral and Noise Cancelation – whilst on the call with mum, even with her not-always-great hearing, she could distinguish a difference. The best option? Own Voice.
Audio performance score: 5/5
Bang & Olufsen Beoplay EX: Value
Sound is some of the best I've experienced
More expensive than closest rivals
Signal dropouts disappointing
We said in our review of the Bose QuietComfort Earbuds II that they weren't cheap, but the class-leading ANC performance and great audio helped to justify their cost. In the case of Bang & Olufsen, it's a similar story. The sound quality and ANC performance are both excellent, but the question that has to be asked is, do they warrant a $100 / £100 / AU$200 premium over their peers?
To be honest, yes, I think they do. To me this isn't just another pair of wireless earbuds, but more like a pair of speakers that you strap to your head – the audio quality is unlike anything I've personally heard before. We all have our vices, the things we're happy to splash some cash on because they make us feel good. If you're a lover of music and you don't want to walk around with a pair of over-ear noise-cancelling headphones, I implore you to at least try the Beoplay EX.
I only have the Beoplay EX on loan, and when they go back and I revert back to my AirPods Pro 2, I just know I'm not going to listen to music in the same way again. B&O has ruined all other pairs of wireless earbuds for me. For my personal financial situation, I can't justify buying a pair, but boy do I wish I could.
Value score: 4/5
Should I buy the Bang & Olufsen Beoplay EX?
Swipe to scroll horizontally
Bang & Olufsen Beoplay EX

| Attribute | Notes | Rating |
| --- | --- | --- |
| Features | Effective ANC, good app, battery life could be better | 4/5 |
| Design | Drop dead gorgeous, lightweight and sexy: | 5/5 |
| Audio | Exceptional sound, can be personalized with great precision | 5/5 |
| Value | Some may feel the step up in quality over rivals justifies the price | 4/5 |
Buy them if...
The best sound matters to you
I don't know if my words can do quite enough justice for just how good the Beoplay EX sound. They really need to be heard to be believed and I'm convinced they have now ruined all other pairs of wireless earbuds for me
You appreciate extra features
With a wireless charging case, a variety of included eartip options and a companion app that lets you customize virtually all aspects of sound reproduction for music and phone calls, the Beoplay EX aren't run-of-the-mill buds.
Don't buy them if...
You're on a budget
There's no navigating around the fact the Beoplay EX are an expensive pair of wireless earbuds. While we may think they do enough to justify their price, we appreciate it's going to be a stretch for many.
You're going to be away from a power source for some time
The Beoplay EX hasn't been graced with the longest battery life ever, with a combined figure of just 20 hours from the earbuds and charging case. If you're always going to be near power, this isn't a dealbreaker, but if you're on a long-haul flight and haven't topped up before you board, you may have to suffer in silence for some of your journey.
Also consider...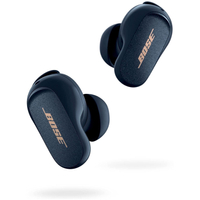 Bose QuietComfort Earbuds II
I've made plenty of passing mentions to the Bose QuietComfort Earbuds II in this review because they're probably the closest natural competitor. Their ANC performance remains class-leading, but B&O takes the crown for sound.
Read our full Bose QuietComfort Earbuds II review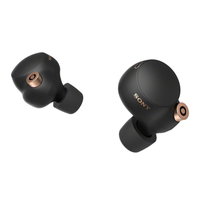 Sony WF-1000XM4
If battery life is top of your list of wants from a pair of wireless earbuds, then you need the Sony WF-1000XM4 in your life. Audio and ANC performance aren't able to compete here, but a total of 24 hours of juice – and a whole hour from just five minutes plugged into a power outlet – mean they have plenty more stamina.
Read our full Sony WF-1000XM4 review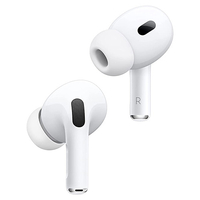 Apple AirPods Pro 2
Apple's ubiquitous wireless earbuds are perhaps still the best option for iPhone owners. They work seamlessly, offer spatial audio and the Find My feature can prove handy if you mislay them. Whilst they certainly don't sound bad by any stretch, they are outgunned when it comes to overall audio performance by the Beoplay EX.
Read our full Apple AirPods Pro 2 review
How I tested the Bang & Olufsen Beoplay EX
Review test period = 1 month
Testing included = Listening to a range of genres in various scenarios: indoors, outdoor, on public transport
Compared with previous and similar five-star reviewed products
When I tested these Bang and Olufsen headphones, I gave them an initial buffering period of around 9-10 hours to allow the speaker drivers to break in. I then used the same selection of songs that I use for all other headphone reviews, streamed from an iPhone 13 Pro via Apple Music.
I listened to the same section of a song multiple times to pick out various aspects, focusing on a different one each time. I then repeated this process with competitor products to see how they compared.
Because these B&O headphones featured active noise cancellation (ANC) I had to test its effectiveness in various situations where external noises were high. I used them in a quieter office setting, on my daily commute to the office by train and on a one-hour flight from Sydney to Byron Bay.
[First reviewed March 2023]