Will your smartphone signal survive the solar eclipse?
How mobile networks are preparing for the total solar eclipse on August 21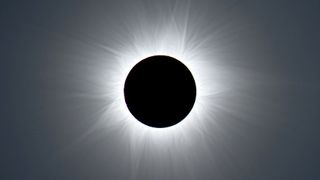 The first total solar eclipse in 99 years to cross the US coast-to-coast will pass over 12 states later this month.
Despite it being a famously challenging event to photograph, services like Instagram, Snapchat, Facebook and Twitter are expected to be deluged with images, videos and live streams. There's no doubt #Eclispe2017 is going to be one of the most popular hashtags of the year. However, those who stand in the very best places to view the eclipse will have to tone down the tech and text instead.
Destined to be the most documented total solar eclipse ever, 2017's event will start out as a cellphone phenomenon. But the question is: can networks cope with the surge of all those solar eclipse snaps and status updates?
Unlike a major sports event or a music festival, where lots of people gather in one place and try to use social media at the same time, the eclipse is unique in its scale and spread.
"The geography is what's different about this compared to other large events we handle," said Scott Mair, Senior Vice President of Network Planning and Engineering at AT&T. "We don't expect any issue whatsoever with the capacity of the network in general, but at individual cell sites congestion may occur."
The problem is the Path of Totality. This narrow track, about 70 miles from north to south but stretching from Oregon all the way to South Carolina, is the only area where observers can view totality.
Totality is when the sun is completely blocked by the moon, and the white solar corona is visible to anyone underneath in the moon's shadow. It will happen for between two minutes and two minutes 41 seconds, depending on exactly where you stand, but the gradual journey of the moon's shadow from east to west will take about 90 minutes.
Trouble is, a lot of the best places to watch are small rural towns that are already challenged for bandwidth.
"We are boosting the capacity in some key areas where we think the most people will be gathering for the best views or for the longest duration," said Mair.
"We don't know exactly how much traffic there will be, but from NFL championship games we handle 30 or 40 million photos in three or fours hours," said Mair, who admits that it's difficult to forecast the eclipse traffic.
Still, AT&T isn't the only carrier confident it's prepared to support the influx of posts.
"We believe our networks can handle the additional capacity during the solar eclipse event," said Karen Schulz, a spokesperson for Verizon.
Predicting bandwidth needs in specific locations isn't easy. It's predicted that about up to 7.4 million people will travel into the narrow Path of Totality on August 21, but no one really knows. It all depends on how many people decide to take a trip at the last minute. However, there are clues.
"We identified where the best viewing spots will be using data from NASA, and also local knowledge on where events will be held," said Mair.
Some especially small towns will temporarily mushroom in size, perhaps ten-fold and beyond, and providers are only able to mitigate the problem.
"For the eclipse, we're currently deploying Cell on Wheels (COWs) at locations in Oregon and Idaho," said Adrienne Norton, a Sprint spokesperson.
These two states crossed by the Path of Totality are expected to be among the busiest, but there are other pinch points. AT&T is boosting capacity by an average of 160% by sending COWs to Madras and Mitchell in Oregon, Idaho Falls in Idaho (the easiest place to access for visitors from Salt Lake City), Glendo Reservoir in Wyoming (easiest from Denver), Carbondale in Illinois, and at Columbia, Owensville and Washington in Missouri.
However, there are two places service providers are particularly worried about; Madras, Oregon (population 6,000) and Hopkinsville, Kentucky (population 32,000).
"Due to the very large crowds expected to gather in parts of Oregon and Kentucky, we are planning to deploy a cell on wheels in Bend, and another one near the gates of the Jefferson County Fairgrounds in Madras to increase capacity for SolarFest. As well as one in Hopkinsville, Kentucky where we expect exceptionally large crowds," said Schulz of Verizon. SolarFest is a festival-like gathering taking place August 17-22, centered around the eclipse.
While Hopkinsville is being publicized as the point of greatest eclipse (although it has little benefit – the longest duration is actually in Carbondale, Illinois), Madras is where eclipse-chasers will have the greatest chance of clear skies for totality.
"In Madras, if there's going to be 150,000-200,000 people, we know the network is not engineered to cope with that, so we have augmented the capacity," said AT&T's Mair.
Madras will also host the Lowell Observatory Solar Eclipse Experience 2017. However, AT&T's priority is Hopkinsville, where it's already sent a Cell on a Light Truck (COLT) to increase bandwidth by 300%. Over 100,000 people could descend on the town.
It's the same gear used by its network disaster recovery team after forest fires, flooding, hurricanes and other natural disasters. Technically speaking, AT&T is handling the eclipse as if it was a disaster.
However, even 300% extensions in bandwidth might not be enough to handle sudden population increases, and anyone at a large observing event in a small town or rural area will likely struggle to use their smartphone around totality.
So, what should we expect on August 21? If you're not in the Path of Totality, don't worry.
"For people coming outside the office for a quick look at the eclipse, taking a photo and uploading it, they won't notice any problem," said Mair.
If you're in the Path of Totality and in a large crowd, however, the advice is a bit more drastic: text, and that's about it.
Want to meetup with friends? Send a text. Share a photo? Text it. Share a video or live stream the entire event? Forget about it.
"Texting usually works best – it's what we advise that any major event," advised Mair. "If you're taking a movie on your phone, wait five or 10 minutes to upload."
If you're planning to be in a rural area far from crowds, you'll get a regular service, which may be poor to start with. Sprint advises anyone in remote places to disable app updates on their devices and to send text messages instead of making voice calls.
If you need to be in contact with someone during a busy event, two-way radios – a.k.a. walkie talkies – may be the best idea. And since the traffic may be heavy before and after totality in some places, consider printing maps and driving directions; don't rely on navigation apps on your phone.
Despite this total solar eclipse being widely described as once-in-a-lifetime event, it's not; another one will sweep across the U.S. in just seven years. And by the time that one takes place on April 8, 2024, cellphone networks will have drastically changed.
"By 2024, we'll have a combined LTE 5G network providing wireless service, and we'll have a highly virtualization service for automation and routing of traffic," said Mair.
Eclipse-chasers may struggle on August 21, 2017, but by 2024 they'll be able to take advantage of 5G's predicted 10gbps+ speeds to live stream totality from Texas in 4K VR, not a COW in sight.
Sign up to receive daily breaking news, reviews, opinion, analysis, deals and more from the world of tech.
Jamie is a freelance tech, travel and space journalist based in the UK. He's been writing regularly for Techradar since it was launched in 2008 and also writes regularly for Forbes, The Telegraph, the South China Morning Post, Sky & Telescope and the Sky At Night magazine as well as other Future titles T3, Digital Camera World, All About Space and Space.com. He also edits two of his own websites, TravGear.com and WhenIsTheNextEclipse.com that reflect his obsession with travel gear and solar eclipse travel. He is the author of A Stargazing Program For Beginners (Springer, 2015),