Excellent Freesat app finally launches for Android devices
Control your TV and set recordings from afar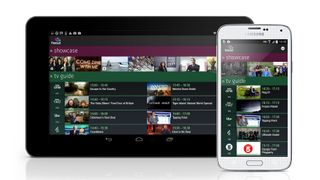 Freesat's fantastic mobile companion app has been out on iOS for a while, and today it's finally made its way onto the Google Play store.
The new Android app not only allows you to browse Freesat's TV guide, but also transforms your phone or tablet into a TV remote control.
As long as you've got one of Humax's Freetime-enabled Freesat boxes, you can pair your Android device with your box and use it to launch channels and set recordings.
And because it works over the internet too, you'll even be able to alter or set your recordings from anywhere on the globe.
Download today
"When we launched the Freesat iOS App earlier this year, our focus was to deliver an experience that would be a game changer for free TV viewers and its popularity surpassed our expectations." said Scott, Managing Director of Freesat.
"Following feedback from some of the over 200,000 people who downloaded the Freesat app, we have worked hard to match that success with an app optimised for the Android market,"
If you're on Android or iOS and you have a Humax Freetime box, you should download this app pronto. Windows Phone users are advised to not hold their breath for a release any time soon.
Sign up to receive daily breaking news, reviews, opinion, analysis, deals and more from the world of tech.
James was part of the TechRadar editorial team for eight years up until 2015 and now works in a senior position for TR's parent company Future. An experienced Content Director with a demonstrated history of working in the media production industry. Skilled in Search Engine Optimization (SEO), E-commerce Optimization, Journalism, Digital Marketing, and Social Media. James can do it all.