New Year's resolutions are often dismissed as being vague, overly-ambitious delusions that are ultimately doomed to failure. But resolutions that involve tech? Well, they're a different story.
Whether you're planning to peel yourself off the sofa towards a new fitness goal, or build the ultimate hi-fi setup, our new series (running from Sunday December 26th to Sunday January 2nd) will show you how to fly through the January wastelands using your tech-based hoverboard.
Why tie your resolutions to tech? There are a couple of good reasons. Firstly, a popular strategy for building new habits is called 'temptation bundling'. In short, linking something you like (gadgets) to something you're less keen on (your resolution) is generally more sustainable in the long-run. Also, we're big fans of blaming our failures and shortcomings on inanimate objects.
But while Apple Watches, Chromebooks and air fryers can all be springboards to better habits (as we'll reveal in this series), new year's resolutions don't have to be about self-improvement. As our Senior Computing editor Matt Hanson convincingly argues in his commitment to doing more PC gaming in 2022, it's also a good time for tech-based self-care – particularly after the year most of us have had.
So while our guides cover how to reach classic goals using tech like Nintendo's Ring Fit, ergonomic keyboards and Pikmin Bloom, we'll also explore the more self-indulgent resolutions our team is aiming for in 2022 – like why it's finally a good time to invest in an LG OLED TV or lose yourself in VR.
Whether you're a fan of new year's resolutions or not, make sure to bookmark this page to discover how we're planning to use tech for the better in 2022 – it might just spark some ideas on how to use your new Christmas presents.
---
Tech Resolutions 2022: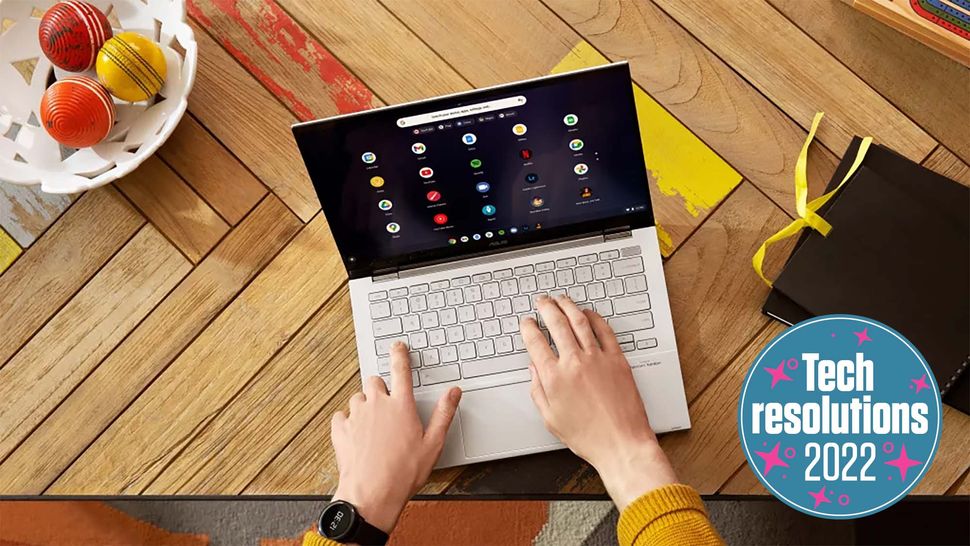 Whether you've just unwrapped a new Chromebook over Christmas, or been wondering how to master your existing Chrome OS laptop, our guide will show you how to harness its talents and achieve 'poweruser' status.
In the computing equivalent of a couch-to-5K, we cover how to embrace the Chrome OS launcher, get the most out of tablet mode, and much more. You'll be setting productivity PBs in no time.
---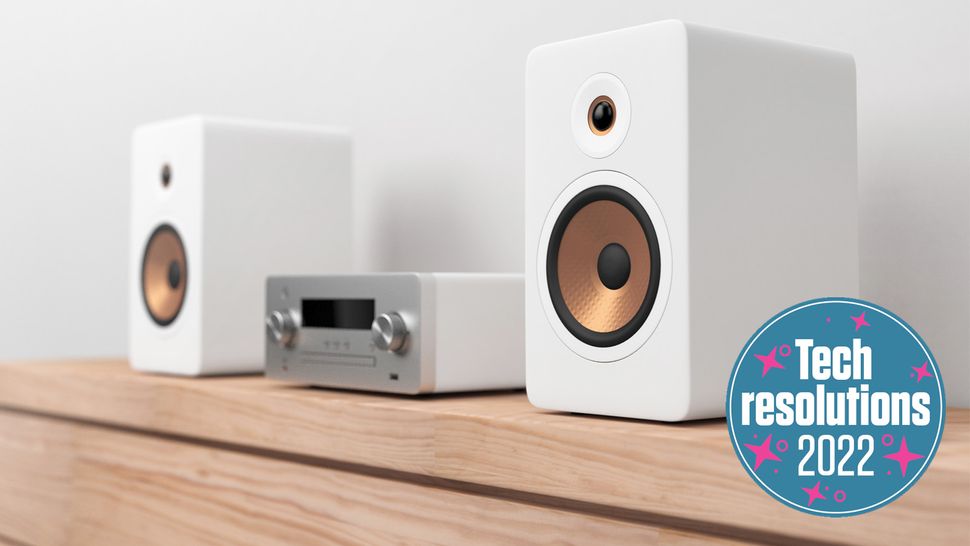 Forget health kicks – it's your home music setup that needs to hit the gym in 2022. Not sure where to start? Our in-depth guide is here to help you plan your hi-fi system, from the choosing your source through to amplification and speakers.
This new year project doesn't have to cost thousands either – we cover how to fold your existing kit into a delicious audio sponge cake, and top it off with the best cables, stands and wireless accessories.
---
We're rapidly moving towards that time of year when ordering takeaways becomes nigh-on impossible to resist – but our Smart Home & Appliances Editor, Carrie-Ann Skinner, has pledged to beat the habit this year with a seemingly unlikely accessory.
Air fryers might not sound significantly healthier than your favorite local fried chicken wing haunt. But as you'll discover in this insightful ode to the increasingly popular kitchen staple, they are far healthier than deep frying, while also offering the speed needed to beat your takeaway habit.
---
Boosting your fitness is a new year's resolution staple, but some of the classic methods like gyms aren't available to everyone – particularly if you're already struggling with injury.
In this personal account of why Nintendo Ring Fit's customizable adjustments make it the ideal fitness companion for those who have been struck down with injuries of all kinds, TechRadar's Gaming Editor Vic Hood reveals why it could be your exercise BFF in 2022.
---
New Year's fitness resolutions don't have to all be about HIIT workouts and ultra-marathons – getting started with a daily walk is a fine start, and TechRadar's Senior Gaming Editor Adam Vjestica is aiming to reinvigorate his strolls with a healthy dash of gamification.
Like Pokémon Go, Pikmin Bloom lets you grow a miniature army of followers, but also compels you to get outside by diarizing your walks in a charming, motivational fashion. You can even use it to record your mood each day, making it arguably the ultimate January survival tool.
---
While many of us are looking forward to spending our retirements in a Black Mirror-style VR utopia, TechRadar's Computing writer Jess Weatherbed has vowed get a head-start in 2022 by sinking some serious time into the Oculus Quest 2.
Sadly, it's probably not wise to spend 12 hours a day playing Beat Saber, which is why this excellent summary of the full range of VR experiences out there – from social apps like VRChat to artistic workouts like Tilt Brush – is the primer you need to help you maintain a healthy VR life this year.
---
It's the job that photographers and videographers put off the most: creating a secure backup system for all their photos and videos.
But whether you're a pro with a bulging Adobe Lightroom library or a hobbyist who relies on Google Photos, creating a photo backup is a New Year's resolution that's well worth making in 2022 – and James Abbott's in-depth guide is here to show you how to do it.
---
Over the course of 2021, Josie Watson started getting fed up with her dependence on a phone. From doomscrolling through social media to apps incessantly blasting notifications designed to trap you into an endless cycle of personalized ads wedged between posts from school friends and family members showing off engagement photos, sharing pixelated unfunny memes, or bragging about their culinary skills.
Flash forward to Josie starting at TechRadar and using a smartwatch to learn more about her anxiety. She soon realized these wearables were so much more than just a fancy timepiece.
---
Much as our Fitness Editor, Cat Ellis loves her running watch, first thing in January she prefers to leave it in a drawer and head out with bare wrists.
It's not permanent, and the phone still leaves the house just in case of an emergency, but it's a great time to remind yourself that you don't need tech to enjoy running. When you allow yourself to get into the zone, the simple joy of movement is enough.
---
The last few years have been awful. This means that the New Year's resolutions we make to ourselves as we enter 2022 are more important than ever.
That's why for Senior Computing Editor, Matt Hanson, his New Year's resolution isn't telling himself to lose weight or write a novel or eat less pizza. Instead, he's going to make a promise that will do a lot more good: play more PC games.
Helpfully, we've also published a list of the top PC games for 2022 that we're looking forward to.
---
You might not be into running yet, but if you're thinking about getting in some treadmill time or going for a run in the park, know that your smartwatch can help you track your progress while offering guidance on areas to improve.
If you're a beginner, one way to feel this running thing out is by taking on a couch to 5K plan. It's the ideal way to ease yourself into a running or walking regimen. And your shiny new smartwatch can help you complete that plan - maybe even motivate you to stick to running long term too.
---
The urge to upgrade is a constant one for gamers. The problem is, we don't always make the upgrades that offer the most bang for our buck. And while flashy hardware launches often pull our attention, there's little thought given to the gadgetry that supports our gaming addiction.
Gerald Lynch is talking about our network gear. Never before has the quality of our internet connections been more important to our games sessions. At a basic level, games are bigger than they've ever been, regularly topping out at over 100GB. So to even play a game in any good time requires an internet connection with a magnitude of greatness vastly exceeding what was required during the last generation.
And that's why his 2022 New Year's resolution is to give his home a full network makeover.
---
Many of us still leave our computers idling all night for one reason or another, and you might be tempted to use that idle time for something productive.
Instead of mining cryptocurrency, though, there are plenty of ways to use that idle computer time for a good cause, rather than setting the planet on fire to help venture capitalists who got in on the ground floor of bitcoin get even more obscenely rich than they already are.
---
Maybe a simple toy isn't quite enough for your furry pal these days?
If you want to really improve your furry friend's life you're going to need some of the best pet tech around, and whether you're feeding them, keeping them entertained, or making sure they're not getting up to no good while you're out of the house, we've got some top tips.
And lots of pictures of dogs.
---
The new year is always awash with talk of self-care, and what could be better than caring for your poor wrists? Ergonomic accessories allow you to write, work and browse with less discomfort, and many on the TechRadar team swear by them – but they're often sidelined compared to the attention given to your monitor, desk, and chair.
Here we make our case for why ergonomic keyboards and mice shouldn't be overlooked.
---
If you don't already have a tech resolution, may be we suggest the classic: "treat yo self"?
That's what our News & Features Editor Henry St Leger is promising to do, as they've decided they're going to buy an LG OLED - and an article about it in TechRadar is about as binding a contract as it gets, so we're expecting lots of viewing parties soon.
Find out exactly why LG, why OLED, and why 48 inches, in our final tech resolution article.