Samsung announces NX2000 with Wi-Fi and NFC
Comes with free copy of Lightroom 4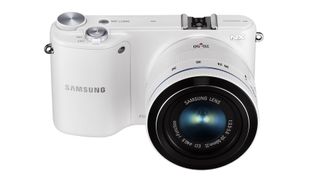 Samsung has launched the latest camera to sit in its NX range of compact system cameras in the shape of the NX2000.
Fitted with a 20.3 million pixel APS-C sized sensor, it is joined by a DRIMe IV image processing engine which has been designed to reduce noise, improve speed and boost colour reproduction.
Continuous shooting at up to 8fps is available, while a 1/4000th second top shutter speed is also promised. A wide sensitivity range of ISO 100 to ISO 25600 is included.
On the back of the camera is a 3.7 inch WVGA full touch screen which can be used to control all aspects of the camera.
Beginners
SMART mode provides options to help beginner photographers, offering 14 different scene modes and a range of settings to reflect the shooting environment and needs. For instance, Action Freeze can be used to capture a child running, while "Best Face" takes five consecutive photos and lets the user select the best expression of each person in the picture for the final result.
The range of lenses available for NX cameras has grown to 12, which includes compact pancake lenses, zooms and portrait and macro lenses. i-Function lenses allow controls, such as aperture and shutter speed, to be changed via a button on the lens.
Equipped with Wi-Fi, as with the other SMART NX cameras, the NX2000 also features NFC (near field communication) technology allowing it to instantly connect to compatible Android smartphones and tablets. A Direct Link button can be used to instantly upload to social networking sites such as Facebook.
Check out Samsung's
to discover loads more about the infinite possibilities of the GALAXY Note II
A free copy of Adobe Photoshop Lightroom 4 will be included with every purchase of the NX2000, designed to appeal to more advanced users.
Available in white, black and pink, the Samsung NX2000 price is yet to be confirmed.
Sign up to receive daily breaking news, reviews, opinion, analysis, deals and more from the world of tech.
Amy has been writing about cameras, photography and associated tech since 2009. Amy was once part of the photography testing team for Future Publishing working across TechRadar, Digital Camera, PhotoPlus, N Photo and Photography Week. For her photography, she has won awards and has been exhibited. She often partakes in unusual projects - including one intense year where she used a different camera every single day. Amy is currently the Features Editor at Amateur Photographer magazine, and in her increasingly little spare time works across a number of high-profile publications including Wired, Stuff, Digital Camera World, Expert Reviews, and just a little off-tangent, PetsRadar.