Are new Olympus PEN cameras coming in September?
"Revolutionary" new models rumoured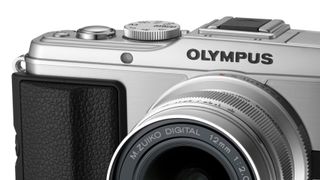 Rumours are circulating that a new generation of PEN cameras will be introduced at Photokina.
Suggestions include the PEN line-up being "simplified" to make the differences between each model in the range more obvious. Currently, there are three categories of camera - the E-PM1 (Mini), E-PL3 (Lite) and E-P3.
According to rumours, Olympus was disappointed by the sales of the Mini, but surprised by the larger than anticipated Lite/E-PL3 sales.
The latest iteration of PEN cameras were only introduced in July last year, with all three using the same sensor. It was only the E-P3, at the top-end of the range which included a touch-screen full array of art filters, and integrated flash. A tilting screen was only available on the E-PL3.
Features
The PEN mini arguably directly competes with the Panasonic GF3 or GF5, the company's entry level offering. However, both of these models include some advanced features, including a touchscreen, not offered by the E-PM1.
Although Olympus UK was unable to give any official comment on any new launches, we have a strong feeling that a new set of cameras could be on the cards.
It seems likely that some of the features from the new advanced model, the Olympus OM-D, such as the 5-axis image stabilisation system and perhaps even the 16 million pixel sensor would be incorporated.
Stay tuned for more as it happens.
via 43Rumors
Sign up to receive daily breaking news, reviews, opinion, analysis, deals and more from the world of tech.
Amy has been writing about cameras, photography and associated tech since 2009. Amy was once part of the photography testing team for Future Publishing working across TechRadar, Digital Camera, PhotoPlus, N Photo and Photography Week. For her photography, she has won awards and has been exhibited. She often partakes in unusual projects - including one intense year where she used a different camera every single day. Amy is currently the Features Editor at Amateur Photographer magazine, and in her increasingly little spare time works across a number of high-profile publications including Wired, Stuff, Digital Camera World, Expert Reviews, and just a little off-tangent, PetsRadar.