T-Mobile launches GoSmart Mobile, its very own no-contract service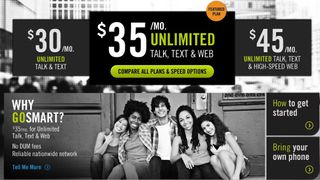 T-Mobile is the latest carrier to throw its cell towers in the prepaid subscription ring.
T-Mo announced the launch of GoSmart Mobile today, its no-contract wireless service for "budget-conscious consumers." The carrier promised no hidden fees, caps or overages for those penny-wise customers.
Data from market research firm IDC cited by T-Mobile in its press release announcing the service pegged 80 million cellphone users as opting for no-contract plans by the end of 2013, with an average per year growth of 7.4 percent until 2016. It looks like T-Mobile wants a slice of that lucrative prepaid pie.
"The influx of data services, coupled with the traditional flexibility and value of no contract plans, has considerably increased consumer interest in the no annual contract wireless market," John Weber, an IDC researcher, said in the press release.
GoSmart or go home
The plans start at $30 a month for unlimited talk and text. Then for an extra $5 a month, GoSmart throws in unlimited web with that talk and text. For $45 a month, subscribers also get 3G speeds on top of the other features.
Included in the plans are voicemail, call waiting, caller ID, and three-way calling - features that some carriers charge to use.
GoSmart customers can either buy one of its branded phones or grab a SIM kit to put in phones they already use. The kits cost $8 and work with unlocked, GSM phones.
According to GoSmart's site, almost all phones are compatible with the GoSmart SIM. But Blackberrys, Sidekicks and other smartphones with micro SIM cards "may experience limited functionality."
GoSmart hopefuls could also buy one of the two smartphones available from the. Those phones are the Alcatel OT 838 for $49 (after rebate) and the ZTE V768 for $99.
Contract killers
Prepaid wireless subscriptions are becoming more and more popular, with customers flocking to the option and more carriers choosing to offer contract-less services.
Verizon also launched its own contract-free service this month. Sprint too added its own branded prepaid service, despite owning two other companies that have no-contract offerings: Virgin Mobile and Boost Mobile.
But all these big names getting into the prepaid mobile game can only be good for those budget-conscious consumers as competition forces prices down and drives better services.
As more carriers chase those prepaid dollars, we should see even better services and phones enter the sector.
Get daily insight, inspiration and deals in your inbox
Get the hottest deals available in your inbox plus news, reviews, opinion, analysis and more from the TechRadar team.