Three to offer Nexus 4… but it'll cost a pretty penny
Date-centric network to sell handset for £399.99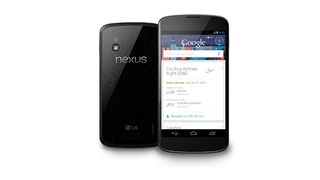 The unlucky majority who were unable to snap the brilliant Nexus 4 from Google after its release last week will soon be able to pick up the handset from Three…as long as they're willing to cough up 400 smackers for it.
From December 13 - which marks the end of O2's Nexus 4 exclusive offer - the service provider will be selling the handset for £399.99 on Pay As You Go, or for £35 per month on Three's The One plan with an upfront cost of £29.
Three is yet to reveal whether this price is for the 8GB or 16GB variety of the Nexus 4, but it's notably more than the wallet-friendly £279 Google is selling the 16GB model for SIM-free. It's also not yet known how long the £35 per month contract term is for, but it's probably two years.
Supply & demand
Google is currently selling the Nexus 4 at around cost price, but network carriers have taken advantage of the handset's massive popularity (it's currently sold out on Google and several other outlets) by charging more for the device.
The higher prices also accommodate the contracts being sold with the phones, but they must just be hoping that PAYG customers don't just look at the Google Play Store.
Three's All in One 15 costs £15 and gives 30-day access to All-You-Can-Eat data along with 300 any-network minutes and 3,000 texts. Alternatively, All in One 25 costs £25 and offers All-You-Can-Eat data, 500 minutes and 3,000 texts and for a 30-day period.
Sign up to receive daily breaking news, reviews, opinion, analysis, deals and more from the world of tech.