Google event recap: Pixel 7, 7 Pro, Pixel Watch and all the big announcements
All the big news from the Google Pixel 7 event
News
Contributions from
published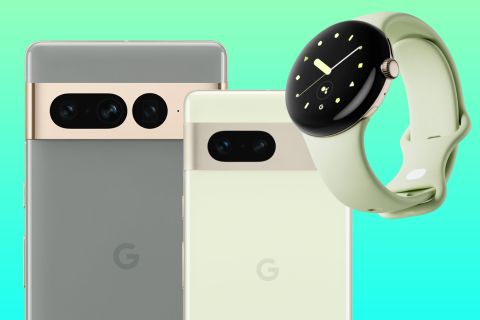 (Image: © Google/TechRadar)
Months after they were first teased, the Google Pixel 7, Pixel 7 Pro and Pixel Watch have finally been revealed in full, and we also now know a lot more about the forthcoming Pixel Tablet.
None of these devices were surprises - all were previously shown off at Google IO 2022 back in May - but that long wait for details had only served to heighten the anticipation.
Fortunately, both Pixel phones just about lived up to their billing, albeit without reinventing the smartphone wheel. They're well priced and have enough new features to be interesting. Whether they'll be worth upgrading to from the Pixel 6 is a different matter, but for new users they will undoubtedly represent the best Pixel phones yet.
The Pixel Watch, meanwhile, looks like a genuinely exciting entry into the wearables market, and one that we're already impressed by. Read on to find out about everything that was announced and to catch up on the event as it happened.
Google Pixel event — the big reveals
The Pixel 7 Pro is the more exciting of the new phones, thanks to its improved camera skills that could well make it the go-to choice for smartphone photography. Optical zoom is increased from 4x to 5x versus the Pixel 6 Pro, while the Super Res Zoom feature combines images from both the 50MP main camera and 48MP telephoto to give (supposedly) excellent images at up to 10x digital zoom. New software features include a Macro Focus mode that can focus from just 3cm away, and there's also a Cinematic Blur mode for video and Photo Unblur for stills. All of this is made possible by the new Tensor G2 silicon within it, and it also gets a design refresh with new colors and the use of aluminum on the distinctive camera bar. With a 6.7-inch, 120Hz display and an affordable price of $899 / £849 / AU$1,299 for the 128GB model, it looks like a strong contender for our best phones list.
The Pixel 7 isn't a huge deviation from the Pixel 6, but it does have a few key upgrades. Chief among them are the new Tensor G2 chipset, which should make it an even smarter and more powerful device than last year's model, while it also gets a bunch of exciting software skills including Photo Unblur and Macro Focus. The display is a 6.3-inch panel with an unchanged 90Hz refresh rate, but the design has been freshened up with new materials and colors. And the price remains just as low as last time out: it's available for $599 / £599 / AU$999 for the 128GB model or $699 / £699 / AU$1,129 for the 256GB version. RAM remains at 8GB either way.
Google's first smartwatch fits neatly into the Pixel ecosystem, with a stylish design paired with fitness smarts from Fitbit. It's only available in one size — 41mm — and will cost $350 / £340 / AU$550 for the Wi-Fi and GPS edition, jumping to $400 / £380 / AU$650 for the LTE version. On the fitness front, it has a heart rate sensor and can take ECG readings, but as yet there are no blood oxygenation capabilities; these may be added later.
The Pixel Tablet won't actually be available until next year, but we now know a fair bit more about it. As you'd expect, it will run on the Tensor G2 chipset, but that will be paired with Android 12L, which has been designed specifically for the bigger screen. What's more, it can attach to a magnetic dock to become a sort of tablet-Nest-Hub hybrid. There's still plenty more to find out about it, but consider us excited.
Currently running this live blog is:
Currently running this live blog is:
Alex Walker-Todd (or 'Toddy' as you might know him) has spent over a decade covering the latest mobile launches from the biggest mobile brands. He offered up the world's first Samsung Galaxy S5 review and helped build one of the UK's biggest mobile tech-focused YouTube channels. Now he handles all things phones, wearables and tablets at TechRadar.

As a long-time Pixel 6 Pro user, he's most interested in the Pixel 7 Pro but is curious as to whether the Pixel Watch will be worth the wait.
Refresh
Hello, and welcome to TechRadar's Google Pixel 7 event live blog. Over the next few hours, we'll be rounding up all the last-minute leaks and rumors ahead of the event, and running through exactly what we already know (and don't know) about the devices we'll see today.
And then once the show gets going, we'll be bringing you all of the big news, as it happens – so bookmark this page and check back regularly for the latest.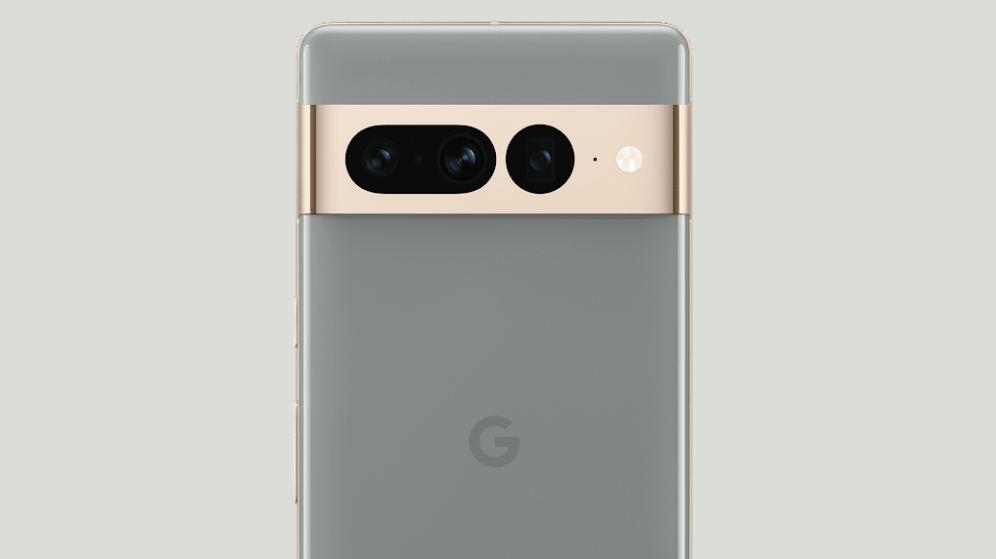 So, let's start by talking about the Pixel 7 and Pixel 7 Pro. What do we know about these phones? Not that much. What do we think we know about them? Lots!
That's because there's been a steady stream of leaks around these handsets over the past few weeks, to the extent that we are now fairly sure about plenty of the details.
The most recent leak, just a few days ago, came from a Google News Telegram channel and suggested the Pixel 7 Pro could be a contender for the title of best camera phone. The leak included what was supposedly a full specs list, and detailed that the Pixel 7 Pro would get a boost to 5x optical zoom, compared to the 4x on the Pixel 6 Pro, among other upgrades.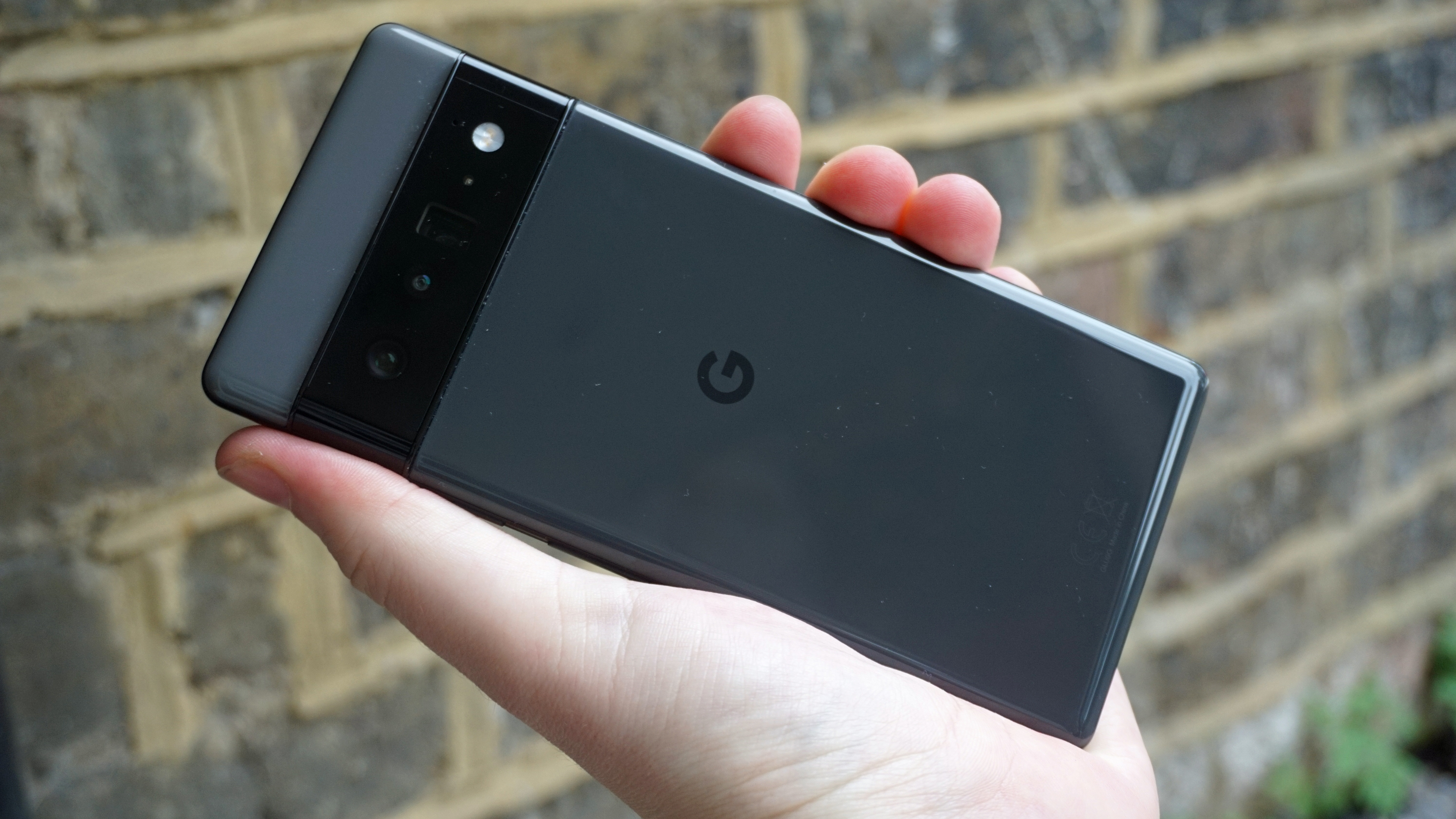 That specs list – which was reportedly spotted on a Taiwanese mobile carrier's website – also mentions several new camera modes. And that's got us very excited.
Google has long been an expert at getting more from its phone cameras through innovative software smarts – just look at the Magic Eraser tool that arrived on the Pixel 6 and 6 Pro for evidence of that.
New Pixel camera modes are therefore more interesting than they might otherwise seem, so the fact that Movie Motion Blur and Macro Focus are both teased in the specs leak is definitely worthy of mention.
It's the latter that we're really intrigued by, though – to the extent that we even think this Pixel 7 Pro feature will change phone cameras.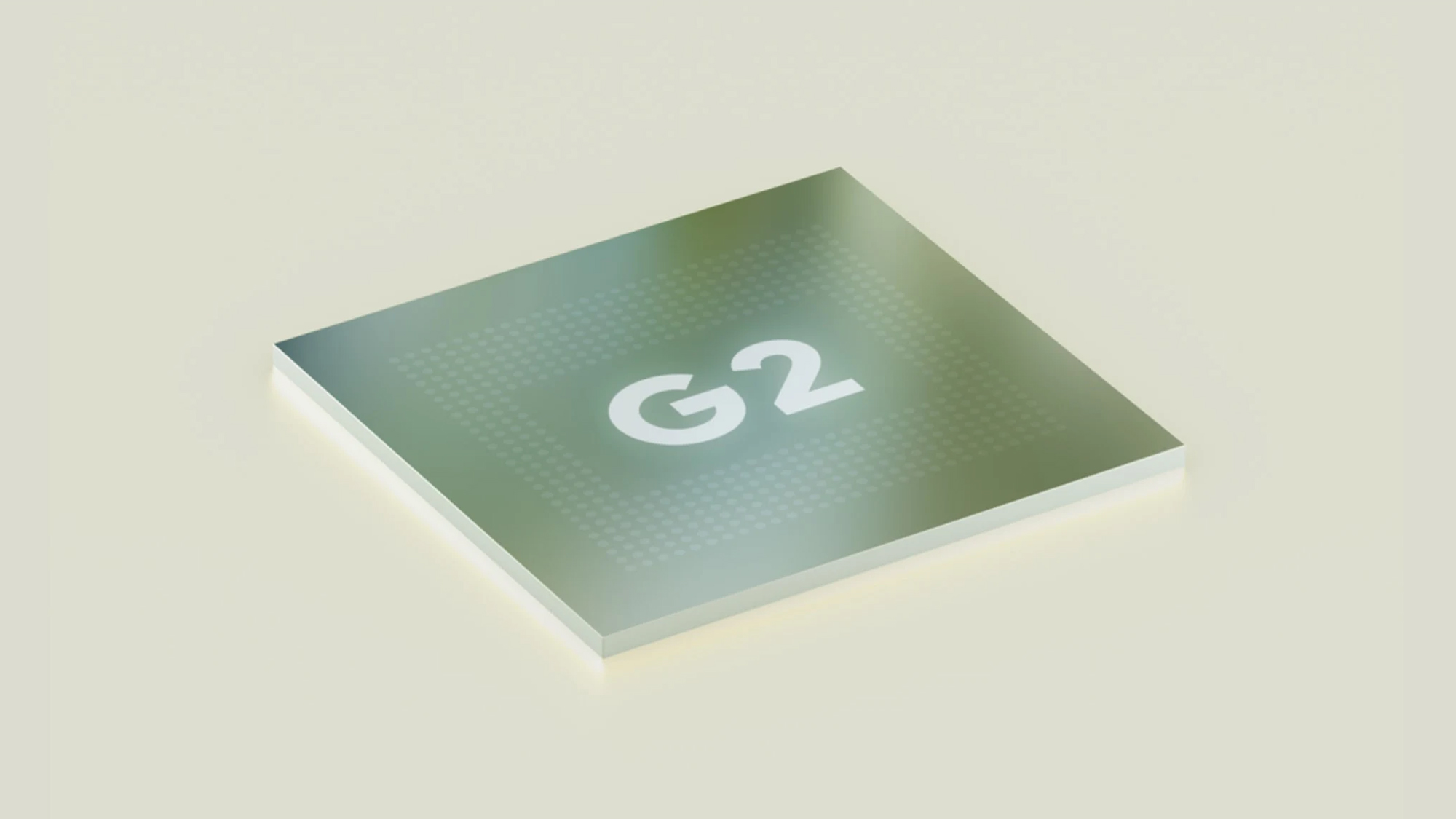 One fresh leak that broke within the last few hours speaks to the performance the Tensor G2 chip inside the Pixel 7 and Pixel 7 Pro is expected to deliver.

The Pixel 6 line's original Google Tensor chipset lagged behind its equivalent Qualcomm and Apple silicon-powered rivals last year in terms of benchmarking scores and a leaked Geekbench 5 result shared by tipster Yogesh Brar suggest the same is true of the Tensor G2.

Google Pixel 7 Pro benchmark scoresGeekbenchSingle Core - 1068Multi Core - 3149Antutu V9 - 801116These scores are more or less close to Snapdragon 888/888+Tensor G2 is still behind flagship SoCs but will take lead in ISP & AI performanceExcited for Pixel 7 series?October 5, 2022
This doesn't mean the Pixel 7 and 7 Pro will be dead on arrival, far from it. Google purpose-built Tensor with its in-house ML (machine learning) models in mind, so while the results for raw processing power in benchmarking aps like Geekbench might place the G2 in the same space as last year's Snapdragon 888/888 Plus, the company in confident in its own silicon's ability to excel in an area that phones need to rely on more and more nowadays to succeed; AI computation.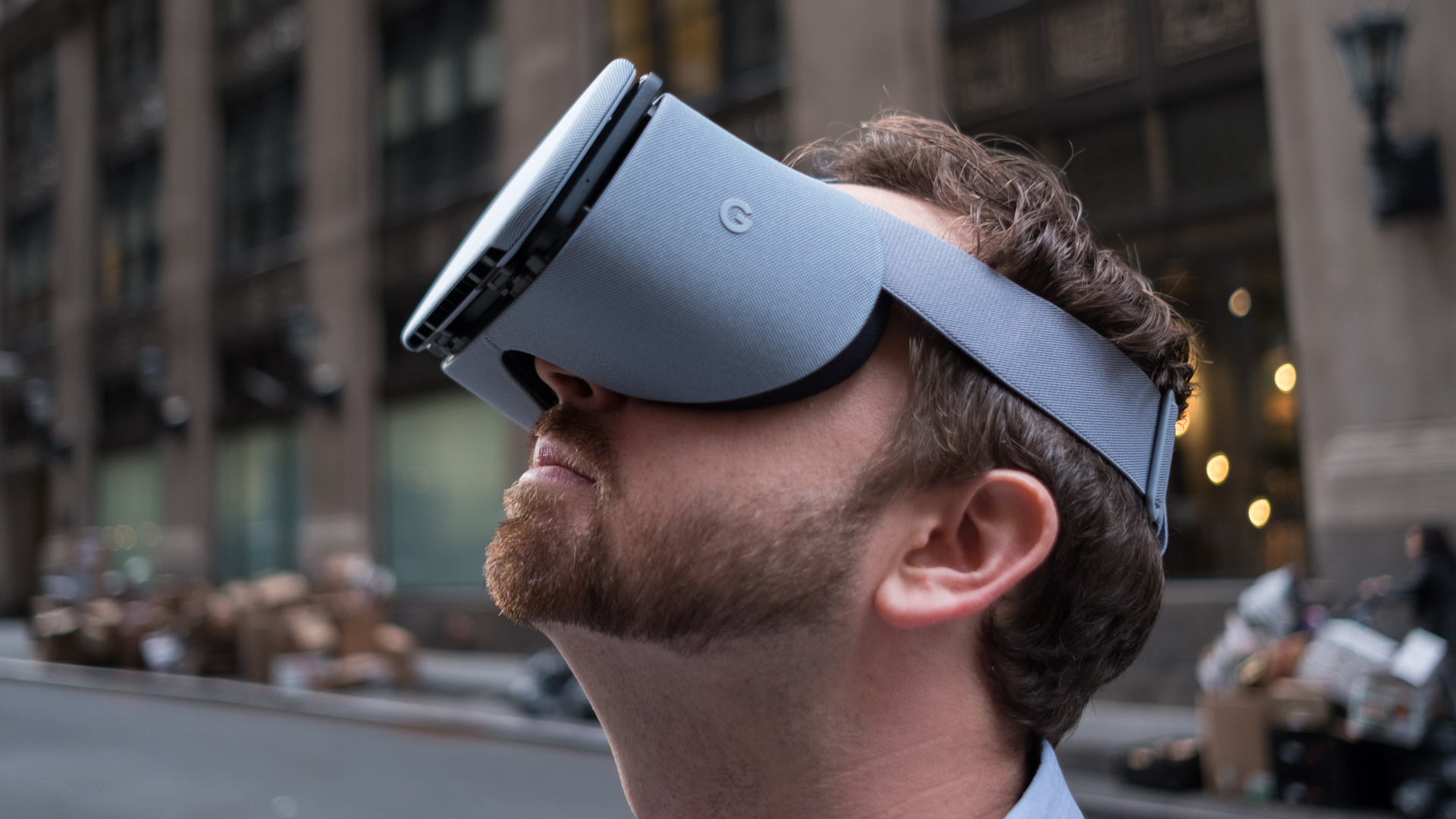 In terms of possible 'one more thing(s)' that Google could pull out of the bag at the end of today's launch, while the company has a nasty habit of shelving products and services that don't immediately exceed their high expectations, I secretly have my fingers crossed for a Google Daydream revival.
With Apple Glasses feeling more likely than ever, maybe Daydream was just ahead of its time, and maybe Tensor's AI smarts have what it takes to make it a more viable experience.

Just me? OK.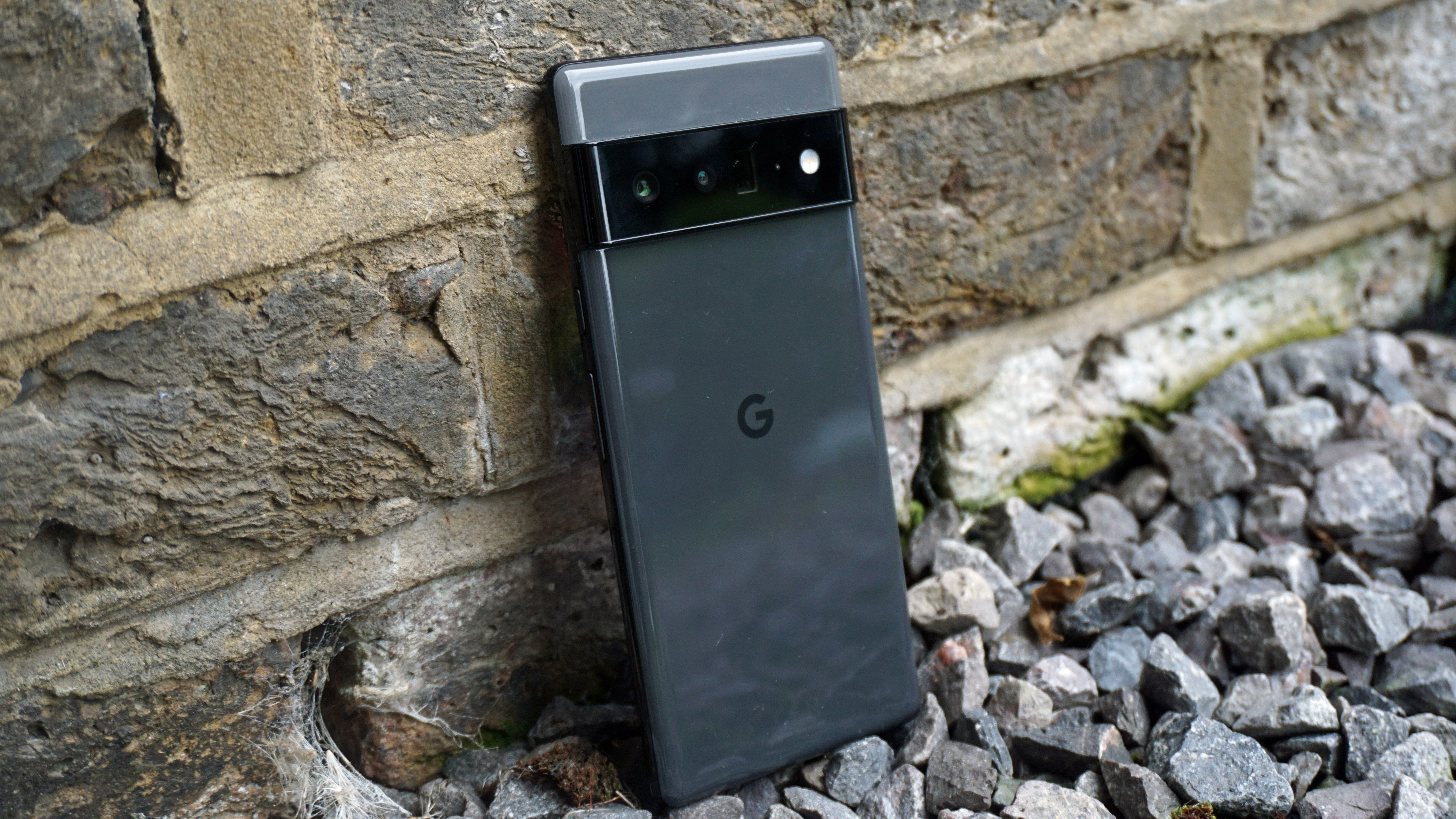 While Tensor and AI was the main talking point around last year's Pixels, this year the cameras might get more time in the spotlight.

Tensor's ISP was an impressive step up from the Pixel Visual Core and Neural Core the preceded it and in my long-time testing of the Pixel 6 Pro I got more impressive images out of that phone compared to anything else I'd tested at the time, with dynamic range being a real highlight.

The 4x optical zoom was certainly useful, but talk of 5x magnification has me genuinely excited.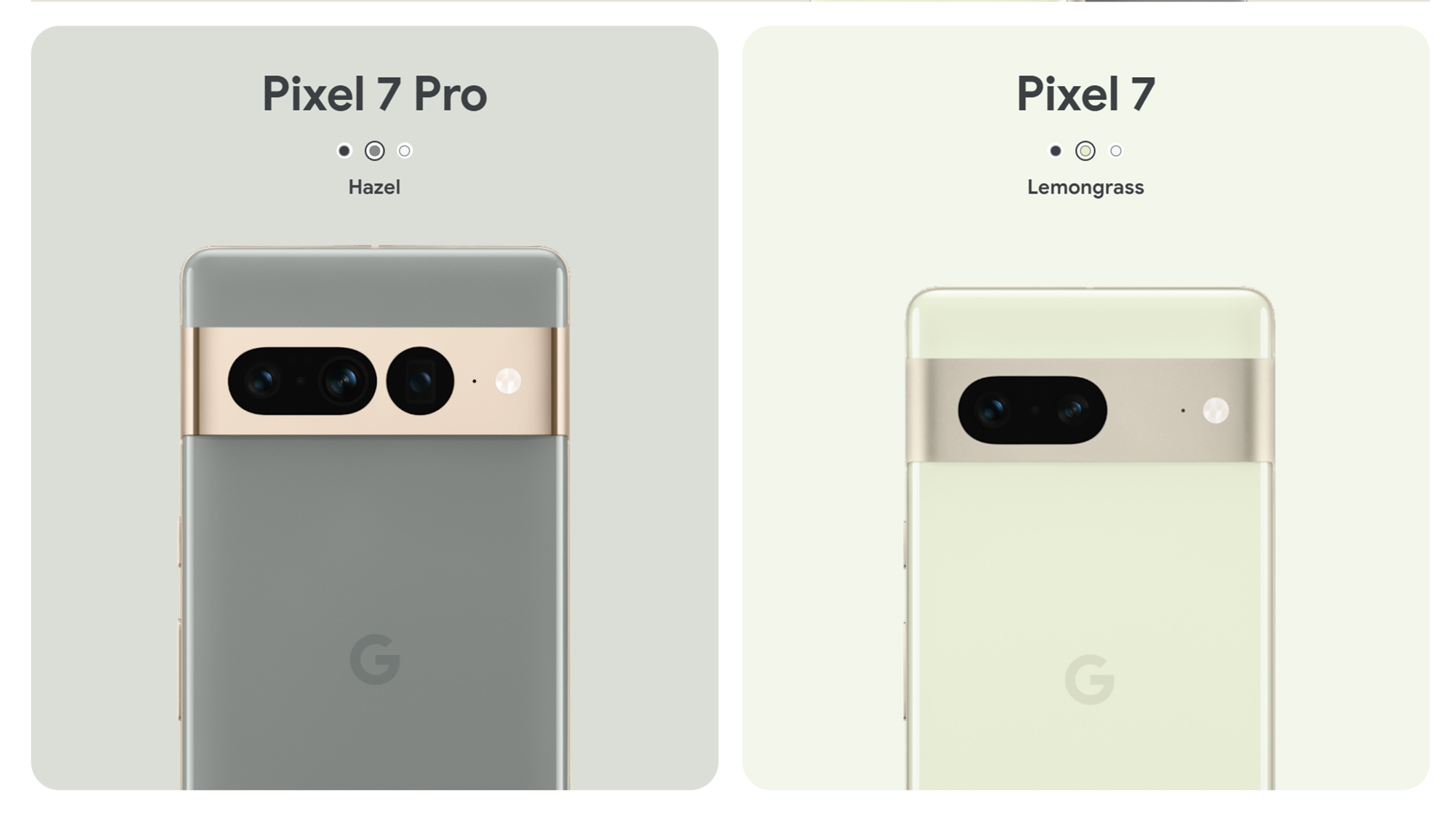 Let's talk color. The orange hues of the Pixel 6 series' signature colorways are nowhere to be seen on this year's phones, with both the Pixel 7 and Pixel 7 Pro arriving in 'Obsidian' (a gray/black combo), 'Snow' (a contrast of white and silver) and a new standout color unique to each model.

In the case of the Pixel 7, that's 'Lemongrass' – replacing the Pixel 6's 'Kinda Coral', while the Pixel 6 Pro's 'Sorta Sunny' finish has been swapped out for a more muted 'Hazel' option on the Pixel 7 Pro.

What do you think? Tweet at me (@alexwalkertodd) with your preferred Pixel 7 series colorway. It'd be great to hear what you think.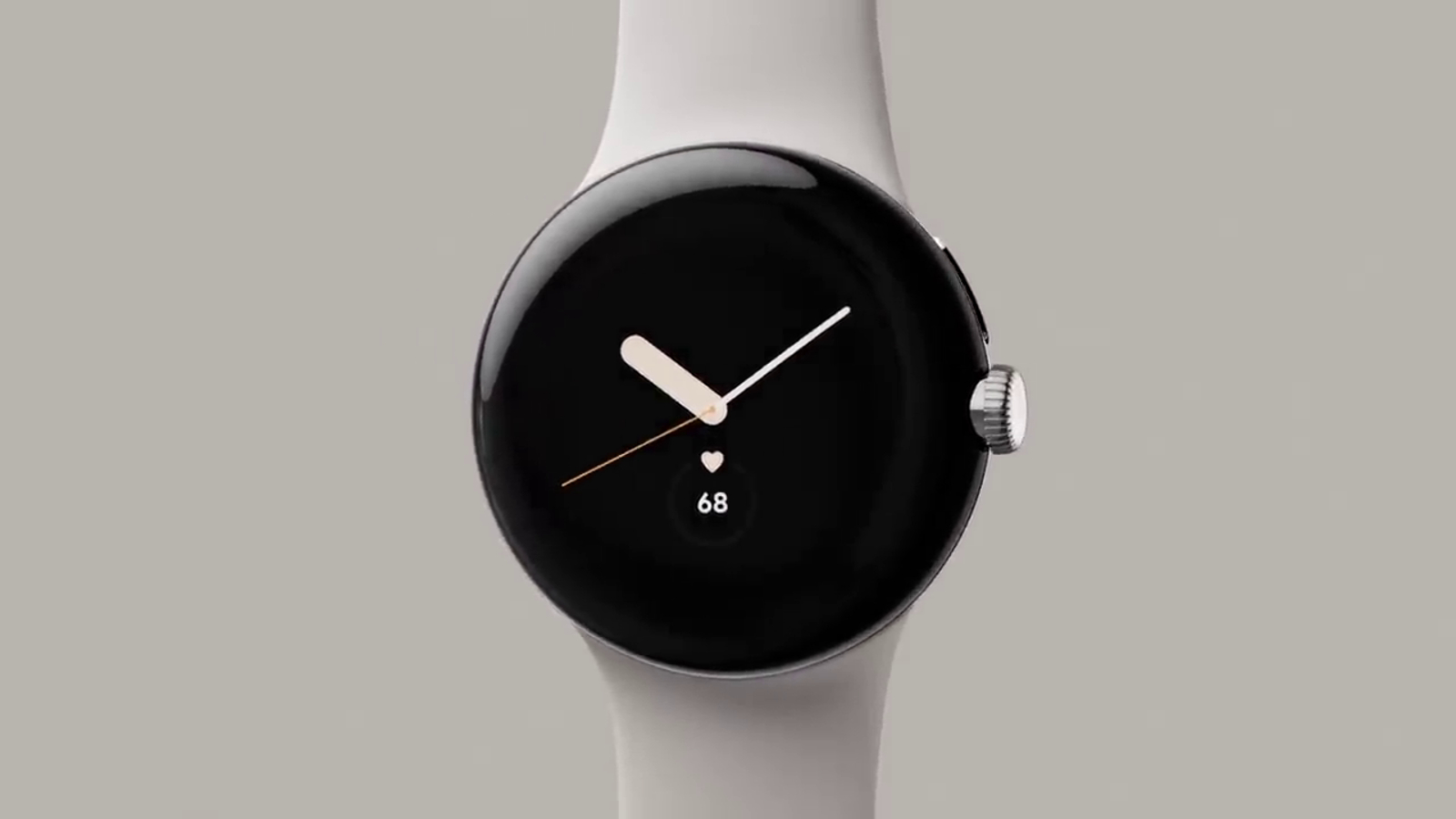 Just 90 minutes until Google kicks off this long-awaited launch event. With lines like 'we feature the latest additions to our family of devices' it sounds like it'll be a hardware-first affair, so don't expect any major software of service launches, just Pixel Phones and the Pixel Watch. We're not complaining, in all honesty.
Google is marketing this as a live event, but whether that means partially pre-recorded, like the Pixel 6's launch and Apple's iPhone 14 launch were, isn't clear. If they opt for a fully live stream, that certainly suggests a greater degree of confidence with tegards to showing off these latest Pixel products.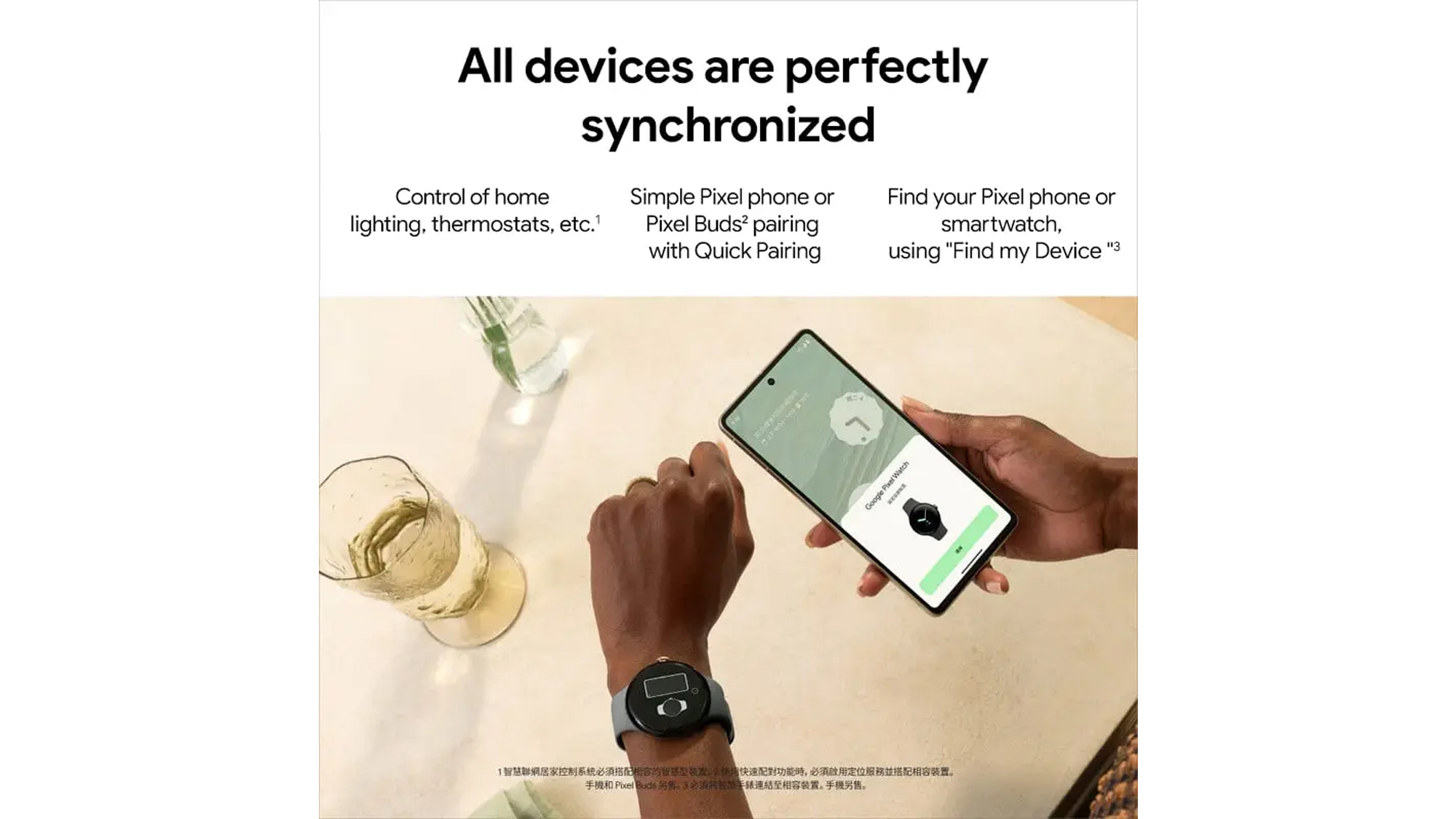 As a reminder, the Pixel Watch has been rumored for years at this point, with fans of the Pixel name and Google's hardware clearly keen to get their hands on a timepiece made in-house by the big 'G'.

Wear OS (originally Android Wear) first made its way onto people's wrists with the LG G Watch and Motorola's original Moto 360, way back in 2014, but unlike the Apple Watch, Google's decision to release a wearable OS without supporting it with hardware of its own may have put platform on the back foot right out of the gate.
While the ability for third-party hardware makers to stick Wear OS on their own smartwatches has given rise to far more choice in the space compared to what the Apple Watch can muster, it's felt like a second or third-best option this whole time.

Google's decision to finally take matters into its own hands by partnering up with Samsung (the most like-minded smartwatch and capable competitor to Apple), back in 2021, marked a huge shift for the potential future of Wear OS and after the launch of the Pixel Watch today, we finally get to glimpse what the future may actually look like.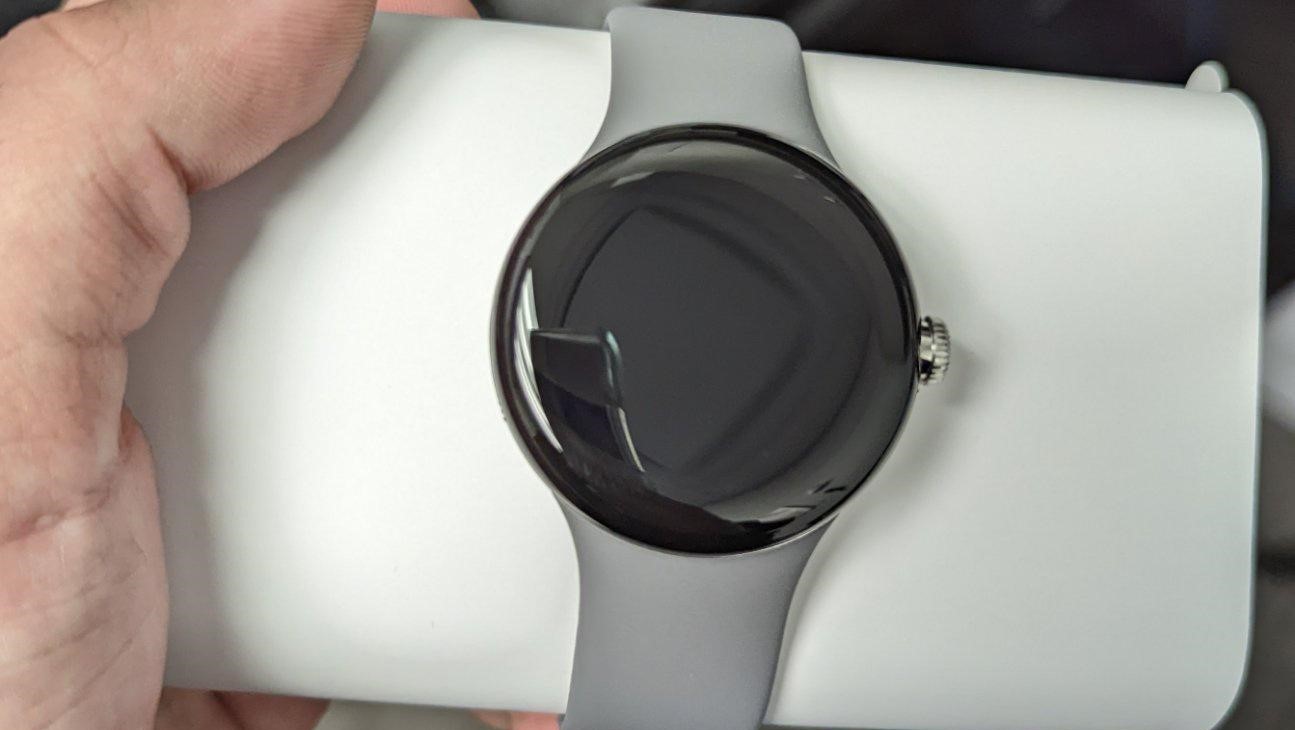 An early unboxing of the Pixel Watch made an appearance just days before launch and gave us a clearer, closer look at the watch's form factor, along with providing a sense of scale.

One of the big things that TechRadar's US Editor in Chief, Lance Ulanoff picked up on was how thick the watch's bezels around the display seem to be. The Pixel Watch pulls the same trick as the Apple Watch, concealing its bezels against an almost-equally-black OLED display to make the border less discernible, but it is visible.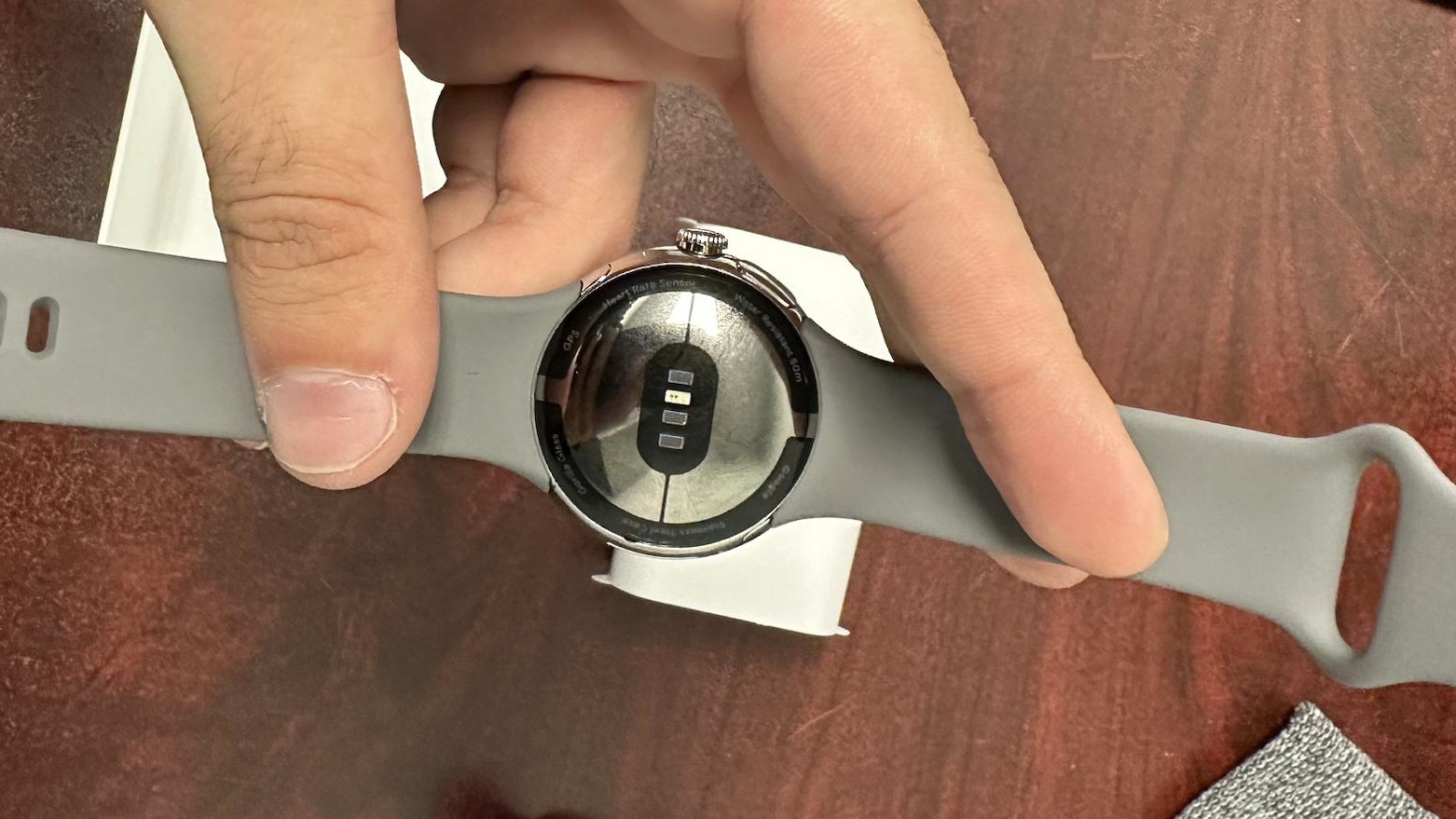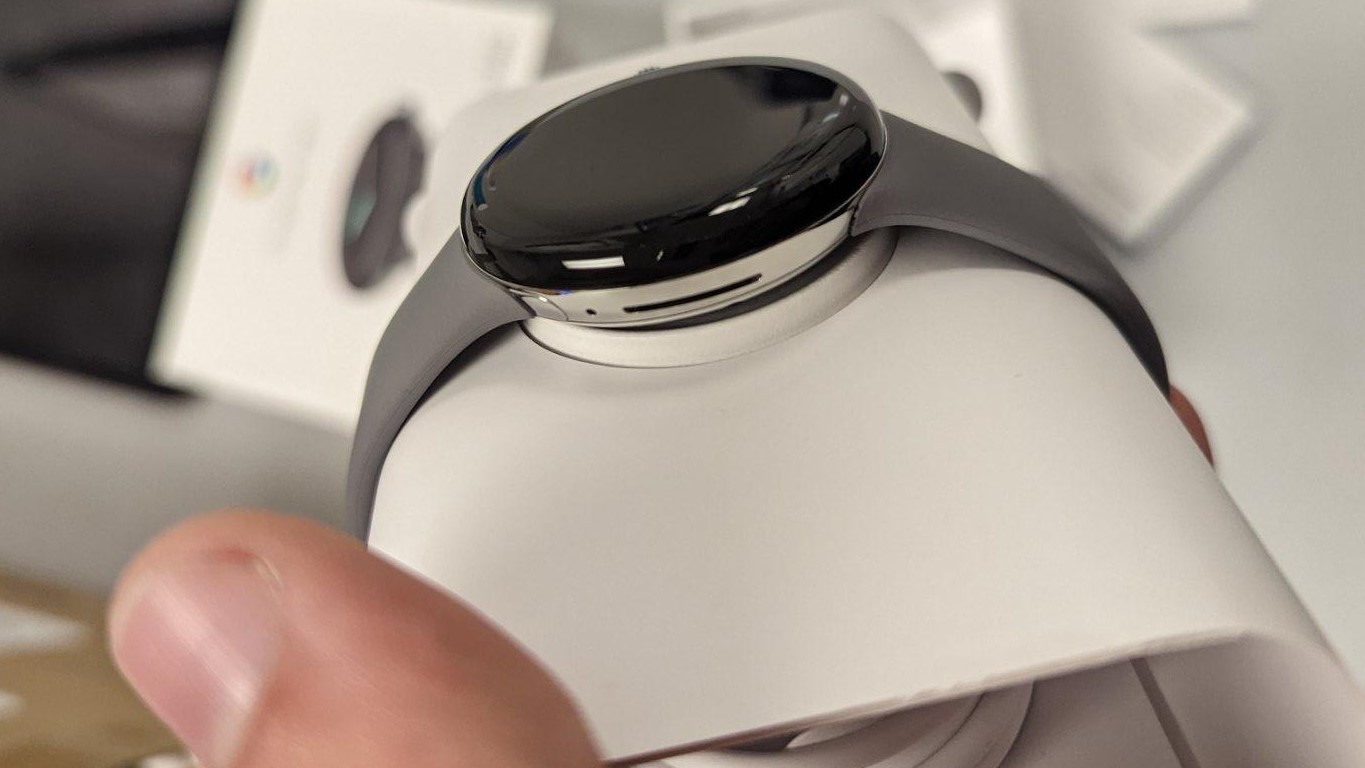 For Lance, this has the potential to be a deal-breaker, as it undermines the minimalist, natural aesthetic Google's shiny Pixel Watch renders present and make it look... clunky.
Hopefully, by the time (no pun intended) we get some actual hands-on experience with it, this design quirk won't feel like all that much of an issue.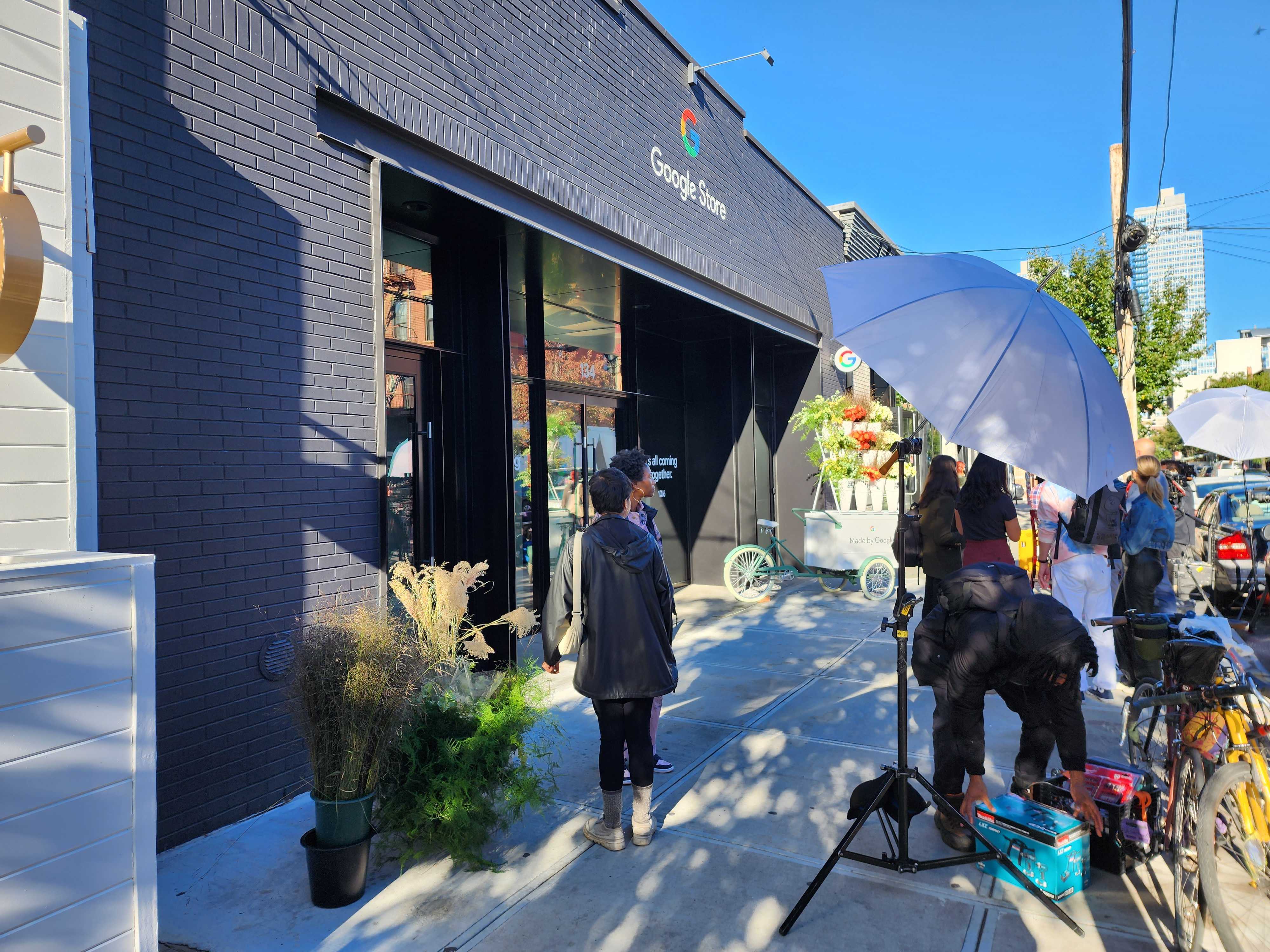 Lance is being joined by our US Mobile Writer, Philip Berne, live on the ground. They're currently outside the Google Store in Williamsburg, Brooklyn and there already seems to be some activity.
Windows have been blacked out, and Google has apparently filled the coffee shop over the road with journalists.
Google always decks out attendants in Google swag. #MadeByGoogle pic.twitter.com/6ziyn9pWdXOctober 6, 2022
We're in! Looks like Google reps in the venue are dressed in what looks like Pixel 7 colors; from pants to caps. It might be the lighting but check out this Lemongrass getup!
This coffee got to the Pixel #MadeByGoogle event very early pic.twitter.com/ehxV4FBBhAOctober 6, 2022
Looks like there's space for everyone at this launch, even the coffee got a seat!
Rick Osterloh - SVP of devices and services at Google is on stage, talking up Tensor's AI smarts and 'the magic you expect from Google.'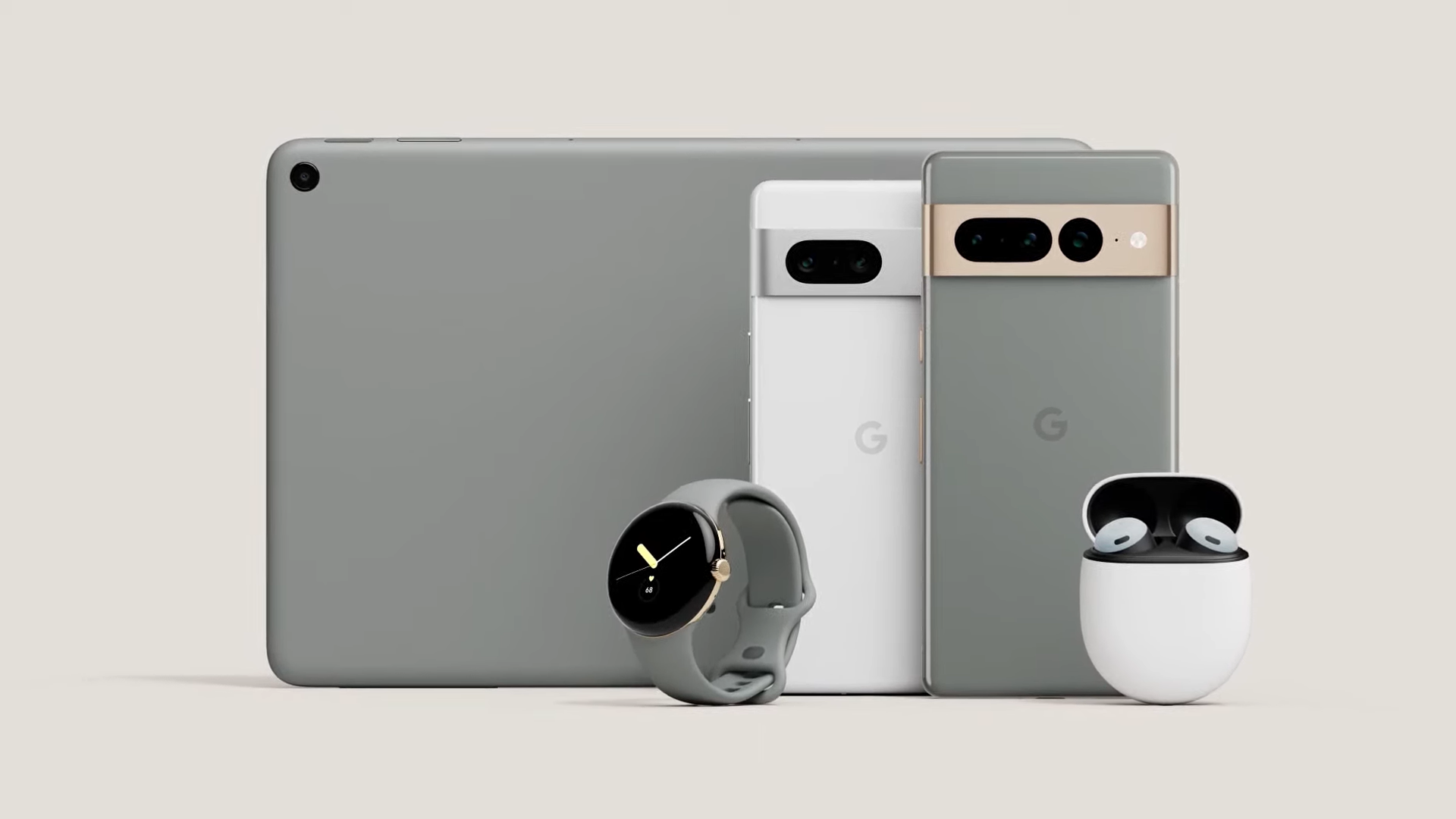 There's a tablet on the screen! Hopefully Google will offer more details on its next slate today too. Will it run the Tensor G2, I wonder?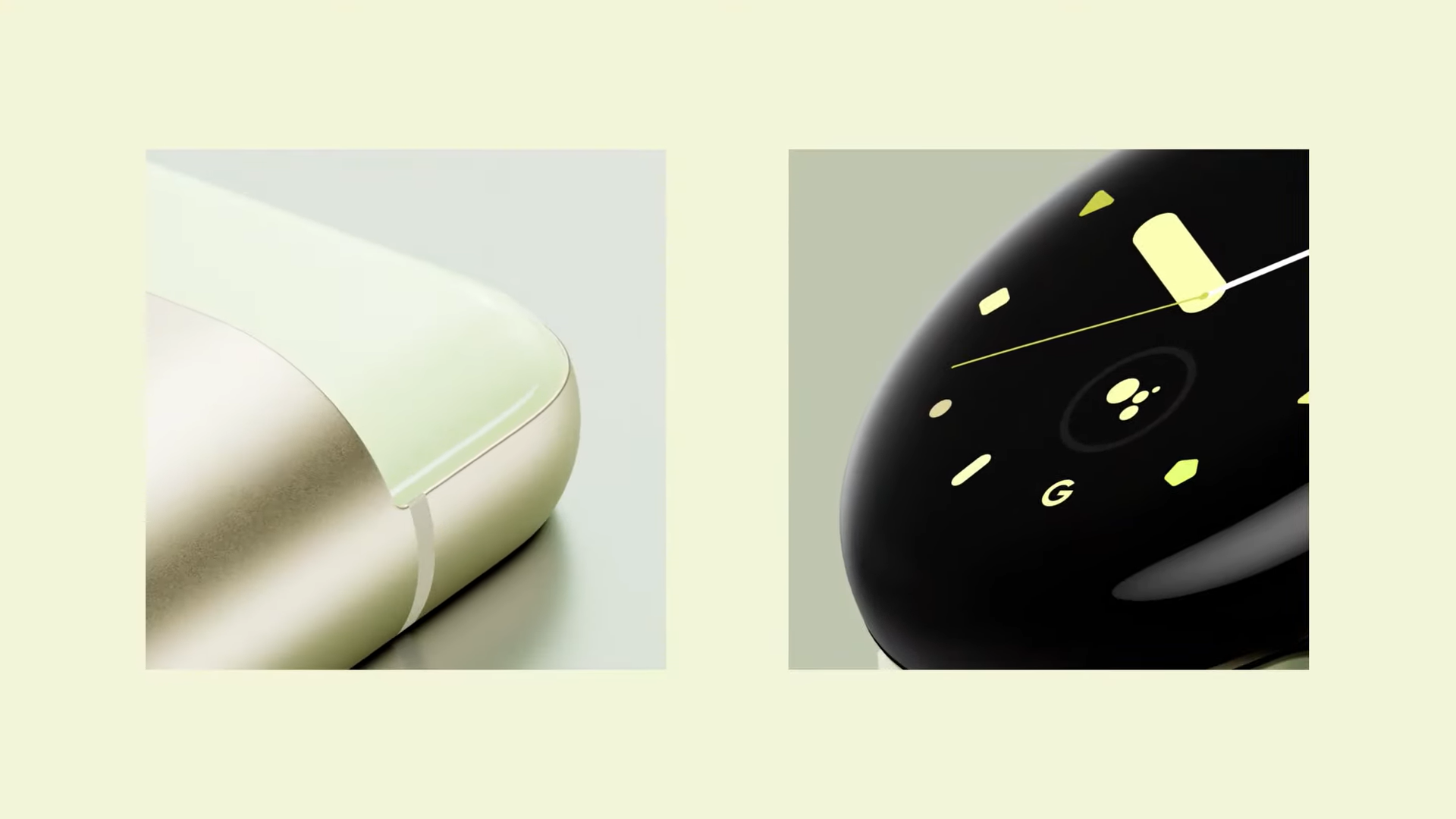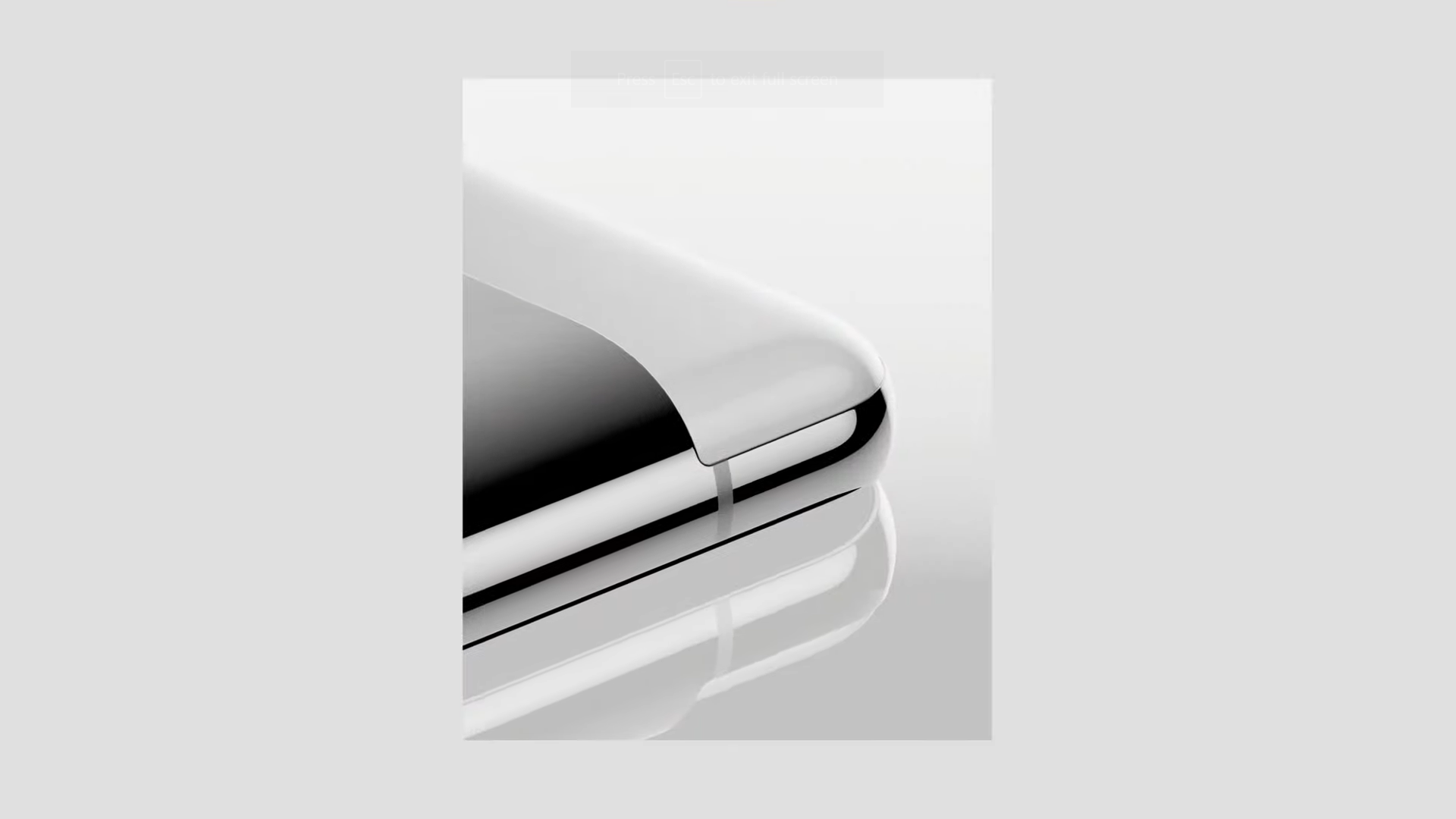 Which Pixel 7 finish do you prefer? Zirconia-blasted or polished metal?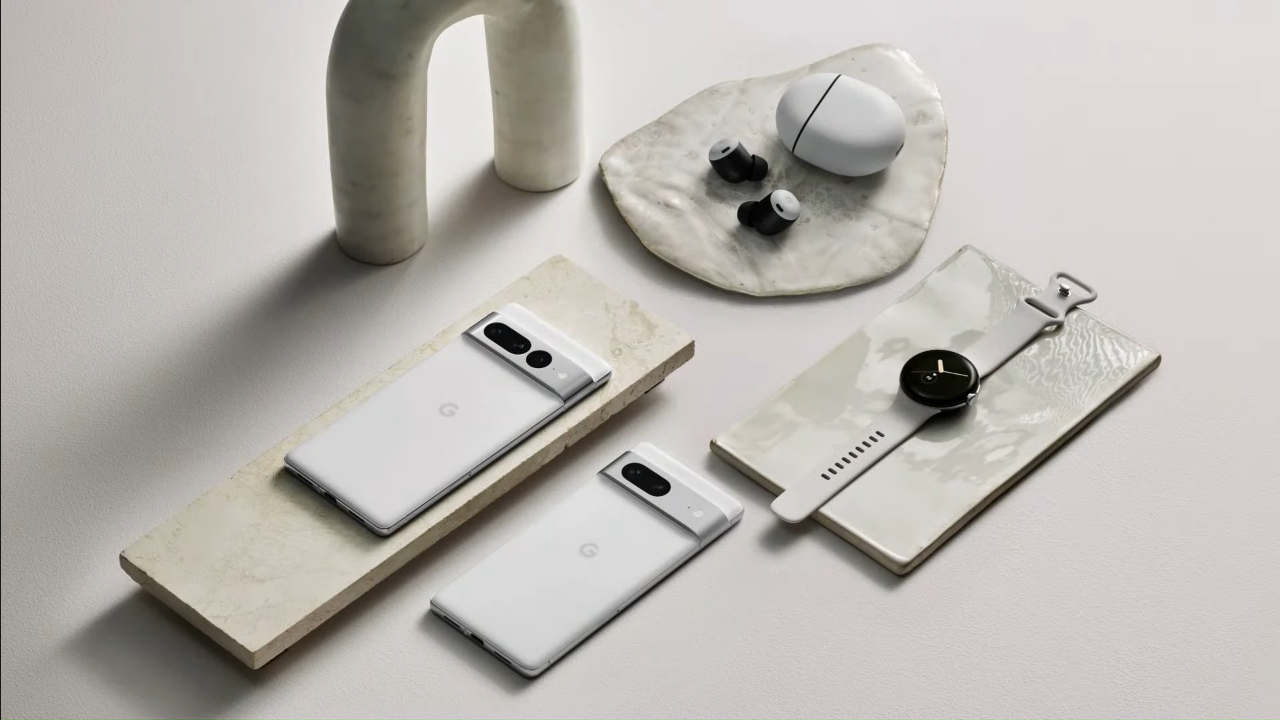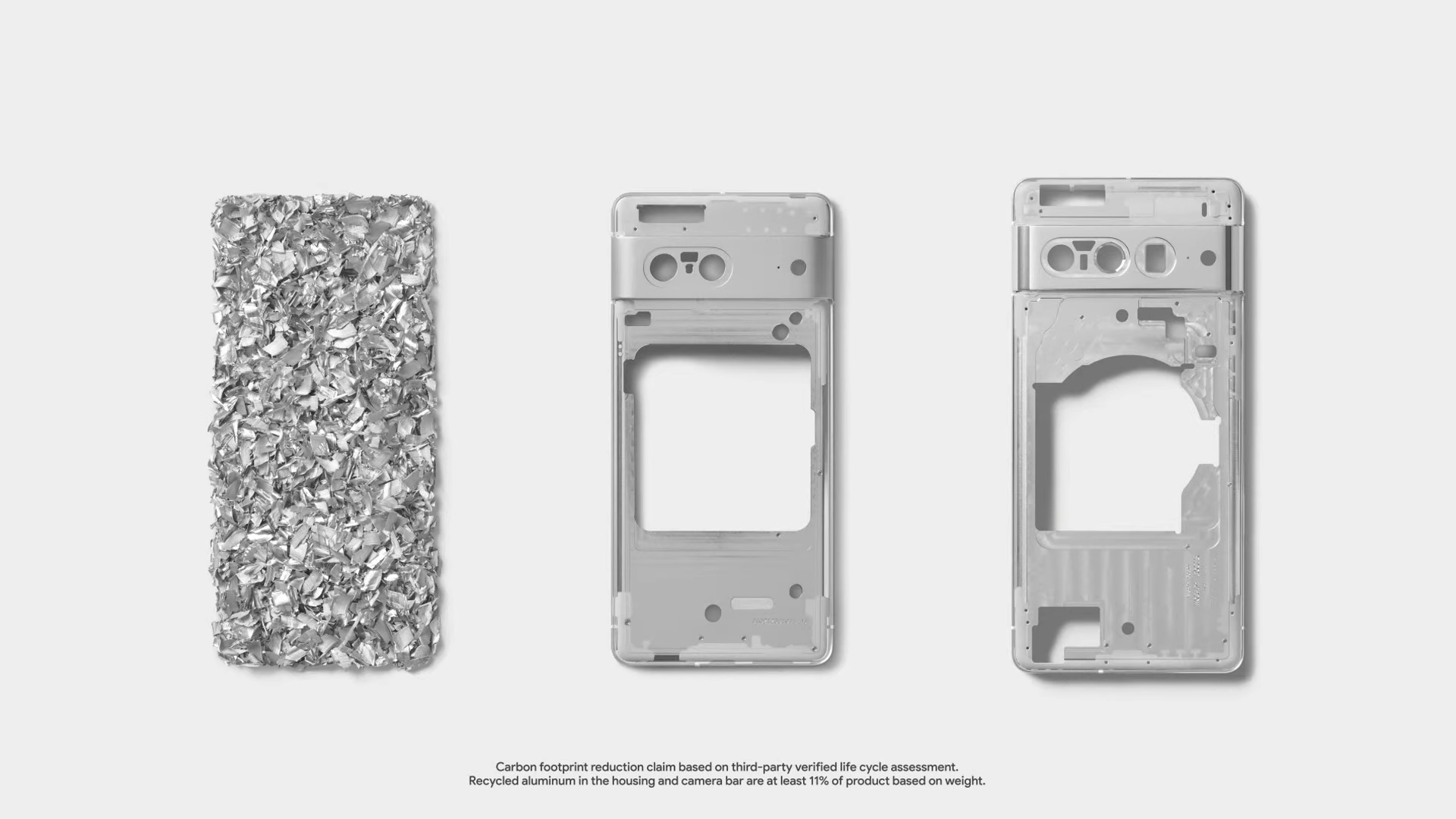 Every product Google shows today is made, in part, from recycled materials. You love to see it. The Watch case is made from 80% recycled stainless steel, for example.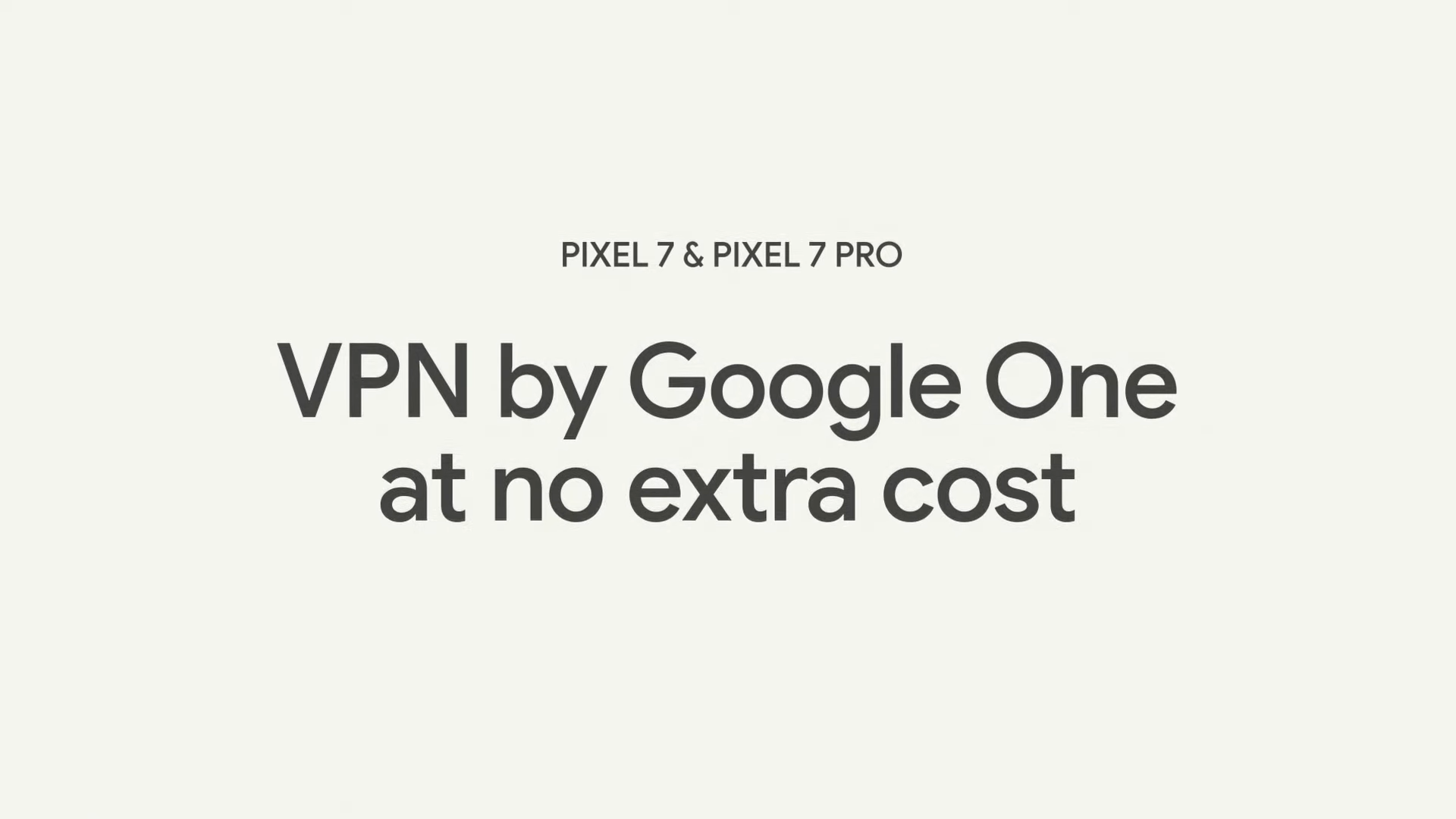 Pixel 7 and 7 Pro will come with a free VPN - no word yet on how long that'll remain free (remember the original Pixel's unlimited full resolution Google Photos backup forever? Exactly).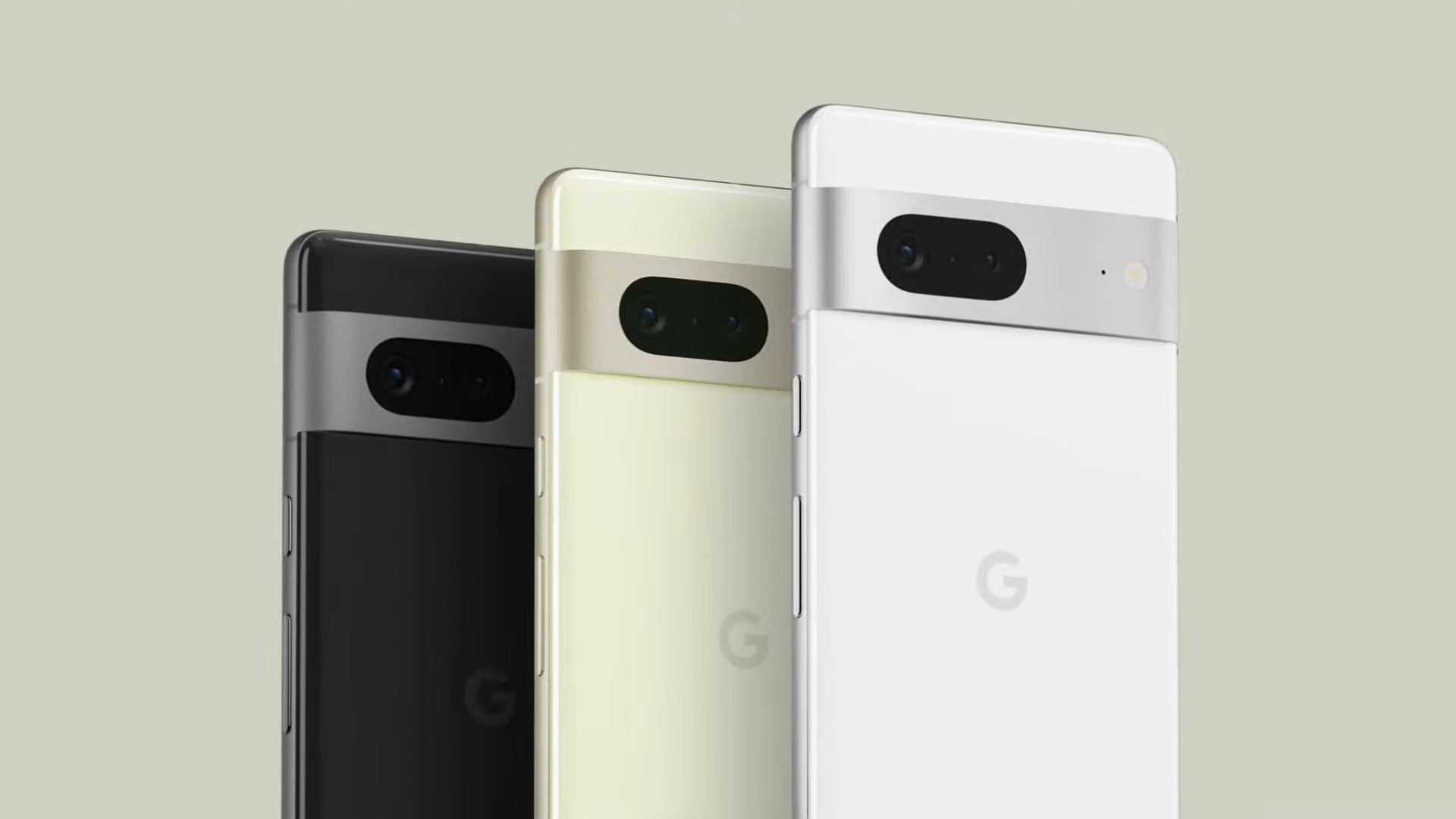 'The new standard for smartphones' Google's way of introducing the Pixel 7 and 7 Pro. Some specs Google just reeled off:
Up to 72 hours between charges with Extreme Battery Saver
25% brighter display
Pixel 7 and 7 Pro now support AI-supported face unlock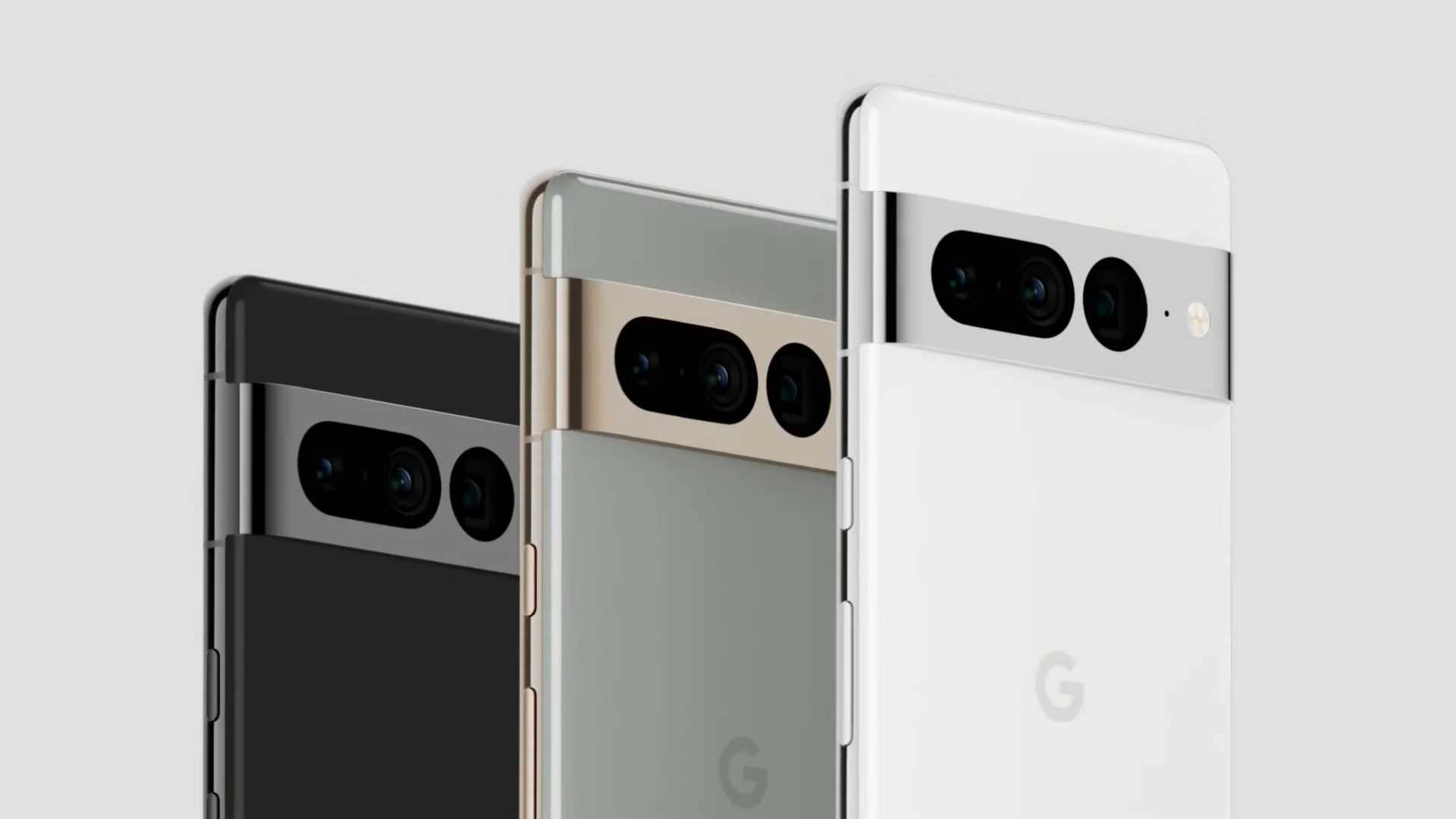 The phones' Tensor G2 chip should help machine learning run up to 60% faster and up to 20% more efficiently. More than what? We don't know, conveniently, Google didn't say.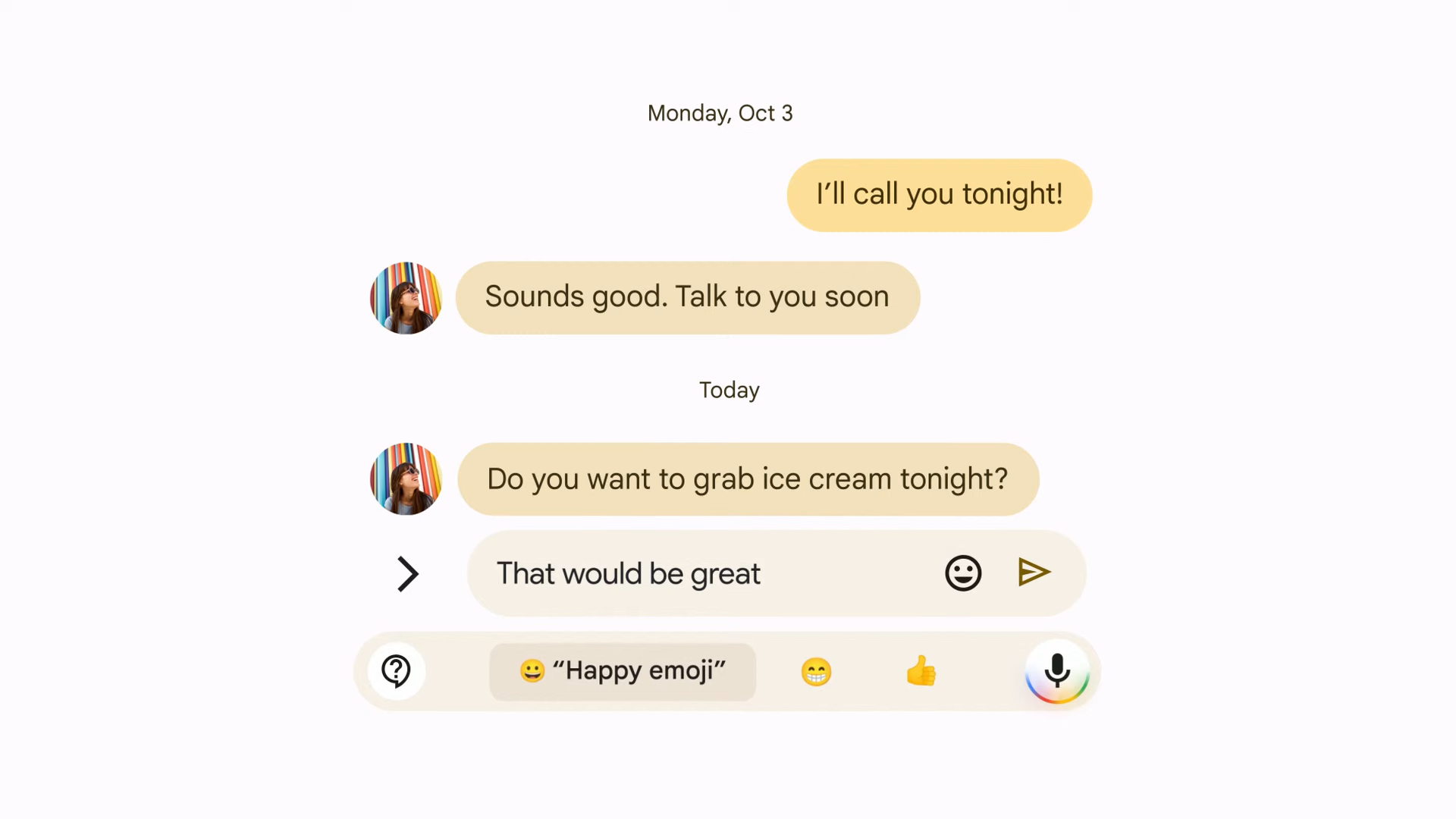 Google is waxing lyrical about RCS as 'the modern standard' for messaging. Meanwhile, Apple is sitting there looking at its iPhone 14 series, loudly.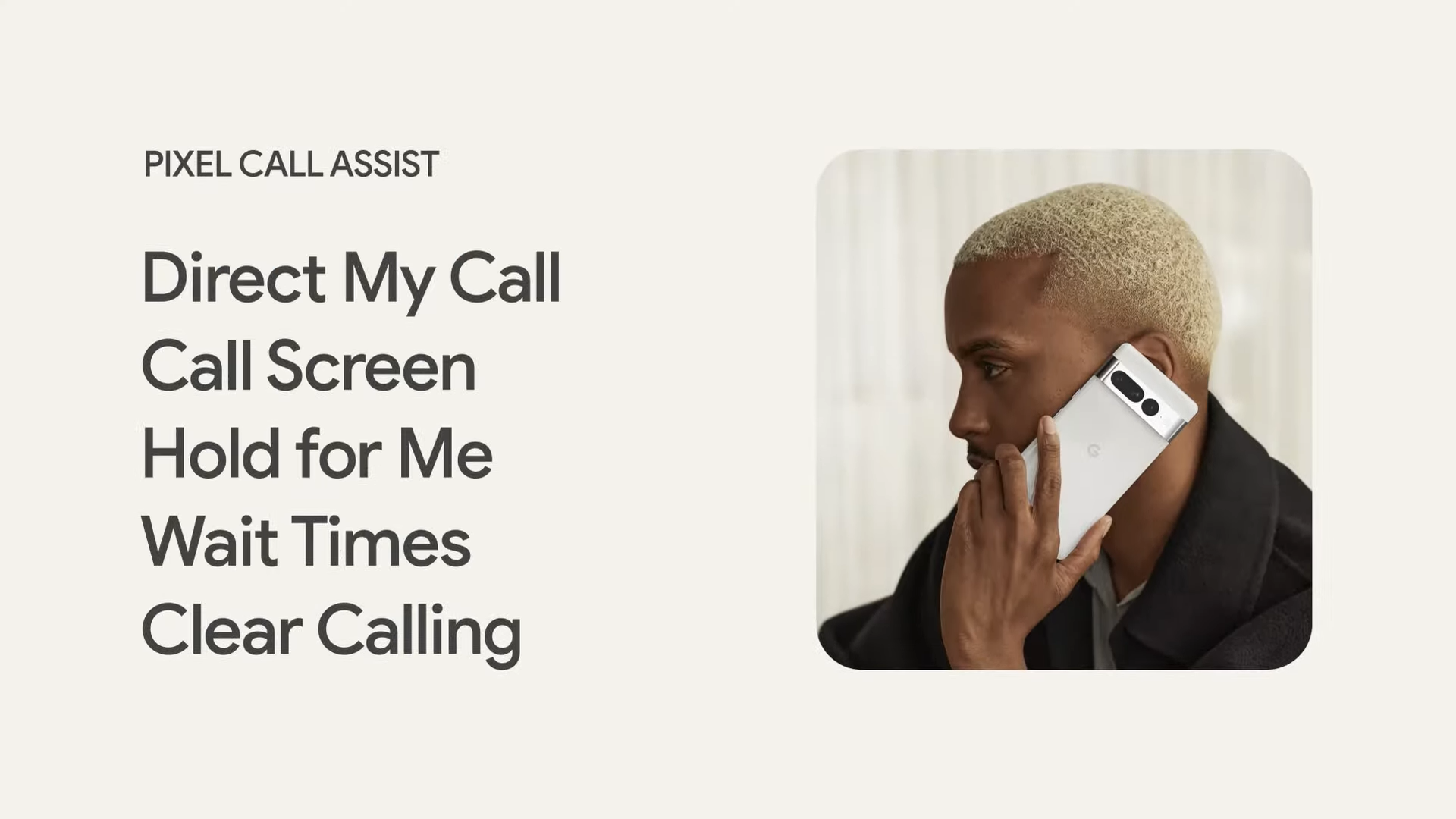 The best phone for calling? People often forget about the fact that phones need to be good at making and taking calls and the Pixel series come with a heap of AI-supported technologies to supplement the base phone call experience.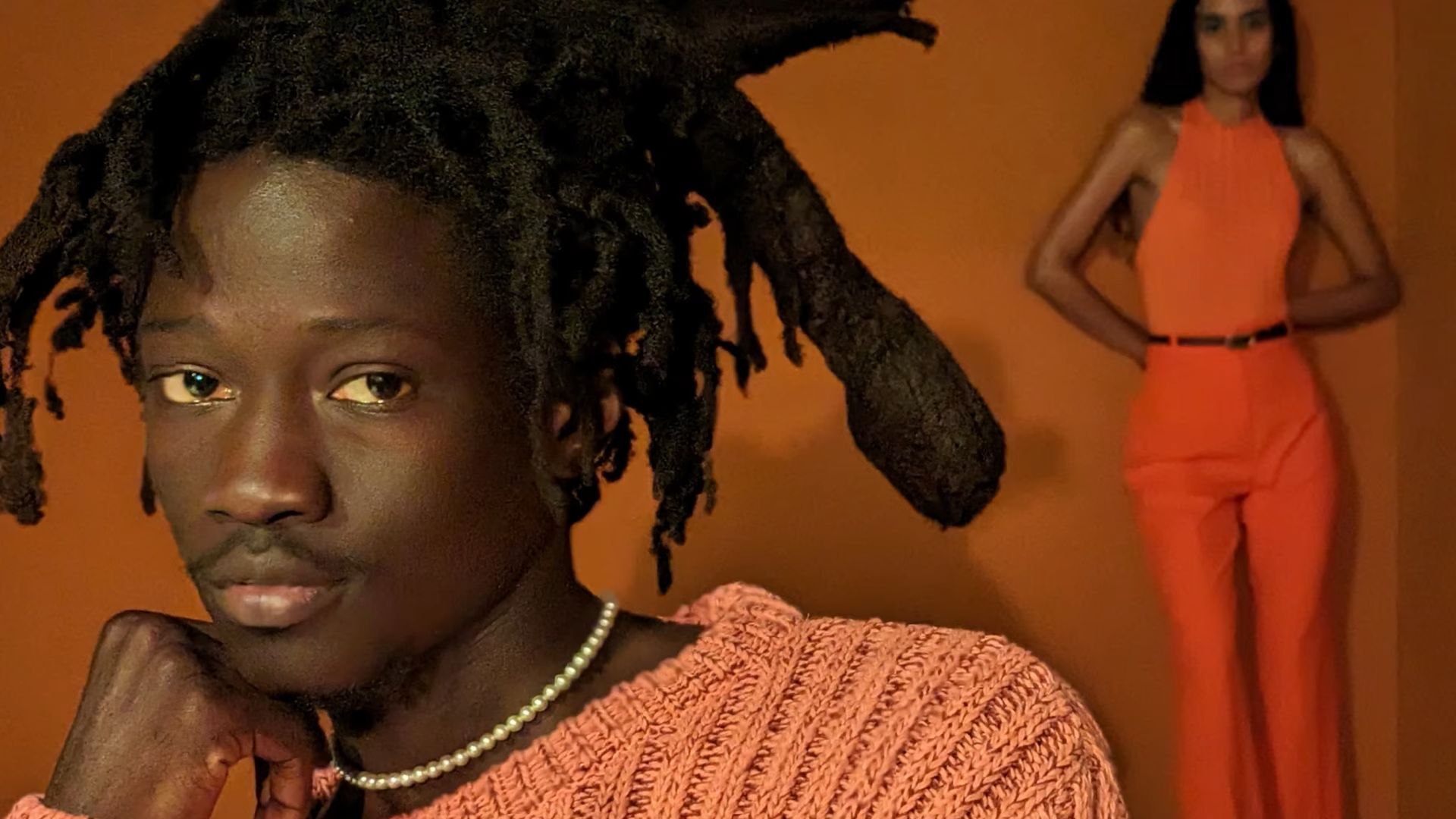 I genuinely appreciated Google's efforts with Real Tone on the Pixel 6's camera and you can expect more of that goodness with the Pixel 7 series.
Google's added more than 10K photos to the Pixel's camera tuning dataset, which should mean better and more accurate representations of darker skin tones in photos, even in lower light.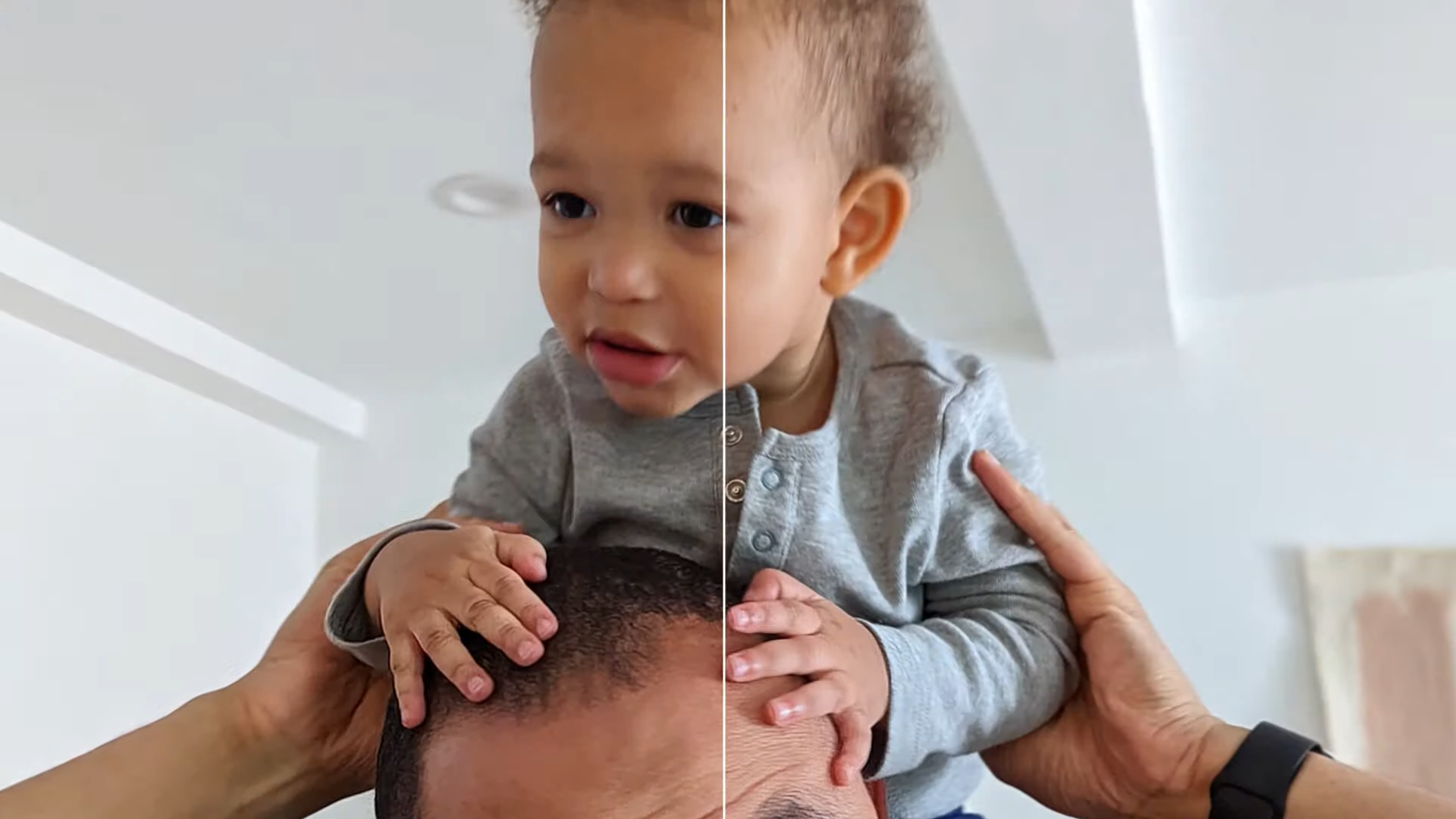 Remember Face Unblur on last year's Pixels? As the rumors suggested, full 'Photo Unblur' courtesy of the Tensor G2 chip is now a thing. Parents and pet owners rejoice!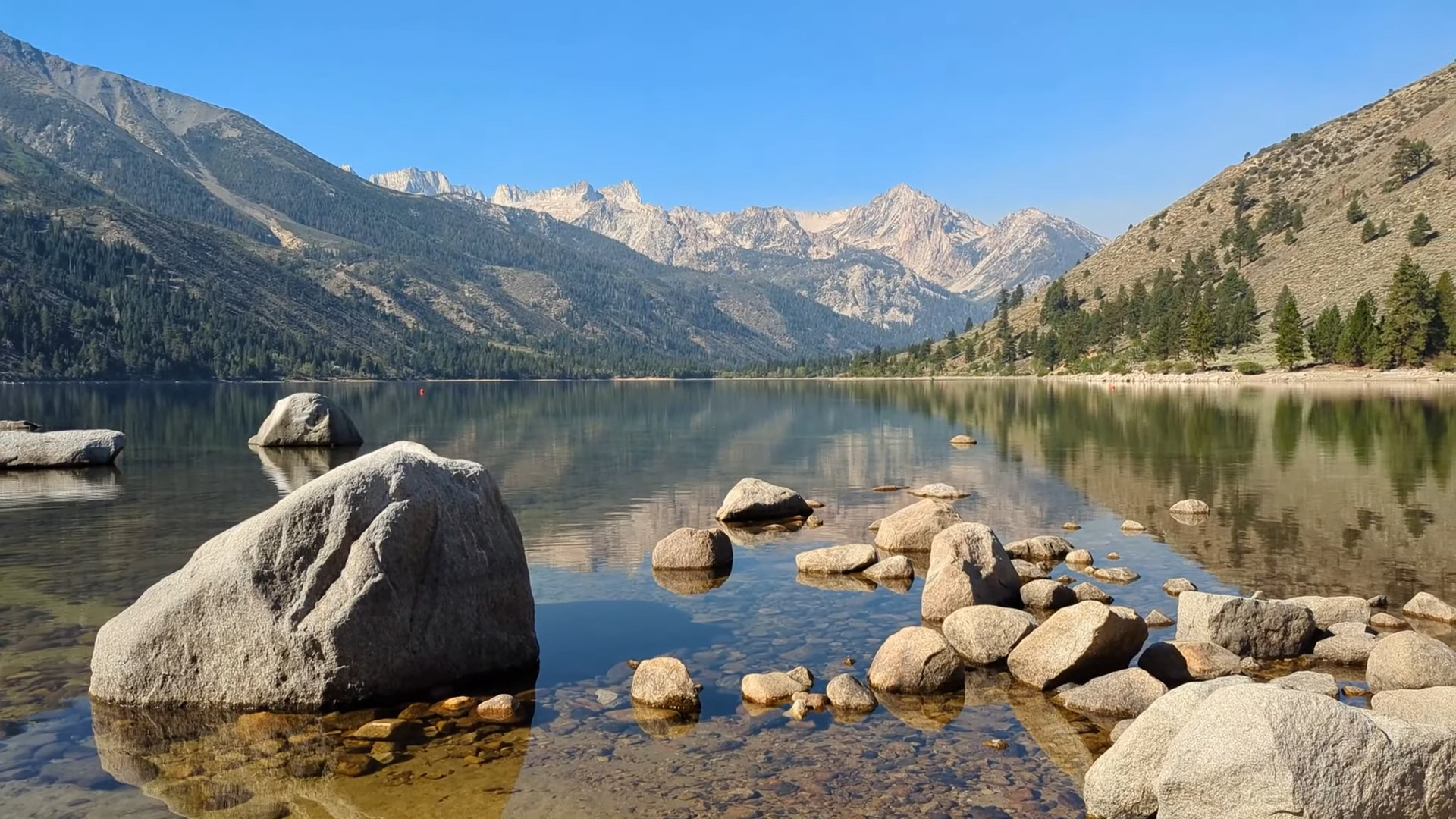 Cinematic Blur, ay Google? Cool yes, original, doesn't seem so.
Video was a real pain point for the camera experience on the Pixel 6, hopefully new features like 10-bit HDR capture and automated stabilization mean better quality output.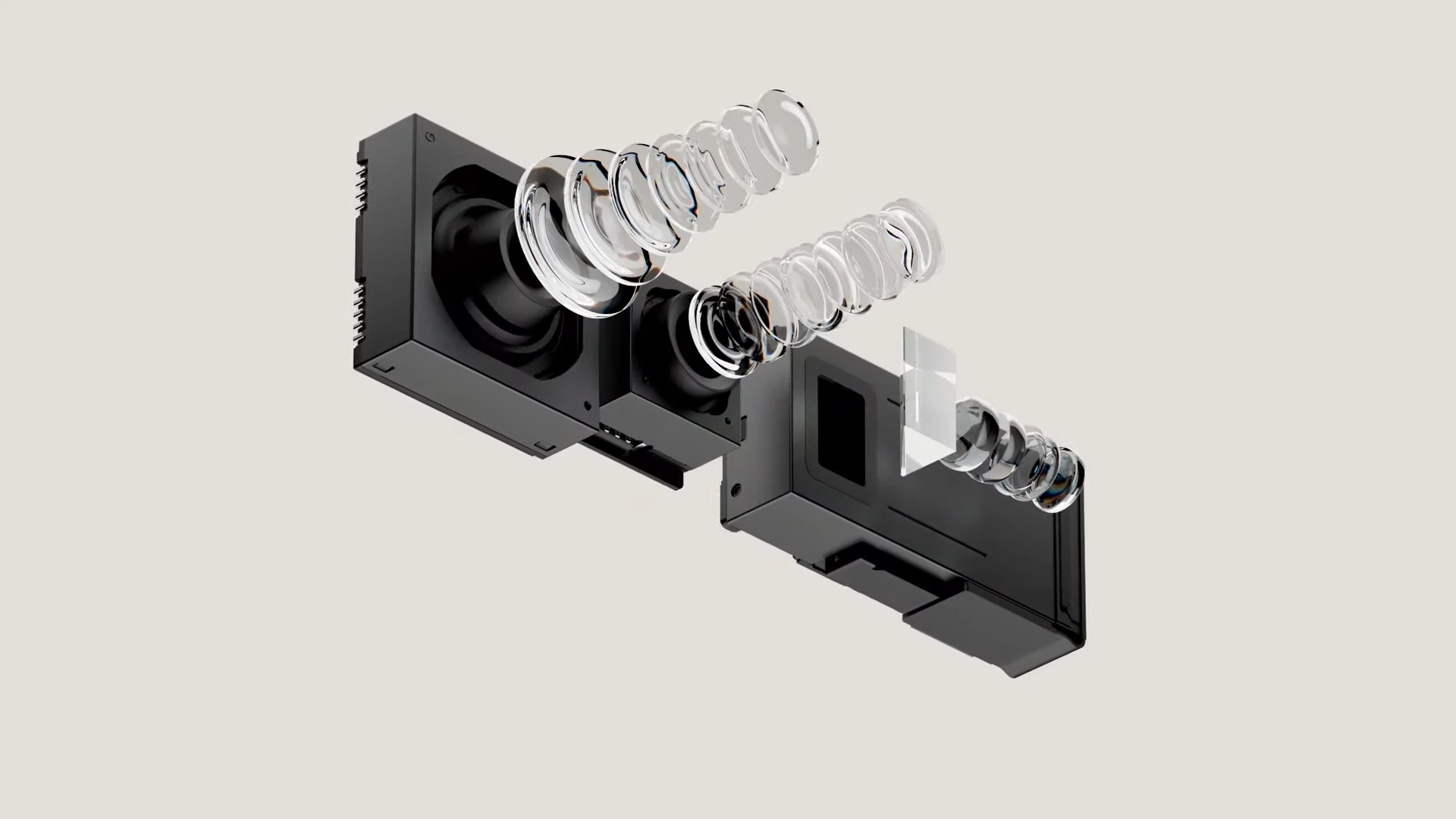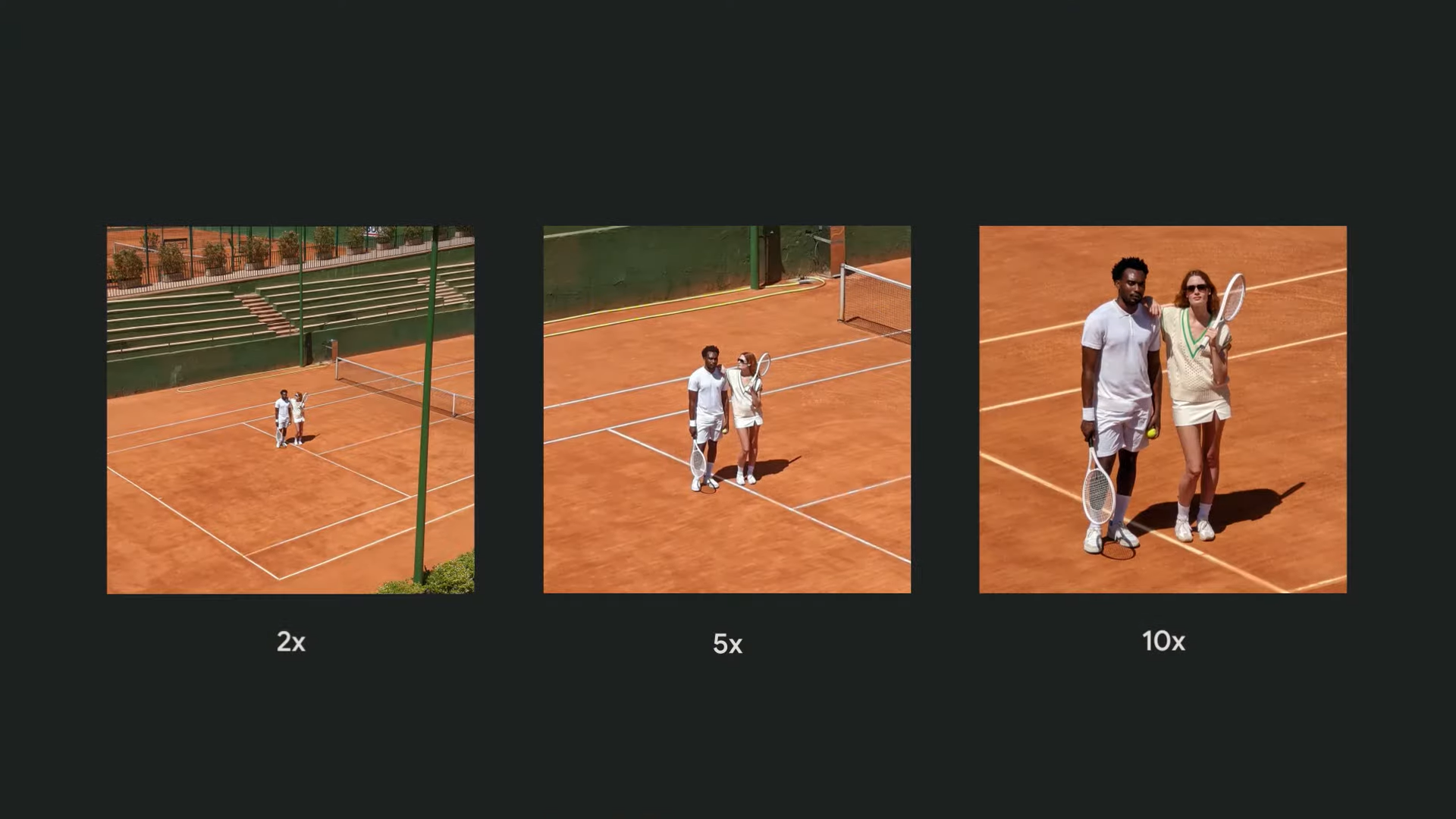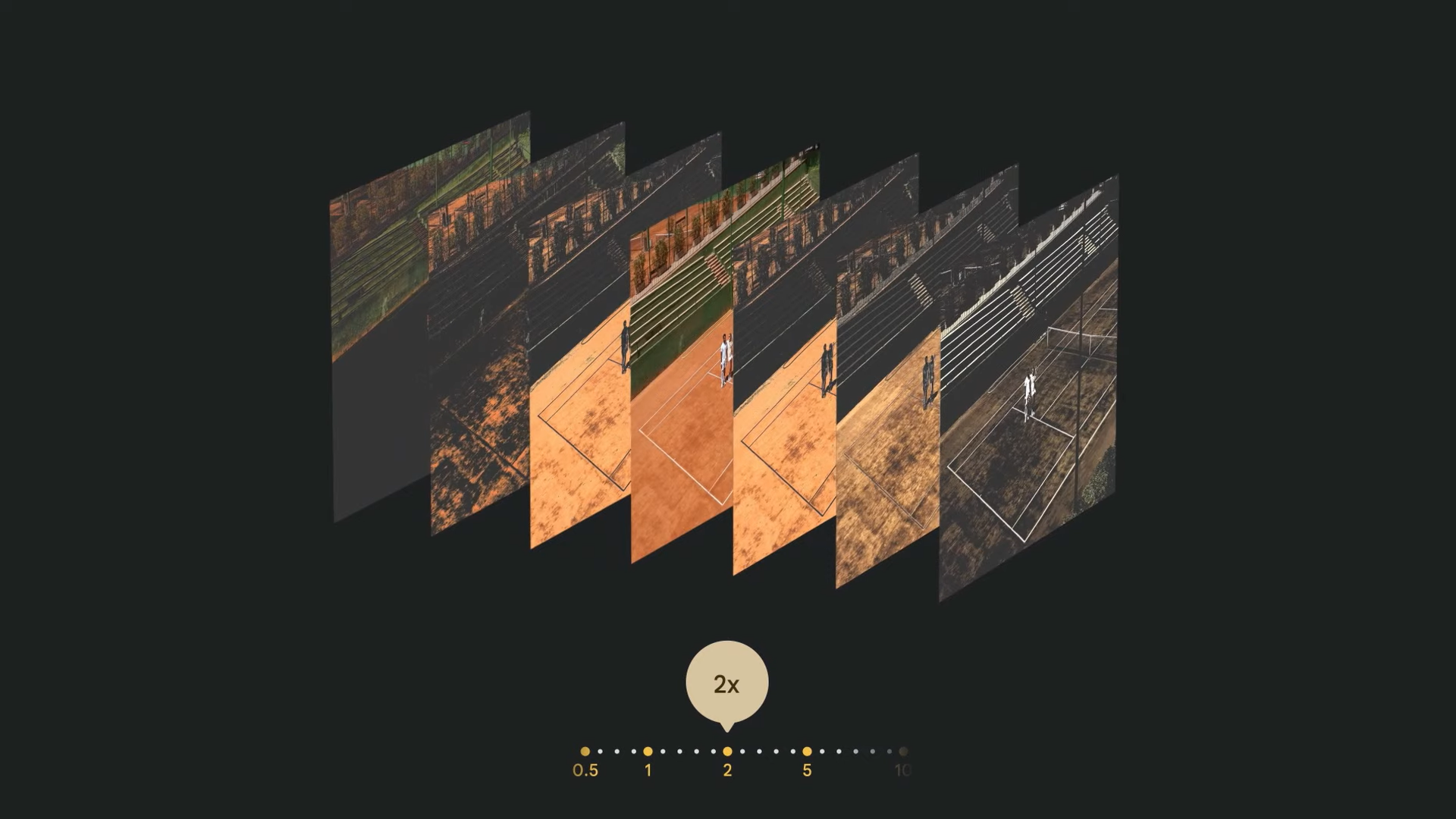 Google is using its own smarts to offer better quality 2x zoom and 10x zoom (despite no dedicated sensors for those focal lengths). Super Res Zoom tops out at 30x but I can't help but imagine it'll look like potato quality. We'll hopefully get a look soon.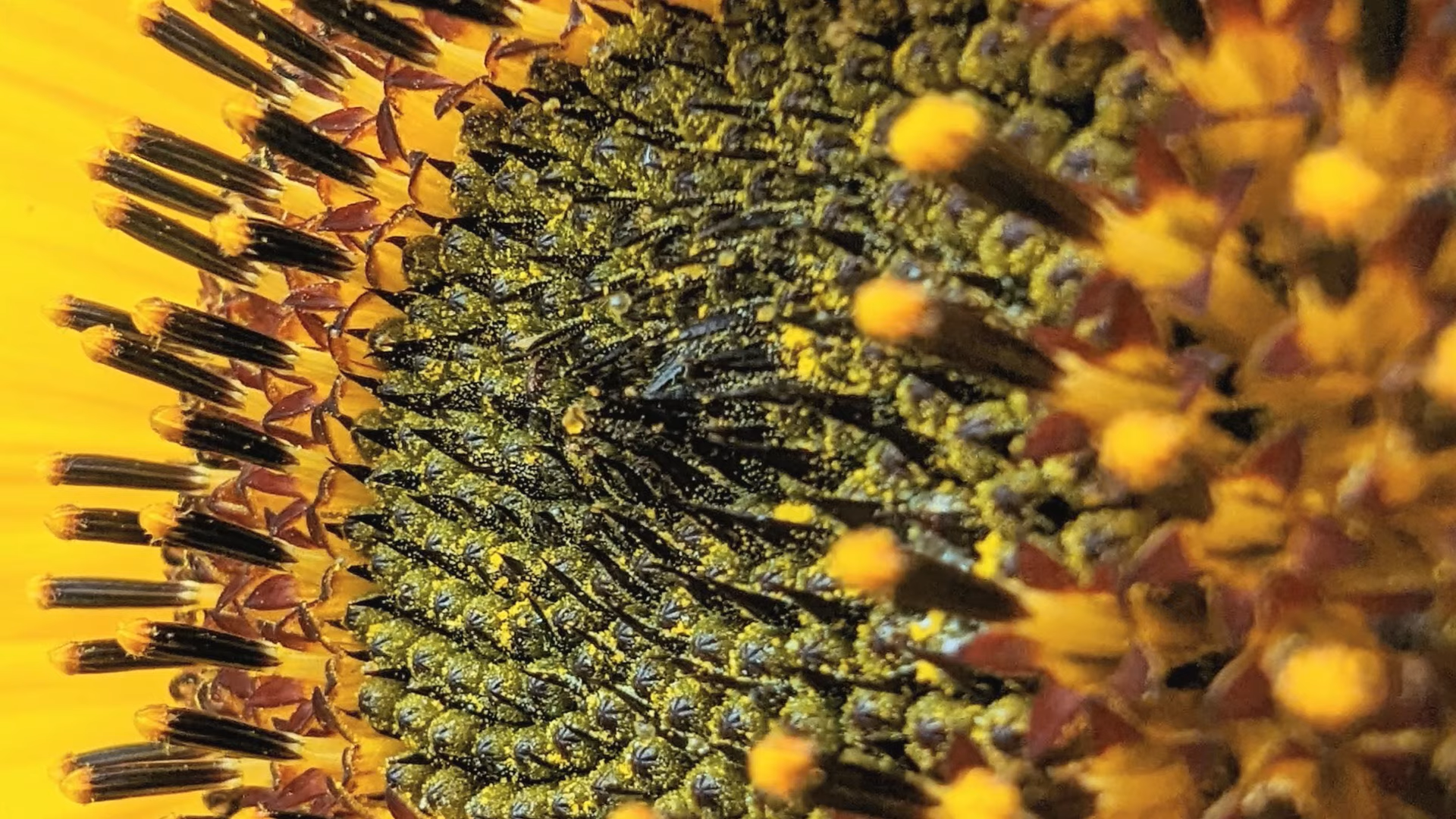 A new dedicated 'macro focus' mode is also coming as part of the photographic setup on Pixel 7 line, with a 21% wider ultrawide that now packs autofocus.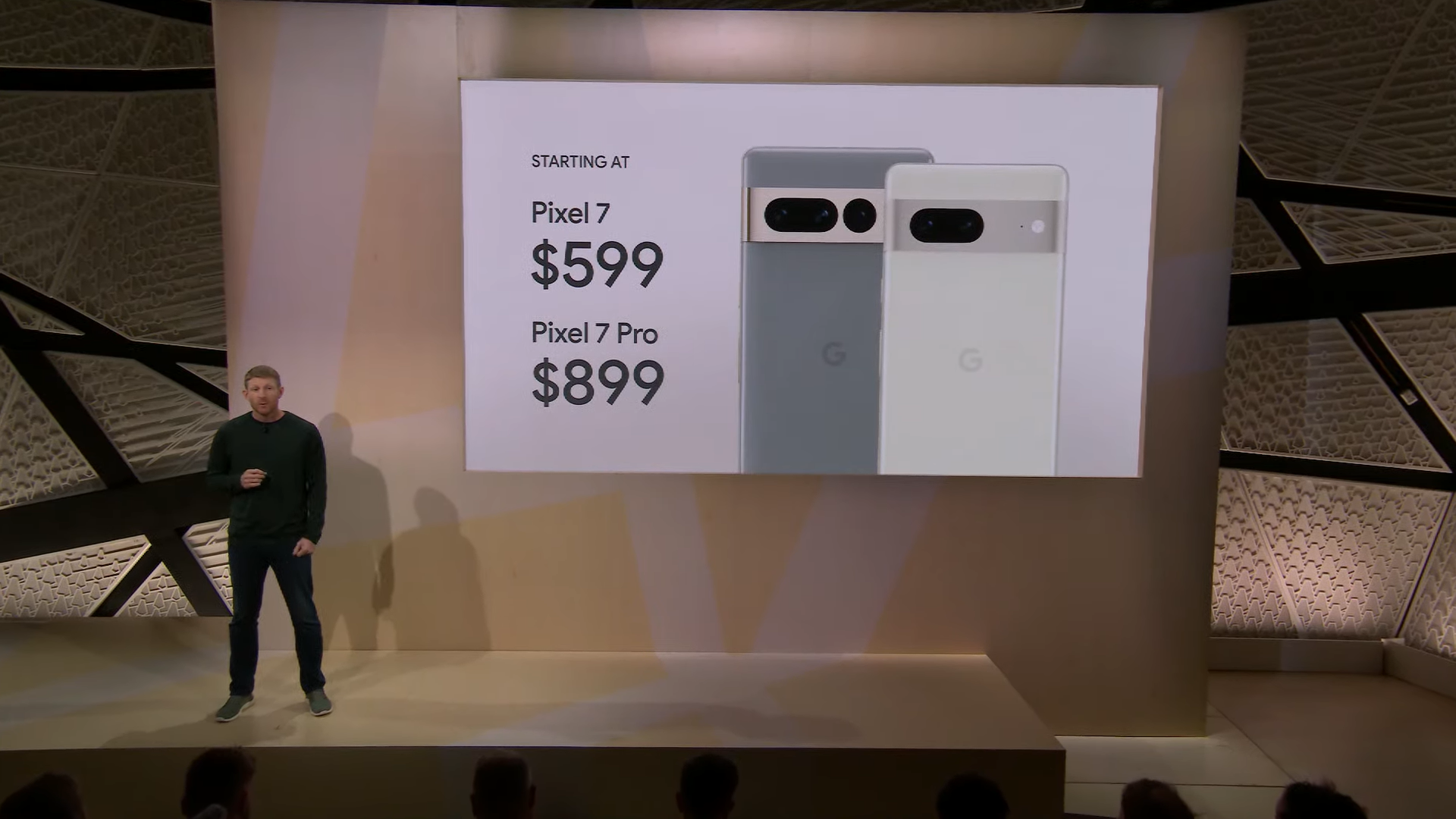 And here's the US pricing. Same as the Pixel 6 series.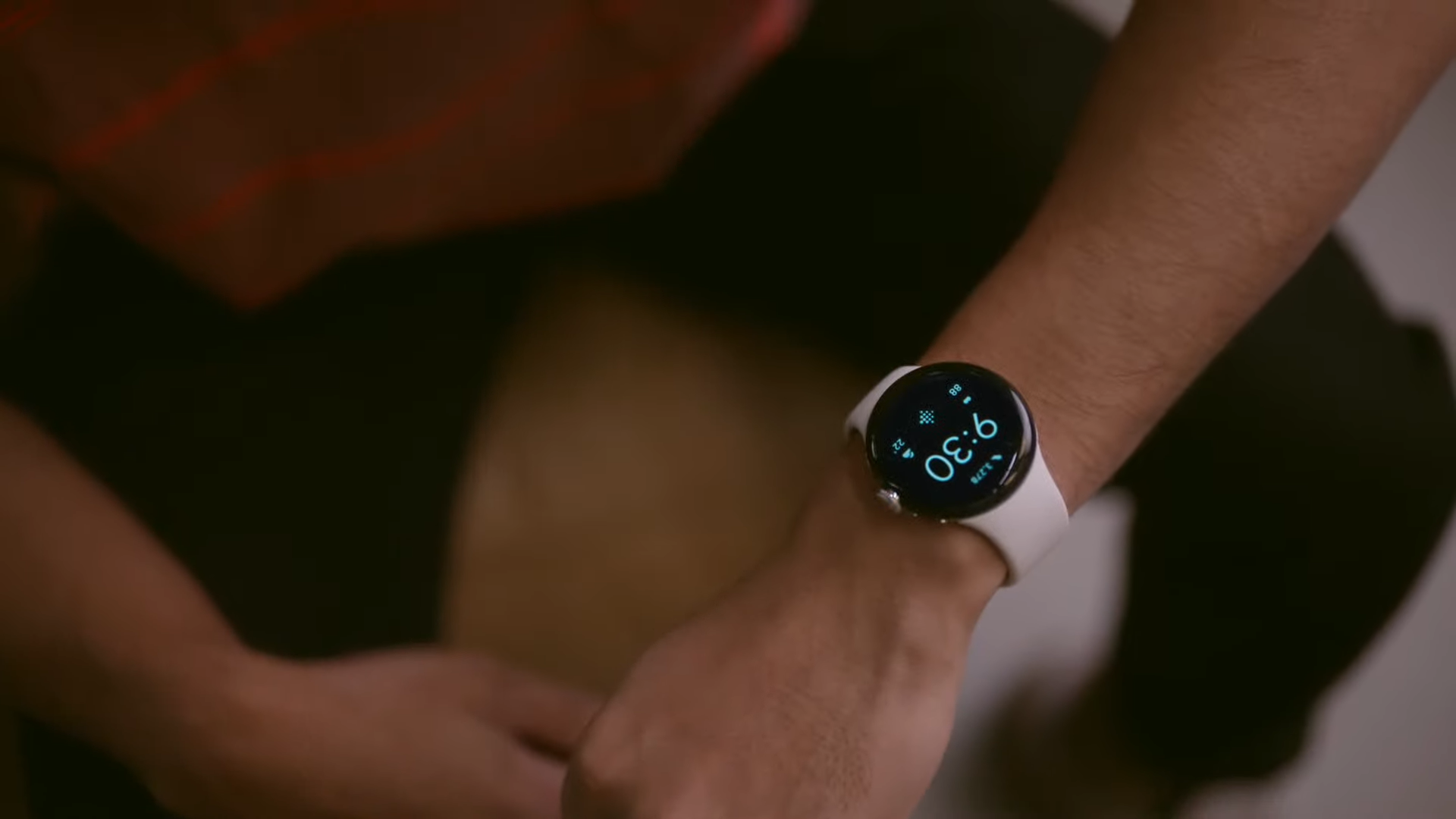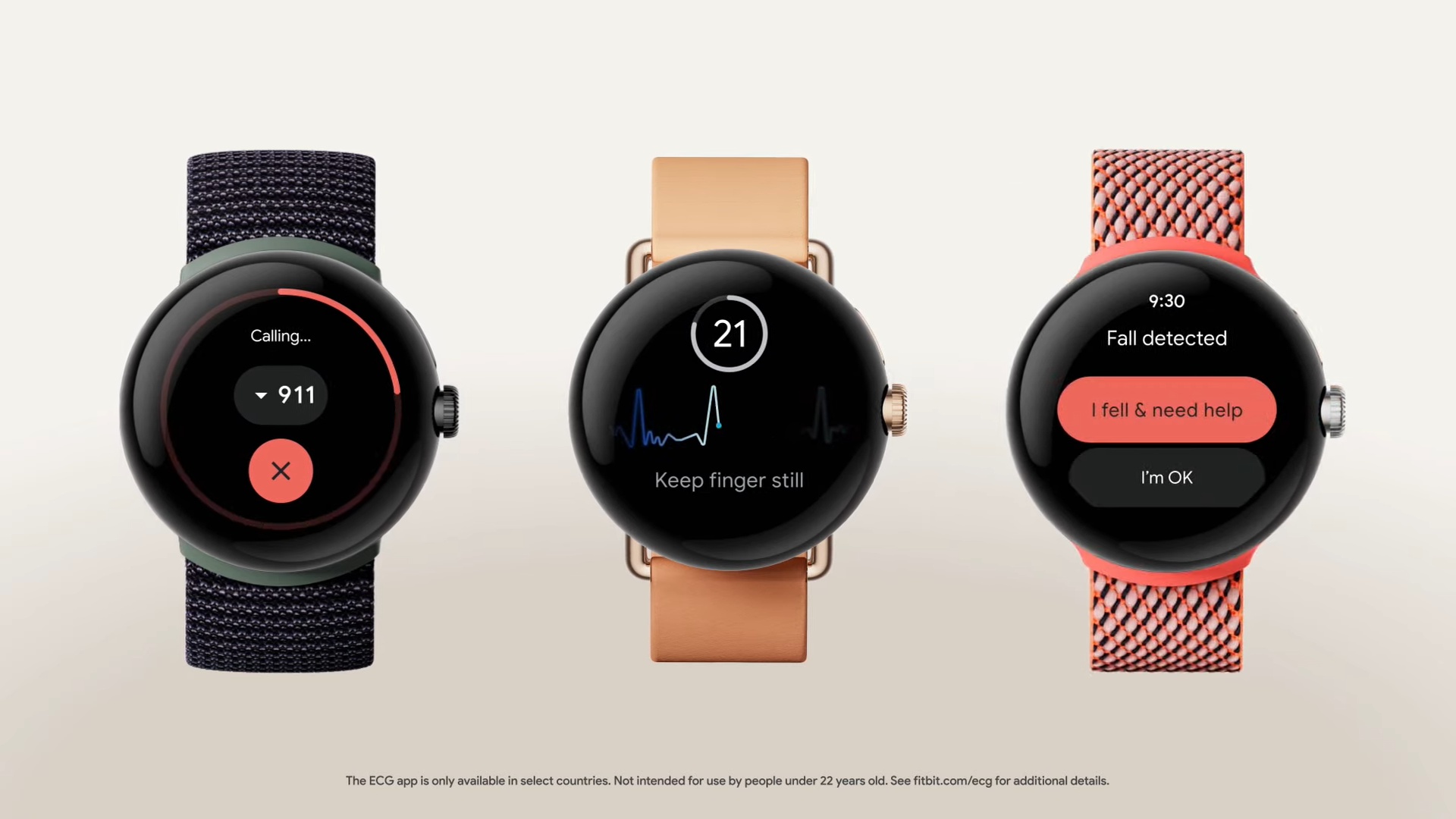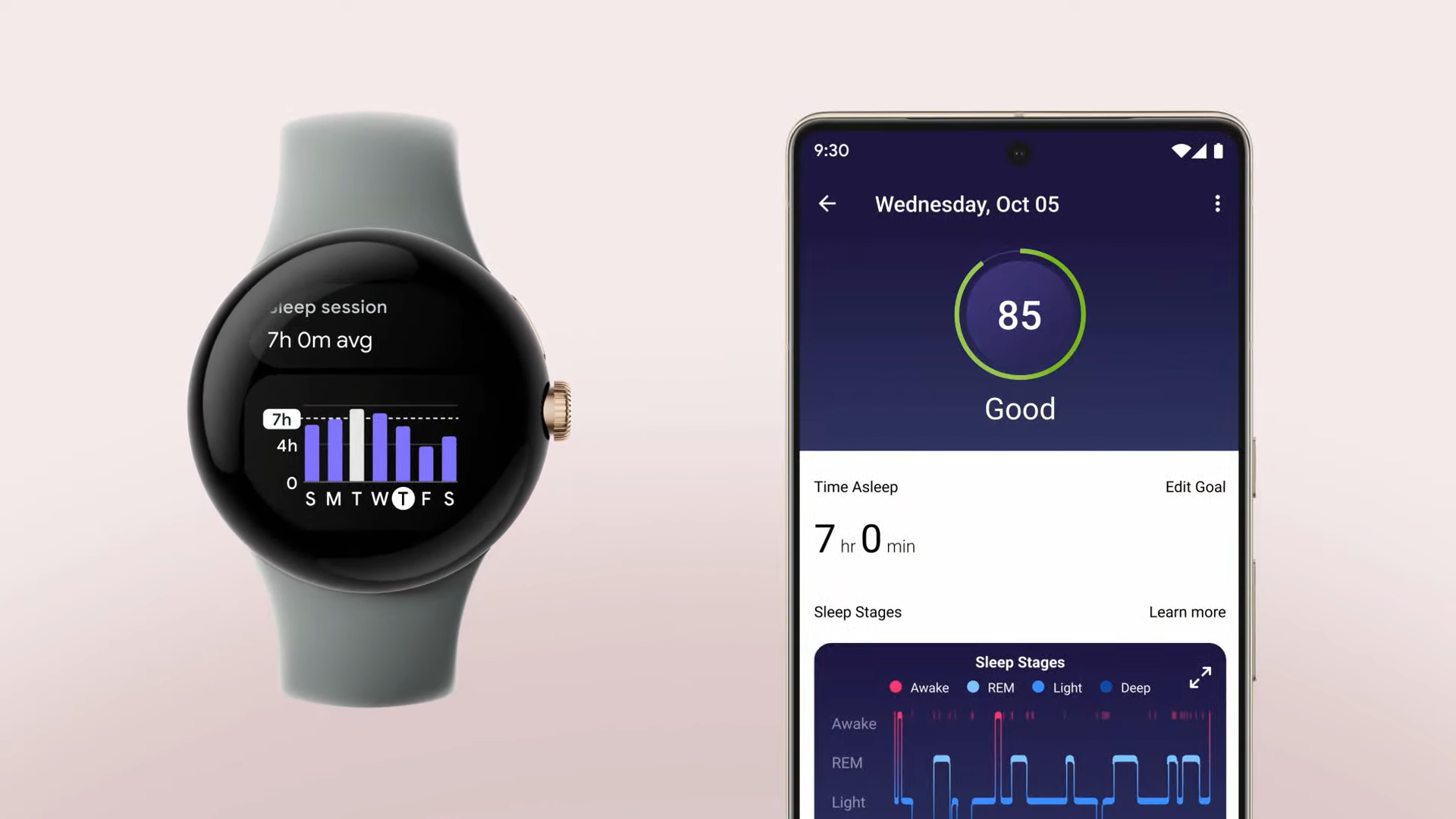 Pixel Watch time, Wear OS paired with Fitbit fitness features.

The Pixel Watch includes six months of Fitbit Premium, delivering Sleep Scores, a health metrics dashboard and a Daily Readiness Score (to tell you how ready your body is to workout on a given day).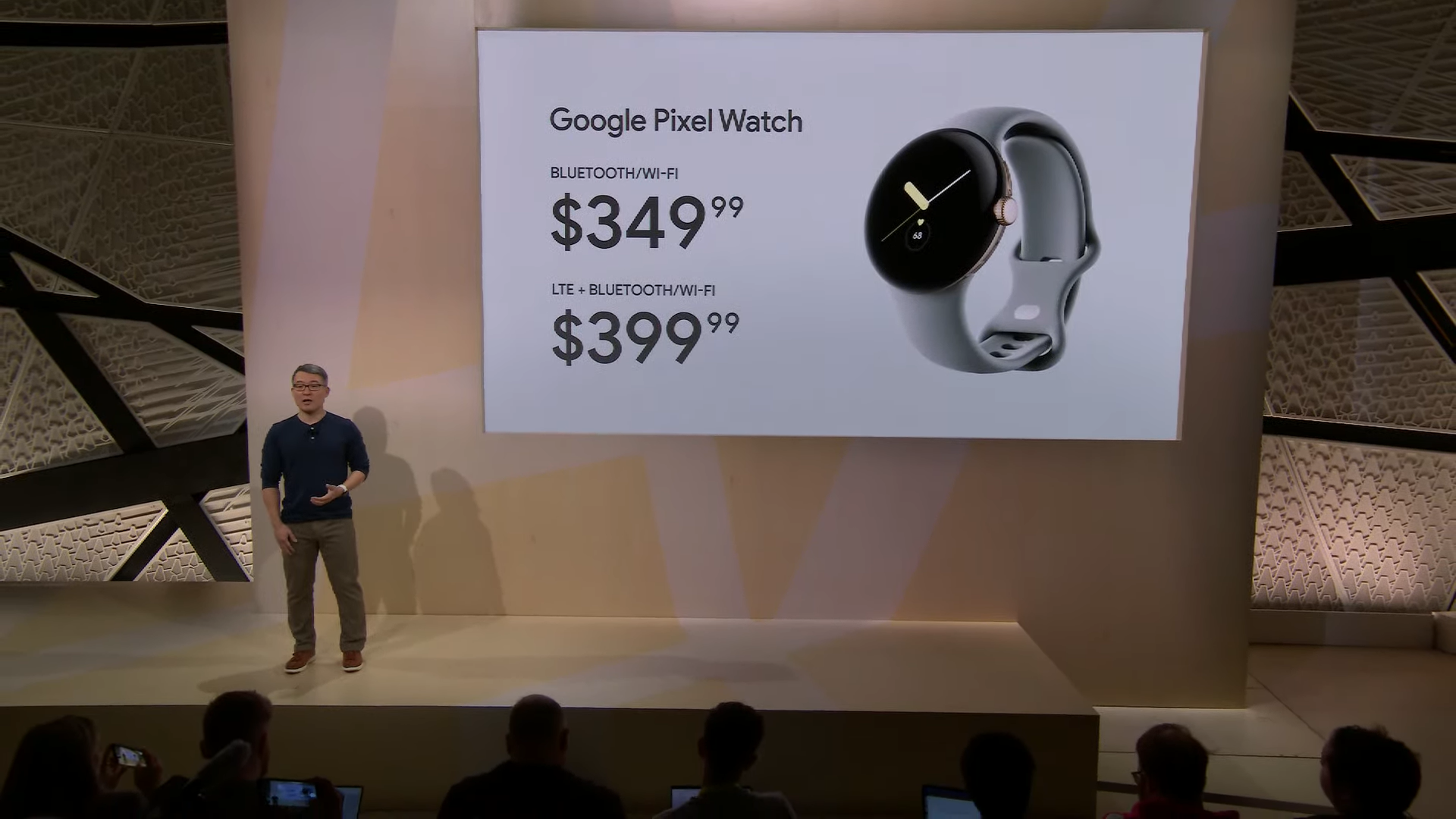 Wow, the Pixel Watch segment was painfully short. The Pixel Watch is available for pre-order now and on sale next week. $350 for the base model and $400 for the cellular version.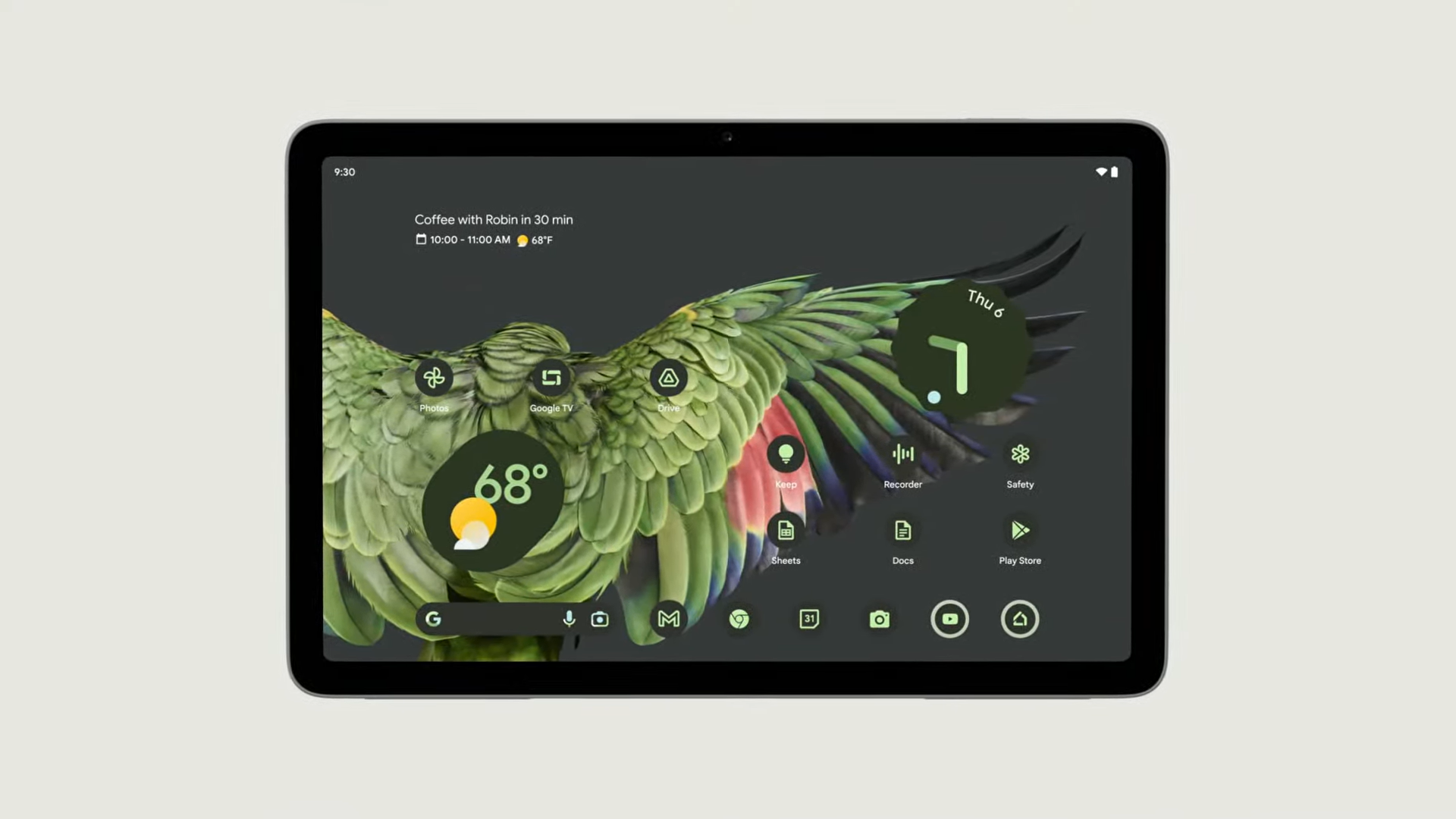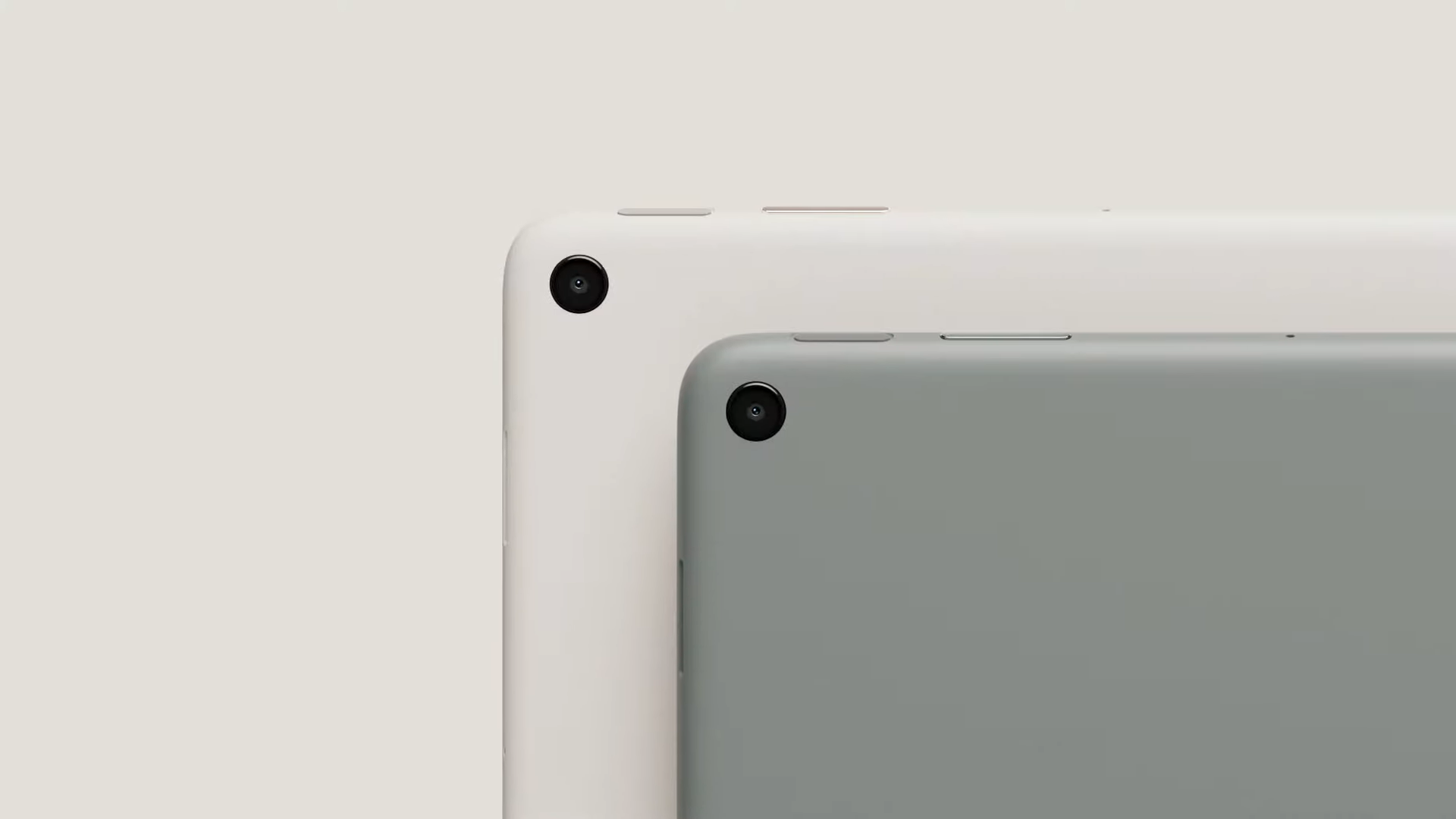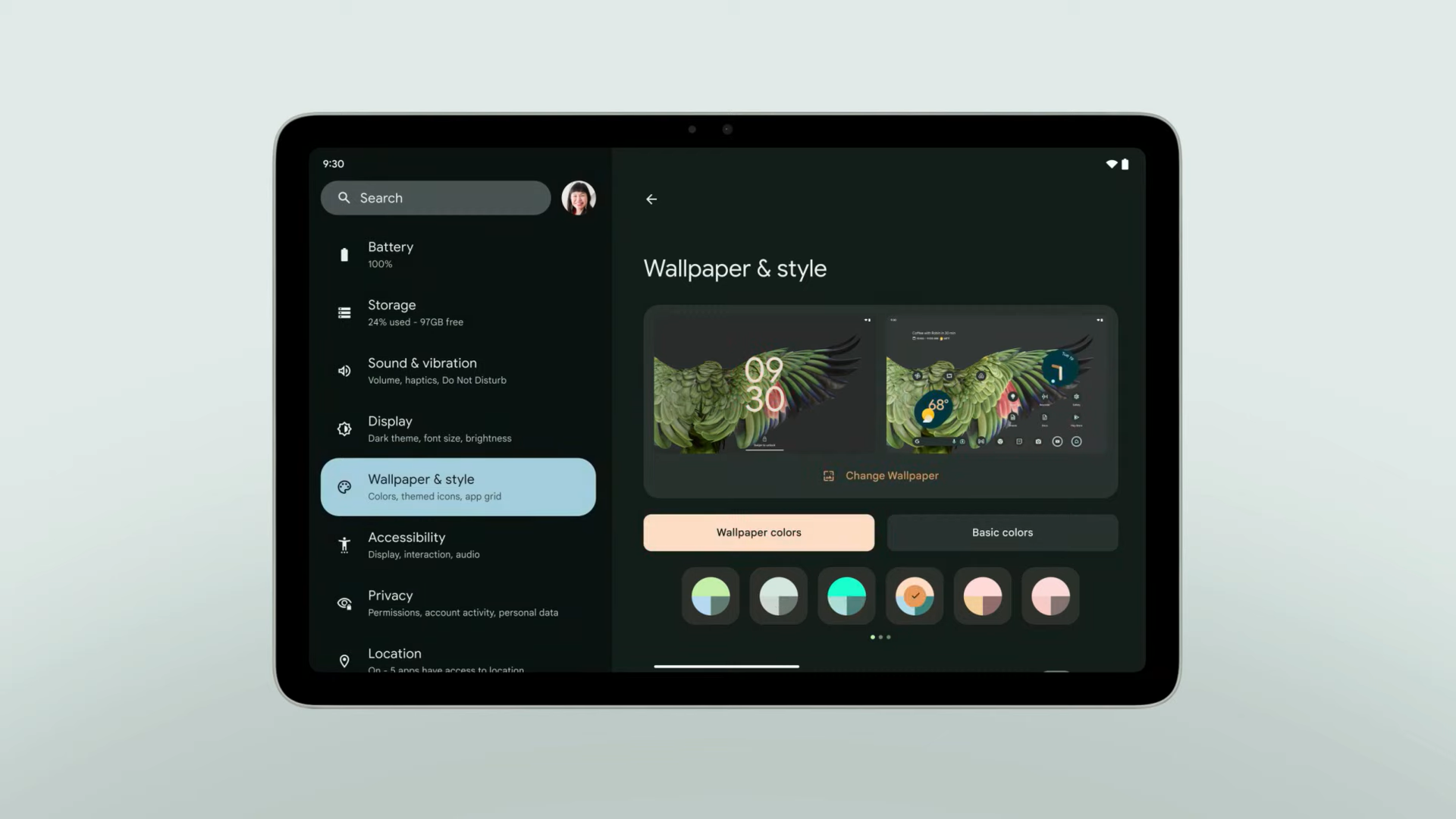 Now we're getting a deeper look at the 'Google Pixel Tablet' not sure if they'll want to stick with that name but it's... fine.

It runs Android (naturally) and will apparently arrive on the Tensor G2, but won't arrive until 2023, so perhaps alongside the Pixel 7a - if that becomes a thing?

There's talk of stylus support and split-screen multitasking too.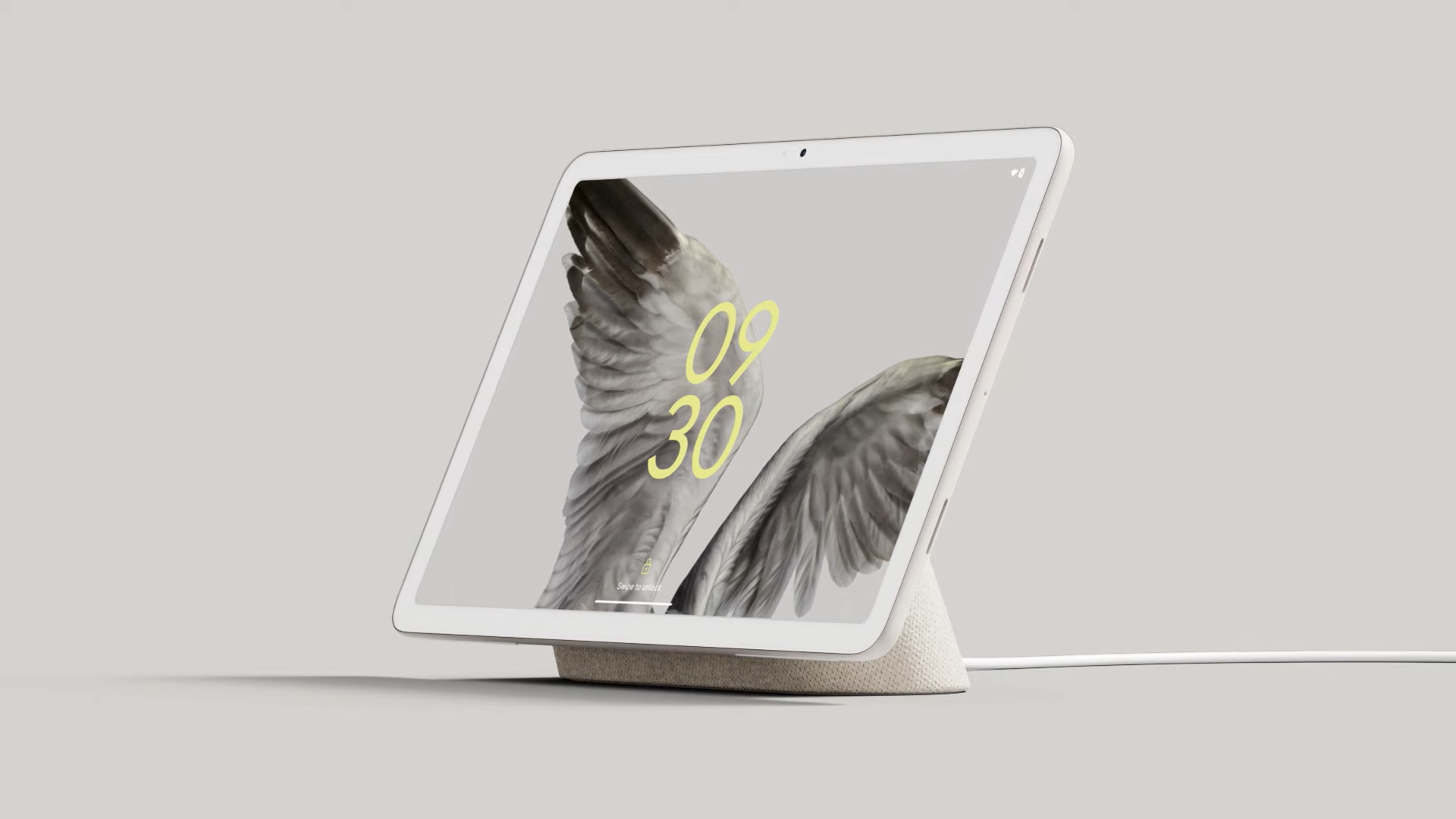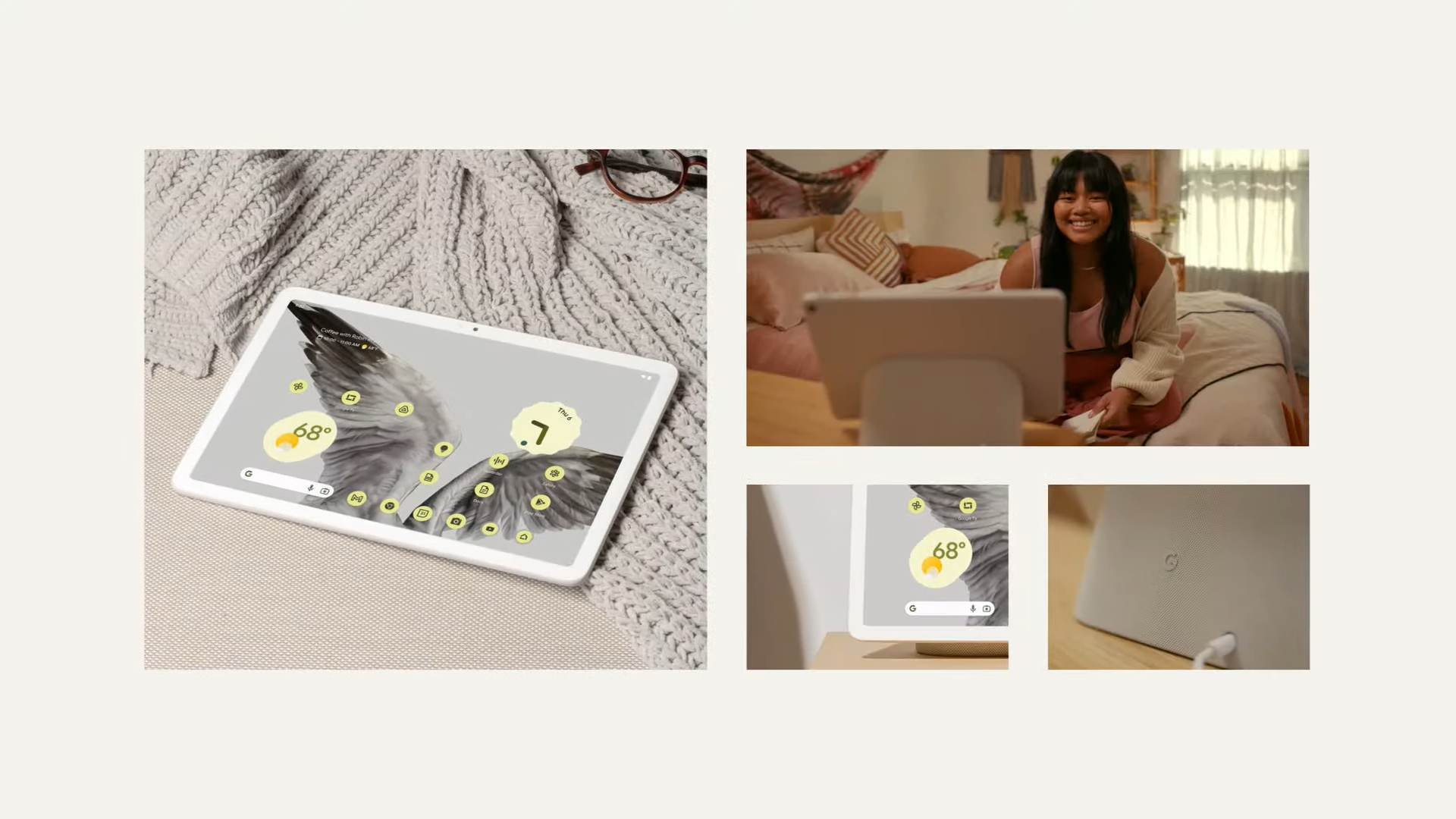 It attaches to a magnetic dock, so it essentially becomes a Nest Hub. Smart and logical.

This means you can take video calls and ask the Google Assistant hands-free in your phone.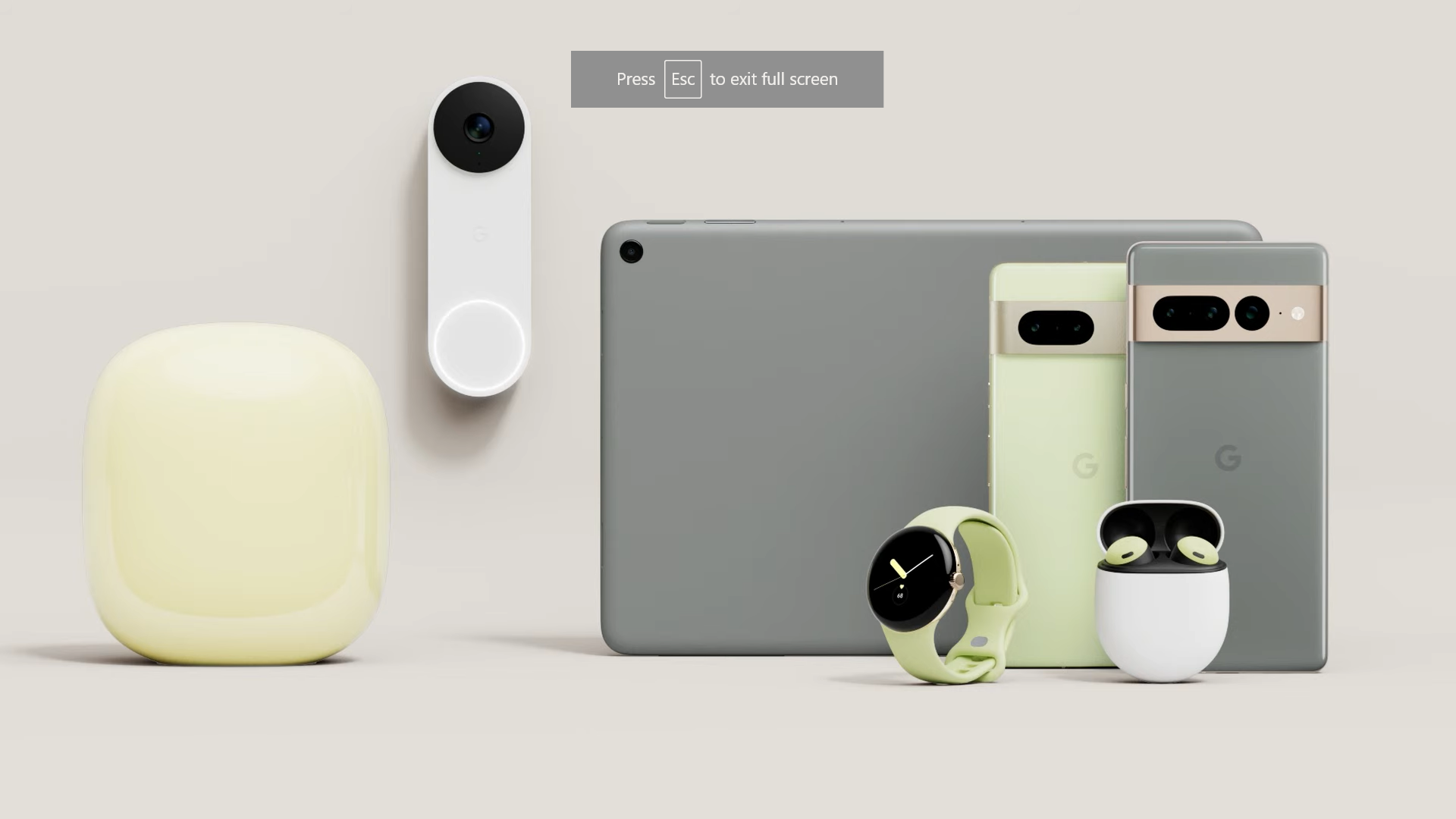 A lovely family photo, including the new Nest WiFi Pro and Nest Doorbell, which Google launched earlier this week, and the Pixel Buds Pro, which arrived alongside the Pixel 6a.
Neat trick: You can take photos with your Pixel 7 phone through your Pixel Watch. #MadeByGoogle pic.twitter.com/m55HEiWB5tOctober 6, 2022
Google's rounding out its Pixel segment with ecosystem examples, like being able to snap a photo from your Pixel 7, using your Pixel Watch.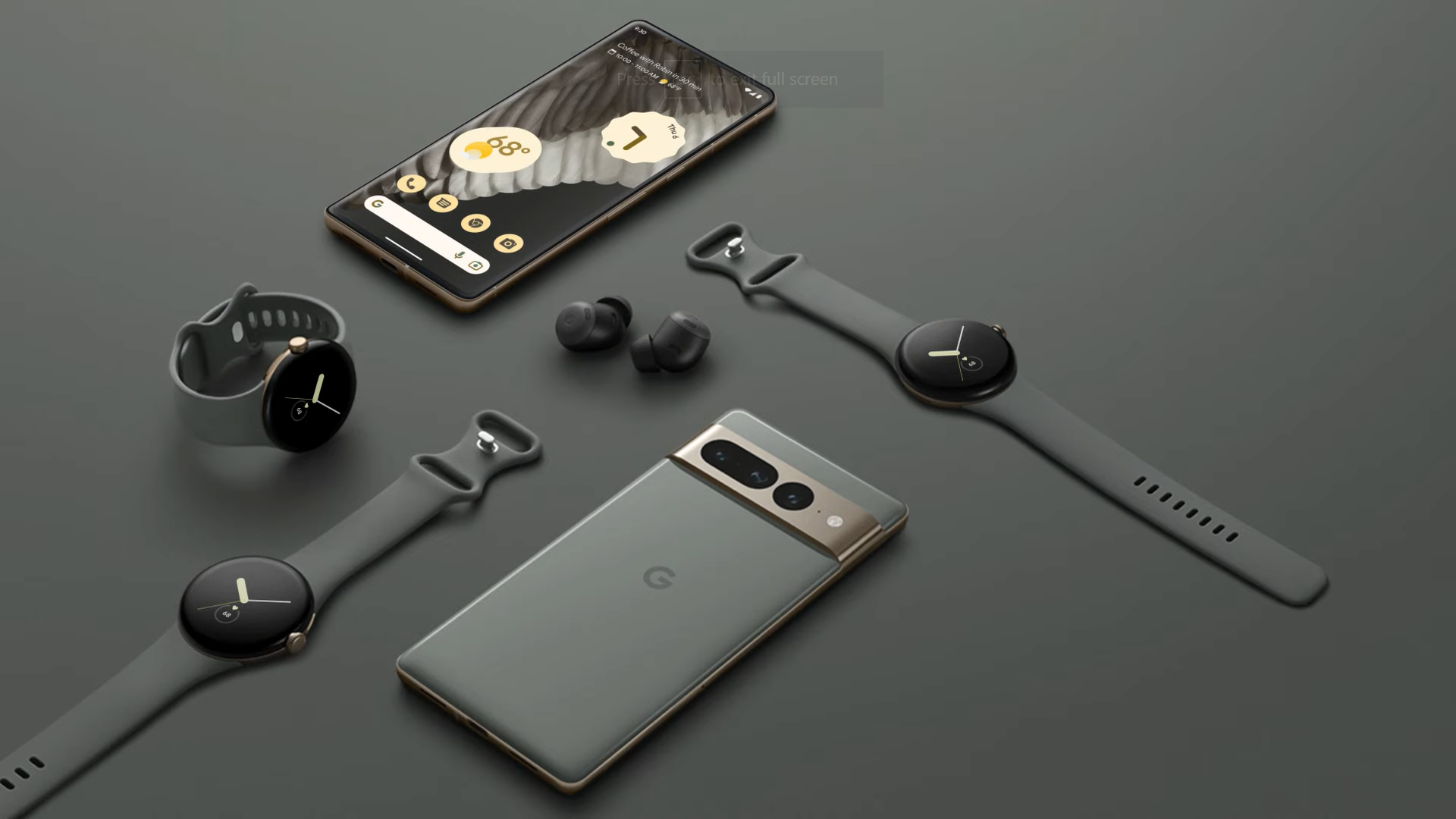 And that's it for the presentation! Stay seated though, we should have some hands-on experience with the Pixel Watch, Pixel 7 and Pixel 7 Pro very soon. Google might even show off the Pixel Tablet, we'll have to wait and see.
Now I'm wearing the Google Pixel Watch. The bezel is not as bothersome as I thought. #MadeByGoogle pic.twitter.com/kY7ujm1Rg7October 6, 2022
Speak of the devil! Lance already has hands on a Pixel Watch. So round, so shiny.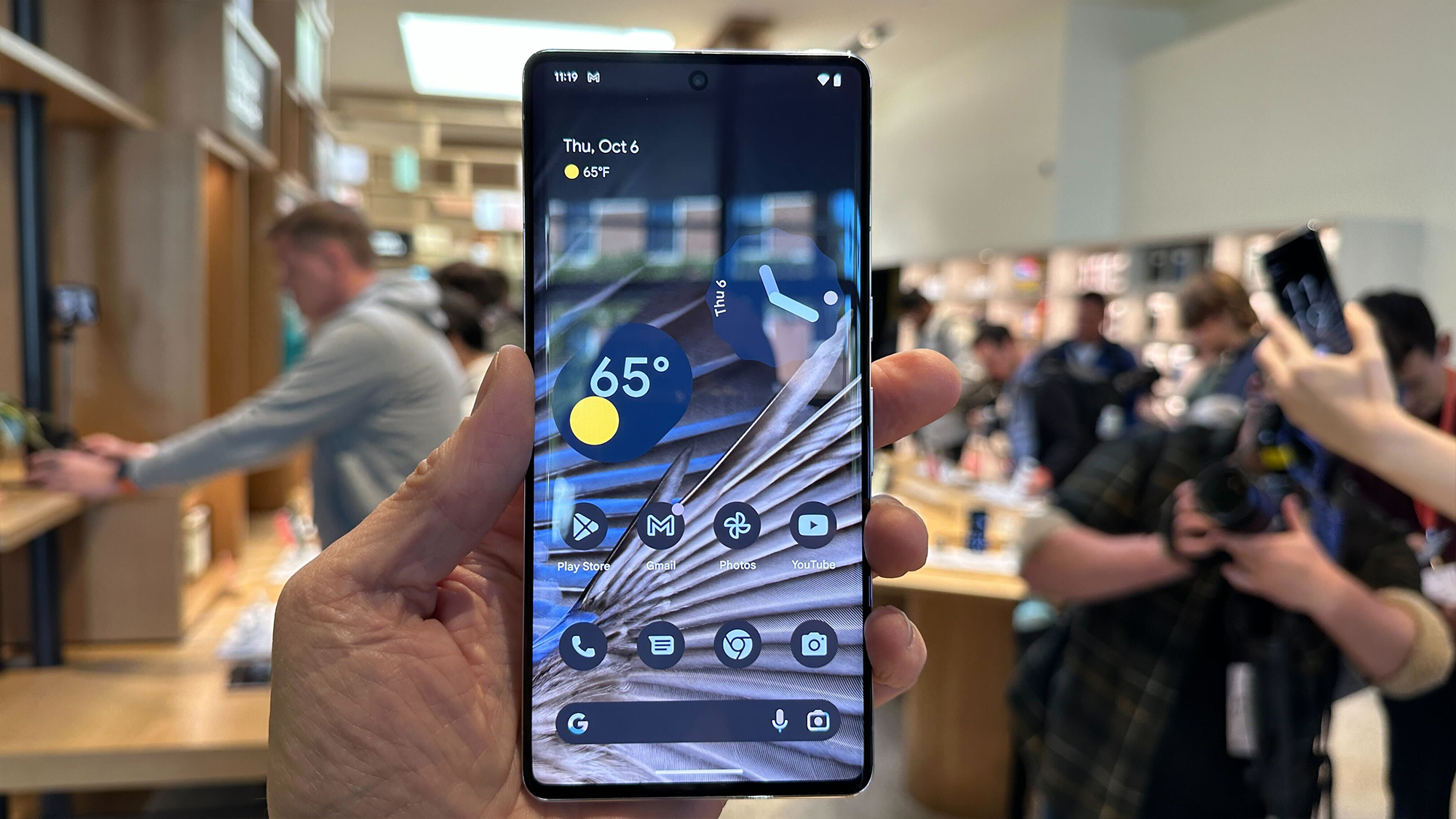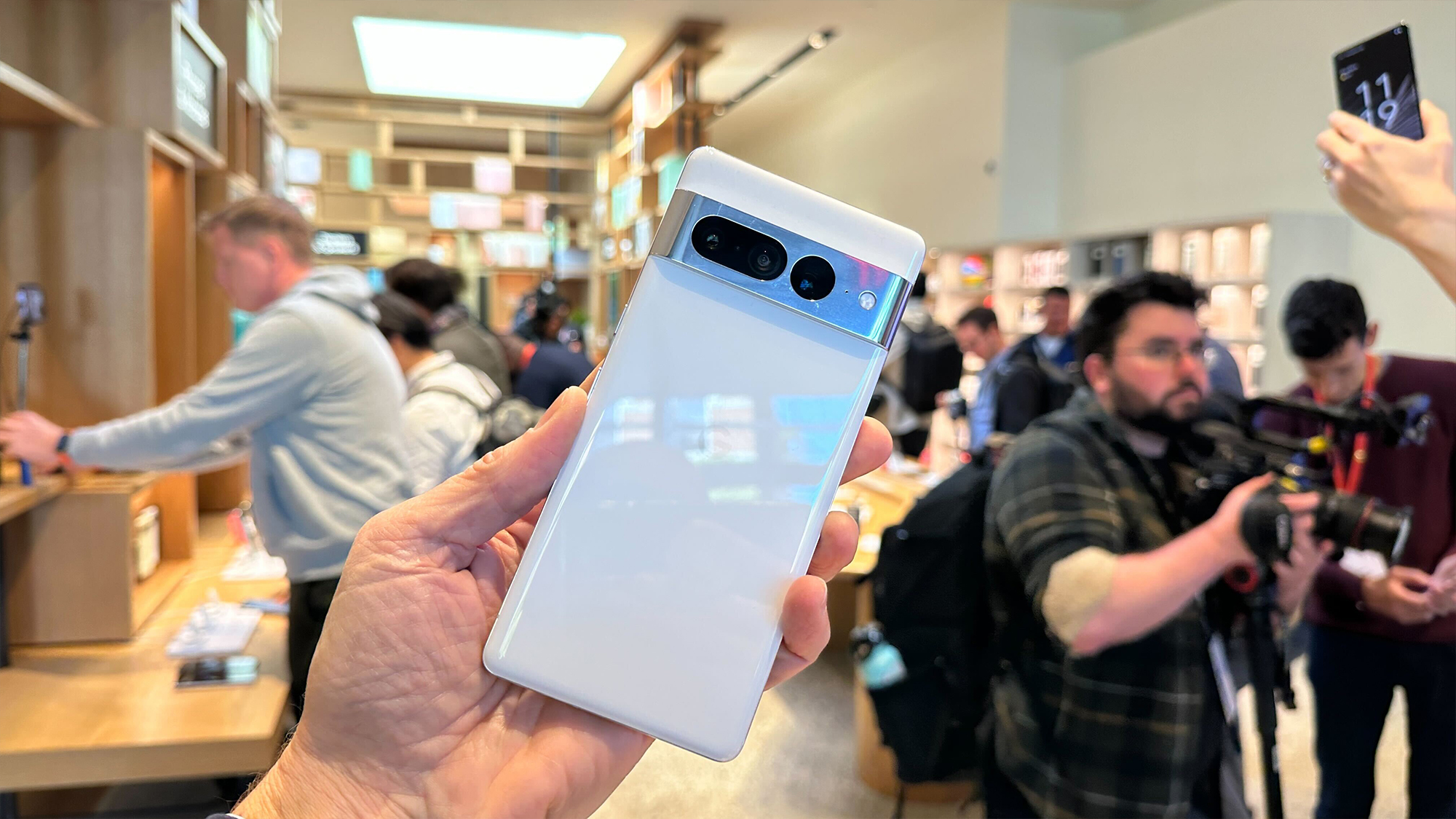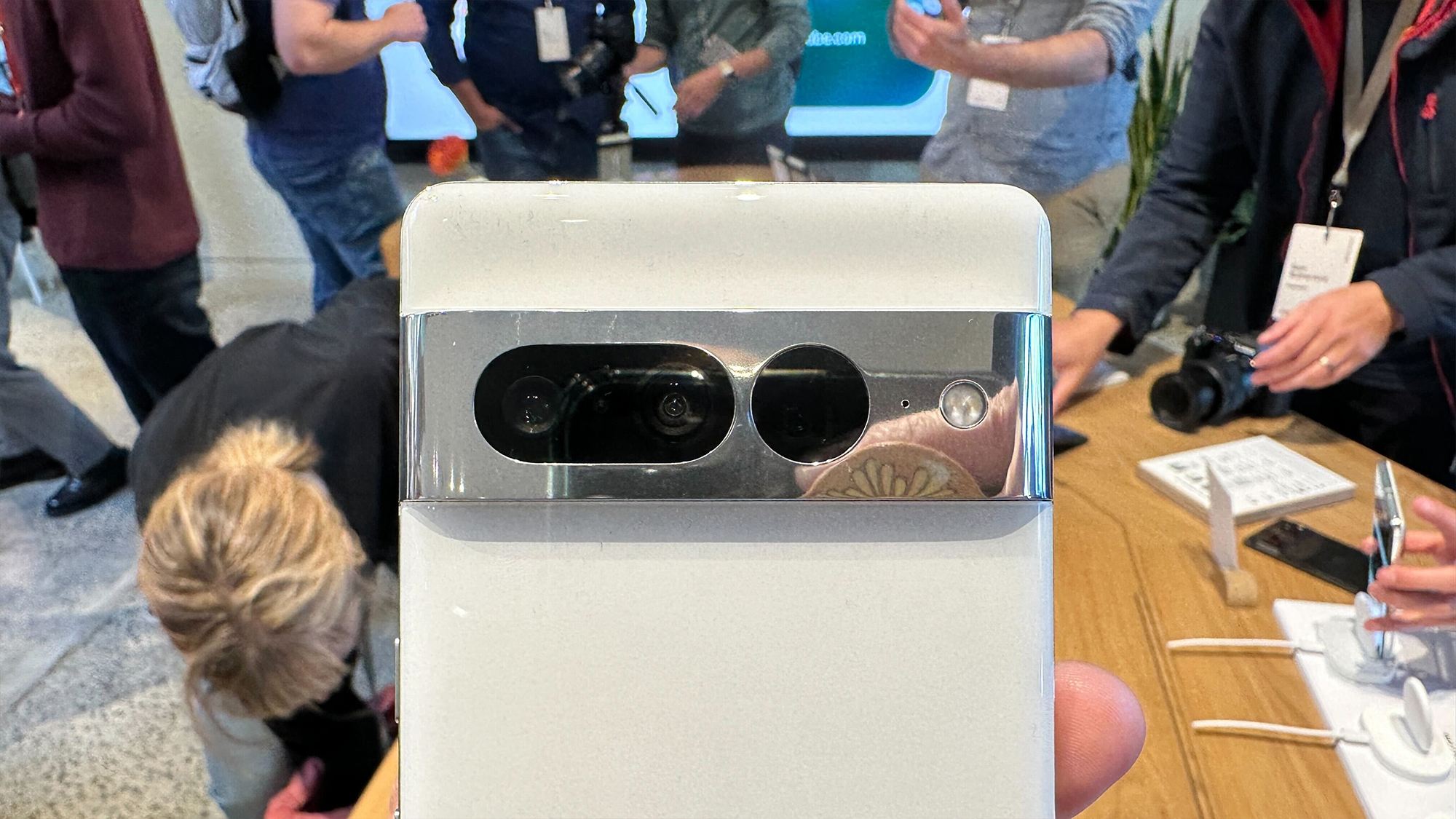 And here's the equally shiny Pixel 7 Pro in 'Snow'. Hopefully the cases that Google makes in-house don't discolor and warp like the Pixel 6's, if you want to keep fingerprints off that polished finished without using a case, good luck to you.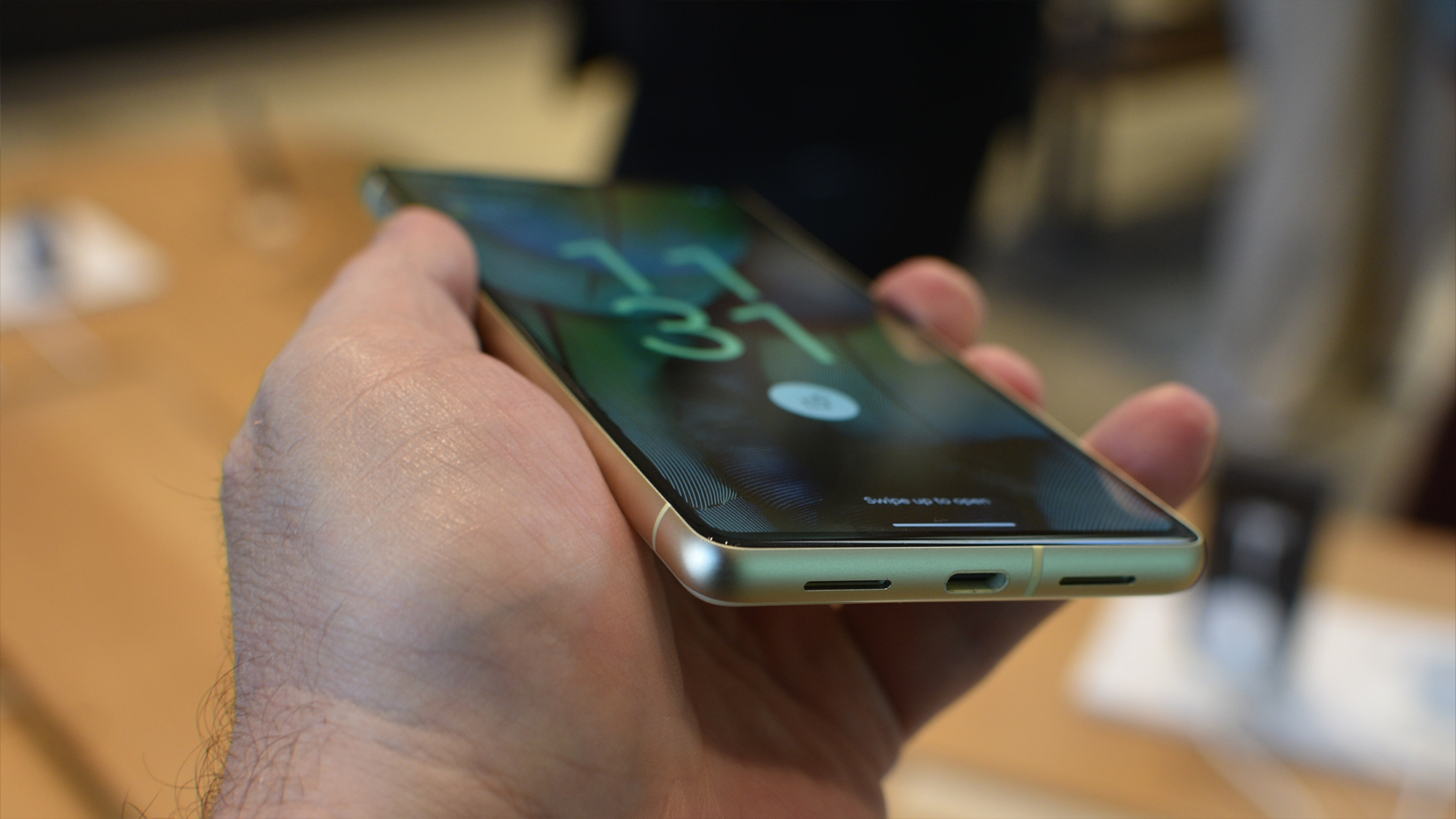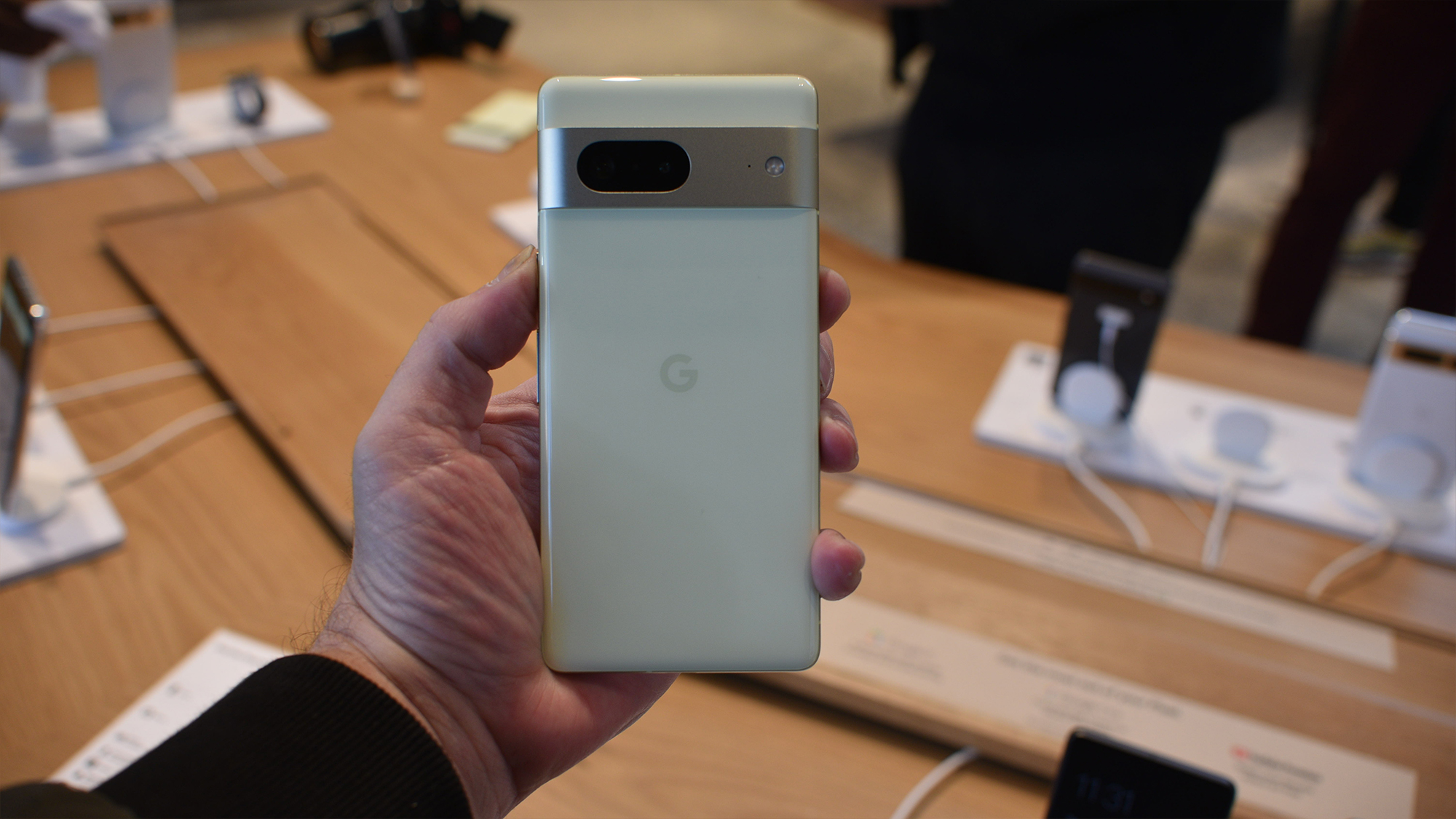 Here's a hands-on first look at the standard Pixel 7 in Lemongrass and Snow...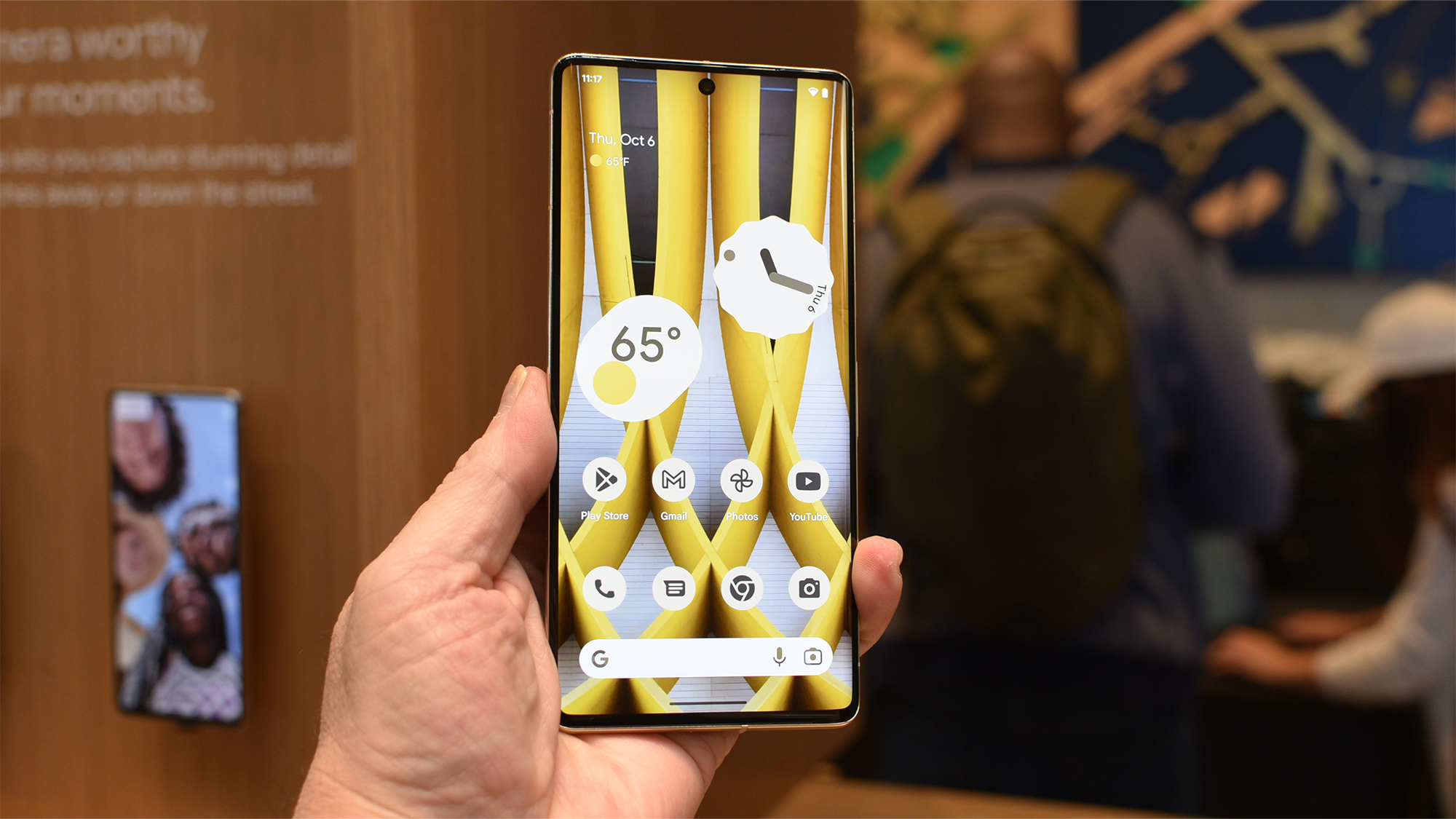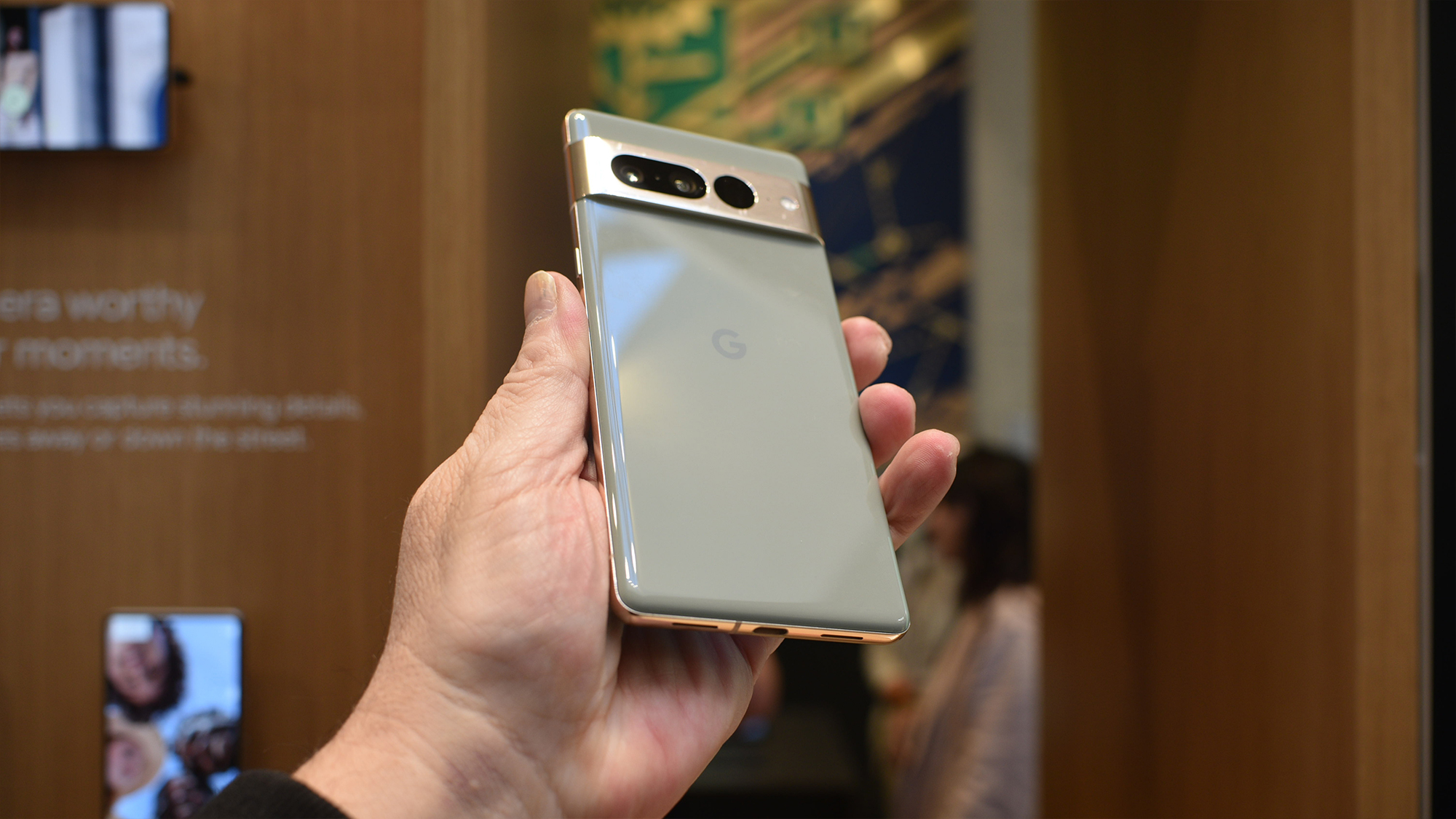 ...and a better look at the Pixel 7 Pro in its signature Hazel finish. What do you think?
Sign up to receive daily breaking news, reviews, opinion, analysis, deals and more from the world of tech.
Thank you for signing up to TechRadar. You will receive a verification email shortly.
There was a problem. Please refresh the page and try again.