I've finally found a way to get the crispiest air fryer potato wedges
Maximum crunch with (almost) minimum effort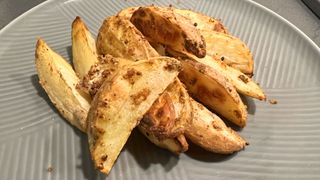 (Image credit: Victoria Woollaston/TechRadar)
The first dish I ever cooked in my air fryer was potato wedges, and I've been in search of the ultimate air fryer potato wedges recipe ever since – one that promises flavor, a crunchy outer coating and a soft, fluffy center.
This is the reason Instagram and TikTok foodie Sheyna Patel's potato wedges air fryer recipe piqued my interest when it popped up on my FYP. And with more than 10.8 million views, and 1.1m likes (and counting), it appears I'm not alone.
The key difference between Sheyna's recipe and the other best air fryer potato wedges recipes I've tried in the past is the use of an ice bath. Before you season and cook the wedges, Sheyna recommends soaking them in ice-cold water for 25-30 minutes.
I was originally quite cynical about this seemingly unnecessarily long step; for me, potato wedges have been the perfect "quick" snack or side dish to throw together. However, having tested this recipe multiple times with different seasonings, I'm well and truly converted.
Below you'll learn how to make Sheyna's viral potato wedges at home.
Best air fryer deals
If you're yet to purchase an air fryer for your home, or are looking to upgrade, check out our top-rated air fryers below, all available to buy now for the best prices.
Air fryer potato wedges recipe
Air fryer potato wedges ingredients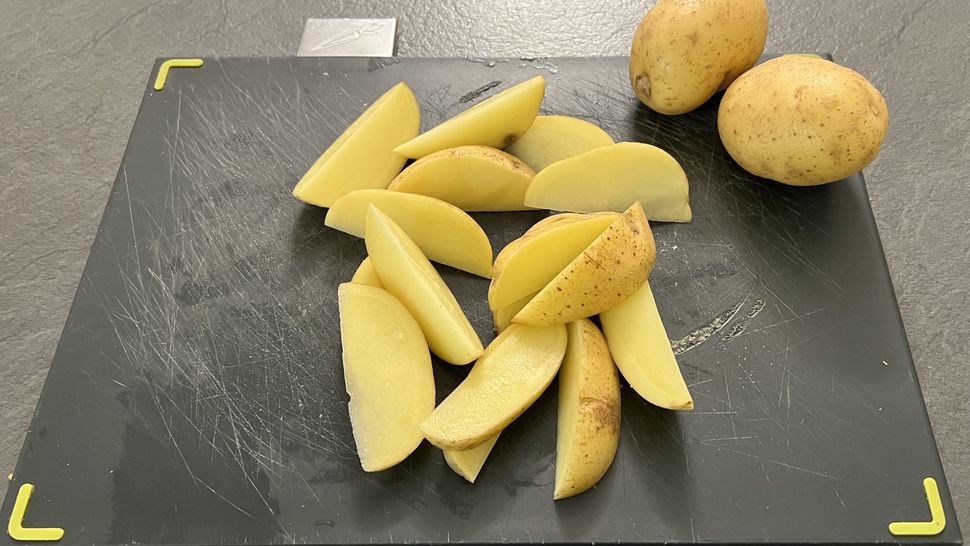 The ingredients listed below make approximately 16 potato wedges. If you use smaller or larger potatoes, then obviously the number will vary, and thus the amount of seasoning may need to be adjusted as a result.
The seasonings listed below can be switched out for different choices based on your tastes. I've made these wedges using Cajun seasoning, as well as Chinese Five Spice, with both alternatives working just as well.
It should be noted that I've tried this recipe with cold, as well as ice-cold, water and both produce similar results, so don't worry too much if you don't have ice cubes to hand.
2 medium white potatoes
3 tbsp vegetable oil
1/2 tbsp onion powder
1/2 tbsp garlic powder
1 tsp smoked paprika
1 tsp salt
1 tsp black pepper
1 tsp cornstarch
Ice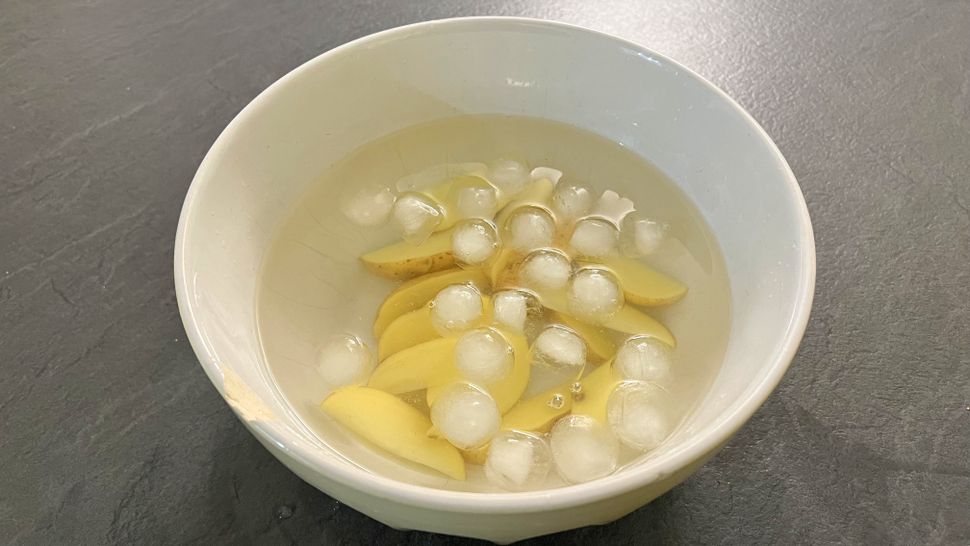 Air fryer potato wedges method
I used the Tower T17099 Vortx Eco Dual Basket Air Fryer, set at 350ºF (175°C) for 20 minutes. The wedges were rotated after 10 minutes to ensure they cooked evenly.
Step 1: Cut each potato in half, then half again, and then half again to get 16 wedges.
Step 2: Put these wedges in a large bowl of ice-cold water and leave to soak for 25-30 minutes. The cold water helps removes starch from the potatoes, which stops them swelling and sticking together, and helps to achieve a crispy coating.
Step 3: Remove the wedges from the ice-cold water and pat dry with kitchen towel or a clean tea towel.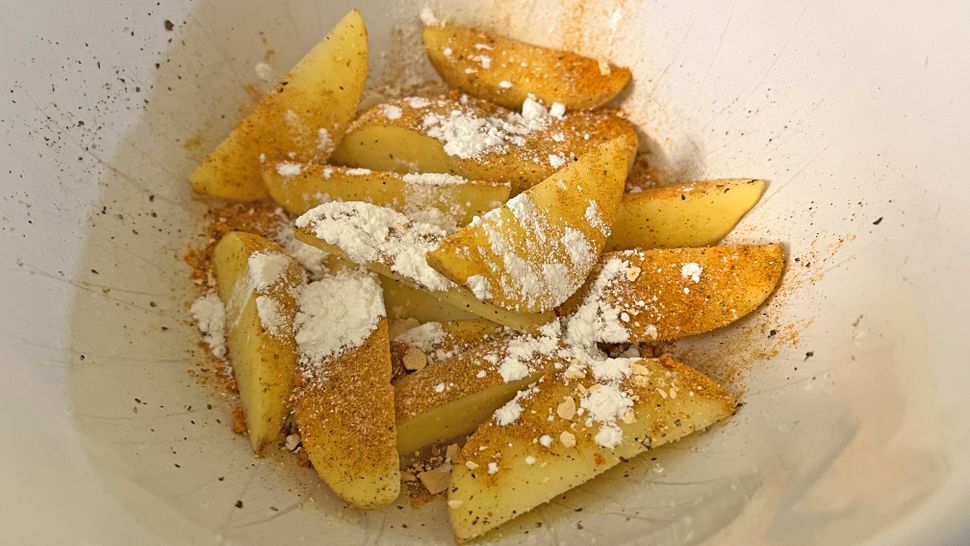 Step 4: Place the wedges in a dry bowl and add the seasoning, cornstarch and vegetable oil. The cornstarch helps remove excess moisture during the cooking process to help you get an even crispier coating.
Step 5: Using your hand, or a spoon, make sure that each wedge is coated in oil and seasoning as evenly as possible.
Step 6: Set the air fryer to 350°F (175°C), place the wedges in rows a couple of centimeters apart in the air fryer basket, and set the timer for 10 minutes. Ideally, the wedges should be placed on a grill rack to help the air circulate around them, although this isn't a necessity.
Step 7: Following 10 minutes, open the air fryer and rotate the wedges. Set the timer for a further 10 minutes. Opening the air fryer will reduce the temperature, so if after 20 minutes your wedges aren't as crispy as you'd like, leave them in for a few minutes longer.
Step 8: Once cooked, remove the wedges and serve with your favorite dipping sauce, as an evening snack or as a side dish to your main meal.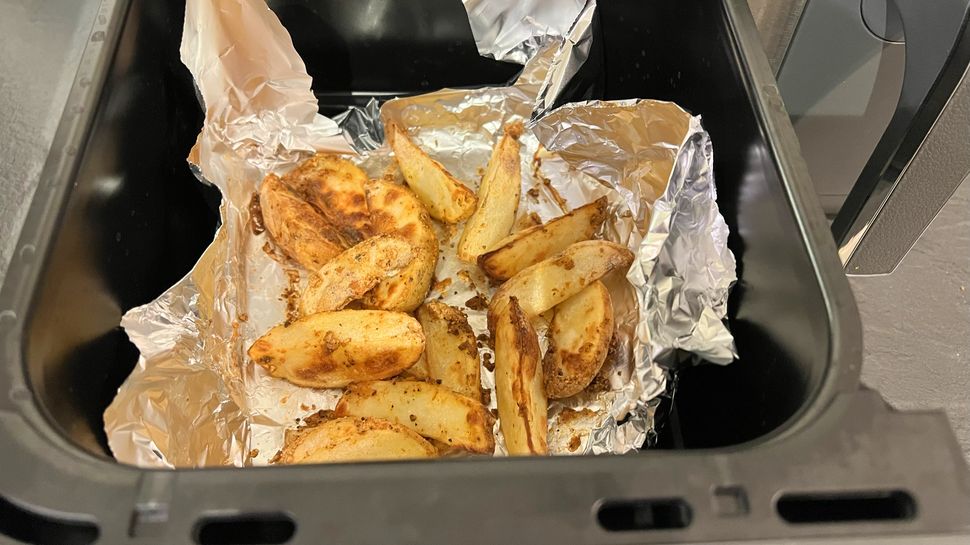 Air fryer potato wedges verdict
I've tried multiple recipes for cooking chips, fries and wedges in my air fryer and, while the results always taste good, they're rarely as crispy as I'd like. So, I was pleasantly surprised by the level of crunch offered by the potato wedges cooked in this way. All the while, the inside of the wedges remained soft and fluffy.
Although the step of soaking potatoes in an ice bath adds significant time to what should be a quick-ish snack, in my view it's totally worth it for that extra crunch.
If you're still sitting on the fence over whether to purchase an air fryer, you may want to read our article on whether air fryers are worth it? to help you come to a decision.
Sign up for Black Friday email alerts!
Get the hottest deals available in your inbox plus news, reviews, opinion, analysis and more from the TechRadar team.
Victoria Woollaston is a freelance science and technology journalist with more than a decade's experience writing for Wired UK, Alphr, Expert Reviews, TechRadar, Shortlist and the Sunday Times. She has a keen interest in next-generation technology and its potential to revolutionise how we live and work.