If you're in the market for a new broadband deal from a dependable provider, then we have something that could be just what you need.
Right now you can get BT's Full Fibre 2 broadband now for just £29.99 a month on a 24-month contract. The package offers average download speeds of 74Mbps, there aren't any upfront fees to pay and if you sign up now you can get a £100 BT Reward Card.
The deal is available to new customers whose properties can access BT's fibre network, but this is something you can check directly with BT beforehand. BT has also promised this package won't see any price rises this month (April 2023). The £100 BT Reward Card will be issued once your broadband is up and running and it comes preloaded with money that you can spend anywhere that takes Mastercard.
The provider claims this particular fibre broadband option will be able to 'stream, game and download in HD on lots of devices at once'. It also has unlimited data, and as such, it's a great option for any busy, small to medium households who have high data usage.
However, if you currently can't access BT's fibre network, or you're looking for something a little faster, or perhaps cheaper, then we can also help. Simply head over to our best broadband deals page to see what's on offer right now and find a deal that better suits your needs.
OUR BT FIBRE BROADBAND DEAL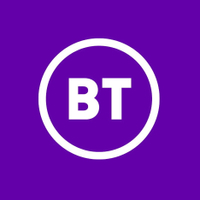 BT Full Fibre 2 broadband | £29.99 p/m | 74Mbps average download speeds | 24-month contract | No upfront fees | +£100 BT Reward Card
With this deal you get BT's popular Full Fibre 2 broadband for £29.99 per month, plus if you sign up as a new customer you'll get a £100 BT Reward Card. It's a 24-month contract and there aren't any upfront fees. The package also has unlimited data and offers average download speeds of 74Mbps, so it will be more than powerful enough to allow multiple devices to stream in UHD, online game and browse all at once. The deal is broadband-only and whether or not you can access it depends on your home's connectivity with BT's network. The provider has also promised no price rises on this deal in April 2023.
More reasons to choose BT Broadband
Alongside offering top deals like the one we've featured above, there are lots of other great reasons why millions of UK customers choose BT as their broadband provider.
A big draw is the fact that BT offers a range of different broadband speeds on its dependable Openreach network. These cover slower, but cheaper ADSL speeds, all the way through to ultrafast Full Fibre options that get speeds in excess of 900Mbps. It's also known for offering good customer service with its broadband across several different communication channels.
With BT you can also get plenty of add-ons and extras with your broadband. Most notable is its TV bundles that can include free-to-air channels, its own BT Sport channels, plus packages that have the sport and movie channels from Sky. These do of course cost more and can add a fair chunk to your monthly bills, but what's good about BT here is that you can essentially tailor your bundle to suit your particular viewing needs or preferences.
However, BT isn't especially flexible on its contracts and typically only offers 24-month terms. It can also be at the pricier end of the market, so if you want something cheaper, or on a shorter length contract, then check out our guide to the best broadband deals here. Alternatively, pop your postcode into our widget below and we'll show you specifically what's on offer right now in your location.
Loading...