11 best football games on PC: top soccer titles for a virtual kickabout
Introduction
Update: Get ready for the best football story ever told in video games. That's right, we've added Fifa 17 at number 11!
Often referred to as 'the beautiful game', football (or soccer - take your pick) offers up a seemingly never-ending supply of excitement, mystery and surprise. Leicester City winning England's Premier League recently went down as one of the biggest shocks in sporting history, and who could've predicted the USA team's coming of age at the 2014 World Cup?
As computer graphics have improved, so have football games. They were fairly primitive in the early days, starting out as top-down viewed DOS classics such as Sensible World of Soccer before evolving into 3D efforts in the vein of Actua Soccer.
Of course, the FIFA series has been around since the 90s and its rivalry Pro Evolution Soccer throughout the years has proved more fierce than the one between Roy Keane and Patrick Vieira. Refreshingly, a number of football games are cropping up that approach the sport from a new perspective, with many available to download on Steam.
Like the most cunning foxes in boxes, we take a look at the best of them.
Gabe Carey has also contributed to this article
1. FIFA 2016
Named after the association that essentially runs global football, the Fédération Internationale de Football Association, FIFA has become something of a cult. Players buy every new release when it comes out, even if it means queuing for hours, making it pretty much the Apple of football games.
The studio behind it, EA Sports, has sold around 100 million copies of the game worldwide since its launch. FIFA 2012 remains the fastest-ever selling version, shifting 3.2 million copies in the first week.
FIFA 2016 probably won't go down as a classic, but it remains the best option for a solid kickabout on the PC. Featuring slick graphics and more fluid animations than previous versions that help you dribble like Messi, it's a satisfying evolution of FIFA 15 rather than a full-blown revolution.
Its new Ultimate Tournament modes, which let you create a team of superstars, provide something extra to sink your teeth into. (And not only if Louis Suárez is in your squad.)
2. Football Manager 2016
Are you a Special One, or a Wally with a Brolly? (As England's ill-fated ex-manager Steve McClaren came to be known.) You won't know until you've tried to turn the worst side in the league into champagne-guzzling champions on Football Manager.
Another game that gets yearly updates, it offers a more God-like view compared to FIFA's on-the-pitch action. If you think you've got what it takes to organise teams right down to the nitty-gritty of funding, dealing with the press, player injuries and in-team squabbling, Football Manager brings the challenge.
The 2016 version of the game, released in late 2015, went down better than a 12-yard rabona with the critics thanks to its combination of high accessibility and in-depth management options. But please, please don't put on a dodgy Dutch accent during press conferences...
3. Pro Evolution Soccer 2016
PES: not the collectible sweet dispenser (that's spelt Pez, by the way), but a football game that's spent some considerable time in FIFA's shadow. 2016, as it happens, is the year that it emerges from it.
FIFA is often critcized for retaining the same game engine year-in, year-out, and PES has finally taken advantage. PES 2016 makes for some fascinating encounters thanks to its unpredictable interactions, which leaves you constantly uncertain of who will win tackles, where crosses will land and whether shots will sail into the top corner or sky over the bar. You know - a bit like in real life.
This year's version went on to be nominated in the "Best Sports/Racing Game" category at the 2016 BAFTAS - as was FIFA - but lost out to the excellent Rocket League. That still made it the best footy game of the year.
4. Rocket League
Football with cars seems a great idea (we think...), so it's surprising that it's taken this long for it to happen. Developed by US-based studio Psyonix, it has all of the tenets of soccer but replaces humans with rocket-propelled vehicles. And it's as delightfully bonkers as it sounds.
If you have ever seen the 'Top Gear' episode in which Richard Hammond, James May and Jeremy Clarkson play Car Football, you'll understand Rocket League and its appeal. The game is fast, fun, and throughly silly, which is a refreshing break from the all-serious FIFA and PES. Rocket League has sold over 5 million copies since its launch, double of that it was expected to sell.
All that's left to ask is: which real-life footballer are you in Rocket League?
5. Goal United Pro
Are you a tinkerman, a mad footballing scientist or an astute professor of management? Goal United Pro lets you find out. It's suitable if you want to get into a football management sim but are intimidated by sheer number of options presented by Football Manager-styled games.
It's played in your browser, meaning you don't have to commit to it for hours on end; but it's not limited in scope. You'll need to control every aspect of the team: buying and selling players, sorting out a training plan, picking a starting line-up and deciding how to rotate your squad for those all important cup games.
Lose too many games, however, and you'll be sacked faster than you can say, "Adiós, Gary Neville".
6. Super Arcade Football
If you played football games in the 90s, then Super Arcade Football (or SAF) will be right up your alley.
Inspired by the Sensible Soccer series, it offers as a different take on football games: from the skies. Played with a top-down camera view, SAF is fast, furious and every bit as fun as local multiplayer was when played on a Commodore Amiga with a pair of cheap plastic gamepads.
Retuned for the modern era, it benefits from slick and smooth cartoon-style animation. The game even slows right down when a player blasts the ball at the net, making for some tense moments as the ball rattles the woodwork.
As for the sound effects, if there's a more disgusting sound for a crunching leg tackle in a football game, we've yet to hear it.
7. Frozen Cortex
Alright, so this one isn't a traditional soccer game like most entries on this list, but it's too fun to pass up. Frozen Cortex plays much more like the American definition of football (with a bit of rugby thrown in the mix), involving two teams of robots on a futuristic sci-fi-inspired pitch.
The game is turn-based, which gives it a unique flavor compared to FIFA and other continuous football games. You're tasked with laying out waypoints for your players to follow, with each turn ending when an action happens - like when pass is intercepted or a point is scored.
There's a good amount of trying to second guess what the opposing manager will do, making it a bit like chess - only less boring.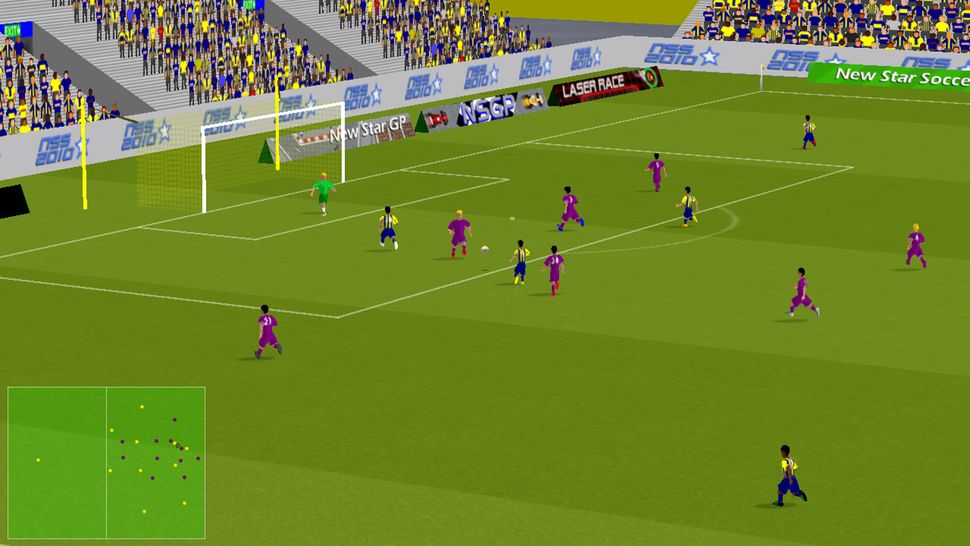 8. New Star Soccer
You may have come across New Star Soccer as a mobile app, but did you know that you can also play it on your PC? That's right: when you're not rising up the league tables on the bus, in the dentist's waiting lounge or on the loo at work, you can do it at the comfort of your desk.
Like previous versions, New Star Soccer 5 uses a Sensible Soccer-esque top-down view. But instead of live action, the game plays out several scenarios that you have to succeed at to win the game. They can include bending a free kick around a wall, Beckham-style, sliding a perfectly-angled pass to a team-mate or intercepting a sly diagonal through-ball.
Players start out at 16-years-old and progress as you go on, so there's little chance of completing the game in a hurry. By the end of it you'll have bought them private jets, taken them to casinos and even taught them to ride horses. You might have even won a few football games too.
9. FootLOL
During one particularly heated Premier League game, a commentator once said that the teams involved were, "fighting like beavers". FootLOL takes this amusing image to its literal conclusion, throwing cows, sheep and other animals, along with mines, guns and aliens into the mix for good measure.
If you prefer your football games to come with plenty of humor in tow, check it out. The game starts off with a round of training before dumping you into the action, either with an AI or on a multiplayer match that pits you against another up-and-coming player. Featuring 60 levels of mayhem, it provides the perfect antidote to FIFA's badge-kissing seriousness.
10. Lords of Football
Lords of Football is a tongue-in-cheek management sim that covers every aspect of football. (And we mean everything.) Unusually, this includes guiding players through death-defying training exercises, mentoring them on nightclub dance floors and making them run in giant hamster wheels. As you do.
It's silly, yet entertaining stuff and serves up plenty of scenarios where your players can get into trouble. By now you're probably surprised to discover that there's actually some football management involved too. Taking control of a professional club in England, France, Spain or Germany, winning the Champions League is the goal - an especially difficult challenge when half of your squad is in rehab.
11. Fifa 17
The latest entry in the Fifa series is a bit different. Unlike PES, this year Fifa is straying away from the usual iterative gameplay mechanics, instead opting to add something completely new to the franchise: plot.
That's right, in Fifa 17, you can experience "The Journey," an integrated story campaign focused on the fictional character Alex Hunter as he makes his way to the top of the Premier League. Under the influence of his grandfather, former striker Jim Hunter, The Journey follows Alex as he pursues his dream in spite of a few rotten business dealings.
That's not all that's changed, though, in Fifa 17. Fortunately, for those uninterested in a story mode, EA has added the J1 League and J.League Cup for the first time ever along with the likenesses of all 20 Premier League managers. What's more, you even get a taste of improved pacing, though players do still appear lethargic at times. All in all, Fifa 17 is a significant update replenished with innovation rivaling even that of PES.