The Fitbit Charge range is one of the bestselling families of fitness trackers on the market, and the latest addition is the Fitbit Charge 3, which comes with a new refined design, swim tracking capabilities and more features than ever.
Fitbit has opted for a similar design to the Fitbit Charge 2 here, but it's more refined with a slimmer and lighter body that sits flusher with the wrist than the last-gen tracker from the company.
It's now made of aluminum like the Fitbit Ionic and Fitbit Versa, rather than the stainless steel of the Charge 2.
Color choices are either charcoal black or rose gold for the tracker itself, but there's a huge range of strap choices with materials such as silicone, woven and leather all up for grabs, though some will cost extra. You can find out all the details about the straps in our Charge 3 hands on review.
The pressable button found on the left edge of the Charge 2 has been replaced by an inductive sensor, and that's mostly because the Fitbit Charge 3 has a proper touchscreen, so there's less need for buttons.
We've yet to learn the specs of that screen, but it's more reactive to the touch than before so you can cycle through menus and features with ease.
Image 1 of 3
Image 2 of 3
Image 3 of 3
The Fitbit Charge 3 is also waterproof, so you can take this swimming in depths of up to 50 meters without worrying about how it will affect the internals.
You can perform 15 different workouts with the Charge 3 including your normal run, walk, cycling and swimming, plus this time you can track goals such as distance, duration or calories and tailor your workouts around those specific objectives.
The Charge 3 comes with Connected GPS, so you'll only be able to track your location and distance if you go exercising with your phone. But you do get 24/7 heart rate tracking, plus it will monitor your sleep with stats for REM, light and deep sleep.
There's an SpO2 sensor on the Fitbit Charge 3, and the company hopes to make full use of that with its new sleeping tracking features that are set to launch in beta later this year.
The sleep tracking will give you a night score using the PurePulse heart rate tracker, but it will pair that with the SpO2 results to monitor your breathing and ensure you've recorded all your sleep disturbances.
The Charge 3 also has similar female health tracking features to the Ionic and Versa smartwatches. Fitbit plans to also bring ovulation tracking at some point later in the year.
Phone notifications are far more extensive on this new tracker than the Charge 2 as it's capable of giving you updates from your phone's third-party apps as well as texts, phone calls and more.
You can pre-order the watch in most markets right now, but you won't be able to wear it until some point in October. Pricing-wise the main device costs £129.99 / $149.95 / AU$229.95, while a Special Edition of the tracker with better quality bands comes in at £149.99 / $169.95 / AU$269.95.
This version also has Fitbit Pay, so you'll be able to use contactless payments with the Special Edition of the tracker. Below you can see all the designs Fitbit is offering for the Charge 3.
Image 1 of 12
Image 2 of 12
Image 3 of 12
Image 4 of 12
Image 5 of 12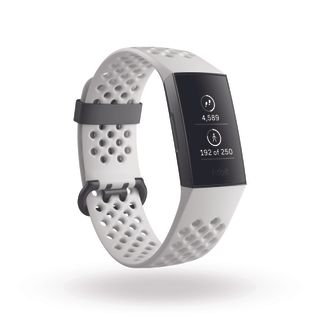 Image 6 of 12
Image 7 of 12
Image 8 of 12
Image 9 of 12
Image 10 of 12
Image 11 of 12
Image 12 of 12