Amazon Echo Show 10 vs Echo Show 8 (2nd generation): which smart display is for you?
Find out exactly what sets Amazon's Echo Show devices apart
VERDICT
REASONS TO BUY
REASONS TO AVOID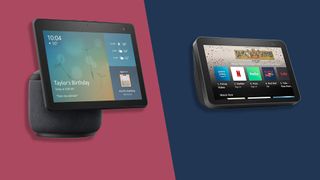 (Image credit: TechRadar)
Amazon's Echo range of smart speakers and smart displays are always heavily discounted during Black Friday and Cyber Monday, which makes the holiday sales period one of the best times of the year to snap one up.
Alongside the array of speakers in the Echo range, Amazon also offers three different-sized smart displays, that build on the Echo smart speakers with a screen that lets you see as well as hear the information being served up by Alexa.
Last year, we saw the Echo range discounted by as much as 50% and we anticipate we'll see similar levels of savings this year - you can get a heads up on all the discounts as they appear in our best Black Friday Amazon Echo deals roundup. However, you may now be wondering which of the three is the best smart display for your home.
The Echo Show 5 (2nd generation), which is the smallest of the three is a little too limited for our liking, but the Echo Show 8 (2nd generation), which was launched earlier this year, and the Echo Show 10, both have plenty to offer, including a 13-megapixel camera with pan and zoom capabilities to ensure you're always in the center of the frame during a video call. We've got all the details on how the two smart displays differ aside from the screen sizes, to help you decide which one to go for.
If you are still interested in the Amazon Echo Show 5, find out how it compares to the Echo Show 8 (2nd generation) by reading Amazon Echo Show 8 vs Amazon Echo Show 5. It's also worth remembering, the Amazon Echo Show 8 (1st generation) is still available alongside the latest generation, and is also likely to be discounted. However, we've concentrated on the latest version in this article.
Best Amazon Echo Show 10 and Echo Show 8 deals
Why you can trust TechRadar We spend hours testing every product or service we review, so you can be sure you're buying the best. Find out more about how we test.
Read on to find out just how these two Echo Shows compare, or if you know which Amazon smart display you want, check out the best prices right now across the whole of Amazon's smart display range.
Price
The Amazon Echo Show 8 (2nd generation) is priced at $129.99 / £119.99 / AU$199. However, we've already seen discounts as part of Amazon's early Black Friday sales, which has taken the price down to $99/99 / £89.99 / AU$149. In the US and Australia, this brings the smart display back to its record-low price, while in the UK we have seen the Echo Show 8 (2nd generation) drop as low as £84.99.
The Amazon Echo Show 10 costs a fair bit more at $249.99 / £239.99 / AU$ 399.99, although it has dropped as low as $199.99 / AU$349.99 in the US and Australia, so we anticipate we will see similar savings at some point over the holiday sales period. We also expect to see price drops in the UK, as the smart display has yet to be discounted even though it's been available for around 10 months.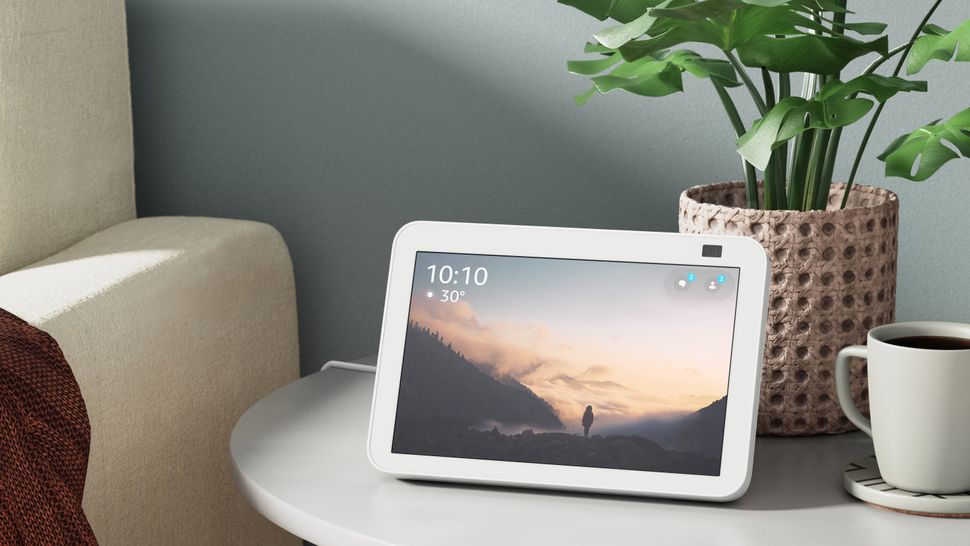 Design
There's no denying the Amazon Echo Show 10 and the Amazon Echo Show 8 both have different styling. The rounded design of the Echo Show 10 is a departure from previous models that has a more triangular look. The cylindrical base looks similar to an Echo Studio smart speaker and serves as a stand for that 10.1-inch screen, which has a resolution of 1280 x 800 pixels. There's also a 13-megapixel front-facing camera for video calls.
Sound comes via a pair of dual 1-inch front-firing tweeters and a 3-inch woofer and there's a microphone array along the top, so Alexa can pick up your voice anywhere in the room.
Meanwhile, the small, but perfectly formed Amazon Echo Show 8 (2nd generation) is an unobtrusive wee device that can sit happily on the kitchen counter, bedside table, or on a bookshelf. The wedge-shaped back is covered in a choice of charcoal or sandstone fabric and houses the speakers. The 8-inch display sits at the ideal angle and has the same sharp resolution of 1280 x 800 pixels. It's a touchscreen device, but it's best used with voice commands.
There are a couple of far-field microphones for interacting with Alexa, a pair of 2-inch speakers that get reasonably loud, and the same 13-megapixel camera for video calls.
Importantly, for the privacy-conscious, both smart displays feature a camera cover built-in, and also a button on top that allows you to turn the microphone and camera off.
If you plan on watching a lot of videos, you'll likely prefer the 10-inch screen of the Echo Show 10. The resolution is the same, which means the smaller Echo Show 8 screen will appear a bit sharper. You'll notice a difference in the sound quality, particularly in the powerfulness of the bass thanks to the Echo Show's 10 built-in woofer.
Features
As we've already mentioned, the Amazon Echo Show 10 has a rotating screen, which is a big advantage of the larger Echo Show - as it can follow you when you move around the room so it's always in your gaze, whether you're following a recipe, watching Netflix, or making a video call. The angle of the screen can also be manually altered to suit you - not something the Echo Show 8 offers
Both smart displays have a 13-megapixel camera, which ensures video calls are sharper and clearer, while the camera's ability to pan and zoom automatically to ensure you're always in the center of the frame comes in handy. However, we found this was slightly more useful on the Echo Show 10 as the whole screen rotates with you - whereas if you move too far from the Echo Show 8, it can't follow you around the room.
Verdict
Both Echo Show devices are at their best when delivering Amazon content or responding to your queries and commands via Alexa, which they do equally well. The choice depends largely on the size you prefer, whether a rotating screen will come in useful, and the budget you have available.
What is a smart display?
Think of it as a tablet and smart speaker in one. You can use them to check the weather, watch videos, play music, control smart home devices, and more.
What can a smart display do?
Smart displays, like Amazon's Echo Show range, have voice assistants built-in, so you can ask questions, check the weather, and keep up to date with your calendar. They can also play music or videos, make and take video or audio calls, and help you order stuff from Amazon. If you have smart home devices, like security cameras, you can use your Echo Show to see a live feed or review video alerts. Smart displays can also be used as digital photo frames or alarm clocks.
How do you use a smart display?
Smart displays have microphones built-in so they can listen for your commands and questions. With an Echo Show, you simply say "Alexa" and then ask away. You can also use the touchscreen to access some functions and apps.
Where can you use smart displays?
The only real limitation on placement for a smart display is the need to have a free power outlet you can plug into. Many people like to use them in the kitchen, but they can prove useful on the nightstand, in the hall, or in other rooms around the home.
In the market for a video doorbell? Check out these best Black Friday Ring doorbell deals and use your Amazon Echo Show as a way to converse with anyone in the doorbell's field of view.
Sign up to receive daily breaking news, reviews, opinion, analysis, deals and more from the world of tech.