12 Deals of Christmas: Battlefield 1 gets lowest console price yet
The best Battlefield since the Bad Company days?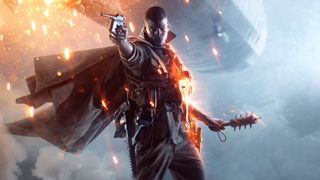 Welcome to the 12 Deals of Christmas, dear reader! We'll be highlighting our favourite Deal of the Day over the next 12 days for items across the world of tech, gadgets and games.
Today marks a very special day. That's right folks, Battlefield 1 has dropped under the £30 mark on PS4 and Xbox One. EA's and DICE's premium shooter has pleased fans and critics alike, which is great for the series, not so much for us discount fans.
As far as we can remember from the deals frenzy of the last few weeks, this is the cheapest price yet for a physical copy of the game on PS4 or Xbox One. To put this sweet price into context, that's cheaper than today's best deal on PC - a rarity indeed!
Why are we so excited to see this superb Battlefield 1 deal? It's because DICE's shooter is back on tremendous form. The World War 1 setting for the single-player campaign is an essential change from the stale modern setting seen in Battlefield 3 and 4.
Battlefield 1's multiplayer is off to a much better technical start than the painfully broken launch of Battlefield 4 on consoles. Again, it's that WW1 setting that makes things interesting, mainly thanks to the modest dated weaponry and less lethal vehicles. That, and you can charge into battle on a horse. It's about time! Although charging a tank on horseback hasn't been a great tactic so far.
We'd get on this cheap Battlefield 1 deal fast as we expect the game landed under many trees this Christmas and you don't want to get left behind online. Be sure to check out the campaign too though as it's much better than recent entries in the series and deserves a look.
Tune in again tomorrow as we go through the Boxing Day sales from all the big retailers. And we'll bring you part two of our 12 deals of Christmas.
Get daily insight, inspiration and deals in your inbox
Get the hottest deals available in your inbox plus news, reviews, opinion, analysis and more from the TechRadar team.
Brendan Griffiths is the managing Editor of Hardware & eCommerce - GamesRadar.com at Future. After spending his formative years as a games journalist, he joined Future Publishing and TechRadar in 2016. He manages a small team and wrote, commissioned, and maintained a vast collection of e-commerce content published around the world with particular focus on the US and UK. In 2020 Brendan joined another Future website, GamesRadar, as Managing Editor of the Hardware and eCommerce team to take charge of the site's eCommerce strategy, hardware reviews and buying guides.