You can safely say that the time to lug around large and heavy laptops to work daily is a thing of the past. Because there is currently a whole market of laptops with both premium and budget segments that are dedicated to being thin and light. And Dell has released the XPS 13 thin and light laptop for the premium segment back in July of 2020 in India.
The Dell XPS 13 (9300) is the updated 2020 version of the Dell XPS 13 (7390) which launched in 2019. It essentially builds on the same lines as its predecessor and refines them in terms of design and better internals. We have been using the Dell XPS 13 for a while now and here's our review of the same.
Price and availability
The Dell XPS 13 is available in India in two variants, one with an Intel i5 processor and the other with an Intel i7 processor. And there are two colour variants as well ---Platinum Silver with Black Carbon Fiber and Frost with Arctic White Glass Fiber.
Launched in July of 2020, the i5 variant of the Dell XPS 13 is priced at Rs 1,50,990 while the i7 variant is currently priced at Rs 1,95,790.
The essential difference in the pricing is smaller storage and smaller RAM. The i5 variant of the Dell XPS 13 features 8GB RAM and 512GB SSD while the i7 one features 16GB RAM with a 1TB SSD.
While the pricing of the Dell XPS 13 is a tad bit high, it is a premium device that has been built to compete with the best out there in the segment.
Design
Specs
Here is the Dell XPS 13 (9300) configuration sent to TechRadar for review:
CPU: 10th Generation Intel® Quad Core™ i5-1035 G1 processor (6MB cache, up to 3.7GHz)
Graphics: Intel Iris Plus (integrated)
RAM: 8GB LPDDR4x (3,733MHz)
Screen: 13.3-inch FHD (1,920 x 1,080)
Storage: 512GB SSD (PCIe, NVMe, M.2)
Ports: 2x USB-C 3.1 with Thunderbolt 3, microSD card reader, combi audio jack
Connectivity: Killer Wi-Fi 6 AX1650, 2 x 2, Bluetooth 5.0
Camera: Widescreen HD (720p) 2.25mm webcam
Weight: 1.2 kg (2.65 lbs)
Size: 11.6 x 7.8 x 0.58 inches (296 x 199 x 14.8 mm; W x D x H)
Let's start off with the design of the Dell XPS 13, which right off the bat we admit is rather attractive. It is a textbook thin-and-light laptop which would conveniently fit into almost any standard office bag the user would like to carry.
We received the Platinum Silver with Black Carbon Fiber variant and it has a sleek matte finish on top with the Dell logo cut out with a reflective coat. Dell is employing angular lines with the the laptop which makes it look even more sleek.
The Dell XPS 13 has a maximum thickness of 14.8mm and weighs 1.2 kilos with an aluminum chassis and carbon fibre for the keyboard and palm rest. The bottom panel of the device features an exhaust for the heat and stereo speakers on either sides.
In terms of ports the Dell XPS 13 features a Thunderbolt 4 which doubles as a DisplayPort and a Power Delivery port while also supporting four lanes of PCI Express Gen 3. There's a 3.5 mm headphone and microphone combo port along with another Thunderbolt 4 which can also double has a DisplayPort / power delivery. Besides this there is also a MicroSD card reader. At first glance this might seem like too few ports but then again to make a compact laptop you have to compromise on the larger ports.
Typing on the Dell XPS 13 is also one of the more attractive parts of the laptop. Thin-and-light laptops tend to compromise on the size of the keys on the keyboard and even those that go for the full-size keys end up going there only about halfway and decide to make keys like the spacebar and the backspace smaller. But that is not the case with the XPS 13 which has full keys that respond well to striking.
The Touchpad is regularly sized though sensitive enough to get the job done well. The texture on the carbon fibre palm-rest ensures that there is no slip which again helps with a better typing experience.
The display panel of the laptop open out to a maximum of 125 degrees, but the most striking feature here is the almost non-existent bezels around the display which brings the display to a 91.5% screen to body ratio.
Display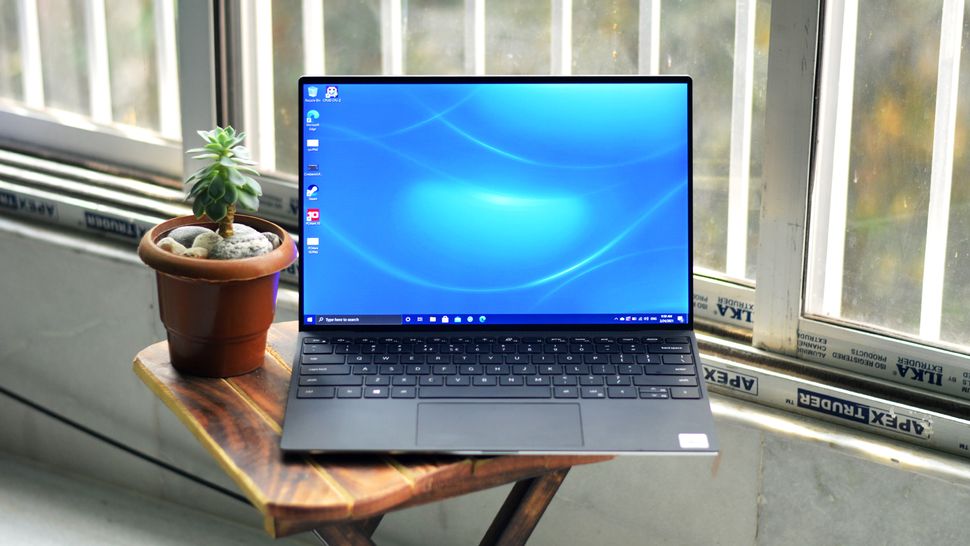 The Dell XPS 13 offers a 13.4-inch Full HD+ display with 16:10 aspect ratio and supports 90% sRGB colour gamut. This makes it one of the best displays on a thin-and-light laptop on papers.
The slightly larger display of the Dell XPS 13 compared to the previous version makes quite a difference when it comes to viewing content. While it does not offer a higher refresh rate than 60Hz, the display makes do with the excellent colour reproduction.
Media content both on online OTT platforms like Netflix, Amazon Prime and Disney Hotstar and offline sources were a treat to watch on the display. It even handles 4K content rather well, and the extra space helps for a more immersive experience.
The Anti-Glare 500-Nit display of the Dell XPS 13 does quite well in bright light conditions. I tried working out in the sun with the laptop and didn't have to struggle much with reading what I was writing on a white background.
The true mark of the display of the Dell XPS 13 came when I tried playing some games on it like Rainbow Six Siege, Dota 2 and Valorant. While Dota 2 and Valorant usually have bright and vibrant visuals Rainbow Six Siege often involves low light and dark visuals in-game which the display handled like a champ.
Performance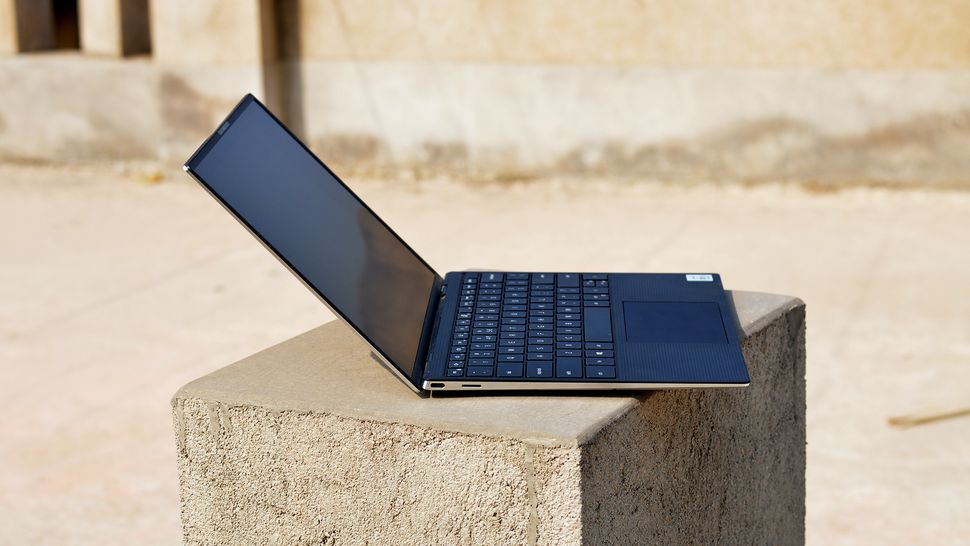 The Dell XPS 13 is made from premium internals which means that the performance of the device should be uncompromising, and it does hold up to that image mostly. The XPS 13 features an 10th gen Intel i5-1035G1 processor that is clocked at 2.7 GHz with 8GB of 3733MHz LPDDR4x RAM and 512GB of M.2 PCIe NVMe SSD.
It does not feature a separate GPU but uses the Intel Iris Plus Graphics which is part of the Intel 10th gen processor. For connectivity it uses Killer Wi-Fi 6 AX1650 and Bluetooth 5.1. It comes with a 4-Cell, 52 Whr battery.
To start off the Intel i5 Ice Lake processor takes almost all daily work related tasks in its stride and delivers smooth execution. And this includes a couple of dozen Chrome tabs, Adobe Photoshop, Lightroom with WhatsApp and Spotify running in the background.
The Dell XPS 13 scored 2332 on Cinebench R23 for multi-core test and 2637 on PCMark 10 which puts it above most of the competition when it comes to thin-and-light laptops.
While it is not meant for playing games, I did try out some of the less GPU intensive multiplayer games like Rainbow Six Siege, Valorant and Dota 2 on the Dell XPS 13. And the laptop was able to handle all these although not at their best visuals. While Dota 2 ran at about 55fps just a step short of 'Best Looking', Valorant ran at about 60fps on 1080p while Rainbow Six Siege's Vulkan variant ran at 70fps at 720p with all visuals turned down to 'low'.
While working on the Dell XPS 13 with regular office applications, Photoshop and other such software does not produce much heat, we did start to feel some when doing some short video renders on DaVinci Resolve. But this is not a huge red flag and the internal cooling of the laptops generally holds up well.
Battery life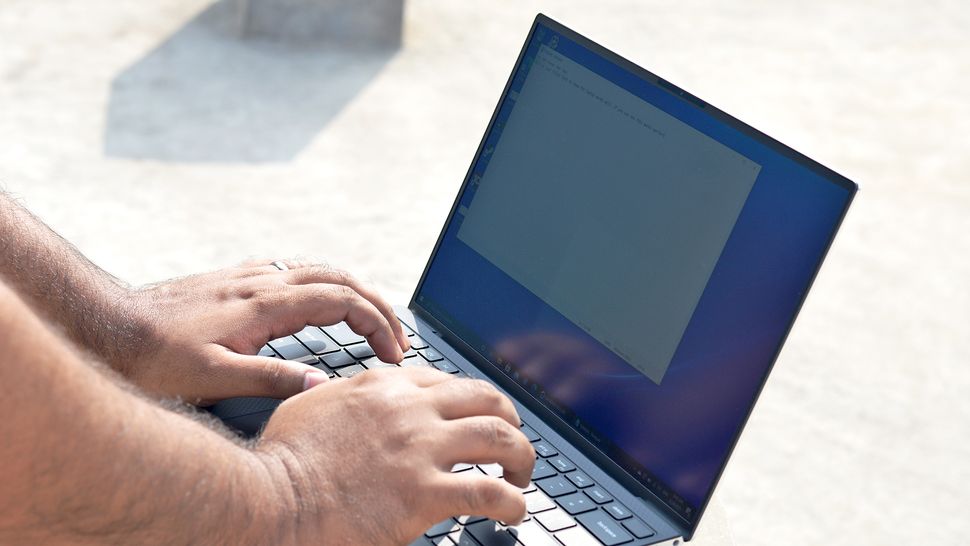 The battery on the Dell XPS 13 is a 4-Cell one that is rated at 52 Whr. The 45W Type-C Power Adapter is a rather compact one compared to the other laptops that are out there. And I have to say this really is a winning feature for the laptop.
The Dell XPS 13 usually lasted me for my 8-hour work day with a full charge in the morning and then had some left over. While watching media content the laptop with the audio on full blast it usually lasts for over eight one hour episodes of a series.
But then again the laptop usage for each user is unique which means every other user will come up with different numbers when it comes to battery life. But the Dell XPS 13 would definitely come out as one of the top performers in this segment no matter who benchmarks it.
Verdict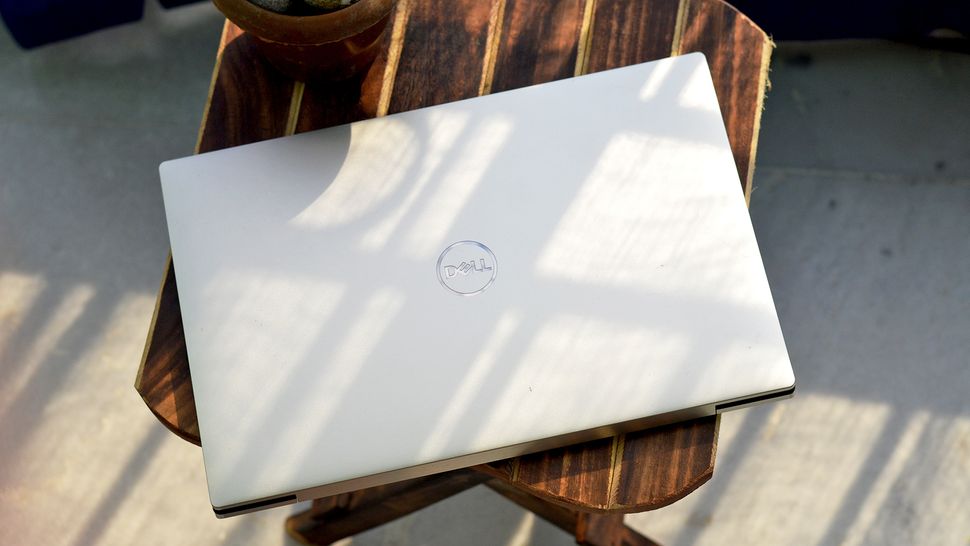 The Dell XPS 13 is a complete premium segment thin-and-light laptop which has few shortcomings. But the key term here is the 'premium' tag which means that while it is in a class of it's own, it does not serve the purpose for the masses.
The price tag of Rs 1,50,990 makes it out of reach for most people and we understand that Dell is playing to those people with this particular device. And to that effect features like Windows Hello and the fingerprint scanner which doubles as the power button really come in.
But at the time of writing this review, we have to mention that the newer generation of the Dell XPS 13 (9310) laptops are out in the market and offer upgraded specs like 11th gen Intel processors, hence those are ones to consider as well.
There are hardly any places Dell goes wrong with the XPS 13, and the spec sheet of the laptop is testimony to that. To those that have the budget for the laptop this is definitely a recommended device.