How to register a drone
Drone registration explained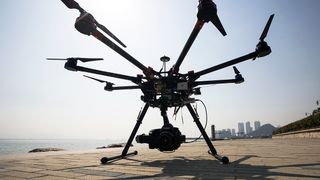 Update January 21: A reminder that today, January 21, is the last day you can register your drone for free (the $5 fee is refunded). After today, the FAA will keep your five dollars.
Original guide below...
The US Federal Aviation Administration's (FAA) drone registration is officially online, meaning if you have a drone that weighs between 0.55 and 55 pounds, you'll need to register it and collect your certificate.
The new registration system, which was announced a month ago, affects anyone with an Unmanned Aircraft Systems (UAS) in that weight category who lives in the US, is above the age of 13, and uses the drone for hobby or recreation.
While registration costs $5, if you register before January 21, 2016, your five bucks will be refunded, and you'll only need to register once, no matter how many drones you have.
If you owned a drone before December 20, 2015, you have until February 19, 2016 to register, while newer drone owners will need to register before they take their drone for a spin.
Meanwhile, commercial drones or drones weighing more than 55 pounds will need to submit a paper-based registration form, while anything less than 250 grams is exempt.
Drone registration process
The FAA's UAS registration is only available online through the FAA's website or through knowbeforeyoufly.org.
First up, you're required to entire your email address, after which you'll receive a verification email that links back to the registration site.
Once you click through, you'll be asked to enter your name, mailing address and a credit card to pay the registration fee (again, refunded if you register before January 21), which also works to verify your identity.
After you complete this form and submit it, you'll receive a registration certificate via email almost immediately with a unique registration number.
You will need to display this registration number on your drone(s), either on the outer surface of the drone or in the battery compartment - wherever it can be easily accessible.
You will also be required to carry the certificate either physically or electronically (on your phone, for example) when flying your drone, and be prepared to present it if asked to by authorities.
Things to note
While you are now legally required to register your drone if you plan on using it in the US, there are some things you should be aware of.
According to the FAA's UAS Registration FAQ, failing to register "an aircraft can result in civil penalties up to $27,500," while, "criminal penalties for failure to register can include fines of up to $250,000."
The FAA also plans to make the UAS drone database searchable in the future by registration number, and while it says it won't be searchable by name or address, it's unclear what information will be available, a fact that makes us a little concerned.
However, the FAA says the searchable database will help if you lose your UAS, and "allowing searches of the unique identifying number of UAS will enable the return of these aircraft to their owners."
We assume it will also help authorities more easily find drone owners if they are flying illegal drones or participating in dangerous drone activities.
Currently, your information is only shared with the FAA, the contractor the FAA is using to maintain the website and database, and "under certain circumstances, law enforcement officers [who] might also be able to see the data."
Registrations last for three years, after which it will be renewed automatically with another $5 charge. It's expected that you'll also be able to unregister in the future, as well.
Sign up to receive daily breaking news, reviews, opinion, analysis, deals and more from the world of tech.