Is the Bear Pro Hybrid mattress any good? Here's my hands-on review
The Bear Pro Hybrid specifically designed to help your body recover faster – I went hands-on to see how it performs in practice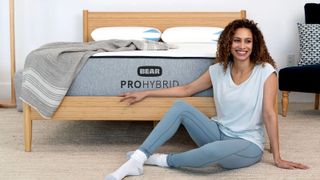 (Image credit: Bear)
The Bear Pro Hybrid mattress is the second cheapest of this USA-based sleep brand's range of four mattresses. Parent company Brooklyn Bedding. It the cheapest hybrid option, with a medium-firm design that includes gel memory foam and springs. Bear says it delivers 'signature comfort'. At MSRP, it's in the upper-mid price bracket, but regular deals take it comfortably down into mid-range territory.
Bear Pro Hybrid mattress specs
Type: Hybrid
Firmness (1-10): 7
Height: 10"
Trial period: 120 nights
Warranty: Lifetime
Price bracket: Upper mid (usually available for mid-range)
Materials: Memory foam, other foams, coils
In Bear's adult mattress lineup, the Pro sits between the Star Hybrid and the Original (which you can read about it in our full Bear Original mattress review). At the top of the range you'll find the Elite Hybrid.
The two pricier mattresses are thicker and more complex in design, with more advanced cooling features and better edge support. The cheaper Original has a more basic design and is the only mattress of the four not to feature springs.
We haven't had a chance to sleep on this mattress yet, which means we can't give you a full review (we sleep on a mattress for a minimum of three weeks before publishing a full mattress review). However, we have been able to get our hands on this model to get a general impression of build quality, softness, overall comfort and value for money, and how it might compare to the rest of today's best mattresses.
We also ran our usual tests for pressure relief, motion transfer, and edge support, consulted existing user reviews and factored in our own knowledge and extensive experience of testing mattresses to build a well-rounded view of this mattress. Read on for our first-impressions report of the Bear Pro Hybrid mattress.
Should I buy the Bear Pro Hybrid mattress?
You'll find an in-depth look at the Bear Pro Hybrid below, but if you're in a rush here's who I would, and would not, recommend this mattress to:
Buy it if...
✅ You have an active lifestyle: Bear mattresses are specifically aimed at athletes and well as anyone who has a particularly active lifestyle. The top cover uses special fibers also found in sports clothing, designed meant to boost circulation to help your cells recover faster, ready for the exertions of the next day.
✅ You prefer a firmer feel: The Pro Hybrid is a firm feeling mattress with a flat, responsive surface. If your preference is a sturdy mattress that you sleep on top of rather than sinking into, this should work well. (Although if you would like to add some cushioning, you could do via the optional Cloud Pillow Top).
Don't buy it if...
❌ You sleep on your side: Side sleepers might find this mattress causes pressure to build up in the lower shoulder. You might prefer something with more contouring or an overall softer feel (our best mattress for side sleepers guide has pelnty of suggestions). Or if you're otherwise sold on this model, consider adding the pillow top for a touch of cushioning.
❌ You want a luxurious mattress: Bear's mattresses are geared towards performance, which means they tend to feel more functional rather than luxurious.
Bear Pro Hybrid mattress: Price
At MSRP, the Bear Pro Hybrid sits in the upper-mid price bracket of the wider mattress market. However, regular Bear mattress sales knock 30% or 35% off, dropping it into the mid-range bracket, with some free sleep accessories thrown in to sweeten the deal.
Here's a look at the list prices for the Bear Pro Hybrid mattress, and how much you can expect to actually pay:
Twin size: MSRP $1,035 (usually on sale for ~$680)
Full size: MSRP $1,060 (usually on sale for ~$760)
Queen size: MSRP $1,298 (usually on sale for ~$850)
King size: MSRP $1548 (usually on sale for ~$1,010)
That's a great price, especially when you factor in that hybrid mattresses almost always cost more than all-foam models (head to our best hybrid mattress guide to see how our top picks compare).
Although there are mattress sales and deals happening all the time, some brands bump up their discounts slightly over major holidays. If it happens to fit with when you need to buy, the Black Friday mattress deals or Presidents' Day mattress sales can yield the best prices of the year. We can't make any promises, though.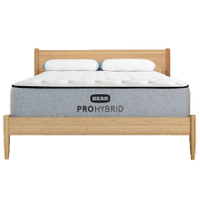 Bear Pro Hybrid mattress: was $1,135 now from $737.75
There's a perpetual 30% off deal at Bear, but for a limited time, if you pop code TECHRADAR35 in at checkout you can bump up the discount to 35% off – that means a queen size will cost you $949. A great chance to beat the Black Friday rush.
Bear Pro Hybrid mattress: Design
The Bear Pro is a 10-inch tall hybrid mattress with three internal layers. At the top is a quilted cover. As is the case with all of Bear's mattresses, this cover is made from a fabric that has Celliant fibres sewn in – something the brand refers to as 'Sleep Recovery Technology' (SRT).
Celliant, from parent company Hologenix, and has minerals crushed into it to make it infrared responsive. I spoke to a Bear's founder to find out exactly how it works, and he explained that it was based on the same principle as a far infrared sauna – that is, it promises to boost circulation and improve cellular oxygenation, which means the body recovers faster. While official explanation of this is a bit confusing (and the results of the study it's based on aren't exactly conclusive, by my reading), it has nevertheless been embraced by a few brands. Celliant fabric is used in sports clothing from brands like Under Armour, for instance. Bear is the only mattress brand to make use of it so far, as far as I'm aware.
In practice, the Celliant fabric feels fine, but not as appealing or as luxurious as the soft-touch fabrics you'll find on other mattress models. You're choosing it for performance, though. And of course, most people will be covering it with a sheet anyway.
The Pro doesn't use Bear's most advanced cover fabric – that's reserved for the priciest Elite Hybrid, which adds phase-change properties to boost cooling powers.
Beneath the mysterious cover, there's a layer of memory foam and a layer of regular foam. At the base you'll find a layer of coils, with edge support built-in.
Foams can trap body heat, but the memory foam here is infused with gel to help with temperature regulation (the pricier Star has copper-infused memory foam, and Bear says the cooling is more advanced on that one). The coils here individually encased, to help with motion isolation. These should also boost breathability, by creating space for air to circulate within the mattress. (As a rule, hybrid models sleep cooler than any all-foam mattress.)
Since I tested the mattress, Bear has also added the option to upgrade to a Cloud Pillow Top. This is essentially a chunky, quilted layer that sits on top of your mattress, adding cushioning and helping the whole thing feel a bit more luxe. It's covered with the same fabric used on the tight-top versions, so you're still getting those Celliant benefits.
Bear Pro Hybrid mattress: Performance
Firmness
Officially, the Pro Hybrid is judged to be a 7/10, medium firm mattress. However, I think it's firmer than that. When I placed a 15lb weight on the surface, it only sank 1.6 inches, which officially puts it in the 'firm' band – so that would be 8-9 out of 10. It was the firmest of all of the Bear mattresses I tested: the Original had a sinkage of 2.1 inches (medium firm), the Elite Hybrid was 2.9 inches (medium-soft) and the Star Hybrid was 3.2 inches (soft).
However, firmness is subjective, and the specifics of how a mattress is put together will also play into how comfortable it is in any given position. The sleep surface of the Pro Hybrid is flat, firm and uniform, with no quilting (although that is now an option, if you want to pay extra for the Cloud Pillow Top). It's quite responsive – when pressure is removed, it springs back almost immediately – there's little bounce.
Comfort
Based on our general guidelines for mattress firmness, the Bear Pro Hybrid would be best suited to those who sleep on their stomach or sleep on their back, as these positions require a firmer surface to ensure the hips are properly supported and the back is in alignment.
Generally, firm mattresses aren't comfortable for those who lie on their sides. The best mattresses for side sleepers are generally medium to medium-firm in feel. This is because when you lie on your side, you need a bit of extra give around the shoulders and hips to prevent pressure from building up in these areas.
For me personally (for reference, I'm 5'8 and on the heavier side of average), I didn't find the Bear Pro Hybrid super comfy in in any position. My hips felt a little unsupported when lying on my back, but on my side it was a bit firm. It was fine when lying on my stomach. However, this is a personal view, and one based on a brief testing period – it can take up to three weeks for the body to adjust to a mattress.
Motion isolation
Motion isolation refers to how well a mattress absorbs movements within the bed. This is important for anyone who shares a bed with a restless partner or one who operates on a different sleep schedule. Restless sleepers may also benefit from choosing a mattress with good motion isolation, to absorb their own nocturnal wriggling and promote a more restful night's sleep.
To test the motion transfer levels on the Bear Pro Hybrid, I placed an empty wine glass on the sleep surface, then dropped a 15lb weight at various distances away. At 4 inches away the glass fell over, at 10 inches it wobbled, and at 25 inches it didn't move at all. That's a decent result, but not outstanding – as is to be expected for a firm mattress with lots of springs. If you're a light sleeper who shares a bed with a partner, then you might be better off looking for an option with higher levels of motion isolation.
Edge support
Edge support refers to how sturdy the perimeter of the mattress is. Strong edge support is important if you want to be able to make use of the full sleep surface. It also means you'll be able to sit comfortably on the edge of the mattress, and push up off it when getting up in the morning, for example.
I tested edge support by placing a 15lb weight on the side and end edges of the mattress and measuring how far it sank in. Ideally, I'm looking for the sinkage on the edge to be the same as in the middle. The weight sank 2.4 inches on the edge on the mattress, compared to 1.6 inches in the centre, which isn't a great result. However, in practice – sitting and lying on the edge of the bed in the showroom – I felt the edge support was acceptable, and better than on the Original.
Bear Pro Hybrid mattress: Delivery & extras
Like all of Bear's mattresses, the Pro Hybrid comes with free shipping in the contiguous US. At time of writing, the site says deliveries are still contact-free, for Covid-19 reasons. However, you can upgrade your delivery to include setup and/or old mattress removal, with prices starting from $100.
You'll have a 120-night sleep trial. Returns are free, and Bear aims to donate any unwanted models to charity. The trial is on the shorter side in the grand scheme of things – 100 nights is about the minimum you'll find at any major mattress brand, 200 nights is more common now, and a few brands (Saatva, Nectar and DreamCloud) give you a full year. You won't be able to test it out in every season, but its long enough to get a pretty good feel for the mattress and if it's right for you.
A lifetime warranty matches the longest you'll find anywhere, although you should really be replacing your mattress every 7-10 years.
Bear Pro Hybrid mattress: Customer reviews
To get a more well-rounded view of the Pro Hybrid, we took a look at existing customer reviews. Unfortunately, because at time of writing it's a relatively new model, there are only 39 to choose from, with an average of what looks like around 4.2/5 (Oct 2023). Of that admittedly limited pool, most just offer general enthusiasm, with one person saying it helped ease their back pain. A few praise the temperature regulation and say it sleeps cool. I'll update this section with more information when the reviews section is a little more filled out.
Get daily insight, inspiration and deals in your inbox
Get the hottest deals available in your inbox plus news, reviews, opinion, analysis and more from the TechRadar team.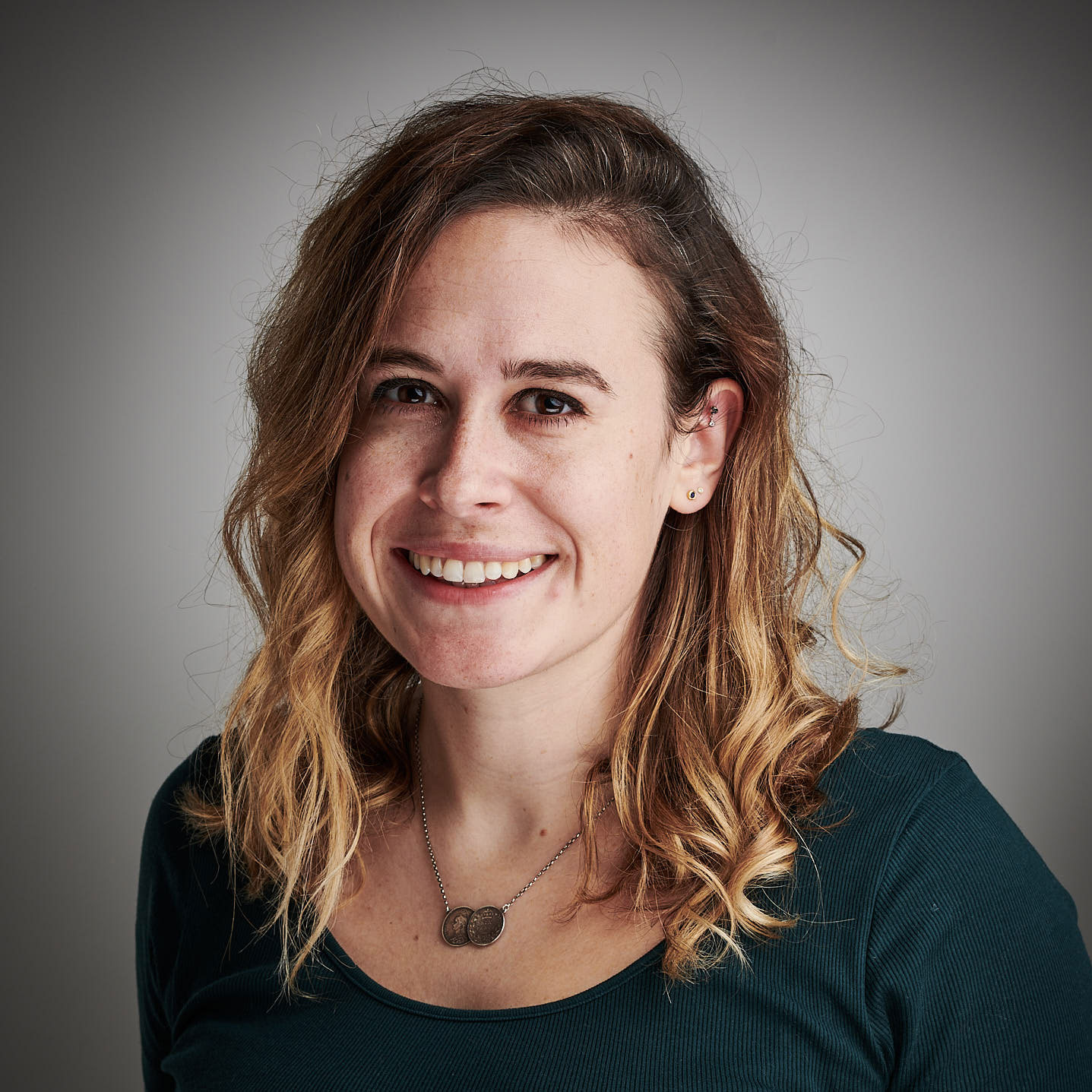 Sleep Editor, Certified Sleep Science Coach
Sleep expert and and Certified Sleep Science Coach Ruth is your go-to person for all things snooze-related on TechRadar, from advice on what mattress will suit you best, to tips on how to improve your sleep habits. She has tested more mattresses than her small flat can handle and will talk at length about them to anyone who shows even a passing interest, and has had to implement a one-in-one-out pillow policy for fear of getting smothered by them in the night. As well as following all the industry trends and advancements in the mattress and bedding world, she regularly speaks to other sleep experts to delve into the science behind a great night's sleep, and offer you advice to help you get there. Prior to joining the Tom's Guide team, she was T3's Wellness Editor.