Finding a high-performance CPU for your PC is difficult, and finding one at an affordable price this generation is even more so. But the AMD Ryzen 7 7700X, which is on discount right now, is an excellent choice that will bolster the performance of your work or gaming machine by a significant margin.
The AMD Ryzen 7 7700X is currently on sale for $319.70, a discount of 29%, thanks to Amazon. It not only received a perfect score of five out of five stars from us, and is even ranked in both our best processors and best AMD processors buying guide. Its performance is not only overall best in class, as it competes with the AMD Ryzen 7 5800X3D and the Intel Core i9-12900K, and at a lower price point to boot.
AMD consistently puts out great quality processors and this sale puts one of the best ones around at a much cheaper price. If you've been waiting for a sale to upgrade your gaming or work machine, this is a quality deal to take advantage of.
Today's best AMD Ryzen 7 7700X deal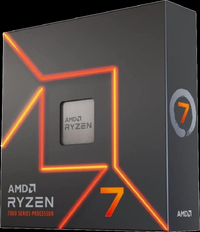 AMD Ryzen 7 7700X: was $449 now $319.70 at Newegg through eBay.com
The AMD Ryzen 7 7700X is one of the best processors to come out of 2022. It has much faster clock speeds compared to its predecessors, as well as 5nm architecture, PCIe 5.0, and DDR5 RAM support. This is what put it at the level to compete with Intel chips and in some ways even surpass them.
The AMD Ryzen 7 7700X is an eight-core processor with a base clock of 4.5 GHz, a maximum boost of 5.4 GHz, and 32MB of L3 Cache. It also uses DDR5 RAM, which is one of several ways that it's become competitive with many of the Intel chips from 2022.
However, there are a few caveats holding back the processor. First, there's no DDR4 RAM compatibility, meaning that unless you already have a motherboard that supports DDR5 you'll have to spring for one and possibly disrupt your whole setup. The second issue is that when it comes to tasks like video editing, encoding, and 3D rendering, the Core i9-12900K beats out the Ryzen 7 7700X thanks to better multi-core performance.
You can also check out more of the best AMD processors, the best cheap graphics card deals, and the best cheap processor deals happening now.