The contest for the cheapest SSD (per TB) is well and truly on - and a newcomer is threatening to walk away with the crown. Curiously-named storage vendor, MiWhole, has the most affordable SSD right now, the D200, available with a 65% discount, down to $55.87 from $159.62: that's a staggering $27.94 per TB making it the perfect value candidate for our cheap SSD page.
Note that you may have get extra discount if you manage to use Aliexpress coupons (there's one that gives an extra $4) and bear in mind that the SSD will ship directly from China (for free) and will take around two weeks to reach the US.
Other countries may have longer delivery windows and customers there may have to pay extra taxes and chargers (your mileage will vary).
The D200 is a SATA based internal SSD (you can obviously use it as a portable SSD with the right accessory). It will reach up to 560MBps/525MBps (read/write speeds) and comes with a 3-year warranty. Sadly Aliexpress, unlike Amazon, doesn't offer that extra peace of mind called a data recovery service.
SSD prices almost at parity with HDD
These cheap models are 2.5-inch SATA storage devices and because they're defacto equipped with a SATA connector, they should rapidly supplant external hard drives with a capacity of up to 2TB as well.
In March 2023, we wrote that the JS600, which acts as the bellwether for the entry level SSD market, saw its price falling to $74.99 for 1.92TB. That has gone down by another $12 in a matter of weeks to a mere $63.99. That's cheaper than most 2.5-inch hard disk drives on the market but still more expensive than 3.5-inch ones.
The cheapest 2TB hard disk drive right now is the Seagate ST2000VM003 available from $28.28 at Amazon. That's about half the price of the MiWhole SSD which shows the current gap between HDD and SSD a a whole.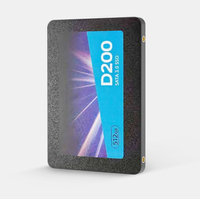 MiWhole D200 2TB SSD: $159.62 $55.87 at Aliexpress
Save 65% This 2TB SSD from popular entry level brand MiWhole is the cheapest on the market right now. The D200 solid state drive is currently available with a 65% discount, working out at only $0.28 per GB, so grab it while you can.
You won't be able to use it as a PS5 SSD but if all you care is being able to pack a lot of data in a sturdy, reliable media, then this is a great option. Hurry up though as we don't expect the stock to last through to Amazon Prime Day.
Like most drives in this price bracket, both SSDs are likely to be a SATA3 DRAM-less 2.5-inch models that use 3D NAND Flash memory with advanced SLC caching, wear-leveling technology and ECC function.
The drive supports both TRIM and SMART to monitor the status of your drive and maintain maximum performance. Just bear in mind that the likely formatted capacity of the drive will be 1.86TB.
More SSD deals
If you're after a new storage drive that's equally pacey, but won't break the bank, check out these alternative SSD deals available in your region: