I love music and this app makes my experience complete
Musicboard puts music journaling at your fingertips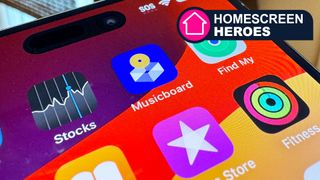 (Image credit: Future)
Growing up, there was never a moment in my childhood where music was absent. Even the dullest of days would be filled with dynamic pop, or the vigorous sounds of Pat Benatar if my mother was in control of the stereo. I'm part of the last generation of music listeners who actively engaged with music channels, and since the birth of YouTube and streaming, my appreciation for and knowledge of music has evolved substantially.
What I like most about music streaming (I'm a loyal Spotify user) is its accessibility and freedom. It's far easier to access the latest releases and discover new artists through regularly updated algorithm-based playlists and genre-specific categories. Streaming has it all, or so I thought it did.
I came across the app Musicboard after long complaining about the lack of community and 'listen later' features on streaming. Through Musicboard I not only keep track of albums I've been longing to hear, but I can also keep a personal journal of all my favorite (and not so favorite) music. Think Letterboxd, but for music enthusiasts.
Homescreen heroes
This is part of a regular series of articles exploring the apps that we couldn't live without. Read them all here.
Musicboard is a platform available on iOS and Android devices where you have the chance to become your own type of music critic. It's essentially a digital diary that keeps all of my recently-listened-to music in one place, allowing me to share my music opinions with star ratings. Whatever I listen to on streaming, be it a new artist or an album recommended by a friend, I enter it into Musicboard and it logs the date, star rating, and optional written review. Very simple.
However, music journaling is only on the surface of what Musicboard has to offer. Since joining the app my exposure to artists and genres has grown exponentially, and I'd argue that its database and search engine makes it better for music discovery than those of streaming services. If you struggle to search for new genres, one of my top ways of finding new music is through list making.
Ed note: We cut each screenshot into two parts so you could get a better look at the interface. You're welcome.
Different kinds of lists
Lists on Musicboard are different from your average playlist since you can't actually stream the music. Instead, they lean towards a mood board-like structure and are designed to give inspiration and guidance. You can curate lists in any shape or form from rankings, to favorite album covers, to 'essentials' lists – a great way to showcase your taste in music.
They are also useful for sourcing new music finds. For example, if you want to get into the subgenres of pop there's an 'essential shoegaze/ dream pop songs' list. If you want to educate yourself on music created by a particular type of artist, there are plenty of lists that act as guides, e.g. 'A guide to LGBTQ+ artists and icons'. There is a list for everything.
All the sub-genres
What makes Musicboard one of my homescreen heroes is its focus on creating a sense of community. While playlists are a great form of self-expression, there's something about the appearance and location of accounts on streaming that I find isolating. Plus, they're just too tedious to access. On Musicboard, I can clearly navigate and view accounts I follow and see what my friends are listening to – this is where the social aspect enters.
Similar to mainstream social media platforms, my Musicboard timeline is both personal and algorithmic, based on what is trending among the general demographic. If I want to see what my friends are listening to, the page is easily interchangeable between a 'friends' feed and a 'popular' feed that lists trending music across the app globally. This type of homepage makes the user experience more enjoyable, and I don't feel as restricted within my navigation as I would on other platforms.
Or go Pro
There are two types of accounts on Musicboard; one free, and one 'Pro'. Where the free version allows you to document and expand your music journey as an enthusiast, the Pro version is designed for the fanatics.
Pro is priced at $3.99 / £4.99 per month and gives you access to in-depth stats that aren't available on the free version. Along with a flashy verification badge, Pro users can view their most-listened-to genres and how much music they listen to monthly/ annually with details of personal reviews and music ratings. If you're someone who reviews music for a living, Pro's early feature access is great for pre-public releases.
Much of Pro's features are rooted in aesthetics that give members the ability to customize their accounts with personalized profile settings and exclusive banners that can be added to lists. This feature isn't entirely worth the payment in my opinion, however, it's still fun and playful.
Musicboard stands out to me as a platform centered on bringing music lovers to one place. Its flexibility means that it can be used and explored as in-depth as you want. Whether you're a passive listener or a music nerd, Musicboard caters to different levels of interest.
You might also like
Get daily insight, inspiration and deals in your inbox
Get the hottest deals available in your inbox plus news, reviews, opinion, analysis and more from the TechRadar team.
Rowan is an Editorial Associate and Apprentice Writer for TechRadar. A recent addition to the news team, he is involved in generating stories for topics that spread across TechRadar's categories. His interests in audio tech and knowledge in entertainment culture help bring the latest updates in tech news to our readers.