The STM Goods ECO Backpack is proof that a 100% recycled material laptop backpack can be excellent in terms of both quality and practicality. The material is water-resistant (though not waterproof), resists wear and tear, and is very spacious to boot.
Pros
+

Tons of space for laptops and devices

+

Well-made with good quality material

+

Very comfortable

+

Plenty of pockets

+

Sustainably made
Cons
-

Not waterproof

-

The interior cushioning could be thicker
Why you can trust TechRadar We spend hours testing every product or service we review, so you can be sure you're buying the best. Find out more about how we test.
STM Goods ECO Backpack: Two-minute review
The wave of sustainable tech devices and accessories has reached the laptop backpack market, and the STM Goods ECO Backpack is clearly hoping to make waves.
It's an affordable yet roomy and comfortable bag that boasts its GRS Certified nature, specifically that it's made of 100% recycled 300D polyester fabrics.
Impressive sustainable practices aside, the STM Goods ECO Backpack is simply a good bag in its own right. In fact, it could easily be one of the best laptop bags on the market. Its capacity is 15L and can fit up to a 16-inch laptop, which is no mean feat. Yet despite the large volume, it's surprisingly lightweight and never feels like you're carrying a whole lot even when you are.
When testing this bag, I found that I could easily fit several of the best laptops in the bag, including more portable form factors like the best student laptops, but even the best gaming laptops fit pretty easily (not to mention my Steam Deck in its case) with plenty of room to spare. One pouch in the main compartment of the bag is meant for your laptop and it's quite spacious on its own, leaving the rest of the bag free for other items.
Externally and internally there are about nine pockets in total, with several of them inside including a handy mesh zipper pocket, two water bottle pockets on each side of the bag, and a front zipper pocket. According to STM Goods, it's meant to be an outdoor bag, and its practical and humble design as well as its more muted colors stem from that intention.
The number of pockets also helps cement that niche, as this bag can carry around a surprising amount of items with ease while giving plenty of organization options.
Image 1 of 10
The STM Goods ECO Backpack proves that sustainably made doesn't mean cheap quality, as the bag is sturdy and resistant to wear and tear no matter how roughly you treat it or how much stuff you squeeze inside. It's not the classiest looking bag since it is made for outdoors, so don't think it'll fit in more sophisticated venues but for regular use, it blends in most casual and semi-casual environments.
However, there is one issue that could seriously put a damper on the outdoor bag concept and that's the fact that's not completely waterproof. For instance, the Lo & Sons Rowledge is completely waterproof as it's reinforced with a wicker outside similar to the material found on umbrellas. The material for the ECO Backpack, however, is water-resistant, which means it has a limit before the water eventually seeps through into the interior of the bag.
I tested this out by pouring water directly on the bag to see how much it could absorb before it started to leak inside. Due to the interior cushioning, it can take a good amount of water but eventually, it will start to pass through. Thankfully the bag does have a handle on the top, so I'd recommend using it to keep the bag under your umbrella for better protection in the rain.
The interior is lined with a thin layer of solid-quality cushion, which serves to protect the bag's contents from moisture as well as protect any laptops or other devices from harm. I wish the bottom of the bag was reinforced more, as a particularly hard drop could possibly damage laptops you may be carrying. It's not a deal-breaker or even a major issue, but it does mean you need to exercise more caution.
What I've enjoyed the most about the STM Goods ECO Backpack through ample testing is the thick cushioning on the back and the shoulder straps of the bag. It's one of the most comfortable backpacks I've ever had the pleasure of wearing, as the shoulder straps are cushioned, thick, and divide the weight of the bag extremely well. The back cushion helps absorb excess weight while keeping your back protected and comforted while carrying it around, making it one of the best backpack options for anyone who needs that extra support.
STM Goods ECO Backpack: Price & availability
How much does it cost? $79.95 / AU$129.95 inc. GST (around £65)
When is it available? Available now
Where can you get it? Available in the US and Australia
The STM Goods ECO Backpack is available in the US and Australia (the company is based in the latter), though we don't have any word on UK availability at this time. Pricing is pretty reasonable for what you get, and in terms of sheer volume and comfort, the value is much higher.
Since it's meant to be both affordable and sustainable, there are a few features that are missing that one would find in a more premium bag like the Rowledge, such as being completely waterproof or more interior cushioning to protect your devices. But overall it's well worth the price if you're looking for a more practical backpack that can fit a ton of tech and other items.
STM Goods ECO Backpack: Specs
Swipe to scroll horizontally
| | |
| --- | --- |
| Features: | 100% GRS polyester, PassPort luggage, two exterior water bottle pockets, |
| Dimensions: | 18.1 x 12.4 x 6.1 in / 46 x 31.5 x 15.5 cm |
| Capacity: | 15 L / 915.4 in |
| Weight: | 1.0 lbs / 0.46 kg |
Should you buy the STM Goods ECO Backpack?
Swipe to scroll horizontally
| | | |
| --- | --- | --- |
| Value | For the price, this is an excellent laptop backpack made with good quality material and able to fit plenty of items | 5 / 5 |
| Design | A simple yet practical design that accomplishes everything it promises and sustainably too, but I wish it was cushioned a bit more on the bottom | 4.5 / 5 |
| Performance | The 15L this bag holds goes a long way, as I'm able to fit in multiple laptops, devices, and more, though a waterproof exterior would have been perfect | 4.5 / 5 |
| Average rating | This laptop backpack is near perfect for its pricepoint, with a roomy cushioned interior, a practical and well crafted exterior that holds up to abuse, and an extremely comfortable design | 4.5 / 5 |
Buy the STM Goods ECO Backpack if...
You want a sturdy, lightweight bag
Despite how much it can carry, this bag never feels heavy thanks to the light material and the way the bag distributes weight.
You want a bag that can hold a whole lot
This bag has a volume of 15L as well as a wide array of internal and external pockets, meaning it can fits laptops and so much more.
Don't buy it if...
You need a waterproof bag
While this bag is water resistant, it's not completely waterproof which means you'll need to plan out weather affected activities in advanced.
You want thicker interior cushioning
While it's definitely not super thin, the bottom especially could have had a thicker cushioning to better protect laptops from damage.
STM Goods ECO Backpack: Also consider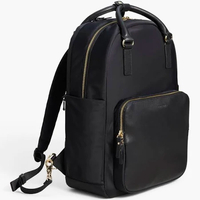 Lo & Sons Rowledge
This is one of the best laptop backpacks money can buy, as it's completely waterproof, well cushioned, stylish, and comfortable. But it requires a lot of money in return.
Read our Lo & Sons Rowledge review

How I tested the STM Goods ECO Backpack
I spent about a week testing this laptop bag
I tested out its volume, sturdiness, and material quality
I used it outside in various weather conditions
I tested the STM Goods ECO Backpack by wearing it for a week in a variety of different environments and weather conditions. I also filled the bag with several laptops and devices, as well as other products to see how well it would handle them.
The STM Goods ECO Backpack is a laptop bag meant to hold several tech devices for an extended period of time. I made sure to quality-test it to see if it held up to those standards, as well as to see just how much punishment the bag could take.
I've tested several laptop backpacks in an official capacity and even more on a personal level, and understand how to properly rate and test them out to ensure that they reach a certain level of quality.
---
We pride ourselves on our independence and rigorous review-testing process, offering long-term attention to the products we review and ensuring our reviews are updated and maintained - regardless of when a device was released, if you can still buy it, it's on our radar.
First reviewed November 2023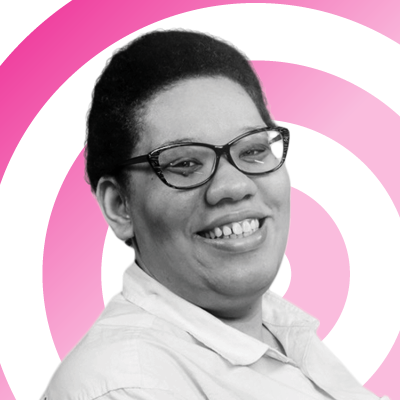 Named by the CTA as a CES 2023 Media Trailblazer, Allisa is a Computing Staff Writer who covers breaking news and rumors in the computing industry, as well as reviews, hands-on previews, featured articles, and the latest deals and trends. In her spare time you can find her chatting it up on her two podcasts, Megaten Marathon and Combo Chain, as well as playing any JRPGs she can get her hands on.