Is Google Chrome violating your privacy? Scary new notification spooks users - here's what you can do
Reclaim some privacy in Google Chrome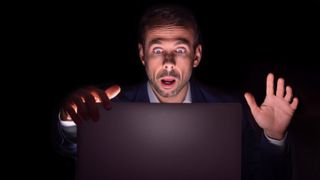 (Image credit: Javidestock / Shutterstock)
Many users have reported seeing a rather worrying notification when they load up Google Chrome, which reveals that Chrome will start showing them ads that rely on data from your browsing history.
This immediately rang alarm bells for users as it's essentially accessing your private log of online browsing activity to show you ads specific to you, without being clear about how often your history will be accessed.
Many users, as well as experts on internet privacy, see this as a pretty huge violation of privacy by not giving users the ability to give their informed consent.
What's Google been up to?
Simply put, Chrome takes the accumulated personal data, profiling users, and flagging up topics of interest, basing it on the most recent weeks of browsing history. When you visit a website within Chrome, it can then ask you to personalize the ads presented to you while you're on the page. Google claims that it shares up to three topics, protecting your browsing history data and identity details.
It then auto-deletes these topics that have been stored for longer than four weeks, as reported on by MSPoweruser. You can also apparently block topics you don't want to be included on the topic lists generated by Google and shared with websites.
Online privacy - a messy affair
If you feel uncomfortable about this, you're not alone. This type of data harvesting gives rise to several concerns regarding what happens to the data once it's extracted and stored by a tech company.
Other major criticisms include this being seen as possibly manipulative or even exploitative, touching upon issues of mass surveillance, and the data being prone to misuse. Problems like these erode users' trust in tech and tech corporations.
One thing I immediately notice in the notification is that the buttons presented don't allow you to easily opt out, making it harder to figure out how to prevent Google from helping itself to this data. Some people might even accuse Google of doing this deliberately to make it harder to prevent the collection of data.
Users have also voiced their displeasure with Google (and other tech companies) doing this. They want to be aware of what's happening to their personal information and have control over what happens to it.
If you'd like some assistance with opting out of this data collection process, follow the steps below.
How to stop Chrome displaying ads generated from your browser history
1. Click on the three dots at the top of your Chrome window and choose Settings.
2. Go to Privacy and security in the left hand side menu.
3. Select Ad privacy.
4. In the next menu, select Ad topics.
5. Toggle the top Ad privacy setting off (if it's on). This should stop Chrome showing you recommended ads.
So, what now?
This intrusion might make you consider switching browsers altogether. Microsoft Edge is fairly close in functionality, but it's not a whole lot better with regards to privacy.
This browser comes preinstalled on devices running Windows 11. Recently, Microsoft pulled back the aggressiveness of its targeted advertising urging users to use Bing as their default search engine after ongoing user complaints.
This leaves users in a tough position because browsers like Google Chrome are free to install and it's understandable that they cost a fortune to maintain. You also need a browser in order to do many things online.
I think a balance still needs to be found in using targeted advertising while giving users an easy way to make informed choices about how their data is used, stored and shared. I'm not incredibly optimistic, but taking steps toward striking this balance could win back some user trust.
You might also like
Sign up to receive daily breaking news, reviews, opinion, analysis, deals and more from the world of tech.
Kristina is a UK-based Computing Writer, and is interested in all things computing, software, tech, mathematics and science. Previously, she has written articles about popular culture, economics, and miscellaneous other topics.
She has a personal interest in the history of mathematics, science, and technology; in particular, she closely follows AI and philosophically-motivated discussions.