Best small phone 2022: the top tiny, compact smartphone choices
Best
Contributions from
last updated
The best small phones don't have to have lesser specs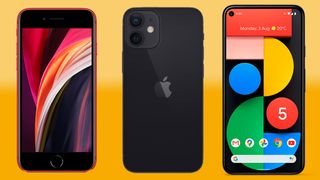 (Image credit: Apple, Google)
The best small phones are those that sport a petite footprint and yet still pack in great hardware and a rich feature set.
These days, there aren't as many small phones around worth considering but they do still crop up from time to time. If you're wondering what we count as 'small', to make the list, entries here need to be phones with a screen size of 6-inches or below to count.
That might sound big to some people but compared to the Samsung Galaxy S22 Ultra or the 6.7-inch iPhone 14 Pro Max, that's pretty diminutive.
No ever entrant hovers around that 6-inch ceiling though. We also have options that are even smaller, such as the 4.7-inch iPhone SE (2022) and the iPhone 13 mini, with its 5.4-inch display.
We've included those in our rankings along with the larger but still fairly compact Google Pixel 5 and Sony Xperia 10 IV. All the best small phones are easier to hold with one hand, making them attractive for anyone with smaller mitts, or for those that simply don't want to use up so much pocket space.
Best small phone 2022
Why you can trust TechRadar We spend hours testing every product or service we review, so you can be sure you're buying the best. Find out more about how we test.
Small yet mighty
Specifications
Dimensions:
131.5 x 64.2 x 7.7 mm
Storage:
128GB/256GB/512GB/
Reasons to buy
+
Gorgeous display
+
Great battery life
Reasons to avoid
-
More expensive than predecessor
The iPhone 13 mini is a rare small phone that's still high-end when it comes to hardware. Its 5.4-inch display is a Super Retina XDR OLED display so it looks great, thanks to some strong brightness levels. It's the same tech as you'd see on the iPhone 13, only smaller.
Similarly, its camera is fairly potent. It has a 12MP f/1.6 wide camera with 1.7µm pixels for low-light performance, while the 12MP f/2.4 ultra-wide camera offers 120-degree field of view. Taking photos in low light situations works well too, easily being some of the best we've seen.
Speed wise, the iPhone 13 mini uses Apple's A15 Bionic chipset so it's fast and easily capable of multitasking. iOS 15 works super smoothly here. Just count on paying for the privilege as it's pricier than the iPhone 12 mini that came before it.
Read our full iPhone 13 mini review
Pricey but neat
Specifications
Dimensions:
146.5 x 68.1 x 9.1mm
CPU:
Qualcomm Snapdragon 8+ Gen 1
Reasons to buy
+
Easy to use one-handed
+
Neat navigation tricks
Reasons to avoid
-
Expensive
-
Only two rear cameras
The Asus Zenfone 9 offer a lot of power for a small phone. It uses the top-end Snapdragon 8 Plus Gen 1 which is great for gaming or video editing. You won't need to worry about speed here like with some other small phones.
While it might lack a third lens, the Asus Zenfone 9 has a respectable 50MP main camera and a 12MP ultra-wide lens on the back, along with a 12MP selfie camera.
Some clever navigation tricks come into play too thanks to a double-tap on the back or swipes on the power button giving you some useful shortcuts. Audiophiles will appreciate the 3.5mm headphone jack too.
It packs a lot in for the size, as it should at this price.
Read our full Asus Zenfone 9 review.
An affordable Xperia phone
Specifications
Dimensions:
153 x 67 x 8.3mm
Rear camera:
12MP+8MP+8MP
Reasons to buy
+
Advanced camera features
+
Great build quality
Reasons to avoid
-
Average performance
-
60Hz display
The Sony Xperia 10 IV is a great looking phone as you would expect from an Xperia device. Its build quality is fantastic, feeling robust yet slender. A 6-inch OLED display looks good with vivid imagery even if it only has a 60Hz refresh rate.
Performance is middling rather than great, but the Sony Xperia 10 IV takes excellent photos thanks to its triple-lens rear camera setup. Low-light photography isn't its strength but a 2x optical zoom is useful while a triple-lens 12MP wide, 8MP telephoto and 8MP ultrawide rear camera gives you plenty of options.
The Sony Xperia 10 IV is a decent all-rounder for anyone looking for something more slender without making too many concessions.
Read our full Sony Xperia 10 IV review.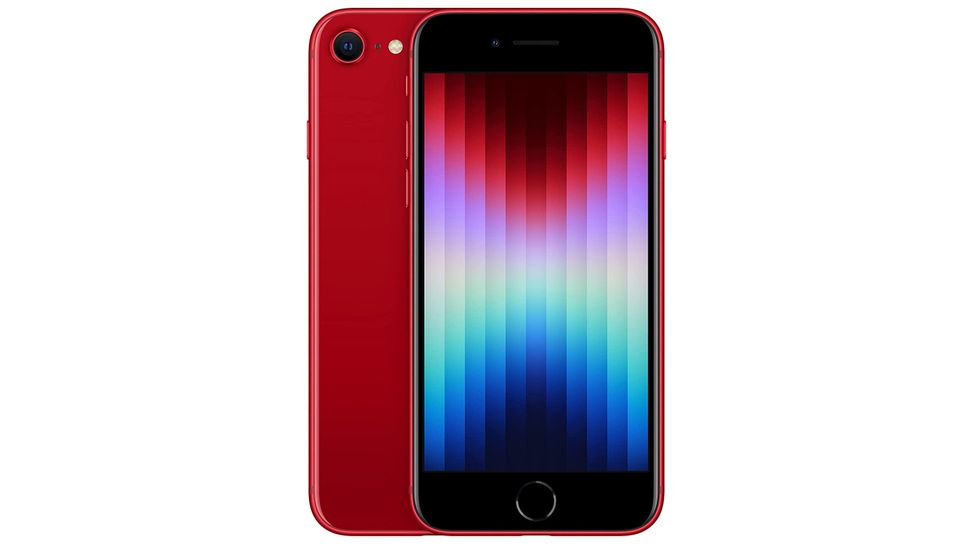 Packing a lot in for the price
Specifications
Dimensions:
138.4 x 67.3 x 7.3mm
Reasons to buy
+
Lower price than most iPhones
+
Thin and lightweight
Reasons to avoid
-
Could be cheaper
-
Low storage for base spec
The iPhone SE (2022) is the cheapest way to enjoy a new 5G iPhone. It looks a lot like its predecessor with no change to its body, and the same Liquid Retina display as before, but why fix a design that works so well?
Instead, it adds on the A15 Bionic chip for speedy performance that can even beat Qualcomm's latest Snapdragon 8 Gen 1 CPU plus it's now capable of timelapse night photography if you add on a tripod.
A reliable battery life of 12 hours should last you the day, and while it's not always exciting, the iPhone SE (2022) gets the job done well.
Read our full iPhone SE (2022) review.
Compact yet feature packed
Specifications
Dimensions:
131.5mm x 64.2mm x 7.4mm
Storage:
64GB/128GB/256GB
Reasons to buy
+
Smaller design looks great
+
Fantastic display
Reasons to avoid
-
64GB isn't enough storage
-
Battery life only okay
The iPhone 12 mini is that rare thing – a phone that's not only genuinely small, but also genuinely high-end. As the name suggests, it's basically the iPhone 12 in a smaller size, with a 5.4-inch 1080 x 2340 OLED screen.
That's a high-quality display, and while it's bigger than the screen on the iPhone SE (2020), the relative lack of bezels means the iPhone 12 mini is actually a smaller phone overall.
Beyond the screen and the size, highlights of the iPhone 12 mini include its 5G support, its MagSafe tech which lets you magnetically attach accessories, and its top-tier power, provided by an A14 Bionic chipset (the same one as you'll find in the rest of the iPhone 12 range).
The camera is highly capable too, albeit only packing two rear lenses – you get a 12MP main and 12MP ultra-wide shooter, so it lacks for telephoto skills.
We'd like to have seen slightly better battery life, and the 64GB starting size is entirely too low, especially for the price, but those niggles aside the iPhone 12 mini is a superb small phone.
Read our full iPhone 12 mini review
The choice for those who want a cheaper iPhone
Specifications
Dimensions:
138.4 x 67.3 x 7.3mm
Reasons to buy
+
Low price for an iPhone
+
Lightweight frame
Reasons to avoid
-
Battery life could be better
-
Old screen technology
The iPhone SE (2020) is Apple's budget iPhone, but it's also one of the company's smallest available models. In fact, at 4.7 inches its screen is the smallest (as well as being smaller than almost any other widely available smartphone), but as noted above the actual dimensions are slightly larger than the iPhone 12 mini's.
Still, the iPhone SE (2020) is undeniably a small phone, and it's a very good one at that. While it can't quite match the iPhone 12 range for power, it's not far off, packing the A13 Bionic chipset that's also found in the iPhone 11 range.
The handset has a decent – albeit single-lens – 12MP camera too, and a premium (read: metal and glass) if slightly old-fashioned design.
Some of this might sound like faint praise, but this is one of the most affordable and arguably best value iPhones we've seen in years, and it just so happens to be compact too.
Read our full iPhone SE (2020) review