The best free audio editors offer up powerful sound production tools without the premium prices of the best audio editors.
Audio editing software like Adobe Audition and Apple Logic Pro are favorites among professionals. And apps such as CyberLink AudioDirector bridging the gap for intermediates. But sometimes budgets don't allow for adoption.
That's where free audio editors excel - so, you won't have to compromise on studio-quality sounds and features in your free music-making software. Many free tools are tailor-made for content creation, packing in everything from VST support and multi-track editing and mixing to extensive music samples and SFX libraries.
Find the right tool for your latest project with our round-up of the best free audio editors. We've comprehensively tested, reviewed, and rated each program, ensuring that whether you're a beginner or an experienced professional, you'll find the digital audio workstation (DAW) that meets your needs and your creative workflows.
Today's best Adobe Audition deals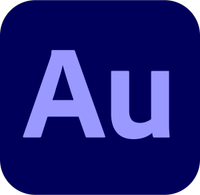 (opens in new tab)
Adobe Audition
Adobe Audition's comprehensive toolkit makes studio-quality sound engineering, music production, and audio editing possible from your home, office, or studio. Expect a raft of tools for for multi-track, waveform, and spectral analysis. It's a paid-for production that requires a Creative Cloud subscription,
See our guide How to download Adobe Audition for free or with Creative Cloud.
Best free audio editors 2023
When it comes to the best free audio editor, Audacity stands above them all, and has done for many years now. The open-source software may not pack in every feature - it's not a fully featured DAW - but whether you're a beginner or a pro, the toolkit is more than well-stocked to accomplish most sound production tasks.
It's a particularly good choice for two-track editing, while a comprehensive library of plugins add additional capabilities. The latest version, Audacity 3.2, also introduced non-destructive audio editing, making it a much more flexible tool than it was before. So, there's plenty of ways to precisely perfect your audio. Interestingly, as part of the launch, Audacity also went live with audio.com, a music-sharing site designed to help users reach a broader audience.
It's fair to say the audio editor's UI could feel overwhelming to new users. It's not that it's particularly difficult to use, but it's worth spending a bit of time familiarizing yourself with it if this is your first time. It's not half as difficult to navigate as it first appears, and it's seen some significant improvements in a bid to compete with rival audio editing apps. Overall, it's well worth your time and attention.
Read our full Audacity review
Multi-track audio editor Ocenaudio is an especially accessible tool that's more powerful than you might think. Workflows are simplified and very smooth - although it may feel a bit too streamlined to start, the interface is pretty intuitive, and navigating the app to find the right tool is easy.
Editing speech is notably effective, and the ability to export MP4 makes it a good choice for podcasters and video-focused content creators. You'll find all the basic audio correction and adjustment tools here, including pitch control and quantise. There's also a surprising number of effects, with VST plugin support, too.
As you'd expect with a streamlined audio editing program, the interface is clean to the point of barren (at first glance, at least). But it's very easy to customize and control appearance so you can really make it your own. So long as you're not in the market for a full DAW, it's ideal for recording, editing, and mixing.
Read our full Ocenaudio audio editor review
WavePad, from NCH Software, is a free audio editor that's more powerful than you might think looking at its simple interface. You'll find key tools here, like linear or logarithmic Spectral Analysis, while the batch editing is a particular highlight. You'll find support for a wide selection of formats for sound conversion. There are also tutorial videos built into the tool, easing your journey if you're new to the art of audio editing.
Multi-platform and a delight to use, it excels at simplifying the editing and organizing process through scrubbing tools and markers to find the clips and cuts you need. On the other hand, the audio editor only offers one-track recording and no mixer - this is available via a separate app, MixPad Multi-Track Audio Mixer, accessed via WavePad.
The program is only free for non-commercial use though. To use it as part of a professional workflow, you'll need to subscribe to or buy the Standard or Master's Edition, which adds more tools. The developer also offers discounted bundles if you're looking for other tools, such as a sound converters and video editing software.
Read our full WavePad review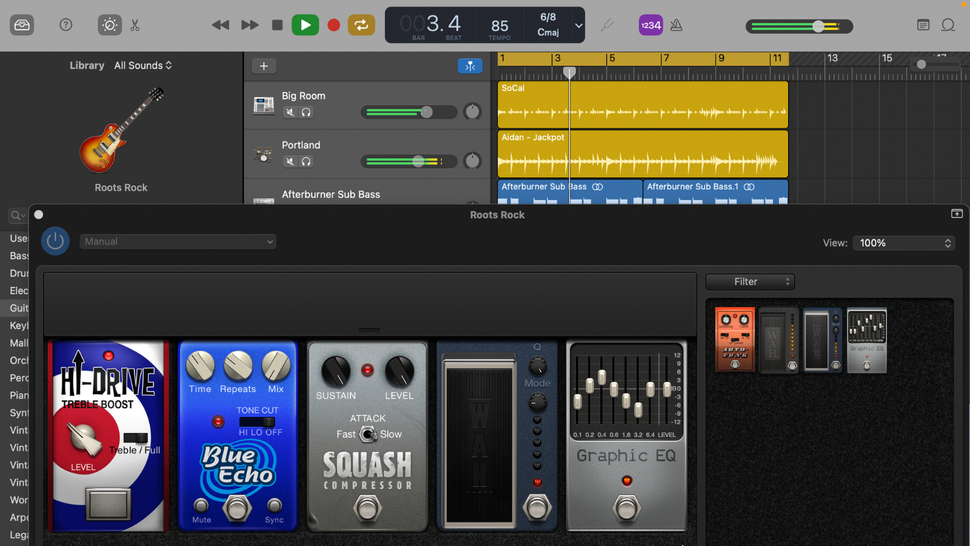 Coming preinstalled on Macs and available to download on iPhones and iPads, Apple GarageBand offers one of the best free audio editors for those in the Apple ecosystem. It's also one of the most accessible and versatile - a simple, slick program that makes it easy to make compositions regardless of your skill-level. That includes multi-take recording and exporting to iTunes and SoundCloud.
The current version of GarageBand serves up music loops, improved MIDI capabilities, support for Voice Memos recordings, and Intel Audio Unit plugins. By downloading the Logic Remote app, you can even control the Mac version from a separate device. Like we said, it's an incredibly versatile tool.
As an Apple-based all-rounder, there's a lot to like about how GarageBand handles your audio editing. However, we'd like to see platform parity - for example, you'll find some features in the iOS version, like Live Loops View, which is unavailable in GarageBand for Mac. For the new and the curious, there are some great tutorial tools, including Artists Lessons, where musicians show you how to play their songs - and again, some of these are only in GarageBand for iOS.
For the professional (and paid-for) DAW alternative, check out Apple Logic Pro.
Read our full Apple GarageBand review
Avid Pro Tools has long been considered a top sound production program for professionals in the business. Some organizations even contractually stipulate it must be used for any audio engineering - it's that good.
The industry-standard audio editor has seen some big changes in recent months - chiefly by adding three different tiers with subscription packages depending on your use and level of experience.
As part of that shift, the company also launched Avid Pro Tools Intro. As the name suggests, it's an introductory tool designed for those just starting out (or those who want to see what all the fuss is about). Stripped of key features, functionality is basic, but it's not a completely empty toolkit. Pro Tools Intro offers 36 plugins and virtual instruments, 8 audio tracks, 8 MIDI tracks and 8 instrument tracks, 4 simultaneous recording inputs, 4 auxiliary tracks and 4 routing tracks.
Remember, though, this is still a feature-filled digital audio workstation. It's not the best place to start if you're new to audio editing. And in our tests, we found the free DAW best suited to use on a dedicated audio PC or laptop with more than one monitor.
Read our full Avid Pro Tools review
Audiotool unlocks audio editing right in your browser (so long as that browser is Chrome - officially, at least, as it reportedly works in Firefox and Edge). That means you have access to your audio clips wherever you are. No waiting to download and install from a new computer. A Chrome extension is also available.
Sharing more of its DNA Apple's GarageBand program than many on the list, the online DAW lets you record 30-second segments of sound to use as samples. You're then free to mix with digital instruments, tools, and drum machines built into the audio editing system.
Modify your tracks with Audiotool by adding filters from a selection of 14 different effects. You can also create a MIDI controller within the program or use a splitter tool to attenuate and modify your audio signal.
The site, which places an emphasis on community and collaboration, features user-made music uploads created in Audiotool, giving you a taste of the possibilities with this software for editing audio.
Best free audio editor: FAQs
How to choose the best free audio editor for you
Why you can trust TechRadar Our expert reviewers spend hours testing and comparing products and services so you can choose the best for you. Find out more about how we test.
When choosing which free audio editor is best for you, start by focusing on the tools and features you need to create your soundscape. Some of the very best free audio editors are almost as powerful as paid-for alternatives, while others are better for minor edits and less complex projects. As part of this, also look at the types of formats you work in and which free audio editing apps offer the right filetype support. You'll also need to factor in where the audio will be used - some tools are better for those hosting podcasts or when used alongside video editing software; others for those making studio-quality music or audio marketing assets.
Consider your experience and skill-level, too. Some free options are very accessible for novices, while others, though free, are best used by professional sound designers and engineers familiar with in-depth interfaces, tools. and features.
Many tools here also feature plugin support - extending capabilities and possibilities even further - so choose one that's likely to meet future and present needs. It's also worth exploring possible paid-for upgrades in the future - free audio editing software can sometimes be limited compared to premium tools, and as you develop as a sound engineer, you may find you outgrow free tiers, stifling creativity.
Finally, choose your best free audio editor based on what works for you. Everyone's workflow is unique, and with a bit of experimenting, you'll find the software that matches all your creative needs.
Can I use a free audio editor to auto-tune?
Like premium counterparts, the very best free audio editors let you create interesting sound designs, including auto-tuning vocals.
We've explored how you can achieve this effect in our guide How to use auto-tune in your favorite audio editors.
How we test the best free audio editors
When testing the best free audio editors and music production software, we assess all the areas that matter to you. To start, that means looking at pricing - a free audio editor must be genuinely free to use. Any payments or subscription upgrades need to be clearly sign-posted, with no hidden or unclear charges.
We extensively explore user interface and user experience. All software, including audio editors, should be clear to use and intuitive to navigate. Even more advanced tools, such as those aimed at the professional market, should provide documentation so users can get started with minimal disruption.
Format support is critical, and we're looking to see support for a wide variety of filetypes - not everyone works exclusively in MP3, after all. Platform compatibility is a similarly important area, because while creative industries tend to prefer working on Macs, Apple devices aren't for everyone.
As part of our tests, we lay down multiple tracks and cut clips to get a sense of how the free tools work, and whether they meet the needs of the intended users - whether it's their first free audio editor or a replacement for professional use, like many of the best Adobe Audition alternatives.
Best audio PCs

(opens in new tab)

: Make some noise for these top Digital Audio Workstations