Avid's new line-up includes Intro, a free basic version of Pro Tools which needs no iLink. Earlier paid versions have now been re-released as Artist, Studio and Ultimate, with varying functions and resources for the respective price. Updated features increase Pro Tools' flexibility in working with material recorded in compatible apps.
Pros
+

Widely touted as 'the' industry standard so you'll be in the club

+

Equally useful for music and video sound applications

+

Very well-established and scalable
Cons
-

Needs a dedicated workstation

-

Subscription model only from here on out with no more perpetual licenses

-

Can be hard to delete, sometimes requiring support
Why you can trust TechRadar We spend hours testing every product or service we review, so you can be sure you're buying the best. Find out more about how we test.
For as long as most of us can remember, Avid Pro Tools has been considered one of the best audio editors for professionals. An industry standard, in 2022, the company revamped its Pro Tools offerings in a big shake-up designed to appeal to a broader user-base, from beginners to experts.
First came a series of name changes. Pro Tools became Pro Tools Studio, adding a subscription plan alongside the lifetime license. Ultimate, meanwhile, split off into two - Ultimate now features a perpetual license, while the subscription version is now called Flex.
Not only that, the company also introduced a free sound production app, Pro Tools Intro, and Pro Tools Artist, a lower-tier subscription plan.
But is that enough to draw in new users to the music-making software?
Avid Pro Tools: Pricing & plans
New 'Intro' free stripped down version, with three paid-for versions
Billed as an easy to use set of "essentials for music recording and MIDI creation," the lowest paid subscription Pro Tools Artist costs $19.99 or $99 per year, which offers access to Avid's 'Inner Circle Rewards'.
Updated support for Celemony Melodyne 5 essential means that it's now native within the app and you get that at Artist level. You'll also find more than 100 plug-ins, as well as a range of music and SFX samples - 32 audio tracks, 32 instrument tracks, and 64 MIDI tracks. Artist also provides 16 simultaneous recording inputs and 1 master track. There is no Dolby Atmos functionality, advanced automation or video track.
Pro Tools Studio, "the complete toolset for professional music production", is aimed at indie studios, producers, and small house engineers. Studio is priced at $29.99 a month or $299 a year As well as the native Celemony Melodyne 5 essential, Studio's 64 simultaneous recording inputs come with Avid's complete plugin bundle, 1 video track, and 128 VCA tracks.
Pro Tools Ultimate is an advanced tool for high-end music production. It costs $99 a month or $599 a year. For this you'll get 256 simultaneous Core Audio and ASIO recording inputs, three quarters of which are HDX Hybrid Engine and HDX Classic, and the rest are HD Native. You'll also benefit from 512 master tracks and 64 video tracks: surely enough for a number of high-end projects. You can try it free for 30 days with an iLink sign up.
These changes are ruffling feathers among long-time professional customers seeing their perpetual license benefits being edged out by the subscription model. Benefits like a cheaper way back in for users who needed to update after a lapse which will now result in a drop to the most basic level, the new free Intro.
Intro gives you the basics, with 36 plugins and virtual instruments, 8 audio tracks 8 MIDI tracks and 8 instrument tracks, 4 simultaneous recording inputs, 4 auxiliary tracks and 4 routing tracks.
In contrast to all the other options, Intro has been made for disc based authorisation. This simply means that it doesn't require an iLok authorisation dongle, now accessed through the iLink app.
Avid's commitment to educational discount pricing continues, offering the top version Ultimate to teachers and students for $299 a year.
Avid Pro Tools: Getting started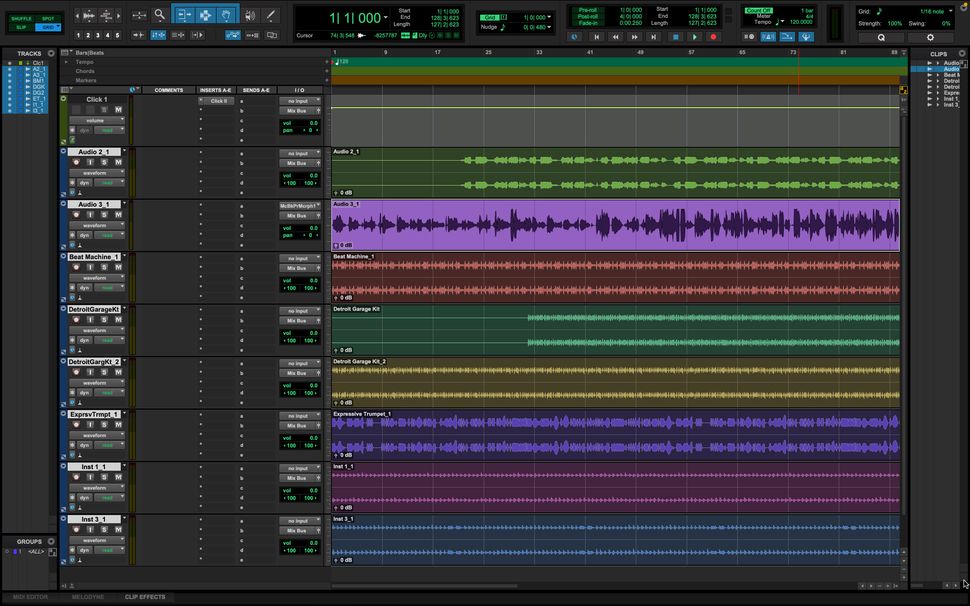 Avid's iLink required to install most versions, designed for audio editing suite
All versions except Intro require installation of Avid's iLink which then downloads the app.
Once you've given Pro Tools and iLink access to your computer, you'll be inundated with messages about small changes Pro Tools is making in the background. This is designed for a dedicated workstation, a suite of screens, and a team of operators. For this reason, consider carefully before putting the program on a computer you use for something else - the best audio PCs and laptops for music production are better suited for running the program.
Once the I/O aggregator is installed, you may even lose control of your volume buttons outside of Pro Tools, even if it's not open.
Once installed you'll still have to go and get the relevant packs for whatever plan you're on, including the free trial. Meanwhile you can go and google why the record button doesn't show up and find plenty of others doing the same. There are also plenty of troubleshooting videos available through iLink; just as well.
Although Pro Tools is about getting down to business rather than looks, preferences have been updated to enable instantaneous changing from classic to dark mode without having to relaunch Pro Tools.
Avid Pro Tools: New features
Customizable shortcuts, onscreen keyboard, EuCon status bar for toggling
Whatever you want to do, from quantising while you record, to scoring a musical blockbuster, Avid Pro Tools can ensure high quality global delivery of broadcast quality sound - if you can just get it to open, record, and play.
Such a flexible set-up can't be mouse dependent and the legendary speed and dexterity of Pro Tools professionals is a key reason why they stick with the program. This efficiency can only be further improved now that Pro Tools features full keyboard shortcut customization.
Meanwhile Avid's pursuit of smaller scale musical creatives, means improvements to basic functions like the new keyboard, so you can play MIDI instruments with no external equipment.
Version 2022.12 can run natively on Apple M1 and M2 Silicon processors as a public beta. Hopefully this will start to address the obvious snags. Pro Tools 22.12.0 features increased compatibility of markers with Media composer, improving video functionality further.
You can now access dedicated EuCon (Euphonix Control) status control in the Edit Window toolbar and toggle it on and off for Pro Tools. EuCon is an increasingly popular 'control surface to application' protocol based around ethernet for maximum bandwidth, resolution and control.
Avid Pro Tools: Industry standards
Updates increase compatibility of Pro Tools with other apps and systems
Once you've mastered such a massive and malleable app, with its potential speed and power, as so many audio professionals have, why would you want to make a change? Depending on the number of suites, it's still good value for studios with a volume of high-end high-demand clients.
Equally there's no reason for individuals to feel pressured by 'industry standard' tropes into using Pro Tools for music creation if they find it less than friendly. Remember all those prosumer cameras that were sold because they were nearly industry standard? Now there's frequently shaky phone footage on the news.
Sound needs to be good quality but that kind of pressure can't foster creativity and could conceivably put someone off music tech for life. Avid may want to stretch into the bedroom recording market as a DAW, but it is competing with potentially easier, certainly less intrusive and way cheaper options with broadly the same skillset.
This needn't cause any conflict. It's because Pro Tools is so solid, multifunctional and flexible that artists and creatives working in other compatible DAWs, like Ableton Live, Apple Logic Pro, or Acoustica, can choose to take files or stems of finished projects and put Pro Tools to work on them often using Open Media Framework (OMF) files. Sets of keyboard shortcuts from any of those DAWS can now be loaded into Pro Tools as well. It's also because Pro Tools practitioners are so expert that musicians can have confidence their creations are being cared for by people who know what they're doing (and who've now got to financially service their subscriptions).
If you opt for the free 30 day trial of Ultimate you'll already be familiar with iLink. Bottom line, if you only download Pro Tools Intro do bear in mind that if you bite for a paid version you'll be hit with iLok authorization protocols along with your subs.
Avid Pro Tools: Scorecard
Swipe to scroll horizontally
| | | |
| --- | --- | --- |
| Row 0 - Cell 0 | Row 0 - Cell 1 | Row 0 - Cell 2 |
| Pricing & plans | Free version with three paid-for editions | 4 |
| Getting started | Requires iLink, designed for pro audio gear | 3.5 |
| New features | Packed with tools to boost workflows | 4 |
| Industry standards | Increased compatibility with industry apps | 4 |
Should I buy?
Buy it if...
You need to produce a lot of audio material at scale in different formats
You're willing to put the time in to use all its functionality with shortcuts, like a pro
You need an industry-standard audio editor
Don't buy it if...
You find the level of necessary contact for technical support overly time-consuming
You use another professional high-end DAW for your sound production
Angel has been making and composing music since she was 4. Music has always featured in the many performance styles she's been involved in, from backing music for cabaret, through theatre, live singer song-writing and recording, and video journalism. For over 20 years she's taken full advantage of the explosion in technical capability, flexibility of use, and expanding tools for creating content, and loves pushing software to its limits in service of creativity.