Best music samples of 2023
Best
Contributions from
last updated
Music samples and sound effects libraries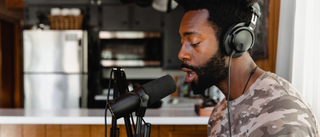 (Image credit: Unsplash / Soundtrap)
The best music samples and sound effects libraries make it simple and easy to use free stock audio and SFX that mix with every audio editing project.
A well-stocked audio and SFX library is an pairing for the best audio editor apps like Apple GarageBand and Adobe Audition. But making yourself heard today can be tough. The rise in accessible, premium pro tools, as well as the best free audio editor apps mean modern listeners expect polished productions whether you're making a podcast, commercial, or the next Billboard number one,
Most audiophiles have used Kevin McLeod's magisterial stock music site Incompetech. But what are the alternatives and where can you find royalty-free music that matches the mood and captures the atmosphere you want?
Boot up your best audio PC or best laptop for music production because we've tested out the best music sample and sound effects libraries - from the user experience and genre offerings to download options and value for money.
We've also listed the best Adobe Audition alternatives.
The best free music samples and sound effects libraries of 2023
Why you can trust TechRadar We spend hours testing every product or service we review, so you can be sure you're buying the best. Find out more about how we test.
1. Samples
Best music sample site overall
Reasons to buy
+
10,000 samples available
+
High-quality recordings
+
Royalty-free rights
Reasons to avoid
-
Paid-for element feels a bit clunky
Samples is a music sampler service that provides selected and organized free sound samples for its members. The sounds are of different genres such as funk, pop, and retro, to name a few. Samples are made and curated by artists such as Marc Houle, Pan-Pot, and the Dirty Projectors.
Because it was launched by audio mastering platform Landr, think of it as a portal in your browser where you can download loops, collaborate, master, and distribute high-quality sounds. In the right hands, it has the potential to be a total music production suite.
The interface feels simple. The regularly updated music library, which you can filter by artist, genre, or vibe, lets you download 'packs' - effectively, albums filled with compositions that can be further filtered by BPM, instrument, or key.
There are loads of free and royalty-free music samples to match any mood. However, you'll need to dig around the site to find them.
But while Samples is one of the best free music samples resources, the paid-for element feels a bit clunky. It works similar to Audible. For a monthly or annual subscription, you'll get a fixed set of credits to 'buy' your downloads. You can also purchase packs and tracks individually.
Samples also adds DAW instruments, plugins, and an FX suite for artists deep into their music production (and willing to subscribe after the free trials run out).

2. MusicRadar
Best free music library
Reasons to buy
+
70,000+ samples available
+
Comprehensive list
+
Royalty-free rights
SampleRadar is MusicRadar's hub for its regular sound and music sample giveaways.
The free music library offers an eclectic mix of professional quality samples of hits, loops, and multi-samples across the genres. Each sample in the free music database has been uniquely created for the platform and every one is completely royalty-free. So, you can get creative when plugging them into your own music. The only thing you can't do is redistribute the samples in their original form.
Music samples are listed alphabetically, so it's not the easiest to sample the samples. That's offset by sheer volume. Each pack features titles like 382 free ambient samples and 438 chunky guitar and drum samples giving you some idea of the scale. Helpfully, the latest additions are placed at the top of the audio repository.
All files are 24-bit for quick and easy importing into any digital audio workstation.

3. SampleFocus
Best music sampler for beginners
Reasons to buy
+
Thousands of samples available
+
Organized search
+
Royalty-free rights
Reasons to avoid
-
Currently, can't download music to iOS and Android phones
SampleFocus aims to supercharge your creativity, and it earns a mention as one of the best music samples services because of its simple search functionality.
Hassle-free browsing comes in the form of well-curated categories, collections, and tags. This organizational system makes it really efficient to find the sound effects and music samples you need, whether it's a specific timbre, instrument, or mood that you have in mind.
The music sampler is free - up to a point. Each week after sign-up, you'll earn free credits to be redeemed for downloads. These can be topped up through a subscription package. You can also earn additional download credits by uploading your own approved samples. Quid pro quo.
If you like to edit audio on the go, SampleFocus won't chime. Currently, you can't download music to iOS and Android phones. But if you need a desktop music samples site packed with royalty-free music for commercial use and personal projects, creativity lies within.

4. BBC Sound Effects
Best audio library for research and education
Reasons to buy
+
33,000 samples available
+
For education, personal and research use
BBC Sound Effects offers audiophiles one of the best SFX sample sites thanks to a huge audio library that even features historical recordings made during the Blitz in London or any of the 15,000 Natural History Unit archive recordings.
But the site's stock-in-trade is really the traditional sound effects. We've all heard them before, probably without even realizing it in radio plays and on TV. The cackle of geese. The car horn on a Renault 5. The background chatter in a busy cafe. You can even filter SFX by continent such as the ringing bells of an Oxford college or the waterfalls of Patagonia. Perfect for audio editors creating unique, global soundscapes.
This extensive free SFX library includes 33,000 sound clips from across the globe over the last 100 years.
The downside is categorization. There's none to speak of, so if you're powering through the database, you're reliant on smart searches or a lot of scrolling. That may be too much work for artists engaged in fast-paced workflows.
BBC sound effects samples are distributed under the Reminiscence Archive license. Audio clips can be used for educational or research projects, but absolutely no commercial use.

5. SampleSwap
Best music sampler for curated sounds
Reasons to buy
+
15,000 samples available
+
Powered by donations
Reasons to avoid
-
Mostly royalty-free but not completely guaranteed
SampleSwap wasn't always one of the best online sample libraries. It started life as a public folder on a hotline server in a basement back before becoming a top music sampler site in 2003. It's grown since then, into a sprawling free music resource. But some things never change. Every slice of sound in the master collection is still hand-curated by founder Canton Becker.
That manual process means it's not a comprehensive music database - even after all these years - but the quality of samples is higher. It's a site for people who appreciate artistry in music. If you're producing music, you can submit your own creations and see if it passes the SampleSwap test.
Sound files are arranged into categories, from drum hits and melodic loops to sound effects and vintage spoken word. Most samples are royalty-free or available for commercial use. And, just for fun, SampleSwap even serves up remix challenges to test your musical mettle.

6. Bedroom Producers Blog Sample Archive
Best music library aggregator
Reasons to buy
+
Extensive database
+
Samples from more than 1,400 sources
+
Varied property rights
Bedroom Producers Blog (BPB) isn't really a dedicated sampler database, but for anyone looking for some of the best music samples, it offers an extensive music resource.
The archive houses free drum, piano, and guitar samples, and free sound effects for the discerning audiophile. Cementing its reputation as one of the best resources for music production, the site even includes free Kontakt libraries.
It's worth noting that BPB is technically just showcasing previously featured samples libraries (in that sense, it's more of an aggregator). This means finding precisely what you're looking for can take longer - especially when tracking down music that's copyright-free or royalty-free. That also leads to out-of-date or expired site suggestions.
These are minor frustrations, however, when accessing such a comprehensive SFX and music library built from over 1,400 sources.

7. LooperMan
Best music library for professionals and audiophiles
Reasons to buy
+
Almost 100,000 samples
+
Royalty-free rights for samples
Reasons to avoid
-
Focus on quantity over quality
LooperMan is a music samples platform that gives you access to a massive amount of loops and samples that work with the majority of the music software out there.
Finding the music you need is straightforward - searchable and filterable and every entry in the collection is tagged. Handy when you're a maestro handling thousands of loops on, say, 90s-inspired samples (yes, that's a category in the music database). A separate category for acapella has 8,000 vocal samples.
It's a staggeringly large free music resource. But that emphasis on quantity means varying degrees of quality, Not a factor that's likely to worry those just looking for cool sounds to toy with. If you demand the highest-quality audio every time, then discerning between the good and the not-so-good is going to drag.
And that's a shame, because otherwise LooperMan makes good on its promise to deliver pro audio resources and a musicians community for audio artists, film and video producers, DJs, and multimedia designers.
Standard users are on read-only mode to avoid spamming, but everyone has the option to request for additional access if they wish to participate more. Anyone who has downloaded free loops from the site has the ability to upload their own tracks for other members to review. This promotes collaboration among users, rather than simply being one of the best music samples sites online.

8. Free Music Archive
Best music library for self-publishing musicians
Reasons to buy
+
Plenty of genre categories
+
User-friendly site
+
Extensive music library
+
Community focus
Reasons to avoid
-
Lots of different Creative Commons licenses
The Free Music Archive serves up a simple user-friendly music database. Since it merged with Tribe of Noise, a community platform for self-publishing musicians, it's become one of the top go-to sites for artists and audio tinkerers alike.
As an example of the best music samples sites, it highlights areas and FAQs for musicians, filmmakers, and educators looking to grab some tracks for their latest project. That seamless flow carries throughout the archive. This isn't some dusty library of free tracks. It's a modern music space you'll have no trouble navigating. Hit on a genre you love and there's even the option to play everything on the page like it's a giant, random playlist.
However, embracing professionals also means a raft of different licenses for different tracks. Yes, music may be free, but not, as the site points out, 'free to use'. Check carefully before use (it's easy to find out whenever you hit 'download').

9. Freesound
Best free SFX library for beginners
Reasons to buy
+
Large range of samples
+
Creative Commons license
Reasons to avoid
-
Inconsistent sample quality
Freesound is a treasure trove of sound effects and real-world audio files. The collaborative audio database is user-generated and user-driven - every file is tagged, and you'll use these to find what you're looking for. Great for busy artists and those prepping dramatic audio or podcasting sessions.
Each SFX has a waveform displayed in the search results, so you can gauge the sound's characteristics without having to listen or download.
The audio samples generally feature three different license types:
– Zero - can be used for pretty much anything
– Attribution - name the original creator/uploader when using it
– Attribution (non-commercial) - don't use this one in your ads
SFX samples in the library are user-generated, which mean licensing rights can sometimes be vague or non-existent. You'll also find no uniformity in a file's format or quality. That can be frustrating for music production artists, but it does have its perks, particularly for researchers. No surprise, really, given the sampler site's university origins.

10. NASA Audio Collection
Best SFX library for space
Reasons to buy
+
Loads of space sounds
+
Public domain
The NASA Audio Collection is an out-of-this-world SFX sample site beamed down straight from space.
It's one of the best music samples sites if you're creating Public Service Broadcasting-style soundscapes (or you're just curious what an actual mission launch sounds like). You'll find clips from the Moon landings, Voyager 1's first trip, and even NASA press conferences.
Essentially, it's NASA's audio library, which makes sense, since it's hosted on the Internet Archive. Downloads are available in a range of formats, from FLAC to MP3.
It's pretty easy to get sounds onto your digital audio workstation, and the same thing can be said about working with the copyright part. This is because NASA has the obligation to get its materials classified as public domain and free from any copyrights.
NASA might've put a man on the Moon (it depends which section of the internet you ask), but being part of archive.org means website layout is basic and can be a bit overwhelming. There are also issues with large file sizes and low-quality, so your mileage may vary.
---
How to choose the best music samples and sound effects libraries
When you're deciding which music sample and sound effects library is best for you, check:
– What filetypes are available on the site?
– Is the music copyright-free or royalty-free?
– What is the pricing model?
– How big is the library?
– Is it easy to search, save, or share?
– Can you easily navigate the audio library?
Library size is especially important - some of the best music samples sites are more limited than others. Certain platforms only offer sound effects, or are built for melody-makers.
Also check whether the platform's offering copyright-free music or royalty-free. It can affect the cost and restrict the usage. If content is intended for commercial use, make sure you have the right to use it.
Once you've identified the perfect track, audio and sound libraries should make it simple to get it from the site onto your timeline.
How we test the best music samples and sound effects libraries
When testing the best music sample and sound effects libraries, we assess the user interface and experience - is it easy to find music and SFX samples? Is the download process simple? We also look at the size of each library (the more the merrier, we feel). But we also look at the range of samples or where a particular focus may make sense for users. For example, NASA's soundscape is space-focused, as you'd expect - ideal if you're creating interstellar tracks. Others, like the BBC offering, have a much broader range of 'life' sound effects, which are likely better for those producing narrative-driven productions. As part of our tests for any software, app, or website, we look at any pricing - free sites must be totally free, and any optional upgrades clearly signposted. For paid-for alternatives, we evaluate how much value it offers users, relative to its content. Finally, we look at supported filetypes, any licensing restrictions, and overall quality of all downloaded audio files.
Are you a pro? Subscribe to our newsletter
Sign up to the TechRadar Pro newsletter to get all the top news, opinion, features and guidance your business needs to succeed!
Anna is a freelance copywriter with extensive knowledge on the technology sector. She writes about a variety of topics for TechRadar including web hosting, website builders and cybersecurity. She also has a knack for writing deals, guides and versus articles.