Spotify Premium gets a great free audiobooks upgrade – here's everything you need to know
In the UK and Australia immediately, coming to the US in "winter"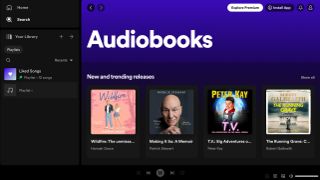 (Image credit: Spotify)
Spotify has announced that its Premium subscribers will get a new perk: 15 hours of audiobooks each month. You can choose from a library of 150,000 audiobooks, including huge titles from the biggest publishers, and more titles will be added "constantly", according to Spotify Vice President David Kaefer in an interview with TechRadar. The new feature will launch on October 3, 2023, in the UK and Australia, and will arrive in "winter" in the US.
You could already buy audiobooks on Spotify to listen to, and a very limited selection of books has been available for free to all users – but this is the first time a library of books has been available as part of a Spotify subscription in the US and UK.
Premium subscribers will be able to listen to snippets of many books to try things, or you can just focus on one – you don't need to choose a book and commit to it.
15 hours doesn't sound like a huge amount, but it's enough for two shorter audiobooks or one longer one. Spotify is confident this will satisfy most casual audiobook listeners or those who haven't really listened to audiobooks much before and are just getting into it – that's very much who the company is aiming this upgrade at.
"[We're] trying to build a product that has broad appeal, and we're gonna have people who are both super-fans of audiobooks, we're gonna have casual fans, and we're gonna have people who are new to the format. And so trying to strike a balance there is important," says Kaefer, who adds that arriving at the 15-hour limit was based on testing so far.
"The average audiobook is seven to 10 hours, so you should be able to get through one or two books without hitting the cap. We looked at behavior from employee tests, as well as how people in other countries consume audiobooks. Germany is a big audiobooks fan … a lot of audiobooks actually have been available in Germany through our music feed for a long time. There just happens to be a history of that. So we had some data there … we've been looking at what data is available to understand usage. We felt that 15 [hours] was generous, and people were likely to be able to listen to what they wanted within that."
If you run out of time, you can top up with another 10 hours of listening for $9.99 / £9.99 / AU$11.99, and these 10 hours won't run out at the end of the month – they'll last until you use them, as long as you use them within a year. Your regular 15 hours won't roll over to next month if you don't use them, though.
I asked if was there any possibility of a tier where someone pays a higher additional fee per month and they can go "all you can eat" within the library of 150,000 books.
"Possibly," Kaefer says, in a tone that implies more than this hasn't been decided yet, rather than that he's avoiding a firm answer. "I think what'll be really fascinating is as we get into this, we're gonna learn a lot. We're gonna learn about which books people are interested in, we're gonna learn about how often they're interested."
Exploring the library
Spotify says that the catalog will include big-name titles from the largest publishers, including HarperCollins, Simon & Schuster, and Penguin Random House, the latter of hasn't taken part in this kind of offering before, according to Spotify. The company gave us an example of titles that are available to show the breadth of what will be there:
Richard Osman, The Bullet That Missed
Matthew Perry, Friends, Lovers and the Big Terrible Thing
Jennette McCurdy, I'm Glad My Mom Died
J. R. R. Tolkien, Fellowship of the Ring: Lord of the Rings
Robert Galbraith, The Ink Black Heart: Cormoran Strike, Book 6
Bob Mortimer, The Satsuma Complex
Miriam Margolyes, This Much is True
Stephen King, Fairy Tale
Bono, Surrender: 40 Songs, One Story
Yuval Noah Harari, Sapiens
As I mentioned before, Spotify says that new titles will be added to the roughly 150,000-strong library all the time – but titles will disappear from it as well. Much like Netflix or Prime Video, there will be some rotation in and out.
"Some of that's by necessity," explains Kaefer. "Sometimes a publisher loses the rights to distribute a particular book, and sometimes it may be because it's not popular, or we may not have an agreement in place with a given publisher. But we expect that there's going to be a lot of stability in the catalog overall."
This can obviously lead to situations where someone is part of the way through a book when it leaves the service, and Spotify is aware that this is a problem that needs to be fixed.
"Our goal is that somebody doesn't end up in the situation where somebody starts a book and they can't finish it," says Kaefer. Spotify will take some actions such as not heavily promoting or recommending titles that it knows will leave soon, but it's looking at other ways to warn people to hurry up if they're partway through something. Kaefer didn't give specifics, but he adds, "You've seen Netflix, we'll be investing in an experience like that."
Winter is coming
As I mentioned, though this is coming immediately to the UK and Australia, the release date for the US is vague, with the company currently just saying "winter".
"We're excited to bring it to the UK first because it's a market that has historically been one that really likes to test and be an early adopter of things. And we'll learn and we'll evolve as we always do," says Kaefer.
"We may make some tweaks [based on reception in the US and Australia], but the core proposition is settled. Like anything, we're going to be working with book publishers from day one, [working out] how to do editorial playlists and recommendations for books well … we'll make sure any kinks are worked out, and we'll go broader in the US later this winter."

Kaefer says the lack of a more firm date for the US is due to "the vagaries and boring details of technical rollouts". At the announcement event, Spotify CEO Daniel Ek said that more countries will follow, too.
Reading between the lines
It's notable that shortly after code was found in Spotify's app that hints that a HiFi hi-res music tier might finally be coming, Spotify is holding a big event to announce its latest feature and hi-res music is still nowhere to be found.
Now, I'm not as sure as our Senior Editor Al Griffin that Spotify HiFi is never coming, but at this point, it seems clear that it's not Spotify's priority.
It seems as though Spotify wants to keep growing by making itself more attractive to people outside of music. We all know it has a huge category of tunes, but so do all the other best music streaming service options. It's focusing on audio things you can't get on other services, which has meant exclusive podcasts (or ad-free podcasts), and now it also means wider, simpler access to audiobooks. Instead of paying Apple Music and Audible for your different interests, Spotify hopes you'll just pay it a monthly fee for both.
It also means that it'll make you less likely to want to leave Spotify for another platform, according to Daniel Ek.
This seems great, a lot of Spotify users in the TechRadar office are really pleased about this change. But it doesn't help those who've been holding their breath for hi-res audio.
You might also like
Sign up for Black Friday email alerts!
Get the hottest deals available in your inbox plus news, reviews, opinion, analysis and more from the TechRadar team.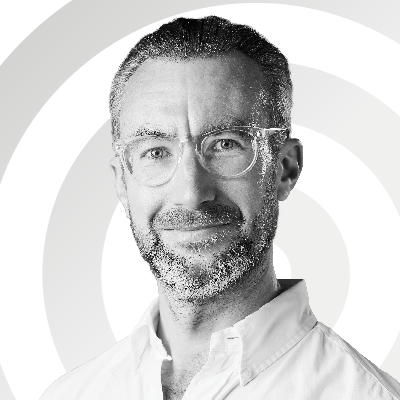 Managing Editor, Entertainment
Matt is TechRadar's Managing Editor for Entertainment, meaning he's in charge of persuading our team of writers and reviewers to watch the latest TV shows and movies on gorgeous TVs and listen to fantastic speakers and headphones. It's a tough task, as you can imagine. Matt has over a decade of experience in tech publishing, and previously ran the TV & audio coverage for our colleagues at T3.com, and before that he edited T3 magazine. During his career, he's also contributed to places as varied as Creative Bloq, PC Gamer, PetsRadar, MacLife, and Edge. TV and movie nerdism is his speciality, and he goes to the cinema three times a week. He's always happy to explain the virtues of Dolby Vision over a drink, but he might need to use props, like he's explaining the offside rule.