Hive Camera review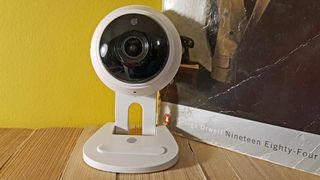 The Hive Camera has arrived to bolster the Hive setup, bringing it into line with other smart home ecosystems, namely Nest. It's the first connected smart camera from Hive. The idea is that you add one of these - though multi-packs are also available - in your home, and can then observe it from afar via an HD stream on your Android or iOS device.
So far so good, but even though the Hive Camera is meant to live within your current Hive setup it's actually been separated out into its own app that's distnct from the heating system, smart bulbs and sensors you may have installed in your home.
To set it up, you have to download an app called Hive Camera. So, instead of going through the main Hive app and clicking on Install a Device, you have to load up the Hive Camera app and install the camera from there.
The good news is that the app works in a similar way to the main one - and you can use your same Hive sign-in so there's no extra faffing in that department. Simply click on Add Camera to... well, you get the idea. From here there's a nice visual checklist of what you need to do to register the camera with your Wi-Fi.
There's just three steps: plug the thing in, push the Wi-Fi button on the back of the device and wait for the flashing LED to go from red to a yellow/green. Another page will then highlight your camera, click on this, add in your Wi-Fi password and then wait for the now blue LED light to change to green.
Now, this may not work first time. For some unknown reason it didn't for us. This meant we had to reset the device through the reset button - situated next to the Wi-Fi button - and follow the steps again. It worked second time around, though, and from then on it was easy to use the app to view footage from our camera on our Samsung Galaxy S6 Edge+.
While we're still not completely convinced that a separate app is needed to control the camera, having all the controls in one place does make a degree of sense as there's myriad ways you can use the camera. For a start, you can choose the quality of the stream. We whacked it straight up to HD but you can opt for a lower quality (low or medium resolution) if your internet connection buckles under the might of clear video streaming.
We did find, though, that opting for a lower stream did mean that things like the zoom controls became a little redundant as it's a little too pixelated to pick anything of note out. The stream on all qualities, though, was consistent - we saw little-to-no dropout in our tests.
Then there's the type of alerts you may want to turn on when using the camera for security purposes. You can have the app alert you if/when the camera picks up a sound in the room and/or if it detects any movement.
If it does and you are away from your home, there's a good chance you will want to scare the crap out of whatever intruder is in your home when you are not there. To do this, you can use the two-way speaker system or opt for the far more fun feature of piping out the sound of a dog barking, a police siren or an alarm from the camera. Yes, it's a bit of a gimmick but it's a good one - even if, because of the speaker limitations of the camera, it's not the loudest sound that's emitted.
The Hive Camera is being touted by Centrica (the folks behind British Gas and Hive) as an indoor security camera but the technology can also be put to good use in other ways in the home. As a new-ish parent, we tried the camera alongside regular baby monitoring system and it worked well. The camera's night vision mode meant we had a good look at our baby when asleep and the monitoring of audio and movement helped as well.
It's also really handy to get the stream through a smartphone or tablet, rather than having to lug a separate monitoring device around.
It's not just a streaming device, either. There's an SD card slot on the top of the device so you can add in some memory to record your streams - handy if you want to catch burglars in the act.
The Hive Camera is a great, if slightly estranged add-on to the current Hive setup. Its use of a separate app means that it never quite feels like it's part of the same group of Hive accessories that work with the Hive Smart Hub.
Centrica could remedy this fairly simply by adding some Actions that work with the Hive Camera, such as the ability to turn a light on or off when the camera detects motion - something that can be done at the moment through a Hive motion detector and Hive's smart lights - but there's no word on this happening just yet.
As a standalone device, though, it's a decent and reasonable priced way to get a smartcam into your home. The Hive Camera is available to purchase from for £129, or available for a monthly cost as part of the Hive Home Check Plan.
This plan is available for a price and consists of 1x Hive Camera, 2x Hive Active Light Cool to Warm White, 1x Hub ,1x Hive Motion Sensor, 2x Hive Window or Door Sensors and 1x 16GB SD card, as well as access to Hive Live.
The Hive Camera is also part of a bigger and well smarter smart plan from Centrica. It was announced as the first of a number of new Hive-based products. The others aren't released yet but include a smart leak system and a more robust Hive Active Hub which will be able to detect audio so will be able to alert you when your smoke alarm is going off.
There is also a new Hive camera to be revealed in the near future - there's no news as of yet but we suspect it to be an outdoor cam. Once these smart pieces are in place maybe we will start to see the Hive Camera move from the outskirts of the Hive experience and into the heart of the action.