Update: Asus has been in contact to let us know the price and on sale date of the Asus ROG Zephyrus.
At Computex 2017, Asus unveiled its latest gaming laptop in the Republic of Gamers brand: the ROG Zephyrus. Thanks to an incredibly svelte design and highly efficient Nvidia Max-Q technology that crams in a mighty GTX 1080 graphics card, this is a machine that really is both a beauty and a beast.
In many ways the Asus Rog Zephyrus is a culmination of a number of things we've already seen at Computex 2017. At its initial keynote, Asus showed us that it has what it takes to make some seriously slim and powerful laptops when it announced the likes of the Asus ZenBook Flip S and the Asus ZenBook Pro.
Meanwhile, at Nvidia's keynote, the graphics powerhouse revealed all about its Max-Q platform, which brings extensive customization of its existing graphics hardware to help create extremely thin and very powerful gaming laptops.
With Nvidia's CEO Jensen Huang joining Asus chairman Jonney Shih on stage to help announce the ROG Zephyrus, it was clear that the close collaboration between the two companies could create something very special indeed – which our early hands on time with the Zephyrus indicates it has.
Asus ROG Zephyrus release date and price
While Asus was keen to show off the ROG Zephyrus, it was less enthusiastic about disclosing the price, and we had to wait a while to find out how much the laptop will cost.
A few hours after the launch Asus contacted us to let us know just how light it will make our wallets.
For the Asus ROG Zephyrus GX501VI model, which comes with an Nvidia GTX 1080 graphics card, the price is $2699 (around £2100, AU$3600).
There will also be an Asus ROG Zephyrus model (the GX501VS) that comes with the slightly less powerful - but still very good - Nvidia GTX 1070 GPU, and that will cost $2299 (around £1800, AU$3080).
Both of those prices, especially the GX501VI's, are at the higher end of what gaming laptops are usually sold for. Anyone expecting a more affordable gaming laptop may be disappointed, but we're not too surprised to see the high price tag considering the design and specs of the ROG Zephyrus – so if you want to get hold of this premium gaming machine, you may want to start saving up now.
How long will we have to save up for the Asus ROG Zephyrus? Asus also got in contact about release dates - something it had earlier failed to mention - telling us that the Asus ROG Zephyrus GX501VI will be available to buy at the end of June 2017.
This is pretty much what we were expecting, as at the Nvidia keynote, the company said the first wave of Max-Q laptops will arrive by June 27.
If you want the cheaper Asus ROG Zephyrus GX501VS then you'll need to be a bit more patient - Asus has told us that it will be available in July 2017.
Asus ROG Zephyrus design
The design of the ROG Zephyrus gaming laptop is one of its most compelling features, thanks to Asus' quality engineering, along with its collaboration with Nvidia to bring one of the first gaming laptops to use its Max-Q platform.
This has resulted in an ultra-thin profile that, when closed, measures just 17.9mm at its thickest end, and tapering to just 16.9mm.
That's a far cry from the bulky gaming laptops we've come to know, such as the Asus ROG Strix GL502, which has a thickness of 30.48mm – and that's considered one of the slimmer gaming laptops.
This thinness also gives the ROG Zephyrus a light weight of just 2.2kg. Holding it in our hands, we were very impressed with how light it was – meaning that this can easily be taken with you when you travel – or for bringing to a tournament.
You can also easily hold it in one hand – not something we'd usually be able to do with past high-end gaming laptops!
While the Asus ROG Zephyrus is impressively thin and light, it also feels pretty sturdy – though an interesting feature did give us a shock at first, and makes the laptop feel a bit delicate. When the screen is lifted up to open the laptop, a part of the bottom of the laptop's body flexes open slightly. While this looks like a manufacturing error – or even that the chassis is damaged – it purposefully increases airflow into the body of the laptop to keep the components cool.
We're a bit worried this opening may be a point of weakness for the Zephyrus, and we look forward to taking a closer look when we fully review this machine.
Having a gaming laptop with such powerful components – that normally run hot – in such a small body was always going to require some outside-of-the-box thinking when it comes to cooling solutions, so this may be the price we pay for such a gorgeously slim gaming laptop. An exclusive Active Aerodynamic System (ASS) is used to keep the Zephyrus cool, guiding airflow over the components in an intelligent way.
We'll find out how good this system works in our full review, but during our hands on time we didn't hear any annoying fan noise whilst it was playing some demanding games – including virtual reality titles.
The cooling considerations mean that the keyboard is placed at the bottom of the chassis, rather than the top. This leaves a lot of empty space above the keyboard, but at least it doesn't feel too uncomfortable.
While the keyboard isn't mechanical (unlike some high end gaming laptops), and the keys are rather flat (to keep the design as slim as possible) and without much key travel, it still left comfortable enough to use when typing and playing games.
The keys are backlit with Asus's Aura RGB lighting system, which can be tweaked using the software that comes pre-installed.
With the keyboard shifted to the bottom of the body, the touchpad is moved to the right of the keyboard, and includes a 10-key function that can be toggled with a hot key.
The position of the touchpad may be difficult to get used to for some, but we quite like it, as we're often accidentally hitting our traditionally-positioned trackpad with our wrist or palm when we type rigorously.
Of course, when you're gaming you'll likely want a proper mouse, so the position of the trackpad probably won't be an issue.
The included display is also a stunner, as it's a 15.6-inch full HD display with a 120Hz refresh rate and Nvidia G-Sync support. This means game play is silky-smooth – and it's really worth seeing in person if you can to fully appreciate the benefits of G-Sync.
The screen also features wide viewing angles and anti-glare coating, along with a 100% sRGB color gamut for fantastic color accuracy and image quality. While Nvidia is showing off G-Sync monitors with HDR support, there's none of that here, but even in the less ideal environment of the launch event (held in a shopping mall in Taipei) we could tell this was a very fine screen indeed.
Despite the slim design of the body, the ROG Zephyrus comes with a USB C port, four USB 3.1 ports, a HDMI and 3.5 headphone and mic combo jack.
Asus ROG Zephyrus specs
As slim and light as the Asus Zephyrus is, the specs are also incredibly impressive. It features an Intel Core i7 7700HQ CPU, along with an Nvidia GTX 1080 GPU – one of the most powerful graphics cards in the world, and until now only really found in desktop machines,.
It also supports DDR4 RAM up to 24GB, and has four M.2 PCI ports for super fast SSD storage, as well as support for up to 1TB storage on a standard SSD.
Basically, this is an absolute beast of a machine that will handle pretty much all of the latest games at high settings – and of course it's also VR ready. This is the machine that Nvidia's Jensen Huang said was 60% more powerful than a PlayStation Pro 4 – though it's likely to be over 60% more expensive.
We can't wait to get our hands on the ROG Zephyrus to really put it through its paces with some of today's most demanding games, as well as benchmarking the hell out of it. We did see games running on the machine though, such as Forza 3, and they looked brilliant, without any noticeable hitches or dropped frames – the G-Sync screen surely helping out there as well.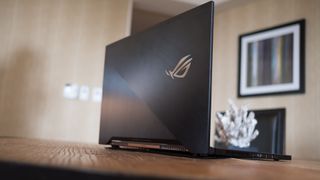 Early verdict
The Asus ROG Zephyrus looks set to be the pinnacle of Asus' already impressive line of ROG gaming laptops, being a culmination of years of design and hardware innovation.
Thanks to a close partnership with Nvidia to bring the Max-Q platform to this machine, the Zephyrus is incredibly slim, lightweight and beautifully designed.
The fact that it holds such impressive components means you're not making any compromises when it comes to raw gaming power.
One compromise you will have to make is likely price – while we don't know the exact cost of the ROG Zephyrus just yet, it's unlikely to be cheap. Expect a premium price tag for such a premium gaming laptop.