This year Google has unveiled not one but two new Nexus phones, with a successor to both last year's Nexus 6 and 2013's Nexus 5.
The Nexus 5X is an affordable 5.2-inch handset while the Nexus 6P is a pricier 5.7-inch phablet, so the phones are aimed at different users, but there's a whole lot more to them than that. So how do these two new phones compare? And which one is better?
Design
Of these two handsets, the Nexus 6P is undoubtedly the most eye-catching, with its full metal body and bulging lip.
That bulge isn't likely to win it many fans, but its premium construction still leaves it looking far higher end than the plastic-clad Nexus 5X. At 7.3mm thick the Nexus 6P is also a little slimmer than the 7.9mm Nexus 5X, though there are many similar elements, such as the fingerprint scanner and 'nexus' logos that both phones have.
They're launching in a slightly different selection of colours, with both phones arriving in black or white, but the Nexus 5X also having a greenish-blue option, while the Nexus 6P will come in a silver variety.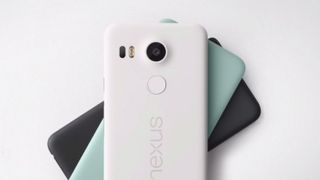 Display
There's just as much difference between the two phones here, as while the Nexus 5X has a 5.2-inch 1080 x 1920 screen the Nexus 6P has a 5.7-inch 1440 x 2560 one, making it both far larger and far sharper, at around 515 pixels per inch, to the Nexus 5X's 424ppi one.
The sheer size of the Nexus 6P means it might even benefit from all those extra pixels, though the Nexus 5X should hardly feel like it's lacking in sharpness.
Power and performance
The Nexus 5X has a hexa-core Snapdragon 808 processor coupled with 2GB of RAM, so it should have quite a lot of power, but it's beaten by the octa-core Snapdragon 810 packing Nexus 6P, which also has an extra gigabyte of RAM at 3GB.
That puts the Nexus 6P comfortably in flagship territory, with the likes of the Sony Xperia Z5 for company, while the Nexus 5X is still high-end but not quite top tier.
The Nexus 6P also has more potential storage, with a choice of 32GB, 64GB or 128GB, while the Nexus 5X comes in just 16GB and 32GB sizes. That's still a reasonable amount, but as neither phone has a microSD card slot you'll probably want as much as you can get.
Camera
One area where you won't find much difference is the camera, as both the Nexus 5X and Nexus 6P have 12.3MP snappers on the back designed to excel in low-light.
There's a slight difference with the front-facing cameras though, as while the Nexus 6P has a generous 8MP one, the Nexus 5X has a slightly lesser 5MP shooter.
OS
There's nothing at all to choose when it comes to the OS, as both phones run a stock version of Android Marshmallow and both will likely be supported with regular OS updates for quite a while.
Battery
Both new Nexus phones have sizable batteries, with the Nexus 5X using a 2,700mAh one and the Nexus 6P powered by a mammoth 3,450mAh one. Both handsets should hopefully be able to withstand over a day of use then, but of the two the Nexus 6P is likely to be the more impressive performer.
The Nexus 6P and 5X also both support USB Type-C connectors, allowing you to plug the cable in either way round.
Price and availability
The Nexus 5X starts at $379/£339 (about AU$449), while the Nexus 6P will be available from $499/£449 (about AU$599), so the 6P is quite a lot more expensive, but still a bargain compared to a lot of flagships.
It justifies the extra cost as well, given that it has a larger, higher-resolution screen, a more premium design and more power. You can't actually get your hands on either phone yet, but they'll both be available in October (pre-orders started today in the US).
Verdict
There's a whole lot of differences between the Nexus 5X and the Nexus 6P beyond just their screen sizes. The 6P has a more premium metal build, a higher-resolution display, more power and a bigger battery. That said, it's also more expensive and less pocket-friendly.
There's little difference in the two phone's cameras, no difference in the OS and they have many of the same features, such as a fingerprint scanner and USB-C.
If money is no object and you see a massive screen as a good thing, than the Nexus 6P looks to be the better phone. It's certainly the more premium of the two. But if you're after something more affordable and more understated, the Nexus 5X could be the phone for you.