We can't help feeling disappointed with the Samsung Gear Sport - but it's hard to say what's really so bad about it.
It does the basics just fine - you'll get step data through, all manner of notifications and can use it to track the odd run really well.
However, there are so many tiny niggles throughout the device and its design that it really sours the experience - from the fiddly strap to poor Strava integration to lower battery life than previous Gear smartwatches, it's hard to see what Samsung has brought here.
Who's it for
The Gear Sport is, as its name suggests, a device designed for those that are a bit more active. The additional swim tracking will entice, the sheer range of workouts it can guide you through and monitor are impressive, and the overall fitness tracking is strong.
If you're thinking about buying this watch we'd suggest you have a Samsung phone to go alongside... other models and operating systems will work, but won't pack the full range of features.
But you are getting a cracking OLED screen, easy-to-see notifications and a smartwatch that's been iterated on time and again to start making it easier to use than ever.
Add to that offline Spotify playback - a truly awesome feature to have - and there's a lot that the Gear Sport does that entices most smartwatch fans.
Should I buy it?
Now, this is the tough question, because on the one hand, it's a good smartwatch and at launch was the best Samsung had on the market, but on the other, it's not a huge leap forward and has now been bettered by the Samsung Galaxy Watch.
If this thing had the same three-to-four day battery life of the Gear S3, then it would be a no-brainer if you wanted a Samsung smartwatch and didn't want to stretch to the newer Galaxy Watch. It's sleeker than the Gear S3, can do more, and has a more advanced OS from the outset.
But that battery life is a real issue, and the Gear S3 isn't that much larger on the wrist. There are myriad little niggles that live within the watch too, with it feeling like Samsung has tried to do too much here without focusing on the basics.
The amount of things it can do is awesome, but the execution isn't quite up the standard we'd expect from a company of Samsung's size. This is a fine smartwatch, but one that comes with some compromises.
First reviewed: December 2017
The competiton
Not sure this is the watch for you? Well, step right up to find the best alternatives.
Samsung Galaxy Watch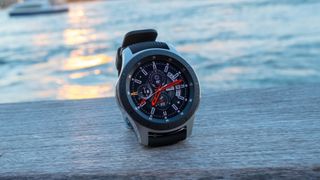 The Samsung Galaxy Watch drops 'Gear' from the name but is still something of a successor to the Samsung Gear Sport.
It's also a substantial upgrade, with four days of battery life and better exercise tracking, while maintaining a similarly nice design and powerful software. You'll pay more for the Galaxy Watch though, and like the Gear Sport it lacks some key apps, such as Google Maps.
Samsung Gear S3
The Samsung Gear S3 is very, very similar to the Gear Sport, but has a slightly less advanced processor inside and is an overall larger (yet inexplicably lighter) model.
It's rising in price at the moment, but swim tracking aside it can do everything as well as the Gear Sport can manage, so if you're choosing between the two - and can find this for a decent price - we'd recommend this model.
Garmin Forerunner 735XT
The Garmin Forerunner 735XT is a top fitness watch, and for those that want a smart device to upload their activities well, they might want to consider something more targeted.
You don't get the fancy interface, but can control music, track all manner of workouts, get instant uploads and the heart rate monitor is more accurate.
Apple Watch 3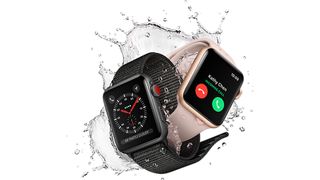 OK - we know that for a lot of people this won't be relevant. But if you're an iPhone user wondering whether to go for the Gear Sport, then we'd steer you quietly towards the Apple Watch 3 if you're OK spending a little more cash.
It's a more complete model and syncs so much better with the iPhone than the Gear model, so definitely have a good think about why you want the Sport over Apple's own model.
Of course, there's also now the Apple Watch 4, but that's quite a lot more expensive.