Why you can trust TechRadar We spend hours testing every product or service we review, so you can be sure you're buying the best. Find out more about how we test.
Fitness tracking
Let's get this out of the way: the Samsung Gear Sport is still an average fitness tracker. That's not in terms of the things it can monitor and do - they're impressively extensive - it's how mildly irritating they all are to use.
Let's begin with the fitness tracker, as that's one of the better health elements of the Gear Sport. The step and calorie burning features are pretty robust, giving you a nice idea of what's going on with you during the day.
This is translated well into useful information into how active you are each day, and it synchronizes with Samsung Health, the app to monitor your body.
You can also track how many flights of stairs climbed, set goals for how far you want to walk each day, and easily see how active you've been in any given period through the app.
However, the Gear Sport also promises to be a great companion for tracking your calorie intake - which it's really not. You can input the amount of calories you're eating during a meal in manually but you're basically just guessing unless you happen to know the amount precisely.
That's fine - we wouldn't expect the Gear Sport to have the extensive database of calorie values that the phone does (and it's a nice feature indeed) but Samsung is making it a selling point of the watch.
The same with water or caffeine intake - it's great that you can let the watch know how much you've had, but it requires manual entry each time and that's fallible because we all forget to upload some things from time to time.
The reason we're not sold on the Gear Sport as a fitness tracker is it doesn't offer anything new. Samsung's resources are such that it surely can be one of the front-runners in this area, learning your activity levels throughout the day and giving you pokes and hints at the right time.
As it is, it's mostly a dumb tracker that gives you celebration or admonishment the next day depending on how you did. What fitness bands need to do is get smarter and smarter, becoming holistic in their understanding of your sleep patterns, water intake, calorie count and activity levels.
Were Samsung to offer that, it would be a much better incentive to input water and food more accurately.
Speaking of sleep tracking, that's one of the better elements of the Gear Sport, with a dedicated update appearing each morning when you fire up the Samsung Health app.
It's annoying that watch itself takes an hour or two to show you the same information if you've not synced - how well you slept is something you want to know the instant you've woken up to compare to how you feel - but when it does appear at least the watch shows the stages of res well.
However, your sleep efficacy is only monitored in terms of the time you fall asleep and wake up, compared to the time you said you wanted to do so. It would be far better to have some hints on how to sleep better during the night, which is oddly what the Samsung Health app on the phone is generally good at in other fitness areas.
The other issue with sleep tracking is the battery life - as you need to charge the watch every couple of days you'll only get a night or two's sleep information before you'll want to power it up overnight, so it's hard to depend on the Gear Sport as a regular sleep tracker.
As mentioned, Samsung Health is a really strong app for tracking everything you could hope for - there's an option to assess so many parts of your health, and it synchronises well with the Gear Sport to show you graphs on calorie intake, sleep, water, fitness… pretty much everything you'd want to look at.
Again, it could be more insightful in what it does with that data, but if you're just looking to check how you did on a certain day, then this is where you'll find that.
Workouts
The other side to the fitness smarts of the Gear Sport is the more advanced stuff - being able to monitor you through circuit training (lunges, squats, star jumps and crunches) and also a wide variety of machines, such a treadmill or elliptical trainer.
The treadmill tracking isn't great - it's basically just heart rate tracking, with no accelerometer sensor tracking to work out how far you've gone. When you consider that Apple's pairing its Watch gym machines to show accurate data, that's a big miss.
However, it's the GPS chip inside that's the great spec to see - this means the Gear Sport really can live up to its name. Combine that with 50m waterproofing, allowing you to take this watch in the pool, and you can see why we'd be interested in what Samsung has put together.
The unfortunate thing is that the performance when running is pretty cursory. You can see your pace, speed, distance, time… although they're not all on the same screen.
That said, kudos for Samsung for allowing you to sync your runs to Strava from the main workout app, something that Apple doesn't do with the Watch 3.
However, Strava interprets the data in a really strange way - in a half marathon we completed in 1:26, it came up with 1:24 as a result. It made no sense as we'd been pushing hard the entire time, so there were no stops to think about - but when we converted it to a 'race' in the app, the time was closer (although still not completely accurate).
It also failed during a five mile run, as despite clocking 4.6 miles (still wrong) it refused to log any pace for the first half of the race, and gave a thoroughly incorrect heart rate the entire way through.
On top of that, the Gear Sport started weirdly syncing activities to Strava - it would upload strength workouts instantly, but would only send your runs to the service just after midnight, with no way to force an upload.
This meant you can't see your workouts instantly on the social network, which is half the reason to do it and interrogate your results alongside your friends'.
Heart rate is tracked in the main workout app through the wrist-based sensor, but it's as poor as on the Gear S3… it just doesn't work most of the time, and any hint of cold weather reduces the chance of it working well to almost zero.
Case in point: we went out on a run to test the Icon X 2018 headphones' capabilities as run trackers, and set the Gear Sport alongside to check accuracy. At four degree centigrade, it wasn't warm but also not freezing.
However, despite completing a very slow, 11 minutes per mile warm up, the Gear Sport tracked it as well over 180 beats per minute, meaning that the calorie count is completely wrong and no amount of fiddling could make it more accurate.
The GPS accuracy was pretty strong during our other run testing though, so we'd have faith in the Gear Sport as something that can basically tell where we've gone and for how long, but as an overall run tracker it just isn't something we'd trust in.
It's annoying, as this was the same thing that happened last year with the Gear S3 - sometimes the heart rate monitor would work, other times it would just give out bogus readings.
Other workouts
Fans of the Gear system will know that Samsung has a pretty robust set of 'other' exercises to track, and we tried out some of the circuit training capabilities, doing three sets of lunges, crunches, squats and star jumps to see how accurate the tracking was.
The lunges were up first - and something weird happened. The first set of 10 did not register, not matter how well we did them. Then, sporadically, the Gear Sport started to pick up the movements after about 11 attempts - in the end we did about 30 to trigger the 10 needed to complete the set.
So far, so bad. Then the second set began… and it was nearly flawless. 12 reps for 10 logged. With the third set, each was tracked exactly, with no change in form.
Crunches and squats were next, and these were both accurate from the start, with the motion clearly a lot easier to track for the Gear Sport.
Up next, star jumps… and the watch nearly went down the nearest drain, such was our frustration. No matter how many times we tried, which form, it would just NOT register a rep. In fact, the only way to make anything happen was to jump in a really exaggerated manner, stop, then jump back. It was ridiculous.
Again - this is the same as the Gear S3 and shows that Samsung hasn't altered a lot. It's so galling because the Moov Now, a small display-less bracelet that costs a sixth of the Gear Sport, is perfect at the same thing and has far, far more exercises.
Samsung had a chance to lead the way here and it constantly misses it. And while you can set your reps, again there's no obvious training plan on offer - so it won't learn that you've done 30 squats today, for example, and then add in a few more next time.
Swimming
When it comes to swimming, this is basically the biggest addition to the Gear Sport - and it's unimpressive.
Perhaps that's a bit unfair - after all, you can track swimming through the main workout app, use the tie-in with Speedo to use the widespread Speedo ON app to monitor your splashing, or there's a powerful Swim.com app available to download as well.
Except, you can't save any swims to the main Samsung Health app if you use Speedo (the app Samsung is promoting), which means you'll miss out on fitness activity minutes if you're using the Speedo app.
In terms of how the accuracy is... it's not great. It gave us very low stroke counts for each length (often saying seven to eight when we clocked 21) and while it generally gave a correct number of lengths completed, we had to pause to let it catch up after four.
Speedo ON is a fine app - being able to control the granular level of the pool length is a nice touch, for instance - but it's not a lot different to the main workout app, and the only benefit is being able to sync your swimming workouts to the Speedo ON platform.
Otherwise, it suffered from the same limitations as the inbuilt app, making it hard to see why Samsung bothered with the tie-in if it was going to keep its own software.
Swim.com is by far the most powerful app on the Gear Sport, with the ability to do intervals, drills and set targets for a variety of options - but the app was buggy, not allowing us to scroll through lists properly without it flicking all over the place.
It was manageable, but it shows that the app isn't optimized for the Gear Sport, and is indicative of the overall level of effort that app makers are putting into this watch.
If you're a dedicated swimmer, we wouldn't suggest you buy the Gear Sport... and if you're a newbie we wouldn't either. Yes, Speedo ON is a nice platform to be part of, but a cheaper Garmin will give more metrics and save your progress in the same way.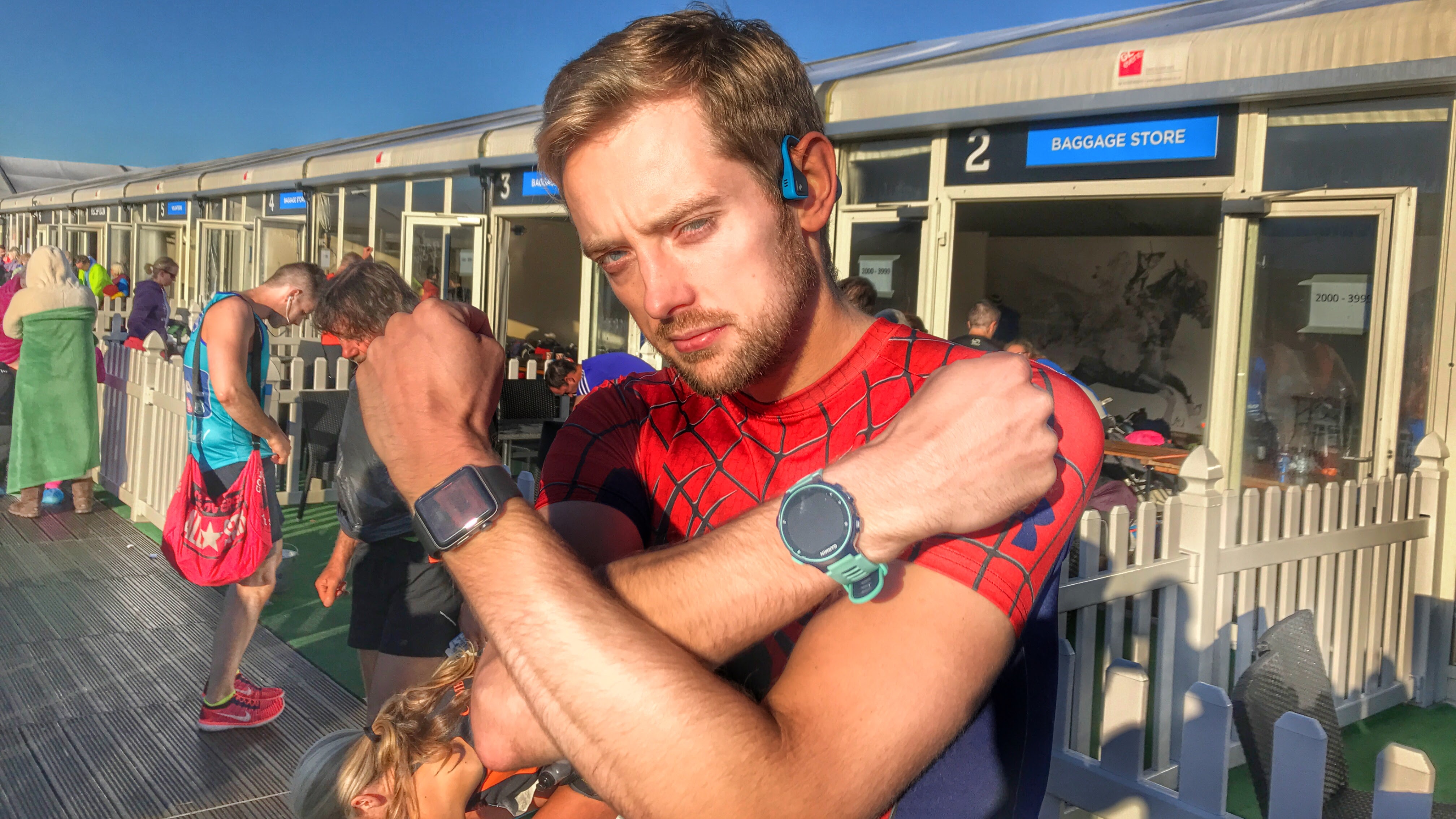 Formerly Global Editor in Chief
Gareth has been part of the consumer technology world in a career spanning three decades. He started life as a staff writer on the fledgling TechRadar, and has grown with the site (primarily as phones, tablets and wearables editor) until becoming Global Editor in Chief in 2018. Gareth has written over 4,000 articles for TechRadar, has contributed expert insight to a number of other publications, chaired panels on zeitgeist technologies, presented at the Gadget Show Live as well as representing the brand on TV and radio for multiple channels including Sky, BBC, ITV and Al-Jazeera. Passionate about fitness, he can bore anyone rigid about stress management, sleep tracking, heart rate variance as well as bemoaning something about the latest iPhone, Galaxy or OLED TV.