The best Sky Q 4K movies and TV to watch
Updated: T2 Trainspotting and Jack Black's Goosebumps adaptation make the cut for our updated guide to the best Sky Q 4K movies and TV shows.
You've got the 4K TV, you've coughed up for a Sky Q UHD-ready premium set-top box, and now you're looking for something great to show off all those pixels with.
Great news! If you've signed up for Sky's 2TB Sky Q box with a Sky Q multiscreen subscription, you're good to go, getting access to the suite of 4K films and TV shows Sky is currently curating. It's usually a £34 a month deal (including rental of the box), but is currently down to £32 a month.
There's a growing selection of top-notch films on the service, with the library growing all the time, and Sky pumping more and more money into presenting its own original programming in 4K too. Note you'll have to download 4K content in advance of watching it, rather than streaming it – so if you've got a slower broadband connection, you may want to get some of these downloading well in advance of settling down to watch them. Depending on the film and length, they can be many gigabytes in size.
So, without further ado, let's kick off with the best 4K films on Sky Q right now. Click through for a few quick TV show selections, too.
10 Cloverfield Lane
What a surprisingly-excellent sequel this was! Where the first film took the found-footage genre to new sci-fi fuelled heights, 10 Cloverfield Lane dials it right back for a laser-focused thriller, set in an emergency bunker. John Goodman is frighteningly good as the bunker's oppressive overseer, fearing an unknown outside danger. You'll be biting your nails throughout, with every micro-expression revealed in 4K.
Amistad
Steven Spielberg takes on the heart-wrenching tale of the slave ship La Amistad in this historical drama from 1997. Following a revolt by the slaves in 1839, a group of Mende tribesmen took control of the ship of their captors, before being recaptured and facing trial at the Supreme Court in 1841. An all-star cast, including Anthony Hopkins, Morgan Freeman and a young Matthew McConaughey give the subject matter the gravitas it deserves, with the painstakingly recreated historical setting looking great in 4K.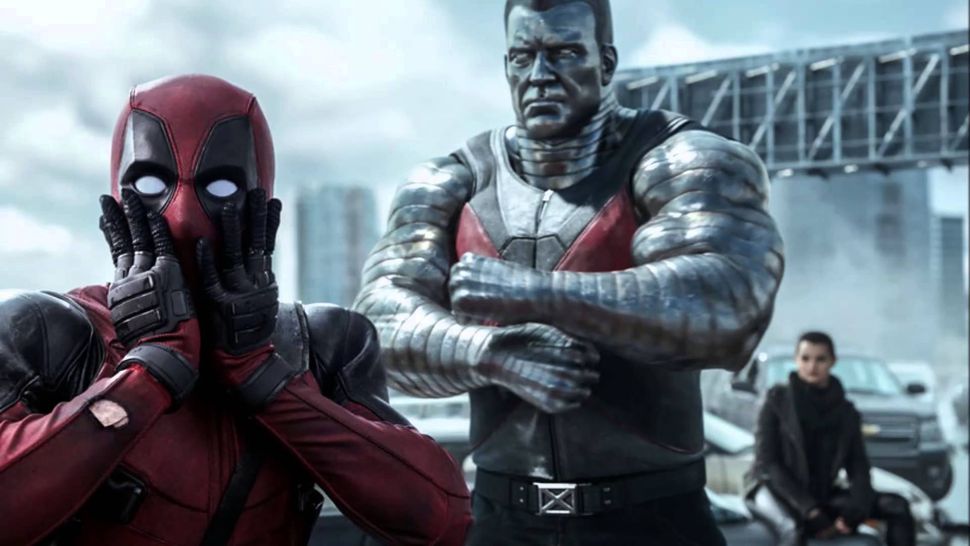 Deadpool
A superhero film with dick jokes. Give the people what they wanted, Deadpool certainly did. While it's perhaps not as refined as the finest of the Marvel flicks (it's a Fox production) it's certainly one of the funnier, in a toilet-humor sort of way. The first full length flick centered on the 'Merc with the mouth', it's a gory, zany action flick, with showstopping set pieces to really show your UHD TV off with.
A Few Good Men
You can't handle the truth! Or the amount of pixels this 4K remaster of the 1992 courtroom drama is going to push into your eyeballs. Jack Nicholson is on top form making even the always-great-if-an-easy-target-for-ridicule Tom Cruise pale in comparison. It's a solid 4K overhaul, too (even if a courtroom isn't the most visually-arresting of settings).
Forrest Gump
It's as cheesy as a mouse's bank vault, but there's still something heart-warming about Tom Hanks as the loveable, simple, straight talking man ambling his way from one life-changing adventure to another. Pure popcorn fodder, the era-spanning scenes make for a lovely 4K watch.
Ghostbusters (2016)
It was unfairly boycotted by some more closed-minded corners of the internet, but the all-female reboot of the Ghostbusters franchise wasn't half bad. What it lacked in belly-laugh concentration it made up for with heart, spruced-up special effects and the always-excellent Kristen Wiig. The furore around the casting overshadowed the film sadly, and it'd be good to see the franchise one day continue. For now though, this colorful comedy horror makes a great showcase subject for Sky Q's 4K abilities.
The Godfather 1 and 2
Francis Ford Coppola's mafia trilogy, often imitated, never bettered. Except for maybe that third film, which is a bit of a mess to be honest. But forget that! The first two films in the Corleone saga are fantastic, showing how trust and family bonds can be built and broken over the course of a life in crime. A solid 4K remastering lets the films shine like the day they were first screened.
The Good, the Bad and the Ugly
If you've never seen a Sergio Leone 'Spaghetti' western, then you've never really ever seen a western. Harsh, brooding and uncompromising, he brought the grit and the sweat to a genre that had never previously cared about the dubious morality of of the old West. The Good, the Bad and the Ugly, starring Clint Eastwood, is a re-imagining of the Kurosawa classic Yojimbo, with a wandering stranger dangerously playing two rival families off each other for financial gain. It's a striking film (Leone being the master of the super-close-up) and is a great showcase for your Sky Q box.
Goosebumps
Far better than it has any right to be, Goosebumps sees the titular young-adult horror book series brought hilariously to life. Jack Black takes the role of author RL Stine, whose written creations leap from the pages of his book and terrorise a small town. A family friendly frightfest, with some fun special effects that shine in UHD.
Groundhog Day
One of the finest comedies of all time, Groundhog Day is one of the finest comedies of all time. One of the finest comedies of all time, Groundhog Day sees Bill Murray forced to live the same day over and over again in a quest to live the perfect 24 hours in what's one of the finest comedies of all time. It looks great in 4K, and is one of the finest comedies of all time.
Jerry Maguire
Show me the money! Or the 4K pixels, whatever is easiest. Perhaps the defining Tom Cruise film? It's either this or Top Gun, but Jerry Maguire shows him at the height of his Hollywood star power. Starring a the eponymous sports agent struggling to make it on his own, it's a bit of a schmaltzy romance by the end, if an eminently quotable one. A great 4K feel-good flick.
Lawrence of Arabia
One of the all-time greats, and one of the films that everyone should see at least once in their lifetimes. Ideally, you'd watch it first on the biggest, most luxurious cinema screen you can to get the full epic experience. But a giant 4K screen will make a great alternative. Mind-bogglingly ambitious, beautiful to watch and featuring a career-best performance from Peter O'Toole it's a masterpiece, expertly telling of T.E Lawrence's time in the Arabian peninsula during World War I.
Minority Report
It defined the look of the future for a generation, and is a tentpole of modern sci-fi. And, thanks to some clever direction from Steven Spielberg, its visual effects hold up well under the added scrutiny of 4K pixel pushing. It's a great thriller too, with future cop Tom Cruise on the run for a predicted crime he didn't commit – and that hasn't been committed yet.
Moneyball
Like baseball? Love spreadsheets? Then you're going to adore Moneyball. Brad Pitt takes a struggling team to the top of the table with a little help from algorithm whizz Jonah Hill, crunching the numbers to find baseball's most undervalued players. It revolutionised sports management, and makes for a pretty compelling (Oscar-winning) movie, too. It looks crisp in 4K, even if it's not a visual dazzler full of UHD show-stopping set pieces. Other than Brad Pitt's lovely face, of course.
The Revenant
What's it take to win an Oscar? If you're Leonardo DiCaprio, you need to grow a beard, crawl through a frozen wilderness, dribble a bit and eat raw offal. You can't say he didn't earn it! It's a visceral performance, but far from the best thing about The Revenant – it's beautifully shot, with the early frontiersman days of the United States brought to life with shocking, realism and sweeping landscapes. It looks phenomenal in 4K.
RoboCop
The franchise devolved into meaningless action-tripe after this first film (and don't get us started on the remake) but the first RoboCop juggles many, many tonal plates gleefully. Horrifically, satirically violent, the story of a brutalised cop reborn as a cybernetic crime fighter is both a great action film and sharp social satire that holds up surprisingly well today.
Rocky
The ultimate sports film? It's certainly the king of the training montage. Stallone wrote and starred in this modern fable of the down-on-his luck boxer fighting to be a big-time contender and, along with First Blood, remains the highlight of his career. If you don't want to go out and tackle your nearest flight of steps at full speed after watching it then, well, you probably need to check your pulse instead.
The Silence of the Lambs
As harrowing a thriller as there's ever been, The Silence of the Lambs is a stone-cold classic. Jodie Foster's is brilliant as an inexperienced, go-getting FBI agent on the hunt for a murderous kidnapper, while Anthony Hopkins - even though he only get 16 minutes' screen time - gives perhaps his most affecting performance in a storied career as cannibal killer Hannibal Lecter. It's a tense nail-biter, and you may prefer to watch through your fingers than in the crystal clear glory of a 4K presentation.
Spider-Man
Forget Homecoming – Sam Raimi's Spider-Man films are still the best realisation of the web-slinger. Well, so long as you forget the third one, and that was a mess because of studio intervention.
I digress.
Peter Parker's first-fully realised wall-crawling adventure, despite some ageing CGI, still looks great today. Tobey Maguire gives ol' Spidey lots of heart, Willem Dafoe chews up the scenery as the Green Goblin, and Raimi directs with a true love (and understanding) of what makes comic book heroes so wonderful and inspiring.
Star Trek
Before he got his hands on the Star Wars franchise, JJ Abrams gave Star Trek a makeover by...essentially turning it into Star Wars. It divided some purists, but the Abrams reboot was inarguably a riotously fun affair. Playing into the franchise lore while still bringing its own modern sensibilities to the table, the bickering crew of the Enterprise are shown out on their maiden voyage of discovery. It looks great, and even JJ's signature, overused lens flare is more palatable in 4K.
T2 Trainspotting
Revisiting a classic of the 1990s twenty years later, T2 Trainspotting returns to Edinburgh to check up on the original's gang of drug-addled lost youths, now middle-aged and fully grown. Can their lives ever be rebuilt, and can former betrayals ever be forgiven? It's a thoughtful look at the passing of time across dysfunctional lives by the superb Danny Boyle. And while it's not his most visually ambitious film, the extra detail afforded by 4K hammers home the sadness and squalor of drug addiction.
Sky 4K TV shows
It's not just movies being pushed out in 4K by Sky these days. Its original programming is also getting an Ultra HD revamp, with its big-budget Sky Atlantic shows regularly being broadcast in 4K now. It's a small selection for the time being, but expect it to grow over time. Up next is the best of the bunch.
The Trip to Spain
It sounds like an awful idea for a show, sending two comics on a road trip around Spain, focussing on their elaborate meals. But The Trip to… series, pitting the wits of Steve Coogan and Rob Brydon against each other as they attempt ever-more outlandish celebrity interviews is a hilarious watch, absolutely nailing the faux-autobiographical style seen elsewhere in Curb Your Enthusiasm. The beautiful Spanish landscape shines in 4K – you'll be jealous that you're not holidaying alongside them.
The Young Pope
This is a fantastically weird show from Italian auteur Paolo Sorrentino. Wonderfully shot, Jude Law plays the titular 'young Pope', bringing drastic changes to the top level of the Catholic church while hiding skeletons in his own closet.
Tin Star
Sky's latest big release sees a tragically driven cop (Tim Roth) take on the growing criminal presence in a rockie mountain town. It's a gritty, hard-boiled thriller, and well worth a look if you're after a meaty 4K TV drama.
Sky Sports - Football, cricket, F1 and more
Finally, if you're a sports fan, Sky is increasingly making sure that its Sky Sports output is broadcast in 4K.
If you pick up a compatible channel package, you'll be able to watch Premier League football, Formula 1 racing, cricket and more in the top-notch full 4K resolution that Sky Q offers.